The wisdom test is not really a quest but something you need to complete every 3 weeks. It makes sure you understand how to avoid scamming and how the internet works (connection types and such). In return you receive
1/8 Point of Karma
. It can only be done once every 3 weeks, and you will be notified by your guildmaster when you can do it by recieving a popup as you enter into his room.

Click okay and walk inside. Say "
Wisdom
" to your guildmaster.

Every question is below, followed by the answer, highlighted in yellow.
4.


5.


6.


(Bottom 2 lines both are correct)
Once you have completely all the above questions correctly, you will be congratulated and moved onto the Connection part of the questionaire.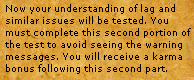 For a list of complete answers proceeding his questions, click here.
7.


(Top 4 lines all are correct)
8.






You will now be awarded with your karma and not bugged for 3 weeks!