1.
Equip a Floating ring of substratum to enter the
Angry Spirit's Cave
. Take your group to the Clandestine Sanctuary.
2. The leader of the group must have 100 angry essences in their inventory. All group members must stand on the red and black tiled area. All members MUST be wearing a floating ring when the NPC is clicked. When all of grouped, wearing their ring and standing on the tile, then the leader holding the angry essences clicks the NPC. All members will be warped to Overlord B'Gnngh's Room.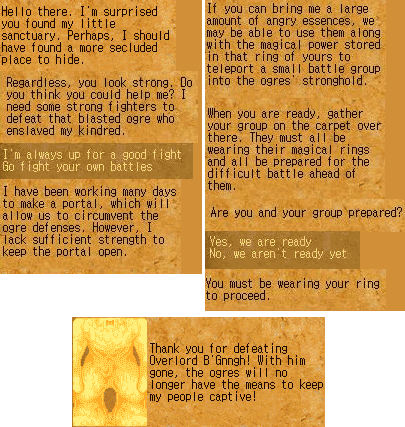 2. B'Gnngh will summon minions the defend him which greatly increases your task. Each time you kill B'Gnngh, he will heal out and/or ressurect himself and then ONE minion will disappear. Don't bother killing the minions because B'Gnngh will just spawn more. Kill the boss, each time he dies one minion will also die. Once he and his minions are dead you will receive a new legend mark. (Strategy for this quest provided by Healoid, Betahomie, Healoid, Polgandra and Momentum)


You can enter as often as you like; you are only limited to the number that can fit on the carpet. Be sure all of you are in one group. Other groups may enter but only the group that kills the boss will receive the legend mark. Once the boss is killed he will not respawn until a new group enters. Be sure to wear your ring until you receive the boss's room.