(9/7/2005)- Nexus Update September 7th, 2005 - The Nexus servers were reset with the following changes:
(5/4/2006)- Server reset: May 4, 2006 - The Nexus servers were reset with the following changes:
The mythic bosses have been tweaked and should act more like before.
The demons that refused to let the music play have now been banished. You may now listen to songs again as you play, hunt or just spend time with your friends. Enjoy!
For those of you who missed your majestic Ghaleb sword, I am here to inform you it is now fixed! Go, wield your sword and feel extremely powerful!!
The big axe has been updated to look really big!
Clan additions and fixes:
Dharma clan receives new helm/helmet
Kurimja may now buy a helm/helmet; new additions to Xa and Charon; Shade Pit now has PK abilities.
Destiny receives 3 new merchants to their clan with crafting abilities
Minor fix for merchant Scar, in Forsaken
Silla clan receives new merchant with crafting abilities as well as new Council room.
Minor fixes:

Correct Louhi's quest in Tangun from Ctrl I to Shift I when making lantern. Thank you for catching that mistake.
(5/5/2006)- Server reset May 5, 2006 - The Nexus servers were reset with the following changes:
Clan additions and fixes:

Silla receives upgrades to merchants Nishijin and Changul.
Pegasus receives 4 new merchants with crafting abilities.
Destiny clan's merchant Jaebong-Sa will now let you weave and tailor.
Subpath additions and fixes:

Monks room is no longer PK
Fix to Garden of the Muses room, keeping players from leaping onto the stage.
Other updates:

Baekho helm/helmet and Hyun moo helm/helmet graphics were switched.
(5/5/2006)- Will the Triiofa find HaggardWitch? - I stand by the cave, near what used to be the tree of reflections. I am hoping that the four, who call themselves Triiofa, will find the HaggardWitch. It seems that there is something inside this cave that has these peaceful creatures very upset. Every few days they wonder out but tonight maybe something will happen. I will stand here and wait until I get my answer… won't you join me?
(5/12/2006)- Server reset May 12, 2006 - The Nexus servers were reset with the following changes:
King Yuri's Ball! See more information on the next post.
The wonderful sounds of the Tanso and Kayagum play music again.
Clan additions and fixes:

Dharma clan had a small change to merchant Dha-Rama
Sun Moon receives jewelry upgrade and change to Ailla's appearance
Tiger Clan receives a new room called Sacred Sanctuary, new merchant Alyeong and minor changes to a few other rooms.
Pegasus received a new merchant named Yama Raja (Resurrect, Dye)
Alizarin receives 4 new merchants Otemba (Smith and Smelter), Ibby (Carpenter), Valkryie (Tailor and Weaver) and Zooey (Gem and Jewelry)
Kurimja Clan – minor fixes
Silla Clan receives upgrades to Shila (Prepare metal), Nomad (Travel to Buya & Kugnae; Clan summon; Mail & Snow dye) and Nishijin (Prepare cloth).
Forsaken Clan receives Summon horses on their merchant Scar.
(5/12/2006)- King Yuri's Royal Ball - King Yuri requests your presence in attending a Royal Ball, which is being held in his honor. Join us for a magical evening filled with special guest appearances by our Royals and dignitaries from all across the lands. This regal celebration will surely capture the hearts of our citizens everywhere as you enjoy an elegant evening filled with dining, dancing and enchanting entertainment.
Ticket sales information can be found by visiting Lognom inside the Royal palace of Kugnae.
Event Package

Elegantly Themed Dinner (Formal)
Enchanting Entertainment & Dancing
Opportunity to mingle with Royalty
Commemorative Gift can be found by visiting King Yuri's personal Seamstress.
Special Random Gift from King Yuri
On this fine day, King Yuri has decided that if you are very lucky, you just might be granted a special gown or garb. Please visit his personal Seamstress' assistant. Good luck! ((Every registered character gets one chance at a free, nonbonded ball outfit.))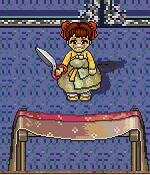 (5/19/2006)- Server reset May 19, 2006 - King Yuri's ball begins tonight 5pm PST/8pm EST. We look forward to seeing you all there.
The Nexus servers were reset with the following changes:

Many updates were done for the ball.
Other updates:

Honor sword graphic was changed
You may now deposit Brassica
Clan additions and fixes:

(5/26/2006)- Seeds of darkness… - Much has happened in the last few months while I journeyed through these lands! The Haggard Witch has opened the cave found near the eastern side of Kugnae. She used her magic to dispose of the magic seal placed by Yieta. All that awaited the adventurers that ventured within was a large cage filled with the Triiofa under a spell, and mysterious wandering saplings...
I had witnessed Yieta's capture! The four Triiofa managed to catch her off guard in the Southern parts of Kugnae and the Army tossed her down into the Oubliette and made sure that she was kept at bay. With the threat dispatched, it seems the Triiofa could still sense a dark presence surrounding the kingdom... but what could the source be?
Venturing into the cave, I could see the roots had begun to spread through the tunnels beneath the city. Seemingly reaching towards the sky above! Did they seek to cover everything in darkness, strangling the remaining life left within the lands?
A plot for revenge had begun sixty years ago, in lands surrounding the ones that we are all familiar with. A woman scorned, her plans foiled and her lover slain by his own magic while fighting in her honor. Cities succumbed to the might of her magic, and she ripened her ideas for a visit back to the land that had thrown her out and caused her such strife. Mupa has returned, as we all witnessed that evening in the palace!
Transformed by the ancient magic that she has been mastering for the past decades, she came upon an illusionist that told a tale of a land called Koguryo, and also of the surrounding territories. She spoke of troublesome royalty, and meddling citizens... Mupa had found an apprentice in the woman known as Yieta.
The saplings grow, and mature within the damp labyrinth and traces of their last meals can be seen in dust of yellow gems sitting upon the rocky floor. What is in store for the Kingdom, and surrounding cities?
What of Mupa's plans, that have taken root within the cave? The HaggardWitch has spent many sleepless nights studying the decaying remains of the Tree of Reflections, as well as being seen taking a walk into the cave with a grim look upon her face.
I saw her looking, with pain in her eyes, at the captured Triiofa family behind the bars in the cave. She reached out to them, and spoke:
"The potion is almost ready my dearest friends, with the regeneration of the Tree of Reflections it will all be undone. You shall be free at last! If the citizens are willing, I will need more help. Many vials of the potion will be needed to restore the Tree to its former glory. When the spell upon the Triiofa breaks and the evil is vanquished from the depths of the cave... the Heart shall grow again."
I hear the winds blow through the Nexus...and once more they bring dark tidings.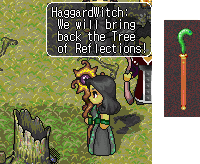 (5/31/2006)- Server reset May 31, 2006 - The Nexus servers were reset with the following changes:
Book of song graphic was updated to look a little different from regular books.
Small update to the event items as well as the cost for deposit and repair.
Clan additions and fixes:

KRA receives new room Rowann's Sanctuary and 2 new merchants (Gyong-Si & Rowann).
Dharma receives updated clan hall.
Subpath additions and fixes:

Shamans receive new item.
Hunting part of event and quest are now closed.
(5/31/2006)- Mupa's dark forest has been torn down... - I stand amongst the threshold of the dark cave, you can't help but notice the groups of adventurers resting outside. Faces covered with dirt and sweat, their armor resembling the dark wood that now dots the cave within. Shining wooden and grass colored relics grace their clothing, and it seems that the threat has been nullified for now.
"Mupa's dark forest has been torn down, and not a walking tree is left in sight! The time is soon at hand for me to plant the Heart of Reflection. In doing so the spell Yieta and Mupa had cast upon the land will be broken! Without the help of the community, this would not have been possible...we all should be grateful for the great feats that have transpired!" the HaggardWitch could be seen stating to the onlookers.
I watch the sun begin to set beyond Dae Shore, the cries that once echoed throughout the cave has since been replaced by the scuffling of the feet belonging to the departing adventurers.
"Everyone that wishes to come, should prepare for the planting within the next few evenings!" she told those that continued to walk past. She seems to be more light-hearted than usual! I know I was after such a long battle. I gathered my newly found items and headed for home. I will need rest so that I will be able to attend such a grand event!
((Join us on Thursday, June 1st as we gather for the revival of the Tree of Reflections! It will begin at 6:30 PM PST/9:30 PM EST.))
(5/31/2006)- Rings and Tribes! - A new feature allowing citizens to form rings and tribes has been added with the last reset. Rings and tribes allow people to form a guild with their friends or even begin the process to becoming an official clan.
A ring can be forged with 10 people and 500,000 coins which has limited clan functions to help it grow. When the ring grows in size to 50 people it can be upgraded to a tribe which includes even more expanded clan functions. When the tribe has 100 members it can apply for official clan status with the appropriate kingdom tribunal.
Wilderness tribes cannot ever be turned into official clans due to the fact that there is no wilderness tribunal. Whether you're starting the next official clan or simply getting a group of your friends together, see Rotah in the wilderness to forge your ring!