Nexus Historical Characters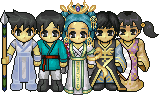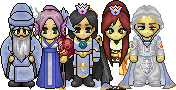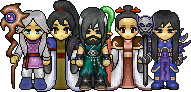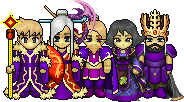 This is the most complete list of characters who serve or have served to build the Nexus history. Here are the Royals, Event characters and other important figures that made the on-going Nexus storyline reach what it is today. Along with their names and images, there is also some detailed information of their kingdom of origin, their path, their personality (spirit) and also a short description about the importance which each has.

---
Character Path Descriptions
(The special subpaths below indicate that is an event character)

Commoner - A person who has distinguished from others based only on regular feats. Is often born in a peasant family.

Royal - A monarch figure who represents the government of a kingdom or an empire. Is usually a King/Queen or a Prince/Princess a normally earns their title by heritage.

Deity - A supreme being with divine powers capable of doing things beyond the comprehension of humans. Usually lives in a realm out of reach of mortals.

Creature - A being that has some human traits, but some uncertain aspects or nature make them non-human. Is usually a beast, a morphed or a spirit form.

Warlord - A person who achieved great feats of strength. Is normally an extremely powerful fighter or a military leading figure who gained a commanding reputation by the power of words and strength of the muscles.

Buccaneer - A person who works with illegal practices of piracy, smuggling, robbery or clandestine practices. Is normally a roguish marauder or a villainous outlaw.

Conjurer - A person who practices magical forces out of supernatural sources. Is usually a sorcerer or a witch, but may also be a powerful wizard.

Scholar - An erudite person who has profound knowledge of a particular subject. Usually is one who spends the time on developping the wisdom instead of worrying about fighting skills.

---
Character Spirit Descriptions
The classification of alignment describes the personality of them each has, categorizing them according to to the ethical (Law/Chaos) axis and moral (Good/Evil) axis.

Lawful light


Lawful light characters are people who act with compassion, honor and sense of duty. They believe that structure and order are the best way for civilization to thrive. Lawful Lights face dilemma when the law goes against their moral code or conflict in moral and secular laws. They ultimately seek to do and preach good.

Neutral light


Neutral light characters act with compassion but do not feel they need to work structured authority. While they may work with the local authorities, they do not feel beholden to them. Neutral Lights have no qualms with breaking rules if means doing the morally right thing.

Chaotic light


Chaotic light characters have absolute no regard for laws or social structures, but will pursue what they think is right at any cost. Their lives are guided by what they believe is morally good and have little time for those who see the world any differently. Chaotic Lights are also willing to do bad things to bad people.

Lawful grey


Lawful neutral characters favor order and law over good vs. evil. They favor structure, loyalty and tradition, while their moral compass takes a backseat whenever they make decisions. Lawful Neutrals may have an ethical code, but it is not directed by the forces of good or evil.

Neutral grey


Neutral grey characters fall into one of two categories: First are those who are decidedly balanced between good and evil as well as order and chaos. Second are those who simply don't care about good, evil, law or chaos and simply act on their basic private urges without being drawn to either side.

Chaotic grey


Chaotic grey characters life their life on whims and spontaneity. While they generally have a disdain from order and law, predicting their next actions is nearly impossible. Chaotic Greys are usually driven by self-interest, but unpredictability is the only certain aspect they have.

Lawful dark


Lawful dark characters believe that keeping order is an important part of their own plans to gain power of wealth. To them, it is easier to gain power through exploiting the system rather than tearing it down and rebuilding it. Lawful Darks are loyal people and rarely will break alliances unless they already intended to when they made it.

Neutral dark


Neutral dark characters act solely in the own interests. They have no loyalty and have no problems backstabbing an ally. Greed drives the Neutral Darks and most are selfish and untrustworthy. However, they will not commit evil acts unless there is some sort of payoff.

Chaotic dark


Chaotic Dark characters' lives are ruled by self-interest and desire for turmoil. They go out of their way to disrupt order and law and enjoy supporting anarchy as all around havoc such as riots and vandalism. The only reason Chaotic Evils could behave would be out of fear of punishment if they feel this can actually happen. They cause chaos for the sake of being evil.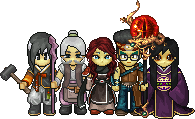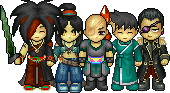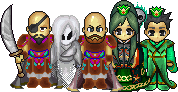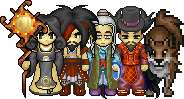 Find characters by alphabetic order:
(click one the letters below)
Nexus Historical Characters Information
Abscess (Apuen)
gender: male from: Nagnang status: reborn
path: Warlord race: Human spirit: chaotic grey
related character(s): Blight, Atrophy, Blight, Marasmus
last update - November 24th, 2013

One of the four followers of Blight, Abscess was a warrior known for his warring mind and deep heart. Never took to battle without a plan of action. He helped in battles against Koguryo and Buya and commanded legions of Forsaken during the Nangen War, but besides the clan wars, not much has been heard of him. He was killed in battle by the Shapeshifters of Wuhu Luanhua tribes yuris later. Along with the other three followers of Blight, he was revived with the help of shamans and reborn into the new body named as Apuen.

---
Abu
gender: male from: neutral status: deceased
path: Deity race: Spirit Guide spirit: neutral dark
related character(s): Rusuto, WinSong, InSu, Qantao, Kiyuu
last update - June 25th, 2015

Abu appeared as the new Spirit Guide of Nexus. In his first days he started causing commotion in Nexus by posting "The Black Omen", a legend which spoke of the destruction of Nexus when a 9th Immortal Beast awakens. Shortly after the legend was revealed, one by one immortal beasts atually started breaking out of their lairs and attacking community. After weeks of terror it was found out that the beasts were being unleashed due to Rusuto's influence, the Chaos sister. To stop her menace, Subpath elders united to cast the power of the subpath stones and in order to trap her. After she was imprisoned into a stone, Abu stole it!

With his artful deception, the true story had then finally been revealed: Abu was actually the true source of threat and had appeared in person just to see his plans through to completion. Being an immortal with the power of chaos, he killed hundreds and couldn't even be stopped by Dream weaver Mug. Due to his immense power he became Mug's nemesis and was only defeated when Mug sacrificed his immortality to destroy him. Abu no longer exist, but the Chaos stone he carried was left behind and is still dangerous.

---
Afrit
gender: female from: Koguryo status: unknown
path: Commoner race: Human spirit: chaotic grey
related character(s): Diviners
last update - November 24th, 2013

A mischevious woman known for stealing many Diviners items and causing much havoc. Her most common trait was her giggling.She went missing after a while, but is still considered a villain and enemy to the Diviners.

---
Aino Senshi
gender: male from: Buya status: deceased
path: Royal race: Human spirit: lawful light
related character(s): Lasahn
last update - July 20, 2014

King Aino Senshi of Buya, he was the father of Lasahn. Due to the "Imperial" status of Buya, some people began to confuse his title as if he was "Emperor". But truth was that his royal title was "King". His death was a bit controversial, some people claimed he could have been poisoned, but Shamans' autopsy pointed out that he actually died of natural causes due to age.

---
Atrophy (Sanghan)
gender: male from: Nagnang status: reborn
path: Conjurer race: Human spirit: chaotic grey
related character(s): Blight, Abscess, Contagion, Marasmus
last update - November 24th, 2013

The strongest follower of Blight during the Forsaken raids to the kingdoms of Buya and Koguryo, Atrophy was a mage who served in many battles. He was known for being quiet, but well spoken, quite deadly as well. Like the other four main followers of Blight, he only appeared in times of crisis but was always there for a fight. Atrophy has fallen in battle against the Shapeshifters of Wuhu Luanhua tribes. Yuris later, the shamans helped revive with along with the others and he was reborn into the new body name as Sanghan.

---
Bartolomeo
gender: male from: Gogoon status: alive
path: Buccaneer race: Human spirit: chaotic light
related character(s): Kirriin
last update - November 24th, 2013

A pirate carpenter from The Hanseong ship. He is Captain Kirriin's brother and the only one who is called by name. He appeared in Hausson once to have a drink in the tavern, after that, he has only been seen in the ship or in his hut at shipwreck island. He appears to only be able to work with Kapur wood, so people might need to collect lots of Kapur branches if they want to leave such island.

---
Bibimbap
gender: male from: Nagnang status: deceased
path: Commoner race: Human spirit: neutral grey
related character(s): Kanaye, Blight, Filia, Kija, BoRam, ChinMae
last update - June 25th, 2015

Bibimbap was the finest chef of Nagnang Forces and a loyal servant of Blight. When Blight returned wounded from the first battle against Wuhu Luanhua shapeshifters he and his brother Kanaye were decisive aid in the stuggling recovery of Blight. As a chief cook, ee was also the boss of BoRam, ChinMae's mother. After the war with the Shapeshifters ended, he and Kanaye left the Nagnang forces and remained working at Blight's chamber at the Herbarium.

He died years later victim of his own food. When Queen Filia returned from her long exile, Blight arranged a meeting between Prince Kija and his mother at the herbarium. Bimbimap and Kanaye worked very hard that day to attend all expectations of Nagnang Royal family and prepared his greatest dish as dinner. As tradition requests, the chef tastes the food before serving to the royals, but to the suprise of everyone present, after tasting his food, he collapsed on the floor. It was later found out that Wiyae was controlling Filia's mind and it was her who put the poison at the food in attempt to kill Kija. Bibimbap's death was a tragedic one as it was followed by his brother Kanaye who also tasted the food in attempt to prove his brother's innocence.

---
Blackgut
gender: male from: Ilbon status: alive
path: Buccaneer race: Human spirit: lawful dark
related character(s): Bluestone, Xiou, Torus, Doggerel
last update - November 24th, 2013

The strongest pirate in Bluestone's crew. He is cruel and heartless. Was left behind once to fight against Koguryo community and gave people much trouble in battle. He is said to possess the strength of 100 men. Along with Torus and Doggerel, he fought community in order to free Captain Bluestone from prison in Buya and was a leading person in the war between kingdoms and pirates.

---
Blight
gender: male from: Nagnang status: alive
path: Warlord race: Human spirit: lawful dark
related character(s): Kija, ChaeRi, Filia, Abscess, Atrophy, Contagion, Marasmus, Malady, YeNaeWi, ChinMae, Bibimbap, Kanaye
last update - November 24th, 2013

Blight was the Commander of Nagnang Forces and founder of The Forsaken clan. He was the main cause to the start of Nagnang War. His claim was that northern kingdoms invaded Nagnang to kill their citizens after Prince Kija opened the lands. Blight ended alling with the Sonhi against Buya and Koguryo, but got betrayed by them. In return, Blight ended helping save captured Buya from Sonhi and return peace. Blight ended up leaving the leading role of Nangen forces and also the leadership of The Forsaken clan, but continued on his adventures through the lands on his own will. Found secrets in lost mines, fought against the menacing Shapeshifters of Wuhu Luanhua tribes. He is seen as a hero by some, an enemy by many, but it is well known to be vital in stopping the invasion of Mongols and the power-up of woodland creatures.

---
Bluestone
gender: male from: Ilbon status: deceased
path: Buccaneer race: Human spirit: neutral dark
related character(s): Lasahn, Xiou, Blackgut, Torus, Doggerel
last update - November 24th, 2013

A pirate captain from Ilbon, considered Enemy of Buya and Koguryo for repeated crimes against the nations. He was responsable for several pirate raids in Koguryo and was also the supposed murderer of Xiou, Princess Lasahn's betrothed. His eye was stabbed by the Princess in anger for him remembering her many years later of what he did and in an epic battle against the Buyan princess, he was killed with a sword on the chest, witnessed by hundreds of citizens and three of his crew. The feared pirate leader was defeated and killed in battle, but before dieing he revealed Xiou was alive and was actually his son.

---
BoRam
gender: female from: Nagnang status: deceased
path: Commoner race: Human spirit: neutral light
related character(s): ChinMae, YongMae, Bibimbap
last update - June 25th, 2015

BoRam served as an undercook to Bibimbap at the Nagnang Forces, where she has learned the fine art of making many food items including 10 different kinds of stew and 27 wild rice recipes. BoRam was married to Lieutenant YongMae and was mother to 4 boys: ChinMae, ChongMae, YinMae and SongaMae. It's known what happened to her three youngest sons, but it is said that BoRam was assassinated years later during Blood War and this caused a big impact at ChinMae's behavior.

---
Caemyoun
gender: female from: Han status: unknown
path: Commoner race: Human spirit: neutral light
related character(s): Sanvu, Chanchu, Malou, Noblefox
last update - November 24th, 2013

The fat bearded woman from the Circus of Starts. She was one to help as assistant in most shows. She is fascinated with stories of Princes and her dream is to become a Princess someday, although she is secretly in love with Chanchu.

---
Cazell
gender: male from: unknown status: unknown
path: unknown race: unknown spirit: lawful dark
related character(s): Bluestone, Nyogh
last update - November 24th, 2013

A mysterious figure known to be the leader of Pirates & Ogre alliance in attempts to gain knowledge of the Staff of Elements forging. After he suceeded forging his own, he broke the machine Thane uses to forge the legendary staff and vanished from the lands of Nexus.

---
Chaemok
gender: male from: neutral status: unknown
path: Creature race: Triiofa spirit: neutral grey
related character(s): HaggardWitch, Yieta, Mupa, Tongnamu, Kurutogi, Kkoptchil
last update - November 24th, 2013

One of the Triiofa brothers, known as peaceful lumber. He was one of their race who came to Koguryo to warn about Yieta and Mupa

---
ChaeRi
gender: male from: Nagnang status: alive
path: Royal race: Human spirit: lawful grey
related character(s): Kija, Zhou, Filia, Blight, YeNaeWi
last update - June 25th, 2015

Son of King Zhou and Queen Filia, he is the lost brother of Kija. ChaeRi was the first royal born in Nagnang and was baby when his father was killed. Since his brother Kija eye-witnessed their mother murdering Zhou she ended being exiled back to Kaya, her birthplace and as she was still breastfeeding, she had to take the baby prince exiled with her. Upon her return, Filia got jailed by Kaya Emperor and ChaeRi grew for years in a cell. When SuroKim defeated the tyrant kayan emperor and took the throne as the new King of Kaya, both Filia and ChaeRi were freed. Already a grown teenager, ChaeRi banded together with other political prisoners who shared jail days with him. ChaeRi and his allies ventured to lands distant of Kaya and battled through many places earning respect for his fets of battle and voice of authority. Throughout the lands he passed, ChaeRi was recognized by all as a skilled strategist and natural leader. He eventually formed a militia army which followed him wherever he went. During his travels ChaeRi never paid much attention to Nagnang until he heard about his brother assassination. Envoys informed him that his birthplace was ravaged by war with nothern and was risking being invaded by Mongols due to the strategic position they would obtain against their continuous war with Han Empire.

As ChaeRi had success in defending the kingdom from Mongols' second invasion, he was granted Regent status position. His reign did not begin easy as many clan leaders did not trust him and some did not recognize his authority. Regent ChaeRi also wasn't very popular among the citizens because he still used his green militia army to guard the gates and the palace instead of local guards and soldiers. He was later crowded as Prince of Nagnang upon proving proof that he was truly Kija's brother and the true heir of the throne. With years pass, the distrust nangens had towards their new Prince started changing as they saw how skilled was his ruling and that he didn't fear conflict if it was necessary. Prince ChaeRi ended recognizing a new Nagnang Army and a new Nagnang Ministry and hired two bulding brothers to rebuild the Royal Palace from the ruined walls that have haunted Nagnang for years. After the new Palace was released, Prince ChaeRi negotiated the transfer of Hawkmori, who had been captured by Koguryo Army years before and was being kept prisoner by them. The Prince held a Royal Court Trial to sentence Hawkmori to death for the murder of Kija, but the trial was interrupted by Blight and his men. Blight said he could make Hawkmori reveal the truth about why he killed Kija and to get his confession, Blight started torturing Hawkmori in front of everyone by breaking his fingers and hurting his hand. Prince ChaeRi watched the torture session and although he would not do something like that, he decided not to interfere. Blight got Hawkmori to speak: he revealed Kija was killed because Mupa needed his royal blood to revive Sagu. It would have ended well, but Blight started bragging about his achievement and upon being confronted by General Donjuan of Nagnang Army, Blight attacked the General during the tribunal and knocked him out of battle. Furious about the attack on his General, Prince ChaeRi confronted Blight and an epic battle took place between the two main characters of Nagnang. While Nagnang Royal Court had turned into a battlefield, an old face returned Itsuwari, took advantage of the turmoil and helped the injured Hawkmori escape. That day, Prince ChaeRi also found out that Blight was involved in a group called "The Resistance" which plans to remove him from throne and close Nagnang borders once again. With enemies waving from all sides, Prince ChaeRi faces difficult times to keep Nagnang safe and sound.

---
Chanchu
gender: male from: Han status: unknown
path: Commoner race: Human spirit: neutral light
related character(s): Sanvu, Caemyoun, Malou, Noblefox
last update - November 24th, 2013

The strong man and knives-thrower of the Circus of Stars, he is the younger brother of Sanvu. He is quite proud of his body and does not like to receive orders from his older brother.

---
ChenLee
gender: male from: unknown status: unknown
path: Buccaneer race: Human spirit: chaotic dark
related character(s): Bluestone, Xiou, Torus, Doggerel
last update - November 24th, 2013

A pirate captain of the Panda ship. He appeared with his crew in Hausson once seeking the knowledge that Bluestone had found. His battle with Bluestone, crew vs. crew did not last long and they both departured before people could gain more information about him. What is known is that ChenLee is much more cold blooded than Bluestone.

---
Cheyn
gender: male from: Kinung status: deceased
path: Commoner race: Human spirit: lawful grey
related character(s): Mihi, Teikari, Mupa
last update - November 24th, 2013

He was the elder of Tae family and was the leader of Kinung village. When Mupa tried to enslave his family and destroyed the village, he ran with his family. Lost the Haunted Woods along with the Yon family. Mupa ended capturing Cheyn and his family again and took them hostage to her Ice Dungeon, north of Lover's lake. With HaggardWitch's help, the Tae family was freed from Mupa's evil hands. With the help of Teikari and the Yon family, Cheyn took the Tae back to the ruins of Kinung and with help of dozen citizens of the three kingdoms they managed to rebuild Kinung into a beautiful town. In gratitude to their help, he kept the Kinung town open for visitors. As mayor from Kinung, he met a lady named Mihi who he fell in love with. Sadly, Mihi wasn't so friendly with people and abused a bit of the old man. Because of her fights with shamans, Cheyn decided to ban them from Kinung, but they counterattacked. The shaman elder poisoned a drink and a barbarian handed it to him. The plot of the two ended up killing Cheyn.

---
Chinao
gender: male from: Sonhi status: alive
path: Warlord race: Human spirit: lawful dark
related character(s): KaMing, KaKhan, Kabocha
last update - June 25th, 2015

Chinao is the General of the Sonhi forces. He had a great indirect influence on the Koguryo vs. Buya war. When the messenger Kabocha delivered a message to him informing of KaMing's intentions and involvement in the Koguryo-Buya conflict, he was meant to provide safe escort to the rider, but the convoy ended being attacked by Zibongs. It is not known if Chinao was behind the arrival of Zibongs that killed the soldiers protecting Kabocha and eventually led him to fail his purpose.

Decades later, General Chinao took a very important role in the Sonhi vs. Koguryo war. He claimed to have received evidences of the kogurian army's involvement with the mass murder of Sonhi's Aprok villagers. It was him who led the first assaults at Kugnae. Yet, it was due to a mistake he made, that Koguryo was able to win the war. Chinao signed too many "Chinao passes" to provide access of his soldiers to Aprok village, and such passes were used by kogurians and allies to infiltrate their restricted area and retrieve pieces of their assault maps.

After the war ended and the truth about the real murderers of the villagers was uncovered, KaMing withdraw his forces from battle, but that wasn't the last time Chinao was seen. He paid another visit to Kugnae snake cave when Mupa's apprentice, Youngchae, appeared to collect ingredients to hinder Princess Yun curse removal. Although clearly inflamed against the witch, he chose not to slain her hoping that she would provide some advantageous strike against Koguryo. Such visit to Kugnae did not seem to be authorized by KaMing and he was in fact secretly scheming with KaKhan instead.

---
ChinMae
gender: male from: Nagnang status: alive
path: Warlord race: Human spirit: chaotic grey
related character(s): Blight, YeNaeWi, YonMae, BoRam
last update - June 25th, 2015

Eldest son of YonMae and BoRaM, ChinMae always looked up to his father as a personal hero and a rolemodel. Nicknamed "Little arrow", by his father, ChinMae's dream was to one day be just like him. started his carreer in Nagnang Forces really young as an envoy of Nagnang Forces. Blight. His first great participation was during the battle against the Wuhu Luanhua shapeshifters during which he became the main messenger in Blight's name. After the heroic death of YonMae, Blight promoted ChinMae to his fathers position, which some questioned as a very quick ascension to Lieutenant. After the battle against the shapeshifters, ChinMae continued to gain importance within Blight's ranks. Blight felt as if he had a life debit to ChinMae's father who saved his life and therefore sort of adopted the boy as if was his son.

Years later, when his mother was assassinated during Blood War, ChinMae's heart grew colder and he vanished. His first return to public view happened when the Building brothers came were announced to come rebuild the Nagnang Royal Palace, ChinMae reappeared with great interest in their plans. ChinMae accompanied Blight and YeNaeWi at the Hawkmori trial and fought against Nagnang soldiers that day.

After the Nagnang rebels ravaging Nagnang palace's restoration were captured, it was discovered that ChinMae was the true leader of the group known as "The Resistance". Such group is known to have covert operations in attempt to dismantle Nagnang sovereignty and close its borders to foreigners once more. They claim the decisions of Nagnang royals through history were what led the kingdom to ruins and the only chance to avoid destruction would be changing the government system. Few months after, YeNaeWi contacted Prince ChaeRi and said he was abandoning Blight's forces as he feared it had fallen to a terrible manipulation. According to him, ChinMae has been a bad influence for Blight for a while now and he has his own agenda which is not known as of yet. With YeNaeWi's resign, ChinMae took over as the second in command of Blight Forces.

---
Chizao
gender: male from: neutral status: restrained
path: Conjurer race: Human spirit: chaotic grey
related character(s): Nagnag, Chung Ryong, Baekho, Ju Jak, Hyun Moo
last update - November 24th, 2013

Master of the four totems and creator of magic, he eventually got insane by losing the limits of his own power. He was locked by his apprentices Chung Ryong, Baekho, Ju Jak and Hyun Moo in a distant sanctuary so while he sleeps, magic continues to exist. He was freed by Nagnag once and caused much havoc to the lands. Eventually community helped lock him in his tomb again, but the power of his magic, freed his minions and created what is known today to be the Vortex.

---
Contagion (Byeong)
gender: male from: Nagnang status: reborn
path: Conjurer race: Human spirit: chaotic grey
related character(s): Blight, Abscess, Atrophy, Marasmus
last update - November 24th, 2013

One of the four followers of Blight, Contagion was a poet who caused much havoc when their rebel group attacked Koguryo and Buya. He was the healer of Blight during the battle of Clans against Blight. He fell in battle quickly and with his loss, was also the hope for Blight to win. Contagion was the last one to be killed by the Shapeshifters of Wuhu Luanhua tribes. Yuris later, the shamans helped revive him with along with the others and he was reborn into the new body named as Byeong.

---
Daeso
gender: male from: Buya status: alive
path: Royal race: Human spirit: unknown
related character(s): Lasahn, Geumwa
last update - June 25, 2015

Son of Queen Lasahn with the late King Geuwma, Prince Daeso is the first buyan royal born in the kingdom and is the heir to the throne. While he is still just a baby, his story already began with the tragedic death of his father.

---
Darkchild
gender: unknown from: neutral status: deceased
path: Creature race: unknown spirit: chaotic dark
related character(s): Sagu, Mupa, Mhul
last update - November 24th, 2013

A vile creature of terrible destruction power was created by the dark magic of Sagu. Was responsable for great havoc in Koguryo but eventually was killed by Prince Mhul and some of his strongest defenders.

---
Doggerel
gender: male from: Ilbon status: alive
path: Buccaneer race: Human spirit: chaotic dark
related character(s): Bluestone, Xiou, Torus, Blackgut
last update - November 24th, 2013

A barbaric pirate, follower of Bluestone. Greatly involved in raids against Koguryo and Buya and was one present when Bluestone was freed from prison in the tri-kingdoms.

---
Fei
gender: male from: Han status: alive
path: Warlord race: Human spirit: unknown
related character(s): Yuri, HanXin, Lasahn, Geumwa
last update - June 25th, 2015

A mysterious swordsman who appeared during King Yuri's last Ball. Some people claimed to have seen him present during the Imperial Coronation of Queen Lasahn and King Geumwa. Other than that not much is known about him.

---
Filia
gender: female from: Nagnang status: deceased
path: Royal race: Human spirit: chaotic grey
related character(s): Kija, ChaeRi, Zhou, Blight, Wiyae, SuroKim
last update - July 20, 2014

Queen Filia was the mother of Prince Kija and Prince ChaeRi. She was exiled from Nagnang after being possessed by a sorcerer and assassinating her husband, Zhou. Many years later returned to Nagnang and after considered innocent in a trial, she was cold murdered by the one who was controling her mind, the evil Wiyae.

---
Geumwa
gender: male from: Buya status: deceased
path: Royal race: Human spirit: chaotic light
related character(s): Lasahn, Daeso, HanXin, Taiisrhaa
last update - July 20, 2014

Geumwa was the nephew of Han Emperor and was sent to Buya after King Aino Senshi passed away. According to the Han Emperor, who like many other rulers was a male chauvinist, Lasahn would only be recognized Queen if she got married. Therefore, Geumwa was sent to marry Lasahn without both ever meeting before. This arranged marriage didn't start so bad, as although Geumwa was much younger than Lasahn, he claimed to have fallen in love when he met her. As the time passed, King Geumwa began to show his true colors. Geumwa was very strong, so he didn't use guards for himself, but he was ultra concerned with kingdom safety and therefore took some unpopular measures. He didn't seem to care if the public liked his decisions or not, he was the king afterall. His words were very rispid and the way he threated Lasahn was very rude. He was also a male chauvinist to extreme, but let Lasahn rule the internal politics, while he self proclaimed himself to deal with foreign politics.

However, he was terrible with diplomacy. Geumwa caused a lot political discomfort with most of the kingdoms, except Han. He blocked nangens and kogurians from doing military drills in buyan territory without authorization, had conflicts with Sonhi and never worked well with Kaya either. Some also believed he was jealous of Mhul which is why he always picked on the kogurian royal and claimed he was weak and afraid to do necessary changes.

Geumwa died from poison after ignoring BIA soldiers recommendations. During the Forget-Me-Not ball held by kogurian ministry in honor of Queen Yun's pregnacy and her cured memory, Geumwa ate and drank things without taking any precautions and Buya authorities suspect that it was during such event that he was poisoned. The prime suspect of his murder is Taiisrhaa, althought it seems Geumwa was not the true target of the poison and died as collateral damage. These are ones of many theories which surround the unsolved murder of the man died known as the "Tyrant King".

---
Goeyu
gender: male from: Koguryo status: alive
path: Warlord race: Human spirit: unknown
related character(s): Yun, Mupa, Mhul
last update - July 20th, 2014

A mysterious man who holds the title of "The White Tiger Warrior". He was the guardian of Princess Yun for years and kept her hidden from Mupa by changing her name to "Yeon".

---
Grinch
gender: male from: neutral status: unknown
path: Creature race: Goblin spirit: chaotic grey
related character(s): Mhul
last update - June 25th, 2015

A strange goblin who appeared at Kugnae Palace Courtyard demanding food, warmth and shelter during holiday season of Hyul 36. Those who aided him were recognized for helping to restore the holiday spirit.

---
HaggardWitch
gender: female from: neutral status: alive
path: Conjurer race: Human spirit: lawful grey
related character(s): Mupa, Yieta, Tabae, Tongnamu, Chaemok, Kkoptchil, Kurutogi
last update - November 24th, 2013

A strange witch who has helped the kingdoms more than once, but one knows much of her intentions. She appeared in Koguryo few times, but her powers were truly most important to help community when Yieta and Mupa were enslaving the Triiofas. HaggardWitch has also helped free the Tae and Yon families from the sorcery of Mupa. Her motives on helping community this much are unknown as well as her origins.

---
HanXin
gender: male from: Han status: alive
path: Warlord race: Human spirit: lawful grey
related character(s): Aino Senshi, Lasahn, Geumwa
last update - July 20th, 2014

General of Han army. Helped the tri-kingdoms against Bluestone attacks and declared war against pirates. He visited Buya a few times after, when King Aino Senshi died and brought the message of Han Emperor saying that in order for Lasahn to be recognized "Queen" she would have to marry to the Emperor's nephew, Geumwa.

---
Hanuman
gender: male from: neutral status: deceased
path: Deity race: Wind God spirit: chaotic dark
related character(s): Hwanung, Tangun, JaeHwa
last update - June 25th, 2015

Long before Yuri, there was once a mighty temple where three Wind Gods roamed free. However, in their expanding adventures throughout the lands, the Warriors of Han encountered such temple and saw an opportunity there. They attacked the temple, trapped the gods into powerful altars and enslaved the wind spirits to gain power into their expansion campaign. When such warriors slowly died out, the temple of the winds raised to the sky became only a legend.

The wind god Hanuman has awakened began causing great death and destruction to the surrounding kingdoms. His attacks were constant and his anger could not be controlled. However, the Spirit Guide Eldridge adviced mortals to not fight Hanuman, and to try to help him understand that they were more peaceful people than the Warriors of Han who trapped him. He adviced people to instead show devotion and release the other Wind Gods. In attempt to stop Hanuman's assaults, humans worked together to awaken Hwanung and Tangun. At first the other two Wind Gods attempted to stop Hanuman from attacking the citizens, but their attempt failed. Hwanung and Tangun eventually became allies of Hanuman into the destruction of the kingdoms. It was then revealed that the Wind Gods were actually following orders of the person who freed them as if he was their master. Jae-Hwa ordered attacks against the three kingdoms, but he as the only mortal, was defeated by a group of people. Extremely furious for the fall of his master, Hanuman used his ultimate power to kill humans, but it wasn't enough to detain all. He was eventually slain by kogurian forces.

---
Hawkmori
gender: male from: Nagnang status: alive
path: Warlord race: Human spirit: neutral dark
related character(s): Kija, Mhul, Wiyae, Mupa, Itsuwari
last update - November 24th, 2013

He was an infiltrated member of Nagnang Army and the cause for it's dismissal which later became Covenant Clan. Although he had been in the army for a good while, none of the members knew his true intentions. During the first defenders ceremony after Filia was murdered by Wiyae, Hawkmori who was supposed to be one of the soldiers on guard for Prince Kija suddenly turned back and assassinated the prince of Nagnang in cold blood. While most people tried to save Kija, Hawkmori was able to escape and has not been seen since then. It is not known his reasons for killing the prince, but he's number one enemy of Nagnang kingdom along with Wiyae.

---
Ho-lu
gender: male from: unknown status: deceased
path: Warlord race: Human spirit: lawful light
related character(s): Changsu
last update - June 25th, 2015

A legendary warrior who led his people in an attack against a powerful mage and his armies of skeletons. Using unparalleled tactics that have long since been forgotten, Ho-lu managed to get behind the skeletal hordes with a small force. He smote down the mage just as he was amassing power to defeat Ho-lu and his men. A great explosion resulted and when all settled, the skeletons were merely piles of bones. All that remained of Ho-lu was his sword, which now glowed with a faint light. It is believed that somehow his essence merged with the cold iron.
The sword was immediately coveted by many. After several power struggles and a time of anarchy, Changsu, the leader of magistrates, came upon the sword and hid it somewhere in Koguryo to avoid that the powers and the chaos that came with it was seen again.

---
Huie
gender: male from: neutral status: alive
path: Scholar race: Human spirit: neutral light
related character(s): JiYun, Idori, SungIl, Seyn
last update - November 24th, 2013

Huie is a disciple of Chung Ryong. He and the other three diciples of the totems helped summon the Totems when Seyn, the Sa san master, found his way to the mortal realm.

---
Hwanung
gender: male from: neutral status: deceased
path: Deity race: Wind God spirit: chaotic grey
related character(s): Hanuman, Tangun, JaeWha
last update - June 25th, 2015

Long before Yuri, there was once a mighty temple where three Wind Gods roamed free. However, in their expanding adventures throughout the lands, the Warriors of Han encountered such temple and saw an opportunity there. They attacked the temple, trapped the gods into powerful altars and enslaved the wind spirits to gain power into their expansion campaign. When such warriors slowly died out, the temple of the winds raised to the sky became only a legend.

When Hanuman started attacking the community and causing destruction, the Spirit Guide Eldridge adviced people that they should awaken the second Wind God as he could be an ally on stopping. When Hwanung appeared he tried to convince Hanuman to stop his assault, but alone he could not convince nor contain Hanuman's strikes. Therefore he requested the awakening of the third Wind God, Tangun. When he and Tangun united to contain Hanuman, their attempt also failed. Eventually, he and Tangun became allies of Hanuman into the destruction of the kingdoms. It was then revealed that the Wind Gods were actually following orders of the person who freed them as if he was their master. Jae-Hwa ordered attacks against the three kingdoms, but he as the only mortal, was defeated by a group of people. Along with the other Wind Gods, Hwanung fought with his whole strength, but ended being slain by buyan forces.

---
Ichiji
gender: male from: neutral status: alive
path: Deity race: Celestial spirit spirit: neutral grey
related character(s): Ichimei
last update - November 24th, 2013

Ichiji is the personification of Father Time. He is the father of the Season spirits: Rittou, Shoshun, Rykka, Shuuki and Rusuto.

---
Ichimei
gender: female from: neutral status: alive
path: Deity race: Celestial spirit spirit: neutral grey
related character(s): Ichiji
last update - November 24th, 2013

Ichimei is the personification of Mother Nature. She is the mother of the Season spirits: Rittou, Shoshun, Rykka, Shuuki and Rusuto.

---
Idori
gender: male from: neutral status: alive
path: Scholar race: Human spirit: neutral light
related character(s): Huie, JiYun, SungIl, Seyn
last update - November 24th, 2013

Idori is a disciple of Ju Jak. She and the other three diciples of the totems helped summon the Totems when Seyn, the Sa san master, found his way to the mortal realm.

---
Induk
gender: female from: Shilla status: unknown
path: Royal race: Human spirit: unknown
related character(s): Lasahn, Chizao
last update - June 25th, 2015

Queen of Shilla and allied with Kaya kingdom, she only visited the tri-kingdom once by being a guest of Buya government to attend the Imperial Masquerade Ball. Back then she offered help to find a solution to ChiZao's situation and visited the temple of Hyun Moo, which was the only Totem animal alive. After such visit, Indul never formally visited any of the three kingdoms.

---
InSu
gender: male from: Koguryo status: alive
path: Scholar race: Human spirit: neutral light
related character(s): Mhul, WinSong, Qantao, Kiyuu
last update - November 24th, 2013

A Monk wanderer who arrived in Koguryo in hopes to translate some scrolls he had and ended up helping solve one of the biggest Nexus conflicts of all times. He was the person who figured that was a Zibong disguised as Mhul that started the Koguryo/Buya War. He eventually returned to the lands a few times after, like when Chizao attacked, he was one who helped revive the totems. InSu was also a key person to uncover the truth behind The Black Omen and was told to be one of the guardians of Nexus, who comes to help in time of need.

---
Itsuwari
gender: male from: unknown status: alive
path: Conjurer race: Human spirit: lawful dark
related character(s): Johaih, Hawkmori, Kiroku
last update - July 20th, 2014

The right hand of Johaih, he turned into a very powerful mage by exposing himself to the powers of the Onyx. Responsable for the murder of many Nagnang citizens, he was feared as a monster. Known to be cold blood and without mercy, his true intentions were never revealed. He vanished from lands after Johaih died, but was recently involved in the escape of Hawkmori from his trial.

---
JaeHwa
gender: male from: Koguryo status: deceased
path: Warlord race: Human spirit: lawful dark
related character(s): Hanuman, Hwanung, Tangun
last update - November 24th, 2013

A strict and cold nobleman, Jae-Hwa was an owner of a fishing company and a true businessman. When the young Min died, Jae-Hwa immediately put the eight-year old girl to work repairing fishing nets. With her fabulous work as servant and his cunning business eyes, Jae-Hwa expanded his wealth and became a man of huge fortune. His largest weakness was greed. He came across a legend which revealed that "garments made from the winds could be sold for the wealth of Kings!"

In his search for riches, Jae-Hwa used Min to gain knowledge about crafting armors from the winds to sell the for high prices. He sent Min and a wizard who worked for him, named Chul, on a quest searching for the legendary lands of the winds. They eventually found the forbidden temple hidden by the ancient Warriors of Han, the Wind realm. While Min used dangers of the temple as an opportunity to entrap Chul and escape from Jae-Hwa's slavery and locked him there. Betrayed by Min, the ambitious tradesman never gave up finding the entrance to the Wind Temple and after years of search he finally reached it.

Years after, the Wind spirits began to attack the kingdoms of Koguryo, Buya and Nagnang. It seemed that Jae-Hwa had released Hanuman from his Instead of being killed, he ended becoming the mortal leader of the Wind Gods. He was the person behind the attacks of the Wind Gods to Nexus community and the one who led the 3 Wind Gods to the Nexus realm. Their purpose was revenge against humans and enslave them to pay back what once was done to them. JaeWha was eventually killed in battle by Koguryian forces and such defeat represented the downfall of the Wind Gods power.

---
Jeewon
gender: female from: Kaya status: alive
path: Royal race: Human spirit: lawful light
related character(s): Lasahn, Chizao
last update - November 24th, 2013

Former Empress of Kaya, she was a guest of Koguryo during the diamond jubilee celebrations of King Yuri 60th year of reign. She arrived in the kingdom shortly after having her life threatned in her own lands. She is now married to King SuroKim and is the Queen of Kaya.

---
JiYun
gender: male from: neutral status: alive
path: Scholar race: Human spirit: neutral light
related character(s): Hiue, Idori, SungIl, Seyn
last update - November 24th, 2013

JiYun is a disciple of Baekho. He and the other three diciples of the totems helped summon the Totems when Seyn, the Sa san master, found his way to the mortal realm.

---
Johaih
gender: male from: unknown status: deceased
path: Conjurer race: Human spirit: neutral dark
related character(s): Itsuwari, Kiroku, Qantao
last update - November 24th, 2013

The right hand of Johaih, he turned into a very powerful mage by exposing himself to the powers of the Onyx. Responsable for the murder of many Nagnang citizens, he was feared as a monster. Known to be cold blood and without mercy, his true intentions were never revealed. He vanished from lands after Johaih died, but was recently involved in the escape of Hawkmori from his trial.

---
Kabocha
gender: male from: neutral status: undead
path: Creature race: Ghost spirit: neutral grey
related character(s): Shamans, Mhul, Lasahn, KaMing, Chinao
last update - November 24th, 2013

A Great student of Redcap messenger by the name of Kao Bu Tien. He was a riding messenger between the kingdoms. He eventually found the plans of Sonhi to start a war between Koguryo and Buya and rushed to warn the royals. He ended stepping into a Shaman ritual opening contact with spirit realm and ended up getting stuck between the two worlds, therefore becoming an undead creature. Elder JaydePhoenix cursed him and removed his head. Later his head was brought back by a Druid ritual, but he used a mask that goes by his nickname "Kabocha" which means Pumpkin in Ilbon language.

---
Kajang
gender: male from: unknown status: restrained
path: Conjurer race: Human spirit: neutral dark
related character(s): Kamani
last update - November 24th, 2013

A powerful mage that found a dark source of magic that would give him unlimited power. His problem was that he could not control his power and therefore he killed anyone who he tried to save: when trying to pet his rat, Gobu, he eventually killed it. His power was his destiny. Consumed by his power of death, Kajang became the leader of skeletons and eventually became one of them. Kajang offered a reward to anyone who could find a way to restore Gobu. Yet, to find their ways to do that, people had to venture into Kajang crypt and were attacked by several skeletons. Community had to gather bones to revive the pet and fur to make gloves for him. Kajang soon realizes his pet could not be revived and banned everyone from his crypt. The crypt remains sealed inside Koguryo cemetery.

---
KaKhan
gender: male from: Sonhi status: reborn
path: Warlord race: Human spirit: neutral dark
related character(s): KaMing, Chinao, Mhul, Blight, Zibong
last update - July 20th, 2014

The leader of Khan tribe and brother to KaMing, he was responsable for several raids against Buya and Koguryo. He threatned to invade Koguryo if they did not supply his tribe with food to allow them to survive in a cold winter. Not satisfied with the Koguryians small aid, they invaded the Vale and tried to claim it for their own. A large battle took place and after many deaths of community members, the Khan tribe was defeated and KaKhan killed. The word reached KaMing who took his troops to Buya with one purpose, to revive his brother. KaKhan awakened from death, sought revenge and ordered Sonhi to attack Buya. Sonhi tribes divided. Some followed KaKhan others stayed behind for KaMing. After several weeks of fighting KaKhan withdrew his followers from Buya lands. KaKhan plans against Buya were not over yet. Years later he allied with Blight against the kingdoms of Koguryo and Buya and while all Buyan militar forces had ventured to Nagnang to fight against Blight, KaKhan invaded Buya and took over it. For betraying Blight in the plan they had, the leader of Nagnang forces paid back setting explosives at South gate Buya and helping their citizens take over control of their kingdom again and remove Sonhi invaders for good.

---
Kamani
gender: male from: neutral status: deceased
path: Scholar race: Human spirit: neutral light
related character(s): Kajang
last update - November 24th, 2013

A sage who studied the ways of Kajang and followed Kajang around wherever he went. By following Kajang, Kamani was the first to realize that Kajang was not a living person anymore. He witnessed Kajang claiming for revenge and therefore Kamani was essential to find the truth behind Kajang intentions.

---
KaMing
gender: male from: Sonhi status: alive
path: Warlord race: Human spirit: lawful dark
related character(s): KaKhan, Chinao, Mhul, Lasahn, Zibong
last update - November 24th, 2013

The leader of Sonhi tribes and brother to KaKhan. KaMing was always more thoughful than his brother, planing his actions way before action, therefore becoming much more dangerous. At first, seen as a possible neutral figure, he estabelished an encampment near Kogurian lands. Aftewards it was found that KaMing was truly a big threat to the peace in the lands. He was responsable for the deceive that iniated Koguryo vs Buya War, he was responsable for the capture of Buya during Nagnang War and has proven through time that he cannot be trusted by anyone, he will only do what works for his people. Considering that, KaMing and his troops were forced out of the encampment which stays empty to these days. Only few merchants remain as a connection between the markets of Sonhi and eastern lands.

---
Kanaye
gender: male from: Nagnang status: deceased
path: Commoner race: Human spirit: neutral grey
related character(s): Bibimbap, Blight, Filia, Kija
last update - November 24th, 2013

Loyal servant of Blight and right hand of Bibimbap, he was the majordomo and devoted to cleaning. He eventually died when tasting a poisoned food that was being served to Prince Kija.

---
Kija
gender: male from: Nagnang status: deceased
path: Royal race: Human spirit: lawful light
related character(s): ChaeRi, Zhou, Filia, Blight, Johaih, Yieta, Wiyae, Hawkmori
last update - June 25th, 2015

Son of King Zhou and Queen Filia, he was the Crown Prince of Nagnang and ruler of the kingdom. When Kija still a young boy her witnessed the death of his father by the hands of his own mother. Such traumatic experience resulted in the exile of Queen Filia for muder and Kija had to start ruling the since he was very young. One of the first decisions he made was to open Nagnang borders to the northern kingdoms, something that was sustained by the regents overviewing him, but which was questioned severely by Blight. While Kija was young, Blight never trusted him to lead the kingdom and took the leadership of Nagnang to his hands by force and named himself General of Nagnang Forces. Prince Kija only took Nagnang back in control when he got older and started confronting Blight. To consolidate his power over the kingdom, Prince Kija created the Nagnang Army and with his diplomatic stance, he later allied his kingdom with the northern ones of Koguryo and Buya. Sadly, the newly formed Army was not strong enought to stop the magically empowered Johaih to use a magical Onyx to corrupt the minds of the majority of nangen citizens into mindless minions. Johaih and his associate, Itsuwari were defeated, but the damage caused on Nagnang was too big for Kija to deal with. With thousands of dead citizens, Nagnang became known as "The Land of the Dead".

Shortly after Johaih's mess, Prince Kija got betrothed to Azelle, Primogeness of the Forsaken clan, but the engagement got canceled once the soldiers found out that his proposal was done under the effects of a love potion. The enchantment was broken by Yieta, a childhood friend whose hand was promised to Kija back when they were still infants at Kaya confederation. As Yieta was found to be an evil woman, the Prince of Nagnang did not go forward with that wedding either. Years later, Filia ended returning to Nagnang and after confroting her severely, Prince Kija found out that his mother was not responsable for the death of his father. In fact, she was actually being manipulated by a conjuring spell used by the sorcerer Wiyae, master of Yieta. The reunion of Kija and his mother was quite tragedic as she was cold-blood murdered in front of him, again by Wiyae. With his both parents killed by Wiyae in front of him, Kija became very reclusive and was rarely seen on public. His cheerful personality and good sense of humor changed and he became a very closed person. Kija never got married. He was eventually brutally murdered during a ceremony to honor Defenders of Nagnang by an infiltrated assassin called Hawkmori.

After the assassination of the Prince, Nagnang lived a period of turmoil. As Kija has not heirs, the Minister of Nagnang was appointed by the clan leaders as the Chancellor of the kingdom and seeking revenge for the death of their royal, declared war against the former allied kingdoms; event later known as "the Blood War". The War ended once citizens realized Hawkmori was actually working for Wiyae. The effects of war had huge impact on Nagnang, the Royal Palace got ravaged during that period and the political situation only stabilized when the lost brother of Kija returned to rule the kingdom.
The reasons for the murder of Prince Kija remained occult for years, but during Hawkrmori's trial held by the new Prince, ChaeRi, Blight managed to force the assasin to talk and reveal the truth: Kija was killed because Mupa needed his royal blood to revive Sagu.

---
Kimesh
gender: female from: Koguryo status: deceased
path: Scholar race: Human spirit: neutral light
related character(s): Totem Animals
last update - November 24th, 2013

A powerful fighting lady of Hausson, she helped Totem Hyun Moo defend the island from a pirate attack long time ago. Along with Kimesh, the other 3 Totem animals joined the battle. Despite her great will to fight and her wisdom with weapons, Kimesh mortal body could not resist the many wounds of battle she had that time. She eventually died in battle but was honored by the Totem animals by having them given part of their essence to craft weapons to protect lands.

---
Kiroku Hozonsho
gender: male from: Han status: deceased
path: Scholar race: Human spirit: neutral grey
related character(s): Qantao, Johaih
last update - November 24th, 2013

A honorable traveler who engaged with Qantao and promised to take her to go see the world. He eventually found a piece of Onyx in his strolls through wilderness and ended being assassinated by the cold hands of Johaih who sought to take the Onyx to his own purposes.

---
Kirriin
gender: male from: Gogoon status: alive
path: Buccaneer race: Human spirit: Neutral grey
related character(s): Bartolomeo
last update - November 24th, 2013

The Captain of The Hanseong, he is responsible for all the trips from Koguryo's Dae shore to Gogoon island. Kirriin is a pirate who cares more about sailing the seas than finding the hidden treasures. Born in a pirate family, he sometimes denies being one. He doesn't think being a pirate is the ideal career for him, he calls himself a sailor, an adventurer who sailed from the coasts of Han up to the shores of Ilbon islands. He and his brother Bartolomeo landed in Koguryo for the first time by accident. While "Bart" was fixing the ship and keeping the crew in order, Kirriin decided to get to know the land and the women of it. Kirriin enjoyed Koguryo a lot despite being kicked from Oceana hall and his failed attempts to negotiate with Merchants. He seems bad memory for names, so he calls people by their title and prefers being called "Captain". He owns an island of his own which is part of same archipelago that Gogoon Island. His pirate family lives in the island; the only one who goes with him in his adventures is Bartolomeo. Unlike Bluestone's crew and ChenLee, Kirriin's crew seems to be harmless.

---
Kiyuu
gender: male from: Koguryo status: alive
path: Scholar race: Human spirit: neutral light
related character(s): ShoShun, WinSong, InSu, Qantao
last update - November 24th, 2013

A weather watcher and celestial scholar of Koguryo, he was the one who found the appeareance of Seasons family in lands of Nexus and informed Prince Mhul. He was vital in the process of having Rusuto, the 5th season accepted into the family and eventually he got married with Spring spirit, Shonshun. He also was the one who brought the Circus of Stars to present their show in Kugnae and is the person who gave the crown of the King to Yuri and was passed down to King MuHyul. Kiyuu has returned a few times to help, one them being during the Black Omen threat. He and Shoshun appeared and revealed that Rusuto's power was the cause to Immortal beasts being released. Later it was found that he was one of the guardians of Nexus, who comes to help in time of need.

---
Kkoptchil
gender: male from: neutral status: unknown
path: Creature race: Triiofa spirit: neutral grey
related character(s): HaggardWitch, Yieta, Mupa, Tongnamu, Kurutogi, Chaemok
last update - November 24th, 2013

One of the Triiofa brothers, known as peaceful bark. He was one of their race who came to Koguryo to warn about Yieta and Mupa.

---
Kurutogi
gender: male from: neutral status: unknown
path: Creature race: Triiofa spirit: neutral grey
related character(s): HaggardWitch, Yieta, Mupa, Tongnamu, Chaemok, Kkoptchil
last update - November 24th, 2013

One of the Triiofa brothers, known as peaceful stump. He was one of their race who came to Koguryo to warn about Yieta and Mupa. He later appeared in Dae shore with HaggardWitch to warn community of the dark waters. Not much was done about that fact after and Kurutogi returned to family.

---
Kyushin
gender: male from: neutral status: undead
path: Creature race: Ghost spirit: neutral light
related character(s): Shamans, Mihi
last update - November 24th, 2013

A ghost that suddenly started whispering citizens with warnings about the moon falling from the sky. The dead man couldn't be seen not could hear anyone, he could only see the living people and be heard. It took a while for him to realize he was dead, only DuskShaman could talk to him, so the old lady had to walk from her hut to Dae Shore and clear his soul to rest in peace. His speech of moon falling from the sky, the cities burning and the world without the three kingdoms never happened although. Years later Kyushin reappeared in Kinung talking about how the skeleton seal that was hidden there should be destroyed in order to keep Kajang from escaping. Few shamans found the seal and decided to not destroy it. DuskShaman left her hut again to try to put reason into the mind of other shamans, but her efforts were worthless. Shamans had decided to give the skeleton seal to Kajang. The spirit vanished giving the impression he could preview horrors that could eventually happen. Kyushin created a bond with some shamans and was able to be summoned for advice during the Black Omen threat. It was later found out that Kyushin was actually Mihi's brother. The reasons why Kyushin began helping shamans while his sister considers them an enemy is not known.

---
Lasahn
gender: female from: Buya status: alive
path: Royal race: Human spirit: lawful light
related character(s): Daeso, Aino, Geumwa, Mhul, Bluestone, Xiou
last update - May 10th, 2015

Lasahn is the Queen of Buya and mother of Prince Daeso. She grew in Han and arrived in Buya to exerce her right to rule the kingdom as daughter of Aino Senshi. Really young she arrived and assumed the role of Princess of Buya and Head of the state, becoming the main person in the government of the kingdom while her father, King Senshi, still occupied the head monarch figure. Quite passionated in her actions, Lasahn has had many trouble controling her forces and defending her kingdom from several external attacks by Pirates, by the Sonhi, Barbarians and old enemies.

---
LinSkrae
gender: male from: unknown status: unknown
path: Conjurer race: Human spirit: chaotic neutral
related character(s): Yuri, WinSong
last update - November 24th, 2013

A deceiving wizard, he offered help to King Yuri of Koguryo to examine tomes of knowledge found inside an old library hidden in Koguryo Palace. With time, LinSkrae revealed his true nature. He was a wererat leader and commanded a horde of rats in order to steal precious scrolls and books of the reffered library. Yuris later, LinSkrae appeared again showing his true intentions, he wanted to steal the twelve stones of the subpaths. These stones are said to have the power to lock and trap any entity.

---
Malady
gender: female from: Nagnang status: alive
path: Commoner race: Human spirit: chaotic grey
related character(s): Blight, Yuri
last update - November 24th, 2013

Sister of Blight, she used a potion on King Yuri of Koguryo to make him fall in in love for her. If she suceeded marrying the King, she would become Queen of Koguryo and turn it into the rules of Blight. Community of Koguryo and Buya worked together to not let it happen and found a way to break the spell of the potion. See was spotted years later entering the Dark Forest at north of Nagnang Palace by some patrolling soldiers. When "The Resistance" of Nagnang was revealed, Malady showed up at The Forsaken clan hall and alerted their members about how she thought her brother was being manipulated by ChinMae and that they should ponder well their decisions on helping ravage the Nagnang Palace.

---
Malou
gender: male from: Han status: unknown
path: Commoner race: Human spirit: chaotic grey
related character(s): Sanvu, Chanchu, Caemyoun, Noblefox
last update - November 24th, 2013

The illusionist and pyromancer of the Circus of Stars, he is finances adminstrator of the group. He He is quite ambitious and often cares only about the money.

---
Marasmus (Chejungi)
gender: male from: Nagnang status: reborn
path: Warlord race: Human spirit: chaotic grey
related character(s): Blight, Abscess, Atrophy, Contagion
last update - November 24th, 2013

One of the four followers of Blight, Marasmus was a tricky rogue who caused much confusion when their group attacked the Vale. He was feared by many for the skill he possessed in battlefield and his strength. He helped in battles against Koguryo and Buya and commanded legions of Forsaken during the Nagnang War, but besides the clan wars, not much has been heard of him. He was killed in battle by the Shapeshifters of Wuhu Luanhua tribes yuris later. Along with the other three followers of Blight, he was revived with the help of shamans and reborn into the new body named as Chejungi.

---
Mhul
gender: male from: Koguryo status: alive
path: Royal race: Human spirit: lawful light
related character(s): Yuri, Yun, Sagu, Mupa, Lasahn
last update - July 20th, 2014

King MuHyul of Koguryo, he is the second son of King Yuri. He is the main figure in Nexus history, being involved in almost every single happening over the years. Well known in history for being the Prince, he was always the main person in front of Koguryo government. He has become king after his father, King Yuri passed away for his old age. Since then, the system of years changed from Yuris to Hyuls. He is now married to Queen Yun.

---
Mihi
gender: female from: Kinung status: alive
path: Commoner race: Human spirit: neutral grey
related character(s): Cheyn, Teikari, Kyushin
last update - November 24th, 2013

Widow of Cheyn, she was originally from Gogoon island, but moved to Kinung after her marriage. A woman with strong opinion, it didn\t take long until Mihi started bossing Cheyn around. As a person who doesn't like playing nice games, she says what is in her mind and ends up making enemies because of that. When shamans interrupted her wedding ceremony, Mihi became furious and began an undeclared war against them. She convinced Cheyn to ban shamans from Kinung and such decision ended up resulting in his death. Although she is the newest member of Tae family, by marrying Cheyn and now being his widow, she became the new Head of Tae family. While it was found that she is Kyushin's sister, she refuses to comment anything about the circumstances of his death.

---
Mupa
gender: female from: Buya status: alive
path: Conjurer race: Human spirit: chaotic evil
related character(s): Sagu, Mhul, Yun, Yuri, Wiyae, Yieta, HaggardWitch, Cheyn, Tabae
last update - November 24th, 2013

An evil witch banned from Koguryo for trying to take the life of Prince Mhul´s betrothed, Princess Yun. She transformed into a giant snake and tried to attack her at night and if it was not for the prince risking his life the evil witch would have succeeded with her plan. Next day she was exiled and considered enemy of state. Big problem was that the brother of the King had fallen in love for her beautiful look. Blinding Sagu with her enchanting visage, she eventually turned him to the dark side. After he got imprisioned to the Onyx she simply vanished from the lands. She only returned many yuris after, leading the sorcerer Yieta to create an army of evil tree creatures made from Triiofa. Yet, at this time Mupa had shown her true face. Consumed by the power of darkness, the beautiful known witch turned into a horrible figure. After being defeated by the community with the help of HaggardWitch, Mupa ended up fighting with Yieta and turned her into a tree. Mupa reappeared years after when she was found to be enslaving the Tae and Yon families for her selfish evil reasons. Her plans didn't work well as HaggardWitch helped the community breaking through her Ice Dungeon, north of Lover's lake. After that she has done several raids in Kinung, new home to Yon family after Mupa destroyed her hometown, Yu Ryang. Mupa has also attempted an attack to the Muses in islets when she found out that they had her **Book of Stones**, a dangerous book which contains some of the worst curses ever known.

---
Nagnag
gender: male from: Nagnang status: deceased
path: Warlord race: Human spirit: lawful grey
related character(s): Blight, Chizao
last update - November 24th, 2013

A legendary smith from Nagnang, he provided supplies to Blight's army during Nagnang War. Afterwards he started working on his won and hired his own group of mercenaries. He eventually found the tomb where Chizao was hidden for generations and after he tried to boss the freed insane magician, he was killed by the mad man Chizao's hands.

---
Noblefox
gender: male from: neutral status: alive
path: Creature race: Fox spirit: chaotic grey
related character(s): Yuri, Caemyoun, Kija, ChaeRi
last update - November 24th, 2013

A cunning thief of royal treasures, he disguses himself by morphing into a fox figure. His real face was never seen in public. He stole many important artifacts of Nexus lands, including jewels from Buya royalty and also the crown of King Yuri made for his 70th jubilee which later was restored by Caemyoun. Recently it has been found that Noblefox is systematically selling information to the Koguryo Spy Guild, including a ring that he stole from Nagnang's treasury named **Brother's Love** which belong to Prince Kija in memory of his lost brother ChaeRi. He also tried to negotiate a trade of the Chaos stone which he recovered from the God's battlesight in Vale, but his trade failed.

---
Nyogh
gender: male from: neutral status: alive
path: Creature race: Ogre spirit: lawful dark
related character(s): Ugh, Panda
last update - November 24th, 2013

The King of Ogres and ruler Ja-Gook city. He expanded ogres lands considerably over the years. After attacking Kugnae city in the early yuris, he expanded the tunnels through Hamgyong Nam-Do, led the creation of an Ogre hideout in the Arctic lands and eventually got the support of the cyclope ogres from the north. Seeing Ugh changing to the side of humans, he captured the well known ogre and announced the execution of him. Yet, instead of killing Ugh he kept him as a slave for many years. King Nyogh was last heard of by alling with the pirates and Cazell in order to gain information on how to craft a Staff of Elements. Nyogh created then an Ogre camp to the west of wilderness and have human slaves working to find the resources needed for them to complete their goal. Under the rule of King Nyogh, the ogres frontiers have expanded considerably.

---
Omyer
gender: male from: Kinung status: alive
path: Commoner race: Human spirit: chaotic grey
related character(s): Induk, Teikari
last update - June 25th, 2015

Omyer is a young daredevil boy who has always liked some adventure. His parents were archeologists who died during an excavation to a deep cave. Omyer learned combatant skills while he served in the Shilla army under Queen Induk, but decided to drop the military career due the many limits it held. Omyer adores to explore the world and defy his own limits. He is a traveling tradesman. Rumors say he came to Kinung to find some hidden treasures. Since then he joined with Teikari to explore further the Forest of elders and the myths of Kinung treasures.

---
Panda
gender: male from: neutral status: alive
path: Creature race: Ogre spirit: neutral grey
related character(s): Ugh
last update - November 24th, 2013

A peaceful northern ogre, she fell in love with Ugh when he was captured and helped free him. She eventually got married with him and live nowadays in a distant farm, hiding from trouble of ogres.

---
Qantao
gender: female from: Han status: alive
path: Scholar race: Human spirit: neutral light
related character(s): Kiroku, Johaih, WinSong, InSu, Kiyuu, Mhul
last update - November 24th, 2013

The historian of the Kingdoms of Winds. She has traveled all lands and kept organized the old tales from Nexus. Originally from Han, she found her real home in Koguryo, but often is visting neighbour lands, such as Buya and Nagnang. Quite away from crowds, she once found a man quite like hear. Kiroku Hozonsho was his name. He promised to take her to travel through the lands and show all what he learned. Amazed at him, she even announced him as a new historian to the kingdoms. Both were to get married, but while strolling through the wilderness they found one Onyx stone and such cursed piece of rock ended being the cause of the murder of her one and only love by the evil hands of Johaih. Since then Qantao has been more away from public view and devoted only to her researches, but whenever her knowledge is require she comes back to help. It was Qantao who found out that Chizao was actually the master of the four totems and she also provided great intel when during the Black Omen threat.

---
ReShor
gender: female from: Ilbon status: alive
path: Buccaneer race: Human spirit: lawful grey
related character(s): WinSong, Bluestone, Xiou, Blackgut, Doggerel, Torus
last update - November 24th, 2013

The Pirates' Princess and bride of WinSong, she tricked the scholar of Koguryo, but in reality she did like him. When she realized what she felt for him was love, she eventually dropped down the battle between pirates and Kogurians. Enraged, Bluestone banished her from his ship . By her deeds, she got herself banned from both Ilbon and Koguryo. She ended venturing to see the SeaNymph for redemption and was never seen after again.

---
Rittou
gender: female from: neutral status: alive
path: Deity race: Celestial spirit spirit: neutral grey
related character(s): Ichiji, Ichimei, Shoshun, Rykka, Shuuki, Rusuto
last update - November 24th, 2013

The personification of the Spirit of Winter. She is daughter of Father Time Ichiji and Mother Nature Ichimei and is the oldest of the 5 sisters. She is cold and quite bossy with the others. Yet, she was the first sister to question their parents about the supposed 7th star people were talking about. When she found out the truth about Rusuto she got really mad at her parents. In a way, for being the oldest she is the one that most acts on behalf of the family.

---
Rusuto
gender: female from: neutral status: restrained
path: Deity race: Celestial spirit spirit: neutral grey
related character(s): Ichiji, Ichimei, Rittou, Shuuki, Shoshun, Rykka
last update - November 24th, 2013

The personification of the Spirit of Chaos. She is the youngest of the 5 season sisters. She was the daughter Father Time Ichiji and Mother Nature Ichimei denied to have for long time. Eventually when their powers turned weak they all fell in Dae shore and stayed in mortal lands for a while. With help of celestial scholar Kiyuu, the community aided her on the process of being recognized by her family. Although she does not have a regular season, it is said that chaos can happen from time to time between the four regular ones. While in a visit to the Muse garden, Rusuto was kicked from it by a guide and in anger shouted "I will have my revenge on this place". Little did Muses know that years after Rusuto would return for her revenge. While public didn't know it was Abu who unleashed her fury, Rusuto's chaotic power began to break magic barriers everywhere in nexus. Mythic barriers began to weaken, polar bears attacked Woodlands, Cave ogres and Angry spirits escaped from Hamgyong Nam-Do and attacked community. Even the Kaojins from Malevolent Clan attacked. The world seemed doomed by the attack of each Immortal Beast she freed. One by one the vile creatures attacked citizens with no mercy. Ice Beast, Dhaulagiri, Mighty Sute, Lord Badak Api, Grand Master Belial, Chief Slog, Gwangmok and Chaos Incarnate. A total of 8 immortal beasts who caused havoc through worst days of Nexus. It was with the help of Winsong, Insu, Qantao and Kiyuu that subpaths used their subpath stone to imprison Rusuto into what is called "Chaos Stone". The irony behind Rusuto's defeat was how Elder of Muses kept singing a song while she had her powers entrapped. Abu later stole the "Chaos Stone" and with her power at hands, reached the equivalent of a God. Abu was destroyed by Mug's sacrifice, but the Chaos stone still exists with Rusuto's essence inside it. Chaos will always continue existing, but if Rusuto is freed someday, Nexus might be in grave danger if Rusuto manages to free the 9th immortal menace, the Amaranthine beast.

---
Rykka
gender: female from: neutral status: alive
path: Deity race: Celestial spirit spirit: neutral grey
related character(s): Ichiji, Ichimei, Rittou, Shoshun, Shuuki, Rusuto
last update - November 24th, 2013

The personification of the Spirit of Summer. She is daughter of Father Time Ichiji and Mother Nature Ichimei and is 3rd oldest of the 5 sisters. She is very light hearted, cheerful and funny.

---
Sagu
gender: male from: Koguryo status: deceased
path: Conjurer race: Human spirit: chaotic evil
related character(s): Mupa, Yuri, Mhul, Darkchild, SeaNymph
last update - November 24th, 2013

Brother to King Yuri, he became an outcast for loving and supporting Mupa, the witch. Practiced Dark art, and in an attempt to get back at his brother, for banishing his lover he released the power of the Darkstaff against community. With the help of Sea Nymph he was sealed in an onyx by the community. Later on, the onyx was shattered and his dark magic released when community found that such shattering would be necessary to release the sealed power of the subpaths. Freed again, he slayed dozens carrying his Darkstaff, the almighty evil staff of great power. He eventually got consumed by the power of the staff which found a stronger host, Orb. Unable to ressurect himself, the days of Sagu were over, but he is still seen as the main menace against community up to these days.

---
Sanvu
gender: male from: Han status: unknown
path: Commoner race: Human spirit: lawful light
related character(s): Kiyuu, Sanvu, Chanchu, Malou, Yuri, Noblefox
last update - November 24th, 2013

The leader and animal tamer of the Circus of Stars, he is the older brother of Chanchu. He is a quite polite person and usually presents well in public, but he has a really bad habit of giving orders to his brother and trying to control him. He was the person who negotiated with Kiyuu in order to bring the Circus of Stars from Han to the eastern lands of Koguryo, but like the others he eventually got involved in the incident of the stolen crown that was being given to King Yuri and when the real thief, Noblefox, was found he showed that he was really offended and took the circus back to Han without even finishing their show.

---
SeaNymph
gender: female from: neutral status: alive
path: Deity race: Merfolk spirit: neutral light
related character(s): Mhul, Yuri, Sagu, Rusuto, Watermaiden
last update - November 24th, 2013

A beautiful female figure assigned by Sea King to be the connection between humans and underwater life form. She was the one responsable for imprisioning Sagu inside the Onyx and also serves as guide of wisdom in times of trouble.

---
Seyn
gender: male from: neutral status: alive
path: Deity race: unknown spirit: chaotic light
related character(s): Hiue, Idori, JiYun, SungIl
last update - November 24th, 2013

Seyn is the Sa san master, found his way to the mortal realm with the help of the Totem disciples.

---
Shoshun
gender: female from: neutral status: alive
path: Deity race: Celestial spirit spirit: neutral grey
related character(s): Kiyuu, Ichiji, Ichimei, Rittou, Rykka, Shuuki, Rusuto
last update - November 24th, 2013

The personification of the Spirit of Spring. She is daughter of Father Time Ichiji and Mother Nature Ichimei and is second oldest of the 5 season sisters. When the celestial family fell on Dae shore, she eventually meet Kiyuu. She fell in love with him, got engaged and after him doing several trials, created by her father, to prove his love for her, they eventually got married. She was the first sister to accept Rusuto in the family and is considered to be the prettiest.

---
Shuuki
gender: female from: neutral status: alive
path: Deity race: Celestial spirit spirit: neutral grey
related character(s): Ichiji, Ichimei, Rittou, Shoshun, Rykka, Rusuto
last update - November 24th, 2013

The personification of the Spirit of Fall (Autumn). She is daughter of Father Time Ichiji and Mother Nature Ichimei and was considered the youngest of the season sisters until they found out about Rusuto. She is quite childish and happy one.

---
SungIl
gender: male from: neutral status: alive
path: Scholar race: Human spirit: neutral light
related character(s): Hiue, Idori, JiYun, Seyn
last update - November 24th, 2013

JiYun is a disciple of Hyun Moo. He and the other three diciples of the totems helped summon the Totems when Seyn, the Sa san master, found his way to the mortal realm.

---
SuroKim
gender: male from: Kaya status: alive
path: Royal race: Human spirit: lawful light
related character(s): ChaeRi, Filia, Jeewon, Wiyae, Yieta
last update - November 24th, 2013

King of Kaya, he was descended from Heavens to rule the people of that kingdom and took the position as Head of state of Kaya in place of Jeewon. He was the person responsable for bring Filia, the mother of Prince Kija back to Nagnang from her exile. King SuroKim became good friend with her and stayed him Nagnang while she was on trial about the death of her husband Zhou. After the community jury found her not-guilty, SuroKim returned to his kingdom without much saying. Nothing has been heard of him since then and it is not known if he is aware of the cold murder of Filia by the hands of Wiyae. He is now married to Jeewon.

---
Tabae
gender: female from: Buya status: deceased
path: Conjurer race: Human spirit: chaotic light
related character(s): Mupa, HaggardWitch
last update - November 24th, 2013

A witch from Yu Ryang village who was betrayed by her "friend" Mupa. Seeking revenge, she allied with HaggardWitch and helped Teikari free his people from the evil hands of Mupa, but was killed by the snakes of the rival witch.

---
Taiisrhaa
gender: male from: unknown status: alive
path: Conjurer race: Human spirit: unknown
related character(s): Yun, Mihi, Geumwa, Mhul
last update - June 25th, 2015

Taiisrhaa is a mysterious man who was first seen during the kogurian Forget-Me-Not ball, which marked the announcement of pregnancy of Queen Yun and celebrated the definitive cure of her curse. Taiisrhaa caused a lot of suspicion when he quickly tried to become friend of the royals while no one knew who he was. His big black eyes scared some people, but it was his "too friendly and polite" personality which made people think something wasn't right. Taiisrhaa claimed Mihi sent him to represent Kinung, which was later confirmed by Mihi. His presence in the lands caused much distress mostly because King Geumwa of Buya was poisoned and died the day after he arrived. Not much is known about Taiisrhaa, but some people found out he is a proficient alchemist and knows how to create strange and powerful potions. Due to the timing, his cynic behavior and his herbal and alchemy skills, Taiisrhaa turned out to be the prime suspect in Geumwa's murder. While then he continued visiting Koguryo and became good friend with Queen Yun, to whom he had shown much interest in birth of her baby. After being alerted by serveral of his soldiers and councilors, King M'hul questioned Taiisrhaa's interest in Yun and forbidden him to approach her again. Since then, Taiisrhaa acted offended and has not been seen again.

---
Taketori
gender: male from: Kaya status: unknown
path: Scholar race: Human spirit: neutral grey
related character(s): Surokim
last update - November 24th, 2013

A Story Teller from Kaya, who was sent by King SuroKim to learn about Koguryo, Buya and Nagnang, so that when he returned back home, he could share the stories and history of the three kingdoms.

---
Tangun
gender: male from: neutral status: deceased
path: Deity race: Wind God spirit: chaotic grey
related character(s): Hanuman, Hwanung, JaeWha
last update - July 20th, 2014

The third of Wind Gods to attack. At first he seemed friendly, but afterwards he and Hwanung joined Hanuman into battle against humans.

---
Teikari
gender: male from: Kinung status: alive
path: Commoner race: Human spirit: lawful grey
related character(s): Cheyn, Mihi, Omyer, Mupa
last update - November 24th, 2013

He is the elder of Yon family and was the mayor of Yu Ryang village. With the help of citizens of the three kingdoms, he was able to break a curse created by Mupa and put upon her old hometown, Yu Ryang. Yet, the witch captured and enslaved them in the Ice Dungeon, but with the help of HaggardWitch the Yon family was able to escape with the Tae. Without a home he accepted the offer of Cheyn and took his family to live in the lands of Kinung. To build Kinung back from scratch, he required help of citizens of the three kingdoms and in gratitude to their help, he kept the Kinung town open for visitors.

---
Tongnamu
gender: male from: neutral status: unknown
path: Creature race: Triiofa spirit: neutral grey
related character(s): HaggardWitch, Yieta, Mupa, Kurutogi, Chaemok, Kkoptchil
last update - November 24th, 2013

The oldest of the Triiofa brothers, he is known as peaceful log. He was one of their race who came to Koguryo to warn about Yieta and Mupa.

---
Torus
gender: male from: Ilbon status: alive
path: Buccaneer race: Human spirit: chaotic grey
related character(s): Bluestone, Xiou, Blackgut, Doggerel
last update - November 24th, 2013

Powerful magician that follows the leadership of Bluestone pirate. He was involved in various raids against Koguryo and Buya and was one present when Bluestone was freed from prison in the tri-kingdoms.

---
Ugh
gender: male from: neutral status: alive
path: Creature race: Ogre spirit: neutral light
related character(s): Panda, Nyogh
last update - November 24th, 2013

A peaceful ogre merchant from Hamgyong Nam-Do, he was tortured and sentenced to death by Ogre King Nyogh. He later was found out to be alive and continue to help humans, now with his wife Panda. He lives in a far hidden farm away from trouble.

---
Watermaiden
gender: female from: neutral status: alive
path: Deity race: Merfolk spirit: neutral light
related character(s): SeaNymph, Vini
last update - November 24th, 2013

Daughter of SeaNymph, she appeared in the lands when the new onyx was stolen by Johaih. She spoke that the community would have to hold 3 symbolic rituals to the merfolk in order to prevent another shattering caused by the onyx. Such deeds were discovered by Princess Lasahn as she received a pendant symbolizing such worrying moment. The fight between good and evil and the rituals were revealed by her to be led by three different citizens, known as the warriors chosen by fate. They were Vini, KeiChan and Mingasto. Different situations have put such people to work together and with the help of whole community, the Watermaiden and the destined prophets managed to perform the rituals and save lands before it was too late. Watermaiden has not been seen since then, but is known to return whenever troubles between good and evil get too big for humans to solve on their own.

---
WinSong
gender: male from: Koguryo status: alive
path: Scholar race: Human spirit: neutral light
related character(s): Mhul, Lasahn, ReShor, LinSkrae, InSu, Qantao, Kiyuu, Abu, Xiou
last update - November 24th, 2013

A well known scholar of Koguryo, he was recognized for his work on translating some of the Journal of the Wizards. He was getting married to ReShor but after found she was a pirate and battled them, he vanished from Koguryo lands. Yuris after he appeared in Buya talking about darkness taking over the lands and a ritual that would have to be done by subpaths to prevent it. With the ritual done, the totems started attacking citizens in the wilderness. Many were slain, but eventually all Totem animals were killed, except Hyun Moo. After that, people found that Awen, the spirit of nature was sick. After treating her, the sickness attacked WinSong. While recovering, he found out that another vile creature was behind the whole problem. It was LinSkae who was back trying to gain the power of the subpath stones. WinSong helped community to put end in the evil plans of the wererat and after that was never seen again.

---
Wiyae
gender: male from: Kaya status: alive
path: Conjurer race: Human spirit: neutral dark
related character(s): Yieta, Filia, Zhou, Kija, Hawkmori, Mupa
last update - November 24th, 2013

A powerful sorcerer exiled from Kaya, he was the master of Yieta. At first he appeared in Koguryo stopping his pupil who was trying to imprison the three royals of Nagnang, Buya and finally Koguryo in her paintings. His reasons for doing that are unknown, perhaps a sort of dispute between master and apprentice, but helping royals once do not make him a good person. He was actually arrested for many yuris charged for mass murder. Later it was found out that he used his dark magic to control the mind of Filia for enough time to force her to assassinate her own husband Zhou. Kija, while still young was the only one who witnessed his mother killing his own father and such happening made him grow hating Filia. When the Prince of Nagnang finally found the truth with the help of King of Kaya, SuroKim, Wiyae came back to Nagnang and finished the job by murdering Filia in throne room in front of Kija. Since then, Wiyae is considered an enemy of Nagnang and his allied states and is still being looked for to pay for his crimes against Nangen royalty.

---
Xiou
gender: male from: Ilbon status: alive
path: Buccaneer race: Human spirit: chaotic grey
related character(s): Lasahn, Bluestone, Xiou, Blackgut, Doggerel, WinSong, ReShor
last update - November 24th, 2013

He was Princess Lasahn's betrothed, who was supposedly cold murdered by Pirate captain Bluestone. In anger the Princess of Buya ended up stabbing the eye of the pirate during a trial for being remembered of this fact.Yet, before Bluestone died he revealed Xiou was still alive and actually his son.

---
YeNaeWi
gender: male from: Nagnang status: alive
path: Warlord race: Human spirit: lawful grey
related character(s): Blight, ChinMae, ChaeRi
last update - July 20th, 2014

One of Blight's followers, Ye Nae-Wi was 2nd in command the Nagnang Forces. Captain Ye Nae-wi was the man who accompanied Blight back to Nagnang when he was almost died and helped in the ritual to heal Blight. He suddenly vanished after the battle against the Wuhu Luanhua, the shapeshifters who killed the four followers of Blight. After ChinMae began influencing Blight against Nagnang Royalty, Ye Nae-Wi abandoned Blight forces and joined the Nagnang Army as Major General and serves as an advisor for Prince ChaeRi.

---
Yieta
gender: female from: Kaya status: restrained
path: Conjurer race: Human / Tree spirit: neutral dark
related character(s): Wiyae, Kija, Mupa
last update - November 24th, 2013

One of the three apprentices of Wiyae, she was a powerful socerer who claimed to be minister of culture from Kaya. She was quite respected for her skills with paiting and a really gentle person until her true intentions were exposed. She was actually using sorcery to imprision Kija and Lasahn into her paintings. When she tried to do that with Prince Mhul, the Prince-Regent of Koguryo found something strange about it.Her master Wiyae later appeared and broke her spells. Quite furious Yieta promised revenge, but did not dare to fight against Wiyae. Yuris later she united forces with Mupa and enchanted Triiofas to cut down every single tree of the kingdoms. Her intention was to make army of evil tree creatures made from Triiofa. With the help of HaggardWitch community found a way to imprision her, but later Mupa released her. While being impossible to beat the two powerful witches together, community found that the best way to beat them was to put one against the other. Influenciated by the words of people, Yieta eventually revolted against Mupa and both had a dark magic fight. Unfortunately for Yieta, she was no match against Mupa. She was transformed into a tree which roots south of Mage guild in Koguryo. After that, not much has been heard of Mupa and surely nothing has been heard from Yieta.

---
Yun (Yeon)
gender: female from: Koguryo status: alive
path: Royal race: Human spirit: lawful light
related character(s): Mhul, Mupa, Goeyu
last update - June 25th, 2015

Yun is the Queen of Koguryo. She was betrohed to M'hul since she was very young, but after her life was threatned several times and she was almost killed while sleeping by the evil witch Mupa, she eventually vanished from Koguryo without much explanation. Decades later she was found by buyan soldiers roaming lost at the kingdom. She had no memory of who she was and responded by the name of Yeon. She took shelter in Buya until the truth of her history was uncovered. She had been cursed by Mupa into having amnesia everytime she fell in love with someone. Such curse was placed by the witch in hopes to avoid the Queen to ever get pregnant, since there was a prophecy that it would be Yun's son that would cause Mupa's demise. Aware of Yun's condition, Goeyu served as her bodyguard for years, keeping her safe from Mupa's minions and attempts against her life. Once Yeon returned to Koguryo, King M'hul requested help of HaggardWitch and the rest of community into curing the curse. Some people tried to hinder it, but their attempts failed. The curse cast upon Yeon was released and she once again responded by the name of "Yun". She finally got married to M'hul and is now pregnant with the kogurian heir.

---
Yuri
gender: male from: Koguryo status: deceased
path: Royal race: Human spirit: lawful light
related character(s): Mhul, Sagu
last update - November 24th, 2013

The second King of Koguryo, he was the father of M'hul and the one who moved the capital of the kingdom to Kugnae. Yuri wasn't seen in public much after the death of his first son and the events with his brother Sagu. The rare times when he did it was always a big commotion. He passed away from advanced age after 82 years of reign in one of the most sad days of Koguryo history.

---
Zhixin
gender: male from: Han status: unknown
path: Scholar race: Human spirit: unknown
related character(s): Cazell
last update - November 24th, 2013

Also known as Nobiz, he is known to be the first man to ever craft a Staff of Elements. Not much is known about him besides that, but it is said that besides Cazell he is the only other mortal who has a true form of the Staff of the Elements.

---
Zhou
gender: male from: Nagnang status: deceased
path: Royal race: Human spirit: lawful grey
related character(s): Filia, Kija, ChaeRi, Wiyae
last update - November 24th, 2013

Father of Kija and ChaeRi, he was killed one night by his own wife, Filia when she was possessed by the dark magic of Wiyae.

---
Zibong
gender: unknown from: neutral status: undead
path: Creature race: Ghost spirit: chaotic dark
related character(s): KaMing, KaKhan
last update - November 24th, 2013

Spirits known to control really powerful magic. Masters of time and space, these spirits controlled strange and powerful magic to wipe out virtually any opponent in the blink of an eye. Their existence is still not fully understood, but their roots lie somewhere with the Sonhi.

---