Past News
Did you miss that important news story? Do you want to read what happened while you were on vacation. Here's where to get that info!
Our news software, Coranto, has a bug which makes it purge links to news articles more than two years old. What is left of programmers who volunteer their time to support this software do not know why this bug occurs. We manually index older news pages in our Archived News section.
| | |
| --- | --- |
| Tuesday, September 27, 2016 | |
| | | |
| --- | --- | --- |
| | | Newest Spy Premier & Other Requests! |
Spies have had their newest exchange of power as prior Premier Kunai hands the reigns over to Premier Paranoid!
Whilst Ex-Premier Kunai was originally unavailable for comments, She did contact us today with these words for the public regarding her reign as elder and regarding Premier Paranoid:
"After having a wonderful and exciting journey as elder, I have decided it would be unfair to hold the position when there are so many talented Spies able to do just as well, if not a better job than I. It's always good to have change, it keeps people interested and working towards new goals.
Paranoid makes me Paranoid. So he was obviously the best choice. Long time Spy and a great guide, he was an important pillar during my Eldership and I know he will continue to lead the path in the right direction."
Premier Paranoid stepped forth with the following words:
"To all those that came before me to pave the path and those who come after to walk it along my side - together we will continue This Guilds' Great Legacy and write a New Chapter in its' History!"
With those words, I'm certain the Spies can't help but hope for a fabulous future!
Now, onto other matters ~ We've had a couple other posts that may have gone unnoticed, one from my very own favorite CoverGirl and another from Our God (Whom, thank gosh we were able to save) GM Wony! See below for the 'deets!
BOARD TITLE: Community
FROM: CoverGirl DATE: 9/26
SUBJECT: Any Mages Have Any Requests?
Hello all mages~

It's Mage Appreciation Week!
Do you have any requests or need something from the Item Shop?
Please nmail me your requests. I will check if I can add the items on the shop. I can put the Christmas items this time if you want them :)

Happy Mage Appreciation Week!

** CoverGirl


** Make sure to NMAIL your requests to her! **
BOARD TITLE: Dreams
FROM: GM Wony DATE: 9/26
SUBJECT: Mage appreciation week & Fragile orb of ripple
Hi. It's Mage Appreciation Week, and nothing is really permantly cemented here. We will have fun, enjoy ourselves, and tweak if necessary.

The fragile orb of ripple has a few glitches. I apologize. It's a new try, and our programmers wanted a little more time to work on it, but I pushed to be able to release with this patch. The spell is to be casted on mobs, not on people, and overflow will happen on that particular mob.

Please provide feedback, not just mages, but other paths as well, on how these changes affect Nexus in general.

Thank you so much!


Once again, we thank the God's of our kingdom for giving us such great opportunities and appreciation!
| | |
| --- | --- |
| Monday, September 26, 2016 | |
| | | |
| --- | --- | --- |
| | | Server Reset-Mage Appreciation week!~ |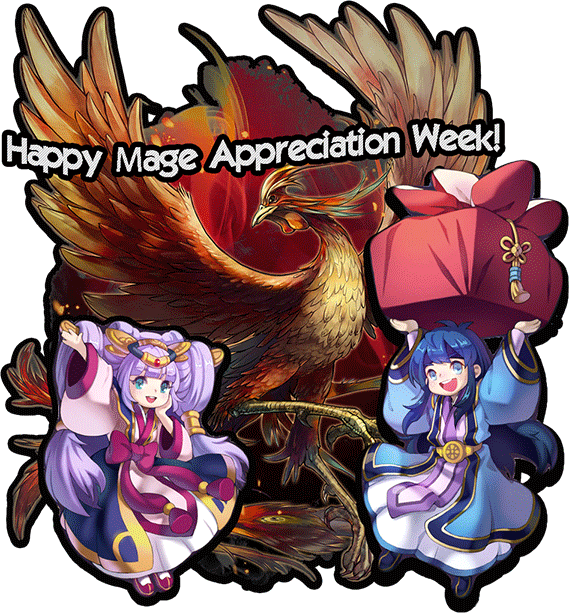 BOARD TITLE: Dream Weaver
FROM: mir DATE: 9/26
SUBJECT: Server Reset - September 26th, 2016


*************************************
** 'Mage Appreciation Week' begins **
- Group Exp. compensated when a mage joins the group
- Special fragile orbs available for mages (free from Woonsoo)
- Fragile orb of mage invoke: aether reduced by half
- Fragile orb of scourge
- Fragile orb of ripple: enables damage overflow on mobs
- Fragile orb of sul slash: vita/mana based attack
Updating will continue as necessary. Please provide feedback.
*************************************

- Funny Bone Festival ends.
- Banked MQ run extended for another week.
- Fragile orb of Inspire converted to permanent inspire.
- Fragile orb of scourge ripple, supress, paralyze ripple, ASV removed.
- Fragile orb of whirlwind ripple, lethal strike ripple removed for now.

-Another update with Daily coins that you can now go over 100 daily coins.
-Reports that mages add 25% more exp bonus if they're in your group during hunting.
| | |
| --- | --- |
| Monday, September 19, 2016 | |
| | | |
| --- | --- | --- |
| | | New Item & A Sincere Thank You from Wony |
Seems as though this week's going to be fairly busy after all - a new item plus some great new tweaks! Check 'em out ~
BOARD TITLE: Item Shop Announcements
FROM: CoverGirl DATE: 9/19
SUBJECT: New item : Sacred pendant
Good morning Kingdom~

Hope you are enjoying the Experience envelopes, but are you afraid that you might break the precious full envelopes on your misfortune? I've got a surprise for you. I put the new 'Sacred pendant' that will protect your full experience envelopes. It's available right now in the Item Shop.

I hope you like it :)

** CoverGirl


Usable Items
: (pass the cursor over the image to view more information)
Also, for those who didn't get a chance to see it yet, Wony has shared his thanks with the community for our help in freeing him! See his post below for more info.
BOARD TITLE: Whispering winds
FROM: Wony DATE: 9/19
SUBJECT: Thank you!
Whoa! That was something! I am sure glad to be back to normal! I have no memory of what happened. Everybody tells me that I was awful. I am so thankful for all the things you did for me.

As a token of gratitude, I am giving 25% boost in experience for everybody.

AND, if you completed the quest successfully, you will gain another 25% boost on top of that!

WAIT! That's not all. The daily coin random boxes will dispense generous quantities of temporary modulators, and if you have one in your inventory, you will gain another 25% exp. boost. Those 25%'s are compounded, not just added. You do the math. :)

WAAAIIIT! I've got one more. That modulator will boost your crafting skills as well. So, what are you waiting for? Operators are standing by. Keep ringing. Ugh, why is the word 'ringing' giving me a headache?..

Now for those who didn't want to save me and didn't do the quest. Choose your side carefully... Nah, I love you all. I will keep the quest open a little longer, so you can still complete the quest.

Thank you very much, everybody, Enjoy the party. In the meantime, I've got some investigation to do. *Picks up his peasant sword, walks out, yells 'Walsuk, did you invite me to the dinner?'..*



Sounds like its time to get active! Hunting, crafting - whatever your cup o' tea may be!
| | | |
| --- | --- | --- |
| | | Server reset! Exp boosting |
BOARD TITLE: Dream Weaver
FROM: mir DATE: 9/19
SUBJECT: Server Reset - September 19th, 2016


- Funny Bone Festival begins. Will last about a week.
- 25% exp. boost
- 25% exp. additional boost for those who completed the quest, Wony, the Mighty and Woeful
- 25% exp. additional boost with Wony's modulator which will be dispensed from the daily coin random boxes.
- Minor updates for subpaths


More information will be posted as it comes in.
Wony's Modulator comes from Any daily coin boxes, I personally got one myself from a 1 coin box.
| | |
| --- | --- |
| Friday, September 16, 2016 | |
| | | |
| --- | --- | --- |
| | | ~Short update on daily coins. |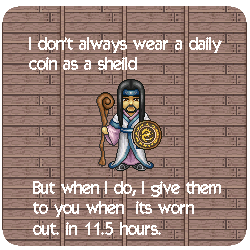 During one of the many resets, daily coins are now 11 hours 30 minutes ( they knocked 30 minutes off it)
-Minor quests are still 12 hours though.
Maevalia has informed me that there is a cap with daily coins, you may only hold/carry 100 coins.
You better watch out because if you try to go over 100 coins you'll lose your daily coin.
If you haven't done so already, check out the walk through
for the Wony power trip quest and do it if you want
a sweet sweet legend mark.
| | |
| --- | --- |
| Tuesday, September 13, 2016 | |
| | | |
| --- | --- | --- |
| | | Wony's Power Trip Event (Lazy Edition) |
To start Wonys quest you Need to visit the SeaNymph in Buya Located at (34,74)
You must say "The mighty and woeful" followed by "The mighty and wonderful"
After talking to SeaNymph you need to find the letters to make some
alphabet soup.
To find the letters you must find the Scared scrambler
located at Buya Rogue,mage,warrior,poet hall. They move around.

Say out loud the unscrambled word to get a letters
to make the soup you need R,D,N
You may eat the different letters to get rid of them.
After getting your letters you must go back to the SeaNymph
you'll need to make the soup now by going to Kuguryo Walsuk Inn
Located at (59,150) and say "Alphabet soup"
Walsuk will combine the letters to make Salty letters.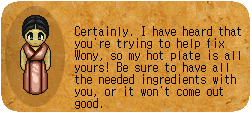 Go north to Suni Butcher in Kugnae (41,131)
with:
(1) Noodle,
(1) Soup bowl sold in the inn
(1) Chicken meat.
Ask suni "May I use your hot plate"
Suni will combine the Salty letters with the ingredients
to make Alphabet soup.
along with the alphabet soup you must combine in the creation
system a Ambrosia (Shift+I) It'll give you Heavenly Alphabet soup.
At any inn you can say "Heaven" to get to the event area
(You don't need to do any of the event to even go to the event)
As you ascend into a part of heaven, Proceed out of Aurora Tavern
to Piece of heaven where you'll need to walk north to find a tent.
Located at (15,11)
Inside the tent you'll find many npcs that have been converted by
the evil Wony into Zombie monsters.
Known Drops:
Pearl charm
lucky coin
lucky silver coin
battle helm
Ambrosia
Scribe's pen
Scribe's book
Magic dust
Broken skill modulators
~Boss:
Enchanted mythic weapons
Skill modulators
Different type of Ambers
Head to (59,7) in Great man's tent to find Wony forcefully
converting npcs to monsters.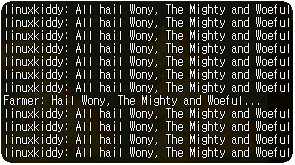 Walk around Wony being sure to not be next to him or he'll
cast Vertigo on you and force you to hail him
walk to the back of Wony and you'll give him the soup
and receive a

legend mark and a
Wony's Funny Bone
Wony's Funny bone disappears after use. after use. It has the same effects as bunny amber.
| | |
| --- | --- |
| Saturday, September 10, 2016 | |
| | | |
| --- | --- | --- |
| | | Fall Collection & Requested Items |
WHOO! Here it is ladies and gentlemen of the Nexus Kingdoms - Some of the requested items have been included with this Falls Collection ~ Take a look and see if any of your items made it into the catalog =)
BOARD TITLE: Item Shop Announcements
FROM: CoverGirl DATE: 9/9
SUBJECT: Requested Items
Hello Kingdom~

As I promised I tried to put your requested items to cover your needs - I am the COVERgirl :) but the list is endless..... Also some people asked for the items that I can't put in the Item Shop. I am sorry to tell you that most of those items come in packages that we can't sell individually.

I apologize and thank you for your understanding.

You may / may not like some of the items but everybody has different needs and tastes in fashion. Let's respect each other. I love our diverse community and seeing all the varieties in it.

Enjoy~

** CoverGirl


I know so many folks who were just CRYING for some fresh hair-do's, well cry no more as our prayers have been answered with an assortment of hair styles - be aware these DO change your actual hair and are NOT a wig (meaning your new hair will come bleached and will need to be dyed~). Not to worry though, because CoverGirl also released a bunch of new Hair Potions as well!
Usable Items
: (pass the cursor over the image to view more information)
A few new yummy weapon skins for us too!
Weapons
: (pass the cursor over the image to view more information)


And we always need to be riding around in style, check out these mounts~

Mounts: (pass the cursor over the image to view more information)


Cats Eyes?! Who doesn't want to be a cute kitty?

Face (pass the cursor over the image to view more information)


Of course, for those of us who aren't willing to get a new Hair-do every week, there's always more WIGS! Yep, a ton more colors available in some of our favorite Hair pieces.

Head (pass the cursor over the image to view more information)


Am I the only one in love with those giant pink wings?

Mantle (pass the cursor over the image to view more information)


Puffy Sleeve Dresses AND Robes, A huge assortment of Jupes and more!

Coats (pass the cursor over the image to view more information)


Shoes for him and her - gotta complete the outfit!

Shoes (pass the cursor over the image to view more information)


Hope everyone enjoys the array of options now available, as well as the spectacular color choices! Don't forget to give CoverGirl a huge thank you if you see her ~ Fashion Creation ain't easy, ya know!




| | | |
| --- | --- | --- |
| | | Server Reset & Zombie Apocalypse?! |

Trouble in Nexus? With the most recent reset today, came a note on Whispering Winds from mir, take a look below - Seems our God Wony isn't as kind and benevolent as we assumed...

BOARD TITLE: Dream Weaver
FROM: mir DATE: 9/10
SUBJECT: Server Reset - September 10th, 2016


I received a strange and disturbing letter from the NPCs. I posted it on Whispering Winds.

- Fragile orb of experience envelope will be moved to Experience envelope pack in the Item shop.

- Fitting room updating improved.



BOARD TITLE: Whispering Winds
FROM: mir DATE: 9/10
SUBJECT: Wony... The Mighty and Woeful

I just received this letter and I am not too sure how to handle it. It seems to be true ? Wony IS different now, but even I cannot do anything about it. I hope you guys can help me, as this looks to be a serious matter. Here is the letter that I received:

Greetings Good Man Mir,

Whilst all talks referencing NPCs deciding to overthrow authority and rule the world as one commonwealth are of no importance at the moment and constitute pure allegations, what is important is that somehow in the course of yesterday our God Wony has changed? and not for the better.

Wony had a secret meeting with all of us, where he made an announcement that we will see none of that fundraiser money after all. Instead, it will be repurposed for the building of a great big wall. Then to conclude the meeting, we prepared a meal in Wony?s honor, which I must add, he enjoyed particularly well; an established soup connoisseur , he was particularly bewitched by a flamboyant creation presented to him by one of the girls.

So, long story very short; It appears that Wony may have eaten something that was most likely very poisonous, possibly capable of erasing whoever ingest it from reality. These things happen you know, there?s not that much testing going on and all sorts of bugs crawl into real time!

We would have not mind it very much, but it looks like the resulted Wony is set on sucking out our little NPC souls and making an NPC zombie army for himself. Him and his minions roam around and catch all NPCs, bring us to his lair, where through an unthinkable process we are turned into faceless and mindless minions, chanting him praises.

Please address this issue in at once, and as a thank you we will continue to offer our unlimited services all day and night all time-zones far and wide.

Sincerely,
NPC Union


Sounds as though Wony may be creating his own Zombie Army? What are we going to do?!




| | |
| --- | --- |
| Friday, September 9, 2016 | |




| | | |
| --- | --- | --- |
| | | Wony's DreamWeaver post about Patches |

There was no client patch this morning like we've been used to for the past few weeks.

Instead, we got a rare post from Wony:

BOARD TITLE: Dream Weaver
FROM: Wony DATE: 9/09
SUBJECT: Patches

Dear citizens of Nexus.

When I decided to retake the active role in managing Nexus, I was faced with many issues, but my biggest and most difficult challenge was to win your trust back, and to bring the sense of hope and excitement to the community.

As you may have noticed, we've been frantically updating our servers and client over the past few months, at least once a week, if not more often.

Of course, these frequent patches took care of many pressing issues, but it also was our way of saying 'we are serious about making Nexus great.' I believe at this point, we have achieved a reasonable success at fixing urgent issues and winning your trust back.

Now we are going to switch to 'patch when necessary' mode. Please don't get me wrong. This by no way means we will slow down. While patching frequently is exciting and satisfying, it also comes at some cost. One, it encourages us to focus on short term goals, and two, no matter how big or small, patching itself is quiet a time and effort consuming process.

Currently our GMs are working on the latest quest, which will most likely to be released this evening. After this patch, please do not be disappointed or discouraged if you don't see a patch note every Friday as you are already used to. It just means we are quietly working behind scenes more efficiently. I will invite you to discuss about the main changes and directions as we move along.

Things are are looking good, and I am excited about the future of Nexus and our great community. Numbers are up, and I can feel the excitement in the air. Thank you, and I love you all, from the bottom of my heart.

Now, I am getting ready for a party that NPCs have invited me over. As you may know, I have been quite displeased with their attitude and whining. I am surprised by their sudden gesture of hospitality. They may have finally come to their senses and will become loyal, again. Maybe, just maybe they are not that bad after all. But what is this strange and uneasy sensation i am having? I must feel joyous but why is my heart so heavy and cold? Strange, oh so strange...


According to his post, it would seem that we should expect a patch tonight with a new quest! We can only speculate on what this quest might be. Is it related to the recent NPCs revolting against Wony?

We'll just have to wait till tonight and see.




| | |
| --- | --- |
| Sunday, September 4, 2016 | |




| | | |
| --- | --- | --- |
| | | New Kruna Registration Code & Search Bar Feature? |

A brand new post from CoverGirl reveals that the 2016 Fall Collection is to be released soon! Enjoy the newest item released : A Kruna Registration Code!!

She also released the new "Search bar" feature in the kruna shop ~ See below:

BOARD TITLE: Item Shop Announcements
FROM: CoverGirl DATE: 9/2
SUBJECT: New Kruna Registration Code
Hello Kingdom~

A new item, again!

Now you can send a registration code to your friend using Kruna.

I will update the Item Shop with Fall collection, soon. It means most of the items on the shop available now will be removed. If you want something from the Item Shop, this is the time to shop before they are gone!

And I will try to put the requested items as much as I can but I don't want to put the Christmas items yet.. :)
Thank you for waiting. I know some of you have been waiting very long... :(

Now, it is time to shop!

** CoverGirl



Usable Items

: (pass the cursor over the image to check Code Info)

BOARD TITLE: Item Shop Announcements
FROM: CoverGirl DATE: 9/6
SUBJECT: Search bar
We added a new 'search' bar at the bottom of the page.

We also divided the page by each category, so it will load quicker, and be easier to browse.

I hope this helps your shopping :)


** CoverGirl


P.S. Thank you, wiz!






| | |
| --- | --- |
| Saturday, September 3, 2016 | |




| | | |
| --- | --- | --- |
| | | Merchant Guild receive upgraded engraves. |

The Merchant guild of koguryo froze their engraving services for about two weeks due to bugs

in the updated/improved engraving spell. They've recently re-opened engraves after their spell

has became updated/partially debugged.

Merchant Elder Acera made an official post shown below.

BOARD TITLE: Community
FROM: Acera DATE: 9/02
SUBJECT: * Engrave Services are OPEN!

Dear Community members,

Thank you for your patience during our engrave suspension period. It was necessary that we be absolutely sure that our new tools work as intended. We strive to deliver the highest quality and professionalism in all of our work and we are pleased to offer our new services to you all.

All engraves will be distributed on a first-come, first-serve basis. Since we expect demand to be high, we also offer over-night engraving services and request only that you cover the parcel fee. The engraved item will be in your mailbox when you wake up the next morning. Or if the parcel fee is too high, we'll simply hand it to you on the next day.

The engrave policy has been updated and can be found on our board located in the Kugnae Gathering. Our prices have also been adjusted to reflect the current market's value. Our pricing, for the most part of at least ((10 years)), has not been updated. The guide circle deliberated for days on the new price schedule and came to a conclusion that would be fair for today's market, all environmental factors included.

Any guide can perform an engrave for you. If you have any questions about our new engrave styles or policy, please do not hesitate to send all messages directly to me or any guide via n-mail. We'll get back to you as quickly as we can!

Effective immediately, 10:00 PM EST 9/2/16, all engrave services are officially open for business.

** PLEASE READ OUR BOARD IN KUGNAE GATHERING FOR PRICING **

Signed,

Acera
Merchant Elder


To see the full community post,

Click Here

Many members of the community was unpleased to have engraves frozen for so long but now they're back better than ever!

If you want to leave a comment about this please check out

NexusForums




| | |
| --- | --- |
| Friday, September 2, 2016 | |




| | | |
| --- | --- | --- |
| | | Server and Client Patch |

This morning, like every Friday morning recently, a new patch was released!

As posted by Mir on the Dream Weaver board:

BOARD TITLE: Dream Weaver
FROM: mir DATE: 9/01
SUBJECT: Server & Client Patch - September 1st, 2016

- Fragile orbs of experience envelope available. Experimental. Unlimited use for 1 day, 7 days and 30 days.

- Sold by Woonsoo. Woonsoo will exchange previous envelopes with the new ones.

- Fragile orb of mercenary warrior tweaked. Dedicated targeting.

- Kruna registration code will be available in the Item shop.

- Minor fix for subpath


From what I gather, there is no limit to how much experience you can stack (hold) in the fragile orb of experience. Be warned, it appears that you will lose experience contained in the orb exactly like you normally do when you die... so don't die.