Past News
Did you miss that important news story? Do you want to read what happened while you were on vacation. Here's where to get that info!
Our news software, Coranto, has a bug which makes it purge links to news articles more than two years old. What is left of programmers who volunteer their time to support this software do not know why this bug occurs. We manually index older news pages in our Archived News section.
| | | |
| --- | --- | --- |
| | | Interview with the Sage of Nagnang |

Tonight I had the opportunity to interview the Sage of Nagnang, Maril, as much mystery has surrounded the Eternal Order of Nagnang, this gave us the opportunity to find out what it is really about.



MistPrince: So tell me, The Eternal Order of Nagnang? What are you about?

Maril: We are about bringing role-play and interaction with the clans and sub-paths back to Nagnang. We also deal with matters of the state, with guidance from the Nangen Tribunal. We are basically what all other nations refer to as a Ministry.

MistPrince: Interesting, and so with the death of Kija, the ministry has disbanded and the Eternal Order of Nagnang has replaced it?

Maril: That is correct. We also now have a more involved position within the Nangen Tribunal.

MistPrince: So, you are essentially the governing body of Nagnang now?

Maril: No. That is inaccurate. We are the chairperson of the governing body of Nagnang, without vote. Then address them before the Tribunal. We have nowhere near the power of a clan or our beloved Prince.

MistPrince: So who rules over Nagnang currently?

Maril: The Nangen Tribunal does, which is composed of all the Primogens and the Sage(being myself), and our Archon, Aremdaun. All decisions of the state are left to the Tribunal now.

MistPrince: Are there any plans to elect a new prince? Or is the Royal Hierarchy going to be a thing of the past?

Maril: This has not been discussed to any extreme extent, but we will most likely continue to function as a Tribunal set up as is, without a royal family. Then again, ways always change in time.*grins*

MistPrince: As the Sage of Nagnang, what do you hope to bring to the Kingdom?

Maril: A closer sense of community and more involvement with the sub-paths of our lands. Nagnang has constantly been neglected by a lot of groups, and I hope to improve that, and bring out citizens what they truly deserve for all the hardships the Northerners have caused us.

MistPrince: Sounds promising, any parting words for the community or other kingdoms?

Maril: If you are interested in helping this cause, feel free to contact me. There are plenty of positions open. And those who already belong to other sub-paths or organizations and want to work with the Eternal Order, I am more than ready to hear from you and get things rolling.

| | | |
| --- | --- | --- |
| | | Kinung Event September 3th to 10th |

Back to work! (Coming soon!)

The Yon and Tae families have now settled in to their new home of Kinung, and just as the future was starting to look bright, Mupa barged into the ball and cast a shadow over the land once more! Yet, the Tae family is far too busy to give the witch a second thought and as they set up their new workshops just beyond the Forest of Elders, they prepare to practice their crafting skills once again!

It's not easy starting out anew! Even with all the extra help that has been provided by the community, many of the family are still in need of tools and supplies in order to begin their work.

If only there was some way of helping them to get back on their feet! Perhaps if the community could lend a hand things would happen a lot quicker and in doing so they would surely earn the gratitude of the legendary crafters of Kinung.

((This event will begin next week Thursday, September 3rd and run until Thursday, September 10th.))

| | | |
| --- | --- | --- |
| | | New Geomancer Elder! |
At the Geomancer meeting Sunday night it was declared that
Kenzi
has served her time and obtained all she wished to from the Kingdoms. Her Eldership was long, true, and much was accomplished.
The next step to an even stronger path has been passed on to
Glacial
who was an active, hard-working guide with the potential to succeed in almost anything.
Thank you, the both of you, for taking the step of Eldership.
Congratulations, the both of you, for taking a step into a new chapter of your lives.
XoXo
Kikoura
| | | |
| --- | --- | --- |
| | | New Maps Released |
I've been lagging behind on my job. But now you can see some of the newer or revised areas of the kingdoms. If you haven't had a chance to tour
Kinung
, take a virtual tour.
You can visit Kinung from any kingdom in the land. If you live in Buya, go to the east side of the Islets just south of the Muse's home. Koguryans can visit Dae Shore and take the boat on the south east shore. Nangens should check at the lake to the north of the palace. All offer a quick ride to the new areas.
You may find other miscellaneous updates; too numerous to really list. Have fun!
| | | |
| --- | --- | --- |
| | | Server reset, Friday, August 28, 2009 |


The Nexus servers were reset with the following changes:

Clan, Army & Ministry additions and fixes:
* All merchants for Covenant Clan have been moved to the new hall names

Subpath additions and fixes:
* Minor update for Geomancers
* Minor update for Spies

Other:
* Event completed for next weeks release, testing will be going on all weekend through next week for Thursday release (See Whispering winds board for more information)
* Minor updates for item shop

Bug fix:
* Horse merchant in Kinung's, name had to be updated dug to a bug then allowed you to ride the horse and cause him to vanish.

| | |
| --- | --- |
| Wednesday, August 26, 2009 | |
With the recent reconstruction of Kinung, The Yon and Tae families extended an invitation to all of the community for a weekend of festivities and events.
Many of the paths and clans participated in the celebrations bringing their high spirits and well wishes to the families and to Kinung itself.
The events and revelry culminated in the grand ball on the Sunday night, where Elder Cheyn and Teikari took the opportunity to formally introduce the Councilors of Kinung to the gathered crowd.
A great deal of work has gone into the land of Kinung and Cheyn spoke of the bright future ahead of them all, the councilors have been tasked with improving interactions within the town and to input ideas and effort into making it a place that everyone can enjoy.
They are:
BeZal
Dally
Elyra
Hinoru
IldritchFire
Jisong
Lavahn
Living
NaoYuki
Rhetoric
SaylemK
Talaina
Valevic
Xenxin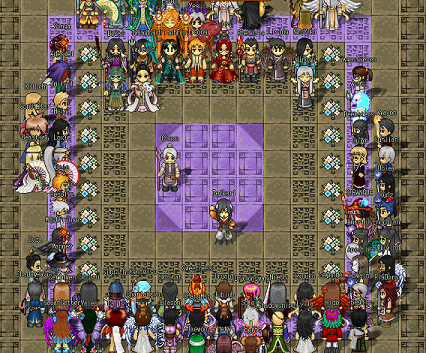 Cheyn and Teikari took turns to invite each councilor to step forward and then they read a little about each. After a while the atmosphere began to change and there were sightings of ravens outside the ballroom, people started to become unnerved by this and it wasn't long before Mupa's voice could be heard threatening the families and casting a dark shadow over the ball.
Soon ravens began to appear all over, at one point Elder Cheyn was surrounded by them, fortunately the council rushed to his aid. This was merely a distraction however, and soon Mupa herself entered the ball resplendent in outrage and fury, she barged her way through the panicking crowd until she was stood a mere pace away from the elder.
The councilors did their best to thwart her attacks and the elder Cheyn stood his ground and demanded she leave the families alone.
Mupa soon grew angry and it was clear that her power was too great for the assembled people to stop her, Cheyn and Teikari, fearing for the people made an escape while the brave assembled community rallied around to protect them.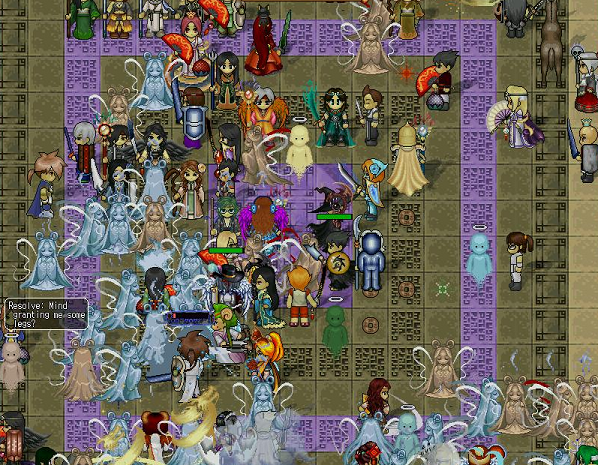 This enraged Mupa and she summoned many scores of her captors to bring ruin upon those who would defy her, with the Elder safe, the community battled her minions, but any hope of ending the celebrations on a joyful note ended in panic and disorder.
Mupa taunted the Yon and Tae families before leaving the kingdoms for places unknown. All the remained was for people to tend to their wounds and look ever forwards to what was once again an uncertain future.
What will be in store for the good folk of Kinung? Will Mupa ever let them rest?
IldritchFire
Hyul 26, 4th moon.
| | | |
| --- | --- | --- |
| | | Server reset, Friday, August 21, 2009 |

Server reset, Friday, August 21, 2009

The Nexus servers were reset with the following changes:

We are aware of the Rogue Sa san spell issue and are working to fix the spell as it was in the past.

Clan, Army & Ministry additions and fixes:
* Updates for Nagnang army, now known as Covenant Clan (This process will take some time to finish but many of the changes have started this reset.)

Other:
* Minor addition to Kinung (You can now get a horse near the docks to rid around, Councilors can no longer drop their Kinung tool)
* Minor updates for itemshop (New outfits and mounts will be released at a later date as well as a new usable item.)
* Updates for a new event for Kinung
* Other Minor changes
| | |
| --- | --- |
| Saturday, August 22, 2009 | |
Nagnang ruins

Posted by: Vini

--

11:38 PM EST

With all eyes focused on the rebuild of Kinung, the palace of Nagnang is still in ruins and no signs of people trying to rebuild it. Perhaps community should give resources to rebuild the palace as they've given to construct the new Kinung buildings. Nagnang is too good to be left destructed like this.
Seeing such state of the kingdom makes me wonder: Was Wiyae and Hakimori's actions what brought this to Nagnang or is mainly due to citizenís negligence?

~Vini Normad'or~

| | |
| --- | --- |
| Thursday, August 13, 2009 | |
| | | |
| --- | --- | --- |
| | | Server reset, Thursday, August 13, 2009 |

The last brick has just been put in place and the winds of fortune blow favorably upon the little village of Kinung, restored at last to its former glory.

The Yon and Tae families proudly look over their peaceful haven and extend their thanks to all of the community for their tireless efforts in providing the resources needed to rebuild such a wonderful settlement.

Not everything is favorable though! Amidst the jubilance and celebration there lurks a chill in the air, with sightings of Mupa's minions and rumors of ravens appearing, can the Yon and Tae families ever be free of her icy grasp?.

However, no-one is prepared to let this spoil their elation! So join them in the upcoming festivities and revel in this wonderful new land of opportunity!


Clan, Army & Ministry additions and fixes:
* Minor update for Alizarin
* Minor update for Heavens clan

Subpath additions and fixes:
* Minor update for Muse
* You should be able to deposit the Messenger's feathers

Other:
* Large updates to Kinung
* We are also working on a newsletter to let others know about the new town and it should be out soon
* Sying's messenger shop will now let you buy checks
* Floracade was made for the town of Kinung (Barricade but looks like flowers)
* Other minor fixes
Sneakpeak at Kinung

Posted by: Vini

--

12:09 PM EST
Several members of the community have donated 1500 material to build Kinung and their work can already be seen as worthy. Those who visit the town today can see much more than just the wildlife seen days ago. Here's a sneakpeak of the
Kinung Town Hall
for those curious about what's to come: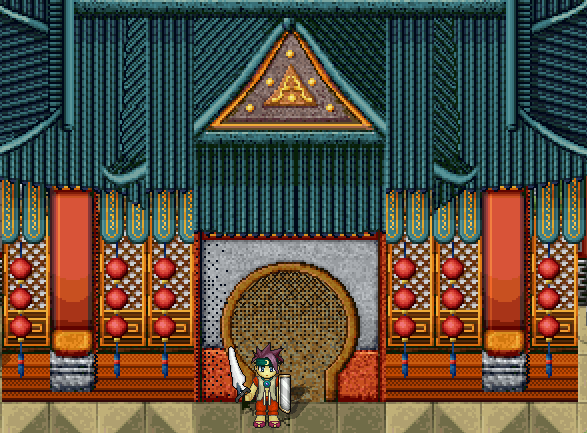 The town has several other buildings and much opporunity to grown. To north of Kinung people can travel in the
Forest of Elder
, a large place which its purpose still shall be revealed.
The most beautiful building of Nexus can be found here too. The Kinung Chapel. Who will be the first couple to marry there? Time shall tell. For those interested in seeing what else there's to see in Kinung shall have to wait until the town is released or work to earn your
Kinung Garb
.
~Vini Normad'or~
~Hyul 25, Moon 11~
| | | |
| --- | --- | --- |
| | | Help Supply Kinung |

The Yon and Tae families have been freed and are setting up their new homes in Kinung. However all of their crafting supplies have been lost or destroyed thanks to Mupa. Material Broker is asking for donations. You can find him in Dae Shore approximately at 065 060. He is looking for:
Wool, Cloth, Ginko wood, Metal, Fine metal, Amber, Dark amber, White amber, Yellow amber, Ore of all types.
Depending on the amounts you donate you get to see portions of the new land. If you donate the maximum of 1500 you get a new garb/skirt. Plus you get a tiny bit of karma, the highest legend mark for your work and get to see more of the new land.




| | | |
| --- | --- | --- |
| | | Server reset, Thursday, August 6, 2009 |

Server reset, Thursday, August 6, 2009
The Nexus servers were reset with the following changes:

Reconstruction begins!

Haggard Witch, Cheyn, and Teikari were noticed conversing in Kinung shortly before the sun set one evening. Ecstatic with their decision to rebuild the once great town of Kinung, they made a point of speaking to the community about what they wished to see constructed. However, in the middle of their discussion the sky suddenly turned dark with the wings of birds. Seemingly unprovoked, these crows descended upon them and the community. It is suspected that Mupa was behind the incident involving these normally docile creatures. This experience caused Cheyn and Teikari to intensify their plan to reconstruct Kinung.

Now with a strong desire to build the village as quickly as possible to protect them from these foul creatures, the Yon and Tae families have enlisted able-bodied workers to assist them in the re-construction of their village.

Dae shore is sure to be bursting with activity today as ships full of goods are exported to Kinung to keep the laborers bustling. Don't hesitate to jump aboard one of the porter's vessels carrying shipments into Kinung from time to time as the wonderfully chosen fabricators build the village of Kinung!

While this is a wonderful day for the Tae and Yon families, there is a foreboding atmosphere over Kinung right now. Many of the workers have mentioned glimpsing something lurking in the shadows. Is there any truth to their rumors, or are they simply delusions of the fatigued craftsmen?

((Please keep in mind that Kinung is a strict Role play town. If you speak out of character you can be removed from the town.))

((Players will have one week to donate items. The event will run from Thursday, August 6, 2009 through Thursday, August 13, 2009.))

Clan, Army & Ministry additions and fixes:
* SanSin clan receives new board
* Dharma clan receives changes to NinaP (Meat scrap), Aria (Spring and Summer blouse)
* Heaven's clan receives new portals; changes to Sahabat (Travel to Tangun) and Bebe (buys Medium amber rings)
* Kugnae army receives changes to Se-Hong (Ink, White paper, Root liquor)
* Lost kingdom receives changes to Glee (Crafted wt amber)
* Tiger clan receives changes to Yuhwa (Grilled beef, Roost chicken, Fried egg), Alyeong (Spring, Summer, Autumn, Winter, Leather gowns) and ChinHwa (Tarnished wt amber)
* Destiny clan receives changes to Yori-Sa (Fried egg)
* Enigma's room name was changed from Goridian's Knot to Gordian's Knot
* Forsaken receive changes to Flaps (Minor quest and Tiger's heart) and Sloth (Remove minor quest)
* Alizarin receives changes to Zooey (Crafted wt amber, Tarnished wt amber, Well cftd yw amber), Miru (Rice wine)

Subpath additions and fixes:
* Muse request for portal changes to Poetic Justice and banking for Wind Bouncer
* Monk request Karuna to be silent

Other:
* Major updates for Kinung (see above)

Bug fixes:
* Minor door issue in Buya Fox hunt area, removed 2nd set of doors.
Sublime Alliance

Posted by: Conro

--

9:15 AM EST

With the latest changes in the Kingdoms, the leaders of the mythic caves have increased activity against each other, and are enlisting the help of citizens who have aided them in the past.

Alliances have changed as well. Bosses are no longer followed on your limited kill count, but rather are counted on their own invisible tally, never to be forgotten. Bosses killed BEFORE starting an alliance will not count, however, and counts will be reset back when an alliance is completed.

On top of all this, the mythic bosses have been returning to battle quicker than ever. Their general spawn time has been reduced in half, now taking only approximately 22 minutes to respawn.

Sublime alliances entail the following...

Prerequisites: Must have completed 3 Greater Alliances

To start...
Enter any alliance room where you are greater allied, and say 'Sublime'.
If you wish to help this creature, select 'Yes'.

You will be enlisted to do the following...
- Slay 20 of your masters direct enemy, and bring 20 of its key and item drop.
- Slay 15 of your remaining greater alliance masters enemy, and bring 15 of their key and item drop.
- Slay 10 of your remaining lesser alliance masters enemy, and bring 10 of their key and item drop.

In total, you will slay 80 bosses, and present 160 offerings.

When you finish you will be given the following:
- Legend mark "Sublime Alliance with the [animal]"
- A large amount of Karma
- 4 Sublime Token


Sublime Tokens can be used, and will each give you 1 billion experience - 4 billion in total, if you use each token. They cannot be dropped or exchanged. They cost 15,000 coins each to deposit.

Good luck! Remember, you can share bosses, and you DO NOT need to worry about getting through a room without killing other monsters now! Alliances have never been so easy!