KUGNAE -- Yuri 82, Moon 12, Day 30. The funeral of the King of Koguryo was a sad day to the kingdoms, but a good opportunity for his citizens to express their love and respect for his majesty. The honors to the King started 2 hours before the funeral ceremony, with a Latern walk around Koguryo conducted by Lady Inrequietus in name of Oceana clan. Dozens of people joined the walk from north gate, to west gate, south, east and to palace. The walk that started on the early hours of the day, actually experienced a very odd moment when all of a sudden, at different times the lights of the whole kingdom went down and their lanterns was the only way to conduct themselves through the kingdom. It seems that even the Gods were sad to hear about the death of the king chose to hide the sun for a bit in his honor. The walk was conducted to inside the Palace of Koguryo, to where them and all others were invited to go to the Throne room and start picking a place as the place was getting crowded. Once inside the throne room, among the hundreds of people there, it could be seen Prince
Kija
, Princess
Lasahn
and after a long wait but right on the scheduled time, Prince
M'hul
.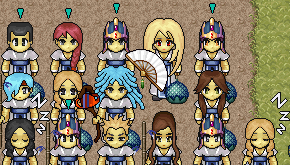 The community gather at east gate during the walk to hear more words of admiration of King Yuri.
The Prince of Koguryo conducted a beautiful speech about the life of King Yuri. Talked about his grandfather, his mother and older brother who died at war. A speech done not just as Prince, but as a son. After finished, he invited Prince Kija to share his words as well and after Princess Lasahn. Unfortunately Emperor
Aino Senshi
wasn't present to say the last goodbye to the King, but hopefully he shall be visiting the King before the room is closed.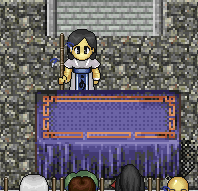 The Prince M'hul prepares his speech in front of the throne.
Here's are the records of the speeches made by Prince M'hul, Prince Kija and Princess Lasahn:
Mhul: Thank you all for coming tonight.
I have a few things to announce before we begin.
Normally we would mark the anniversary with this day.
King Yuri even in his weakened state was working.
Bring you the items to celebrate our anniversary.
In honor of my Father we will be taking this time
To celebrate his Life.
We shall hold our anniversary soon.
But this shall be a time of mourning for out nations.
I stand before you today not only as a prince but as a son.
Death does not discriminate between the rich and the poor.
It strikes those it deems worthy to travel beyond this
mortal plane.
My father has lived his long life with honor and pride in
What he has achieved. Not every decision he made was
Deemed just but he stood by them nonetheless, just as he
Stood by me from my birth throughout my impetuous
youth and now to present day. Under no circumstances
was I ever coddled or given liberties. He taught me to
fight for what I believed, what I wanted. I only hope
his love and teachings will guide me now as I continue
to govern this precious kingdom I was born to protect.
From the day he was named Kug-Yun Yuri, my father
has been a strong individual. He became a warrior at an
early age far surpassing others of advanced years.
His father was a town advisor killed in a raid from
Han imperials. With Yuri's knowledge and skills, the
village looked to him for guidance. With their support,
Koguryo was painstakingly built with her sweat of your
Forefathers. They chose him to be King. He married and
had two sons, my brother and I. Sadly, my brother died at
war. My mother became quite ill herself and soon followed him.
I was all he had left. With determination, he continued
To build Koguryo from a small province to an enterprising
Kingdom. He encouraged Subpaths and approved our first
clans. Soon Buya followed with the arrival of
Emperor Senshi and Princess Lasahn.
The four of us worked well together until the arrival of
General Blight and Nagnang. This was just another war
for my father, a seasoned warrior, to fight in and fight he did!
I remember the nights in that forsaken land when his tired
Body would not rest. He has survived Mupa twice,
That deceitful witch, and won with help of his people.
He appointed Librarians to record the history of our great kingdom
and keeps it open to the people in our Libraries.
I am sure you all remember his Golden, Diamond and
Platinum Jubilees and the Royal Ball just held.
He appreciated extravagance but not at the cost of his people.
Your welfare and protection were always first in his heart.
I can see by expressions of sadness displayed today that his
passing has affected you all. These past days have been an
expression of mournful grieving. The palace halls are silent.
No longer will we hear the whoosh of his robes or his
determined footsteps announcing his arrival. No longer
will his untroubled tones announce decisions of life and death.
How sad that this great man will no longer share our lives.
I ask fervently that you keep memories of him forever in your hearts.
At this time my Royal cousin Prince Kija
Has a few words to say.
Kija:Citizens of Koguryo, Buya, Nagnang and the Wilderness..
The dynasty that King Yuri has left behind will leave encouragement,
and hope.
We walk these lands with memories.. memories we have from as early as our
creation, and perhaps even onward.
I have no doubt in my mind that King Yuri will cherish his memories of a
Great nation, a great family, and an accomplished life.
I wish well to his son, Prince M'hul, and the citizens of this fine land,
especially in times like these..
Many may not know what King Yuri was dreaming of the night he passed,
but it gives me comfort knowing that his son, Prince M'hul, was among one of
those in his dreams. Images of his son growing up into a valiant hero,
and overseeing a great kingdom.
Koguryo will live on with perhaps new politics and new figureheads,
but it will always have that same breath of air, that fame familiar feeling,
and the same memories. Thank you.
Mhul:Thank you Prince Kija.
Princess Lasahn would now like to say a few words.
Thank you, Prince M'hul.
It was last year at the King's Jubilee anniversary that I
aimed an arrow at the King's head and said,
"Love forever, King Yuri, or die trying."
I released the tension in my bow; my arrow soared above his head,
singing with the suspended atmosphere, and pierced into the back wall.
He trusted me, this King of Koguryo. He did not blink nor show
any sign of fear… but his eyes…his eyes looked upon me
not with anger, not with disappointment, but with eyes of approval,
of understanding, of acceptance. Whether this was a foreboding action of mine,
I do not know, but I felt that he knew of his status within this
realm of the Nexus. Yes, his physical form has left us; his body
has "died trying" as he lived a life of any mortal who wanders the mortal
plane, but his legacy lives on… When I shot the arrow,
it did not sting the back wall, its symbolic entity burrowed into
my heart; his eyes knew it best. So the ever seeing, ever knowing,
ever living father of Koguryo, I pray your soul has found rest. Live on!
Thank you.
Prince M'hul invited everyone to say the last goodbye to the King inside the royal room called
Wang-ui Chugum Bang
. There people could for the last time say their goodbyes to the king, sadly some people didn't show enough respect to the situation but most were glad and honored to be able to share the last moment of the King Yuri in public.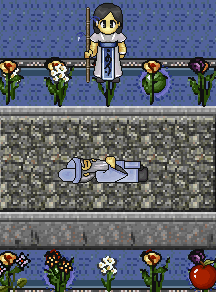 M'hul stands before his father one last time.
Rest in peace my King certain that your kingdom will be left in good hands and your citizens will be here to continue what you've created. Special thanks to Prince M'hul for allowing everyone to see his father and we look forward to see such a great statue being built to honor him.
~Vini Normad'or~
~Yuri 82, Moon 12~