Past News
Did you miss that important news story? Do you want to read what happened while you were on vacation. Here's where to get that info!
Note: In January 2006, NexusAtlas moved to a new server and a new ISP. In that process the software that manages our news archives dropped its links. We do not know exactly why that happened nor are we able to fix it without support from someone who knows the software. Therefore, we are calling news prior to March 2006 "Archived News" and it can be accessed by the link below.
If you want to see archived news, click here.
Brand New Kruna Items! :)

Posted by: Songa

--

8:45 PM EST
There are brand new Kruna outfits now available in the Item Shop! They are simply adorable~
Hanbok outfits, for the girls..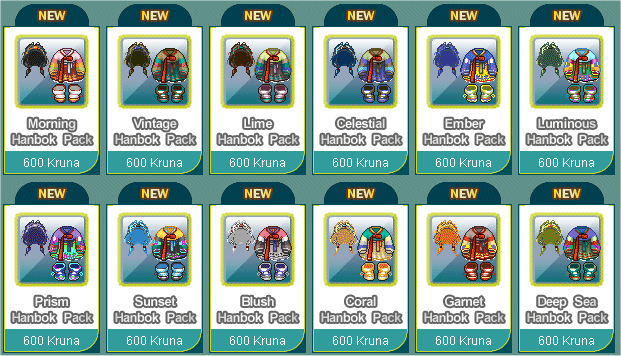 And Baji outfits, for the boys!
As with the Qi Pao and Kung Fu outfits, you can buy them as a set, or mix and match the outfits with the hair!
Han once again brings us fashionable outfits! Get them while they're hot~
| | | |
| --- | --- | --- |
| | | April 27th Server Reset: |
As taken from the official
NexusTK
website...
Server reset, Friday, April 27, 2007
The Nexus servers were reset with the following changes:

Clan, Army & Ministry additions and fixes:
* Pegasus clan receives many updates. 2 new merchants: Shakespeare (dyes, nuisance, event announcements, clan summon) and Smuggle (mass exchange). Additions to Gahn (buys green squirrel pelt), Vulcan (buys slag and wooden sword), Lumi (buys Fine weaving tools), Varg (buys tarnished wt amber and Cftd yellow amber), Epius (sells axes) and Vira (sells ink).

Subpath additions and fixes:
* Minor fix for Geomancers


* Other major updates for item shop.
| | |
| --- | --- |
| Wednesday, April 25, 2007 | |
More Kruna Items Return!

Posted by: Songa

--

10:44 PM EST
More of your favorite old Item Shop items have returned! Remember, they are for a limited time only--
As the scarves I reported about earlier on, have now disppeared. So get your favorite item before they
are gone again!!!
Headbands, Mukutas, Filets ..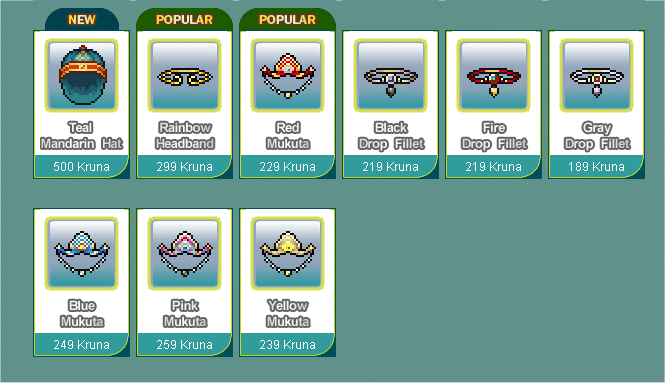 and Mantiya, as well as a few wings ..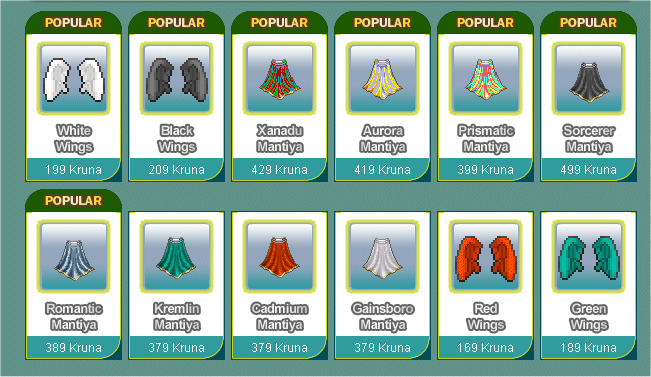 Have all made a comeback~!
New Fox Master

Posted by: Conro

--

1:35 AM EST

ShinDanMusan has become the new Fox Master of the Buyan Fox Hunts.

Controversy is brewing on the Community Board about the position, and a faction of hosts from the Fox Hunt Staff have actually rallied in support of another host, Sweetness.

We'll keep you posted on the details!
Item Shop Announcement

Posted by: Nagnag

--

1:34 AM EST
As taken from NexusTK's Official Website
:
- - - - - - - - - - - - - - -
Starting on
Monday, April 23, 2007
players will have the option to purchase a new amount for kruna. Players may still purchase the standard kruna coupon.
Kruna Coupons:
- 3300 kruna for $29.85
- 1000 kruna for $9.95
Please keep in mind trading kruna items in the game is
NOT
and will
NOT
be an option. We give you the option of sending a gift to a friend for a small amount of kruna via the item shop.
- - - - - - - - - - - - - - -
Earth's Dragon Needs Help!

Posted by: Songa

--

4:02 PM EST
The Geomancers have managed to find where their beloved Earth's Dragon was hiding,
and he has returned to the House of Chi. However, he is now asking for your help!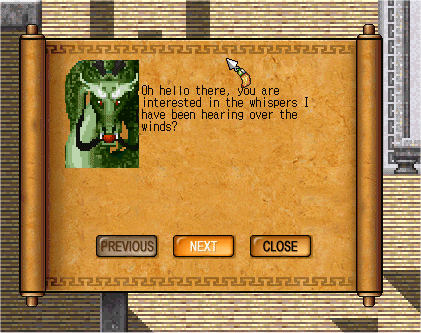 He asks that you collect a few items for him, to help him recover from his ordeal.
Once you have done so, he will burn a tattoo regarding your accomplishments into your skin. :)

| | |
| --- | --- |
| Wednesday, April 18, 2007 | |
Geomancer's Plight!

Posted by: Songa

--

7:28 PM EST
It seems as if the Guardian of the House of Chi, the Earth's Dragon, has suddenly disappeared from his home.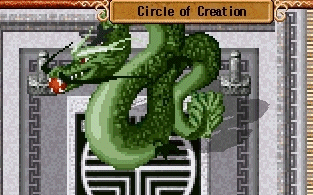 The Geomancers have no idea where he could have wandered off to, but the strange whispers they've been hearing lately
now seem to make sense. They are desperately asking that if anyone hears the cries of their beloved Earth's Dragon,
to please contact a Geomancer as soon as possible!
The House of Chi can no longer retain it's constant flow of harmony, without the Guardian's help. Therefore, all doors
to enter the House of Chi will be closed. Please help the Geomancers discover where the Earth's Dragon has run off to,
and keep an eye as well as an ear out for his whereabouts!
Thank you to Rhew for acknowledging me of this situation. :)
Old Kruna Items Return!

Posted by: Songa

--

5:40 PM EST
mug has just informed me that old Kruna Items that are no longer available in the shop, have made a ONE TIME return.
That's right! Been chilly because you could not get a scarf in time? Fear no more~! Your necks will now be toasty and warm..
for they have returned! But be warned, they are only available for today!! So get your chilly booties over to the Item Shop
and grab them before everyone else does!! :D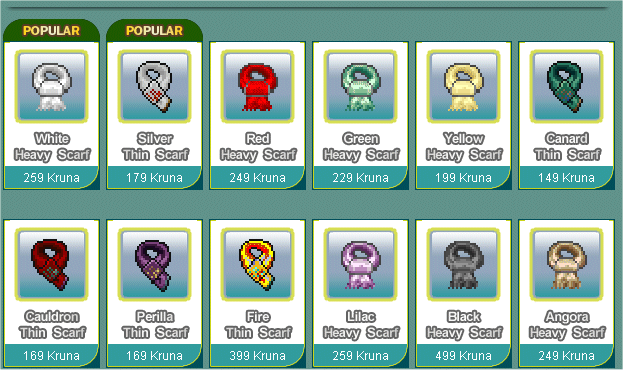 Reset Information - Wednesday, April 18th, 2007

Posted by: Nagnag

--

3:12 PM EST
As posted on
NexusTK's Official Website
- - - - - - - - - - - - - - - - - - - - - - - -

The Nexus servers were reset with the following changes:

A map was added for the ending of the mug contest. Around the end of April or early part of May Mug will be hosting an event giving out prizes for the winners. All other mugs will be given out around that same time. So if you send in a postcard or letter you will receive a right mug and if you were one of those who sent in a mug you will get a right and left mug.

Clan, Army & Ministry additions and fixes:
* Minor fix for Phoenix clan
* Minor update for Archons

Subpath additions and fixes:
* Minor fix for Geomancers and update.
* Minor update for Muse

* Other minor updates for item shop.
* Mug is currently working on a large new addition for the game. We feel this is something that will help Nexus but right now we won't go into any details. He hopes to have this project done by the end of May.

- - - - - - - - - - - - - - - - - - - - - - - -
| | | |
| --- | --- | --- |
| | | Reset Information for Friday, April 13th! |
As posted on the official
Nexus TK website
, these are the changes brought on by todays reset.

The Nexus servers were reset with the following changes:

Thirsty ogres are back!

Clan, Army & Ministry additions and fixes:
* Phoenix clan's Kimpo now buys Fried eggs, sells mountain ginseng and will let you chef.
* Destiny clan receives new merchant SomaeSang-In. He will allow you to buy many new things. You may now also walk over floor tiles to do your gemming.

Subpath additions and fixes:
* Geomancers receive more to their original update and minor fix.
* Minor fix for Spies
* Minor fix for Chongun
| | | |
| --- | --- | --- |
| | | Primogen Shift for Destiny Clan |
Diskord has stepped down as Primogen of the Destiny Clan, and in his place now stands Primogeness poeticmanic! Thank you for your many months of work, Diskord, and best wishes to the new Primogeness!
Thank you ParrotOne for posting about this news on the Nexus Forums News Report board!

Primogeness poeticmanic
Overflow introduced

Posted by: Conro

--

10:27 PM EST
A feature in Baram (Korean Nexus) from day one with Vitality attacks, 'Overflow' damage has been introduced with the last server reset.
The change was brought by 'Kru', and not 'mug', and 'mug' is unsure if any other changes will be brought for other paths.
In essence, if your vitality attack kills an enemy, and does so in a matter of 'overkill', any damage left over is split down to 20%, then done to the remaining creatures around that creature.
The damage only happens if the creature dies, and only hits enemies around the one you've killed, just like the Staff of the Elements spell 'Annhilate'. If you are standing on a creature, it will hit them as well.
This effects the following spells...
- Seige (Warrior Sam san)
- Whirlwind (Warrior Lv99)
- Berserk (Warrior Lv75)
- Slash (Warrior Lv63)
- Throw axe (All Path, Lv99)
- Townie (Barbarian, Lv99)
- Rend (Barbarian, Lv99)
This spell also effects the Rogue spell Focused Blade (Rogue Sam san), but has been said it will change with the next reset.
No announcements have been made if any changes will be made for Rogues or other paths due to this change.
New Tutors!

Posted by: Nussan

--

4:49 PM EST
| | | |
| --- | --- | --- |
| | | April 9th Server Reset |

Server reset, Monday, April 09, 2007
The Nexus servers were reset with the following changes:

Easter is over and the every thing is back to normal in the Kingdoms.

Mug event ends today, so get your packages, postcards and letters postmarked today!

Put in another little surprise change, lets see if you find it?

Subpath additions and fixes:
Minor fix for Geomancers

We have also added other things for players to see in near future.
New Primogen of Enigma clan

Posted by: Nussan

--

12:58 PM EST
Mug and Carnage vote deadline

Posted by: Rachel

--

6:52 PM EST

Mug said that since some post offices will be closed for the Easter Holiday, he will be accepting packages postmarked Monday, April the 9th.


The Carnage vote deadline is tomorrow. N-mail CARNYAPP with the subject "Carnage vote". Pick either Option A or Option B.

Option A:
Celestial:160,000/80,000 - 639,999/319,999
Paramount:640,000/320,000 - 1,279,999/639,999
Mayhem: 1,280,000/640,000+

Option B:
Celestial:160,000/80,000 - 449,999/224,999
Paramount:450,000/225,000 - 1,279,999/639,999
MayHem: 1,280,000/640,000+


There was also a small change to Gold acorns, they now have Buya defender dye. This makes it MUCH easier to hunt for them, since Gold acorns are always on the top of a squirrel's drop pile.
| | | |
| --- | --- | --- |
| | | April 5th Item Shop Update - Bonnets! |
As always, be sure to check the official
NexusTK.com
item shop if you are interested in seeing the rest of the bonnets! They cost 400 kruna each.
These go into the helm slot, and do not have stats!Bonnets:
Spring is in the air! The sun glows its bright golden yellow upon you and you feel the need to cover your hair! Many people wear bonnets to cover their face and keep out the sun.
Made from the finest cloth and painted to perfection this is the ultimate choice for anyone who enjoys taking long walks and feeling the cool breeze. What a perfect choice you can make by purchasing one of these lovely bonnets today.
Imported by: Han
Colors: Autumn, Black, Blue, Gold, Green, Lime, Pink, Purple, Red, Summer, Tan, White and Yellow
Haengsa helps Morty the bunny

Posted by: Conro

--

5:32 PM EST

Haengsa is back in Kugnae with another challenge to the community. This time he is trying to help Morty the bunny gather items for his list, so he can deliver enough eggs to the community.

The following is needed to complete the quest...


10 Ginko wood
20 Wood scraps
2 Silver tree branch
25 Seaweed
12 Egg
3 Earth potion
5 Winter potion
3 Autumn potion
1 Gold acorn
52 Rose
3 Brassica,
5 Peas

A huge thanks to FlareonX, Krestian, and Ketchup for their help with these riddles!

Haengsa will award you with 5 Pirate coins, which can be redeemed at the Library of each Kingdom.

- Conro
| | | |
| --- | --- | --- |
| | | April 4th Server Reset! |
Server reset, Wednesday, April 04, 2007
The Nexus servers were reset with the following changes:
Haengsa has a new quest for you.
Put in a little surprise change, lets see if you find it?
Thanks to Ijimeru, posting on the News Report board! Gold acorns are now gold!
Clan, Army & Ministry additions and fixes:
* Minor fix for Alizarin
Subpath additions and fixes:
* Minor fix for Geomancers
* Minor fix for Chongun
* Minor update to a Do spell (enjoy)
* Other minor updates for item shop.

In the spirit of Easter, we have added some decorations to Nexus Atlas. Have a great holiday!
| | | |
| --- | --- | --- |
| | | Large item shop update - Qi pao and Kung fu sets and packages! |
mug just announced new item shop additions - Qi pao and Kung fu armor sets, along with individual pieces! You can purchase some items separately - but you seem to get the "most bang for your buck" with the full sets. The sets are priced at over 1,000 kruna and come in an assortment of colors.
You may purchase the Flower hair and Mandarin hats separately, or with the sets. You can purchase the Qi pao and Mary Jane shoes, or the Kung Fu and Kung Fu shoes as packages as well! This means there are a variety of ways for you to get the items, if you wish!
For all the colors and full details, visit the NexusTK.com Official Item Shop! I have provided two of their images, detailing just two of the many many colors available.Qi pao sets
This package includes: 1 Qi pao dress, 1 pair Mary jane shoes and 1 Flowery hair.
In the beautiful tradition of our ancestors, this Qi Pao has been tailored of the softest silks from the Kingdom of Han. Its delicate craftsmanship and exquisite handwork make it truly feminine. Because of its realistic floral embroidery, enchanted butterflies follow you everywhere. Delight in owning this remarkable garment!
** IMPORTANT! NOT ALL SHOES WILL WORK WITH ALL OUTFITS **
Kung fu sets
This package includes: 1 Kung fu outfit, 1 pair of Kung fu shoes and 1 Mandarin hat.
Kung Fu translated means 'energy' and 'time'. Those who devote themselves to the traditional martial arts are well aware of its meaning. This garment captures the essence of Kung Fu and will inspire all who wear it. Let others know of your strengths and beliefs when they see you wearing this.
** IMPORTANT! NOT ALL SHOES WILL WORK WITH ALL OUTFITS **
| | | |
| --- | --- | --- |
| | | April 2nd Server Reset! Easter Update! |
The Nexus servers were reset with the following changes:
Not again mug!! What have you done this time! Seems all the monsters are turning into rabbits and there are eggs everywhere! Have you really gone and lost your mind this time? Oh wait that's right it is almost Easter! So enjoy your Easter week! Have fun and remember all eggs, Bunny and Panda outfits will be removed after the event is over. So use them now!
Clan, Army & Ministry additions and fixes:
* Minor fix for Alizarin
Subpath additions and fixes:
* Addition for Geomancers
Fruit Filled Egg:

Casts Harden Body
April Fools!

Posted by: Nagnag

--

10:04 PM EST

I hope everyone enjoyed Nexus Atlas' notorious April Fools joke. Yet again, fooling a good handful of the community. Off and on I double checked the Library, Chonsa Den, Guol Valley and the Well to see how many people were still doing it. 20 hours later, there were STILL wanderers falling for the silly quest! So, on behalf of Nexus Atlas - APRIL FOOLS! Enjoy the rest of this "holiday" that has been going on since the 1400s! (no joke this time!)
Mad Peasant Mystery is Over!

Posted by: Nagnag

--

12:13 AM EST
Ancient Dragon Suit, Wings, Mask & Shield Revealed!
Thanks AND congratulations to
Artisan SloofLirpa
for completing the quest and providing us with an accurate walkthrough to complete it!
And thanks to everyone else who helped provide information that lead up to the leads we've had!
The Mad Peasant has finally came to his senses! During the usual testing, a couple friends and I tried something new. After hours and hours of taking random items to the Mad Peasant suprisingly one worked! Below is everything we have, confirmed, up until we can not go any further.
Prerequesits:


Before you start, be sure that you've spoken to
Pond, Claw (Tiger in Buya), and the Rabbit
at Goul Valley (by Chu Rua). Pond responds to Dragon and Book. The Tiger responds to Dragon and Book. The rabbit responds to Dragon and Well. We are not sure if there is a particular order you have to say them in (as with most quests you must say things in order for the next step to work, it seems all NPCs respond no matter what order you go in). We are pretty certain there are no other requirements thus far.
Walkthrough:(Note: You must have a ROPE to enter the well on the path to the right in Guol Valley where Chu Rua is. This is where the walkthrough begins)
-After speaking to Pond, Claw, and Rabbit, go to the Mad Peasant with White Paper and Ink

-Say "Paper" (and he'll ask "Paper? For what?"). Then say "Write"

-He takes the Paper and Ink and a popup says "*He quickly dips his finger into the ink and begins to scribble with his finger on the paper*"

-You will recieve "Peasant's Plea"


- Take this Plea to Pond and say "Plea"

- Pond responds, "Oh dear, what is this?" - "My... goodness. It's an excerpt from my book!" - "Where did you get this?"

- Say "Mad Peasant" and he'll say "Well that explains the plea at the bottom... it says," - " 'Please help me. I want to turn into a dragon so I can hatch this egg!' " - "This poor man sounds like he needs help... tell ya what, show Sya this letter" - "Mention the Ancient Dragon Suit to her and tell her I sent you."

-
Sya is the seamstress in KaMing's Encampment. Go to her and say "Plea".

- She'll respond with "What is it? *takes paper from you*" - "*gasps and hands it back quickly*"

- Say "Ancient Dragon Suit" to her

- She'll respond with "Who told you about such a thing?"

- Say "Pond"

- She'll respond with, "Don't you tell anyone about this.. but if you bring me what I need to get started, I can help you out."

-The items you need to bring to Sya are: 20 Cloth, 20 Fine Cloth, 24 Dragon's Teeth (maximum you can hold)

- Say "Dragon" to her and she'll thank you and give you Dragon Wings
which are wearable as a mantle but she says to take them to Gan along with the Plea and mention her name.

- Make sure the wings are in your inventory

-
Go to Gan (The smith in KaMing's) and say "Sya"

- He will respond with a story on how he created the first Ancient Dragon Suit and it has been a well kept secret since the beginning.

- Say "Plea" and he'll observe the Peasant's Plea and agree to help you make this suit for him. He asks you to bring him supplies to get started.

- The items you need to bring to Gan are: 22 Metal, 22 Fine Metal, Dragon Wings

- Return with the items and say "Supplies"

- He will take the items and thank you, giving you "Unfinished Armor"


- He tells you to take the armor to his cousin Runag - the Smith of Hausson.

- Take the Unfinished (unequipable) Armor to Runag and say "Unfinished Armor"

- Runag will say that he's been expecting you and gives you three different options to forge the armor into. Shield, Armor, or Mask

All three require Unfinished Armor, Hot Coal, 100,000 coins, and another item depending on your selection (see below)


Shield:
Your Path's "Shield" (Mage Ward, Poet Charm, Rogue Buckler, Warrior Shield) any level.


Armor: Your Path's "Armor" in Star Quality.


Mask: 10 Bones (can be found in Vale Skeletons cave)

Once you have made your choice you can't make the same thing twice, but you can obtain all three - Shield Armor & Mask.

Once you have all three, put them all on and say "Ancient Dragon Suit" and Runag will bow before you and call you the Dragon King, then quickly realize it is just you. You then recieve a legend mark "

Obtained Ancient Dragon Suit

"

- Go back to the Mad Peasant in the well, and say "Dragon King" and he will bow to you and be very humble.

- He'll give you his blessing and says he would like help hatching the egg if you do not mind.

- He gives you a selection - yes or no - choose yes and he'll give you "Dragon Egg"

which looks like the book which he stands on.

- Take the "egg" and Hot Coal in the Creation System and it creates a Baby Dragon
which does nothing when you use it.

- Take the Baby Dragon back to the Peasant and say "Baby Dragon" and he'll let you keep it and thank you for helping.

- You are rewarded with another legend mark too: "

Helped Hatch the Dragon Egg

"

In the end, you have a Baby Dragon 'toy', Armor (which wears like a coat), Mask (which is a face accessory), and Shield (which maintains your path's shield's statistics).

Good luck!