Past News
Did you miss that important news story? Do you want to read what happened while you were on vacation. Here's where to get that info!
Our news software, Coranto, has a bug which makes it purge links to news articles more than two years old. What is left of programmers who volunteer their time to support this software do not know why this bug occurs. We manually index older news pages in our Archived News section.
| | | |
| --- | --- | --- |
| | | New Regulations for All Banned Players |

This as of recent has been posted on the Community board under 'Guide'. It provides good news for the banned players out there willing to change and make a difference.

No longer, is 'forever' a dwelling word on the shoulders of those who have made mistakes, and learned to grow from them:

The following regulations apply to all banned players, both past and future, regarding positions of leadership or authority in NexusTK.

Leader positions - regulations:

Section 1.

The following banishments pertain to situations where the player purposely committed a deed with malicious intent towards another player, the NexusTK client, or KRU Interactive (and Nexon).

No player may hold a position of power if banished for the following:

- Bug abuse
- Character sharing (AND jailed for serious other)
- Harassment
- Serious infringement on the Terms of Service which includes but is not limited to, attempting to gain another patron's account information, illegal trade of nexus assets, packet editing, impersonating a KRU employee and/or representative, etc.


If banned for any of the aforementioned, the player is ineligible of the following head-positions:
- Archon
- Elder
- Primogen
- Tutor
- Head host
- Minister
- Judge
- Councilor of Kinung


Section 2.

A player banned for any reason may not become Archon or Judge.

Section 3.

A previously banned character may hold lesser positions such as subpath guide, host, or clan council member.

Section 4
A player banned for character sharing (minor infractions) or third party usage may be permitted to fill a head-position if the following requirements are met:
*N.B. A player banned for the aforementioned crimes have not demonstrated purposeful malicious intent towards another player, therefore earning the player some merit of forgiveness if the following requirements are met:

Acceptance
The player is approved by the current person in the head-position and also by the majority of the persons in the organization.

Sincerity
The player is apologetic for their past breach on the Player Policy and has shown effort to continually support NexusTK and the organization they wish to attain leadership in. A formal letter needs to be written to the organization's archon to ensure that the past will not be repeated and will accept full responsibly in this new role.

Time & Forgiveness
The date of the crime must have occurred at least two years ago from the time the player is being considered for a head-position. The red, negative jail brand has must be absolved.
---
XoXo
Kikoura
| | | |
| --- | --- | --- |
| | | No updates. |

There have been no updates in the Kingdom of the Winds this week.

Musoyen
Greetings Nexus Citizens!

Posted by: AkiKan

--

2:21 AM EST

Hello everyone,

As many of you know, I recently started working with AllyGator. We have been working to bring you updated information on spells and their graphics. Many of you look through the spells pages and might see a few errors or maybe you notice that the spell on the page doesn't match yours. This is were you come in! Find me or AllyGator to correct our information. When we meet, we will talk to you for a bit, then go to work studying your spells so that we can keep Nexus Atlas up to date.

When contacting us, just use this format for Nmail.

Name:
Level:
Path:
Alignment:
Time Zone:


Well that's all for now, hope to hear from you.

*From the desk of,*
AkiKan
Hyul 22, 11th Moon
Buya State of Emergency!

Posted by: Aens

--

12:11 PM EST

The Chronicles of the Winds board has been pretty lively lately. Due to the recent activities Princess Lasahn has posted regarding a man named Kuro Marui who seems to be leading a revolt against the Imperial Ministry of Buya. Below is a copy of her post.

~| From the Imperial Sovereignty of Buya |~

Citizens,

Each day the kingdoms face idle threats. No matter the severity of the anxiety behind these threats, each should be investigated thoroughly, especially when they are threats against the government. The Imperial Ministry with the aid of the Buyan Imperial Army have launched several investigations in order to pursue recent happenings within Buya.

Kuro Marui and his group of radical extremists have gone too far. When this man is caught, he shall be charged with High Treason along with those who follow him. These self-proclaimed Buyan Radicals have committed theft, vandalism, and acts of terror.

I officially declare a State of Emergency in Buya. Citizens, I urge you to stay safe and seek sanctum during this time of maniacal political slaughter. Kuro Marui's smear campaign holds no truth. There has been no proof presented of corruption on the Imperial Minister's behalf as Kuro Marui has stated during his rallying. Do not fall victim to his false statements.

Buya will engage in this State of Emergency immediately. The Buyan Imperial Army shall increase patrols and Buyan clan militias are encouraged to lend their resources as well. I also encourage Allies of Buya to aid us in the capture of Kuro Marui. Buya shall prevail and do away with these radicals.

Hail Buya! Shining Jewel of the East!

~Princess Lasahn~
~Head of State of Buya~


-Aens
| | | |
| --- | --- | --- |
| | | Issues with Duplication Bug |

There has been a lot of controversy about recent bannings because of duplication of items and money. Many players are upset because of this. Because of lousy GMs in the past, players are extremely wary of the motivations behind these actions. Nexus Atlas staff members (Vini and Rachel) have done some investigating into these reports with some having first hand experience.

Those who have not knowingly gotten benefit from duped items, have been contacted and given a chance to correct the wrong. Generally that means giving up the cash they received and getting back the item they sold. And the reverse, getting back the cash they paid and giving up the item they bought.

Mug posted about this on the Rambling Thoughts board (see below). He's saged that people who abuse a bug or think they may have been involved with bug users should notify KRU by submitting a ticket. Mug has told staff members that no one will be banned unless they have proof of illegal activity AND the player refuses to correct the illegal activity (admit guilt).

Nexus Atlas will continue to give voice to player's concerns and help to resolve issues if possible. The best way to handle any problem is to talk to Archons or submit a ticket to KRU.


first let me say you all and the passion you have is most impressive.
i smile here.

in the past we would of just removed all gold and yes this is taking up my time to fix and remove all this bugged gold.
i think you all would rather me do this then remove all large amounts of gold in game.
------------------------------------------------------------
players who traded and got bad money:

if you got bad money and you traded item with player.
we are asking you give gold back and we give you item.

reason: to much gold in game will mess up economy (which it has already begun) so we need to remove that money to help save the game.

time frame: we give each player time who did legal trade to try to gain money back. if player cant gain money we will give item they sold back and they can sell again to gain the money to have it removed.
--------------------------------------------------------------
received gold or duped item from player:

players will have one week to get the gold or duped item back.
this will only happen if we have no logs of player knowing they got bad money or item.
--------------------------------------------------------------
removal of items:

if a player was removed of all items and money it was found they knew about gold bug, lied about gold bug, received large amounts of gold and tried to hide it by passing gold from character to character.

--------------------------------------------------------------
banned players:

these players were removed of all items and gold, banned on all accounts for abuse of any type of bug without reporting it.
| | | |
| --- | --- | --- |
| | | Garr's Art |
Lots of players are extremely talented artists. One that I particularly love is Garr who does images related to the game. He recently did one of evil sorceress Mupa. His rendition looks more appropriate than the current in game version of her. I thought it was so awesome that everyone should be able to see it.
If you want to find out where Garr sometimes posts his work send me a note in the game.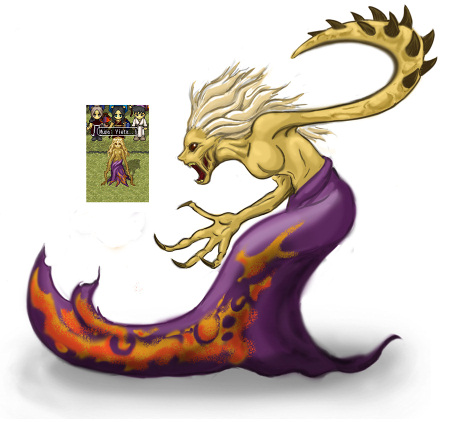 AllyGator
Hyul 22, 10th Moon
| | | |
| --- | --- | --- |
| | | Beast Master |
Mug added a new room and NPC today. You can find the Beast Master in KaMing's Encampment (043 009). He will bleach your pet for you. If you want to see an image of this map
click here
. Thanks to AkiKan for finding this area before anyone else.
AllyGator
Hyul 22, 10th Moon
| | | |
| --- | --- | --- |
| | | Server reset, Friday, March 20, 2009 |

The Nexus servers were reset with the following changes:

Lucky has vanished taking his pot of goodness with him. We sure hope he will return with more new things next year!

Clan, Army & Ministry additions and fixes:
* Lost Kingdom receives change in portal to place area and Floor sweeps are now turned off inside Sentra's Garden
* Dharma receives changes to Teak (players can see Wooden sword, Wooden blade) and you can now buy Kindred talisman from Dhram.

Subpath additions and fixes:
* Geomancers are able to now adjust attributes for Circle of Creation.
* Diviners receive map fix and new board
* Minor update for a Druid map

-Musoyen
| | | |
| --- | --- | --- |
| | | A warning to all.. |

Mug recently posted this on the scum board (which can be viewed by pressing "B" in game) and I will post it here in case people who don't read the boards in Nexus can view it. Mug can and will trace all transactions done with these characters so do not think you should just shrug it off. This is a serious matter! If you do not send in a ticket or contact mug and he finds out you have done transactions with these people, I can only assume it will not go down nicely. ;~)

If you have received items or money from these players please send in a ticket with information.

dman
dmoney
desu
dhealer
playahata
untouchables
hiddenmagic
shadowsflame


Stay safe!

-Musoyen
| | | |
| --- | --- | --- |
| | | Tiger Clan on Lockdown! |
Following the recent bannings and jailings, the Tiger Primogen
Baliwind
has been removed by the gods and the clan has been put on lockdown. Nominations have begun for the next Primogen of Tiger, this process could take up to two weeks.
Good luck to the rest of Tiger in these weeks to come!
~Gilmore
| | |
| --- | --- |
| Wednesday, March 18, 2009 | |
| | | |
| --- | --- | --- |
| | | Request for Spell Graphics |

AkiKan has been working with me to make sure Nexus Atlas has the correct spell graphics, particularly those for Sa san. He's added the words made by various spells such as Lethal Strike. Some Sa spell graphics have already change and others we have never found; particularly those for Rogues and Warriors of all alignments. If you want to help complete the Sa san spell section of our website, please contact AkiKan in the game. He has taken on this quest voluntarily so please help him and Nexus Atlas out.

AllyGator
Hyul 22, 9th Moon
| | | |
| --- | --- | --- |
| | | Koguryo opens its doors to new clans |

A while ago, Kugnae closed its doors to all new hopeful clans wishing to start a clan and attempt to become official in Kugnae due to the overwhelming number of official clans already residing there. Just recently, King MuHyul has decided to open the gates to all new clans wishing to become offical once again. It is not an easy task and is not for the faint of heart, so if you think you have what it takes then good luck!

Hyul 22, 9th Moon, 7th Sun

* It is with great pride that I announce that on
* this day, the Kingdom of Koguryo opens its doors
* to new Tribes, whom, having met the basic
* requirements, wish to apply for the opportunity
* to become a legitimate Koguryan Clan.
*
* The road is arduous and challenging.
* There are no guarantees. But this Kingdom is
* now willing to hear qualified applicants for
* the chance to become a full-fledged Clan.
*
* Please be aware that you must come well prepared.
* This includes a membership ((registered members))
* of 100 people, a complete and satisfying history,
* an up-to-date scroll ((website)) and strong
* organization and council.
* Furthermore, be prepared to provide a convincing
* rhetoric on what your Tribe can offer Koguryo
* which it does not already have.
*
* I wish all applicants the best of luck.

Signed,

MuHyul
King of Koguryo

-Musoyen
| | | |
| --- | --- | --- |
| | | New General of the Legion of Nagnang |
Today change has been made within the barracks of the Legion of Nagnang.
General
Stimulation
abruptly stepped down from his position of General which he acquired just last month. He has helped lift the Army out of the corruption and unrest it has seen within the last few months and has helped it get on its way once again.
In his place, he has elected
RokoTanaka
as the new General of the Army. RokoTanaka has served the Legion of Nagnang for many hyuls and now has the chance to run the legion to the successful state it can achieve.
Thank you Stimulation for all the hard work you have dedicated to the Legion, and congratulations RokoTanaka on receiving your new position.
-Musoyen
| | | |
| --- | --- | --- |
| | | Lucky event walkthrough |
1) Go to the SANHAE SMITH and say 'Lucky'. The smith will ask if you want to make a net to capture this Lucky fellow, because he makes nice items.
Say yes.
He'll tell you he needs 5,000 coins and 4 items. He won't tell you the item's names, but he gives you four clues.
The items are:
- Wooden sabre (buy from any town smith for 1 coin)
- Wheat (farm from gardens using a basic sickle)
- Noodles (made by chefs)
- Wolf pelt (kill wolves in town rabbit caves)
Bring these to him, obtain the "Lucky net." You can purchase or borrow a Lucky net in order to skip this step, if you wish.

2) Once you have it, find Lucky! This can take a few tries, as he will trick you. It is a random spawn so you can ride a horse around till you see him. You don't have to have your Lucky net equipped.
Find Lucky and swing at him until you get a pop-up, and hope that you catch him! If you are a mage or poet, zapping Lucky works just as well as swinging your Lucky net. (He can be found in most places; all towns, Mythic, Wilderness)[Vale, Woodlands rumored]
Continually insist that he tell you about the pot of gold: do not let him go, and do not give him any coins!
3) He will tell you about the Lucky pick, which you can now obtain from Thane, in the Wilderness (where you purchase regular picks). Click Thane, select Buy, Lucky pick (costs 2k). Buy a couple of them because they break!
4) Walk around the mining fields until you find the Pot of gold! This can be frustrating, as you will find empty pots of gold (your Lucky pick will break!) or Useless coal.



But keep trying, you will eventually find the true Pot of gold and obtain one of the following items upon "opening" it:..
White flag
Emerald fan
Golden fan
Clover trinket

White trinket
Note: mug has stated that the Trinket colors are currently bugged, and will be fixed in the next reset. It is unknown if it applies to both, or just the White trinket (which has the same color as the Lucky trinket from last year).
You'll also get a Legend Mark,
Musoyen
| | | |
| --- | --- | --- |
| | | Server reset, Friday, March 13, 2009 |

The Nexus servers were reset with the following changes:

Lucky is back! Find him and maybe you will get his pot of goodness!

Clan, Army & Ministry additions and fixes:
* Alizarin receives changes to Zooey (buys amber rings), Keri (purple potions)
* SunMoon receives changes to Popette, Sun-Wa, ValesKin, Mou-Tei and Fisher Teok

Subpath additions and fixes:
* Minor update for Do

Other:
* Lucky gift box will be in the item shop soon this will give you a chance to get some new kruna items.
| | | |
| --- | --- | --- |
| | | New Barbarian Elder |
Gobiin
had an unexpected and relatively short Eldership. Although, nothing new was added to the path during his reign, Gobiin was able to provide a new type of authority after so many Yuris and Hyuls of Winder's (and the few hours of Orion's) Eldership. We thank him for taking on such a large responsibility and being a leader when the path needed him the most.
Consequence
was Gobiin's choice to step up and she provides a new gender to lead the path! I have already heard that she will be a great leader, is admired, and is expected to do a fantastic job. Good luck to you and your reign!
Thank you, Cutlas, for this information!
XoXo
Kikoura
| | | |
| --- | --- | --- |
| | | The return of Lucky! |


Earlier today the main Nexus site was
updated
. For those of you who don't know Lucky, he visited the Kingdoms last year in celebration of St.Patricks day. Last year we had to get a net and catch Lucky, then find his pot of gold and open it to find a random gift consisting of either a Lucky Staff, Lucky Trinket, Golden Trinket, or Lucky Bouquet.
It seems that Gruff, the smith of Sanhae has heard a rumor about Lucky!

"I heard a rumor that Lucky will be roaming around the Kingdom of the Winds again. He had that odd green skin… and it is hard to miss that crazy red hair. I am the only one in all the lands who knows how to capture this little guy so stop by soon and I will tell you what I know."

- Stamped in Gold metal -
Gruff Smith of Buya
((This event will run from 3/13/09 till the morning (pst) of 3/20/09.))
((If you are under level 51 you will need to visit Pegi in Tangun.))

Who knows what Lucky has in store for us this year? We'll just have to wait and see!
Thank you Bobby for reporting this to us on NexusForums.
-Musoyen
| | | |
| --- | --- | --- |
| | | WANTED: Screenshot of the Day |

Took a screenshot but can't find a way to share it?

Been playing the game for a while now and want the community to know you better?

Bought some new Kruna items and feel the urge to show them off?

No worries, nexusatlas.com is here to solve all those problems. We are proud to announce our new "Picture of the Day" section on our front page starting from early next week. So be ready to smile anytime, because you might just be suprised to see yourself on the front page one day.

======================= When: =======================

We will be accepting submissions everyday starting from today.

The best picture picked for the day will be posted on top of the front page on www.nexusatlas.com everyday at 10:00AM starting March 11th 2009.

================ What will it be posted ==============

- The best screenshot send from 10:01 AM EST to 10:00 AM
EST next day
- The name of the character (whoever's name is shown on
top right corner of the screenshot) NOTE: You are
allowed to trim out any of your character information
that you feel uncomfortable showing to the community,
but remember to leave character name on top right corner
untouched.

=============== How to take a screenshot: ==================

Please read Guid #154 on how to take a screenshot
And make sure you submit the screenshot in .bmp format

=============== Rules/Guidelines: ====================

- No screenshots showing any sign of Nexus Law violation
will be accepted (that includes profanity or harrasment
in other people's dialogue/sage).

- No screenshots while being jailed will be accepted! So
as not to promote wrong doings.

- Do not send more than one screenshot from the same
character on the same day. If you take multiple
screenshots from the same character, choose and submit
the best one you believe to deserve to be
called "Screenshot of the day". We want quality not
quantity.

- Do not use Image editing software(s) (ex.photoshop) to
edit the main potion of picture that will be posted.
However, you are allowed to use them to edit/trim out
your character information for your own privacy. Again,
make sure you leave the character name on top right
corner untouched.

- If smiliar screenshots are recived we will pick out the
best one, and if they show the same level of excellence,
the first one recicved according to e-mail time will be
selected.

=================== Where to submit: =================

chihyung@nexusatlas.com



Good Luck, and don't be shy to show us your best Kodak moment in game.

ChihYung

| | | |
| --- | --- | --- |
| | | Server reset, Friday, March 6, 2009 |

The Nexus servers were reset with the following changes:

Wisdom star is back for a short time however for some reason the bosses for vortex just won't run away.

Clan, Army & Ministry additions and fixes:
* Minor change in a few trees for grove for Oceana
* Minor update for Silla

Carnage additions and fixes:
* Minor updates for Fox hunt

Other:
* Another small change we are sure some of you will find

~Muso
| | | |
| --- | --- | --- |
| | | Server reset, Thursday, March 5, 2009 |

The Nexus servers were reset with the following changes:

Clan, Army & Ministry additions and fixes:
* Dharma clan receives update to Crom (buys Fine steel daggers), Dha-Rama now goes to Tangun
* Destiny clan receives new merchant ShinJung who will spawn you a horse.
* Oceana receives new map Navy Port, Changes to Oceana Eden (Grove), Updates to merchants Triton, Yong, Yasuo, Aya, Simma and Thalis.
* Enigma clan receives new board
* Koguryo Army receives new board

Subpath additions and fixes:
* Minor change for Barbarian (Merchants)
* Minor change for Shaman (Spell)
* Map update for Merchants (Kubera Shrine)

Other:

There was an issue with the Mass exchange that cause players to be able to dupe gold. We are looking into the accounts of all players who abused this bug. If you abused the bug or received gold from this bug we suggest that you contact the Nexus Support staff right away. All accounts found abusing this bug will be dealt with by reset of all stats, items, gold or permanent ban.
Because of this bug, we have put a lot of work into changing the way Mass exchange works. If you try to abuse the bug you will lose your items. If you have any issues with Mass exchange, please contact the support staff for help. Thank you for your help in this matter.

Archons now have a way to block you from posting or sending letters for a set period of time. This will keep players who abuse the boards not to be able to post or send letters until their "quiet" time is finished. This was added to reduce the need to jail for these offenses.

Archons also now have a way to block you from using World shouts for a set period of time. This will also keep players who abuse the World shouts not to be able to shout until their "quiet" time is finished. This was added to reduce the need to jail for these offenses.

~Muso
| | | |
| --- | --- | --- |
| | | Reminder: Wisdom Star Returns |

As posted on the Community Board today:

Due to the strong winds that occurred during the last Wisdom Star, our Master mug has used his Powerful magic to lure the star back to us. So get ready to achieve greatness once again!

((The Wisdom Star will be returning late afternoon on 3/6/09 and will fade away on early morning on 3/9/09 so get your accounts registered.))

Hyul 22, 6th Moon, Sunday 1 p.m.