Past News
Did you miss that important news story? Do you want to read what happened while you were on vacation. Here's where to get that info!
Our news software, Coranto, has a bug which makes it purge links to news articles more than two years old. What is left of programmers who volunteer their time to support this software do not know why this bug occurs. We manually index older news pages in our Archived News section.
| | | |
| --- | --- | --- |
| | | New Items Section |
I've finally finished something that has been on my list for a long time.
Back when this site was RPGplanet there has been a
list
of items that was moved to our Nex-files section.
That section will no longer be updated and a new
Items
section has been released. You can find this section on the Libary tab with all of the other database pages (Armor, Weapons, Monsters).
As always, let me know about errors and give
feedback
or by submitting a
Bug report
.
New Kruna Releases

Posted by: Vini

--

10:34 PM EST
For those who often visit the Kruna item shop to check for new releases, some have been available for a few days, while for the others who wait for items to be announced, here's a list of the newest items available for purchase via
Kruna Item shop
. Most of the new items available come in different color, but all for same price. Be sure to check each option of color before choosing what fits you most.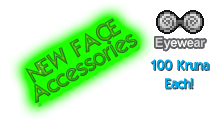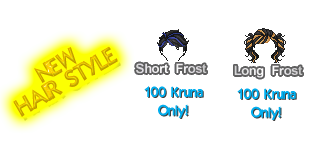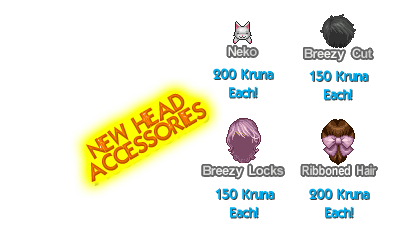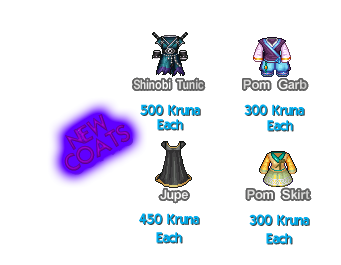 Breeze cut = 18 colors
Breeze locks = 20 colors
Ribboned hair = 25 colors
Neko (Cat on head)= 11 colors
Eyewear = 10 colors
Shonobi tunic = 6 colors
Jupe = 20 colors
Pom Garb = 14 colors
Pom Skirt = 9 colors

Happy shopping to all interested!
~Vini Normad'or~
~Hyul 14, Moon 12~
| | | |
| --- | --- | --- |
| | | March 27th Server Reset |

Server reset, Thursday, March 27, 2008
The Nexus servers were reset with the following changes:


Clan, Army & Ministry additions and fixes:
* Nagnang Army receives new merchant TuiPian-Shu (Karma and sells acorns)
* Minor updated for K'urimja
* Jadan should be working now for Alizarin Clan
* Heliopolis should withdraw/deposit now for Phoenix

Other:
* Easter ends
* Minor updated for RP town
* Large update for item shop
* Large update for Sa san
| | | |
| --- | --- | --- |
| | | New Database Search Feature |
A lot of people have asked for a way to search for stuff without having to go to the armor, weapons or monster pages. We never really had that ability before. With our new SQL databases we can do that now. The down side is we don't have anyone on the staff who can program a really nice interface. So I've created a really simple look up and search section. Don't bother to ask for upgrades, changes, enhancements, etc. If you know enough about it to suggest those things, then get in touch with me and I'll find some work for you! Enjoy. (evil grin)
Database Search
10th Legion of Nagnang General

Posted by: Hatiki

--

9:40 AM EST
Today, General
LegacyTrix
stepped down from his position in the Legion of Nagnang and has passed leadership to,
Gilmore
.
Thank you to LegacyTrix for all he has done during his time as General and we hope for much success for Gilmore's reign as General of the Legion.
'`Hatiki Sudeki
'`Hyul 14, 10th Moon
| | | |
| --- | --- | --- |
| | | Server reset, Friday, March 21, 2008 |

The Nexus servers were reset with the following changes:

Happy Easter to all of you who celebrate this holiday! Easter eggs are showing up all over the kingdoms! What will you get if you crack open one of these eggs? Yolk??? Coins??? Or a special item???

Lucky has vanished from the kingdoms! Remember to send your story about Lucky to Cup and you might win 800 Kruna! Good luck!

We will be adding new items to the shop today! We have also brought back bunny ears just in time for the holiday! Enjoy!

Clan, Army & Ministry additions and fixes:
* Nagnang Army receives new room "Grassy Knoll"
* Alizarin Clan receives new merchant "Jadan" (Prep all foods, sell your Grilled beef, Roast chicken, Boiled fish, and Fried eggs)
* Minor update for Lost Kingdom

Other:
* Lucky event ends.
* Large update for Easter event
* Large update on item shop
* Minor update for RP town
Easter event!

Posted by: Rachel

--

10:05 PM EST
Cup made a post on the
post on the community board
, announcing Lucky's departure and a story contest. At the bottom of the same post, it said:
The special Easter egg hunt will begin on Friday, March 21st and will last until Thursday, March 27th.
Happy hunting!
| | | |
| --- | --- | --- |
| | | New Tiger Primogen |
| | | |
| --- | --- | --- |
| | | St. Patrick's Day Event Walkthrough |
1) Go to the SANHAE SMITH and say 'Lucky'. The smith will ask if you want to make a net to capture this Lucky fellow, because he makes nice items.
Say yes.
He'll tell you he needs 5,000 coins and 4 items. He won't tell you the item's names, but he gives you four clues.
The items are:
- Wooden sabre (buy from any town smith for 1 coin)
- Wheat (farm from gardens using a basic sickle)
- Noodles (made by chefs)
- Wolf pelt (kill wolves in town rabbit caves)
Bring these to him, obtain the "Lucky net."

2) Once you have it, find Lucky! This can take a few tries, as he will trick you. It is a random spawn so you can ride a horse around till you see him. You don't have to have your Lucky net equipped.
Find Lucky and swing at him until you get a pop-up, and hope that you catch him! If you are a mage or poet, zapping Lucky works just as well as swinging your Lucky net. (He can be found in most places; all towns, Mythic, Wilderness)[Vale, Woodlands rumored]
Continually insist that he tell you about the pot of gold: do not let him go, and do not give him any coins!
3) He will tell you about the Lucky pick, which you can now obtain from Thane, in the Wilderness (where you purchase regular picks). Click Thane, select Buy, Lucky pick (costs 1k). Buy a couple of them because they break!
4) Walk around the mining fields until you find the Pot of gold! This can be frustrating, as you will find empty pots of gold (your Lucky pick will break!) or Useless coal.



But keep trying, you will eventually find the true Pot of gold and obtain one of the following items upon "opening" it:
All "lucky" items have Will +10, Wisdom +10 (no one knows what wisdom is yet), for Peasant Level 0

Lucky Trinket - stat bug

Golden Trinket

Lucky Staff
Dura 5000000
Damage S 20m20 / L 20m20

Lucky bouquet
You'll also get a Legend Mark,

Thanks to Yamiko for the original walkthrough
** all Lucky items can be equipped as a weapon.
| | | |
| --- | --- | --- |
| | | Storms of change |
The Nexus servers were reset with the following changes:
Clan, Army & Ministry additions and fixes:
* Nagnang Ministry receives new board "Ministry Musings" and Spells on in office.
* Phoenix receives new merchant Heliopolis (Send receive parcel, Withdraw and Deposit)
* Buyan Army receives new board however waiting on new office before you can use board
* Minor update to Lost Kingdoms Board
* Minor updated to Dharma groves
Other:
* Major update for item shop
* Major update for event
* Minor update for Sa san
Within the updates to item shop, there are quite a few items listed on sale. The prices there are quite good for anyone who wishes to buy good looking items for lower prices. Not just that, the pirate outfits are back and so are the hats and mantles, but all with a much bigger variety of colors.
The biggest release of the Item shop although is a gown that women has been looking for during a good while. Many have been wanting to have the opportunity to be dressed with a gown as beautiful as the one Spring Spirit
Shoshun
was wearing during her wedding with Kiyuu. Months later, their dreams finally came true and seamstress are not producing
Goddess gowns
made based on the look of Shoshun's clothes, but now in 13 different colors.
The pirate outfits are now also back with 10 new colors for each piece: hat, mantle, coat, boots.

The prices are:
500 Kruna
- Goddess gowns (13 colors)
450 Kruna
- Pirate Outfits (12 colors)
450 Kruna
- Pirate Coats (14 colors)
150 Kruna
- Pirate Hats (19 colors)
150 Kruna
- Pirate Mantles (22 colors)
75 Kruna
- Pirate footwears (12 colors)
75 Kruna
- Pirate Boots (14 colors)
This was also Posted:
Who's Lucky?
"It has been a very long time that any of us have seen Lucky roaming around the Kingdom of the Winds. Alas, he is back and greener than ever… hard to miss with that crazy red hair. I am the only one in all the lands who knows how to capture this little guy so stop by and I will tell you what I know."
- Stamped in Gold metal -
Gruff Smith of Buya
((This event will run from 3/17/08 till the morning (pst) of 3/21/08.))
((If you are in Tangun you should visit Pegi.))
Whats the purpose of this little green guy?
| | | |
| --- | --- | --- |
| | | Donations and Accounting Information |
As I promised when we put up the donation button, there is a new Accounting section in Nexus Atlas. This section will be updated whenever a change is made. The best news is we are now able to upgrade our forum software! Possibly getting rid of Coranto with this purchase! The Staff will be going over the new features once it is installed and we'll keep you advised of upcoming changes. I want to thank each of you who gave so generously to help Nexus Atlas to grow better and better!
Accounting Section
To learn more about what our goals and thought processes are about this account please read
forum link
for discussions.
| | |
| --- | --- |
| Wednesday, March 12, 2008 | |
Nexus Forums Registration Problems?

Posted by: Rachel

--

2:51 PM EST
It's been a while since I've mentioned this on the news.
When you create an account, you can log in even before you're validated. Do so, then click on
this link
.
If you have any other problems, send an N-mail to "Rachel" or an e-mail to "Rachel_NA@hotmail.com"
| | | |
| --- | --- | --- |
| | | Thank You! |

I want to thank the many wonderful people who have donated to help us out! It makes my heart swell seeing the notes you've been sending. The Nexus Atlas Staff does this work because we love the game and it's wonderful to see that so many of you love this site!

Those of you who have donated may notice that the funds haven't been accepted yet. I'm waiting for bank verification to deposit those funds and that verification should be complete in 6 days at the latest. When the money has been deposited, I will publish a list of who donated as an expression of my thanks. Those of you who haven't donated still have my thanks for your continued patronage; not everyone is able to donate and I realize that. Heck if we all had limitless cash, I wouldn't be asking for donations right? Heh!

More information when the deposits are complete but I had to write something in the mean time because I'm so touched.

Thank you, Thank you,

AllyGator
New patch!

Posted by: Rachel

--

10:16 AM EST
A new patch was released today. This post will be edited as more information as it comes in!
If your auto-patch doesn't work and you end up deciding to remove Nexus to do a full installation, make sure your move your Screenshots folder out of the NexusTK directory. Otherwise all of your screenshots will be deleted.
Mug just shouted that we won't see everything from the patch right away, but the
tree of reflections
has changed. The new tree graphic could mean that there were a lot of new graphics added.
I'm not quite sure how the little green circle below turns into the hats they're wearing, but that's another change we've found! (Thanks to Ally for making the animated Coronal!)


Today's Reset

Posted by: Rachel

--

9:40 AM EST

Server reset, Wednesday, March 12, 2008
The Nexus servers were reset with the following changes:

Training ground has closed.

Clan, Army & Ministry additions and fixes:
* Lost Kingdom receives new board (Chronicles of Virtue); Glee now buys Tarnished wt amber and Ctfd yellow ambers; Lost Spring gets yet another face lift and 50 extra trees
* Elendhirin gets new room Tyalie
* Buyan army gets update to TinaDragon, she now buys back Tarnished wt ambers
* Dharma gets new room Quiet Acres with 80 trees to chop down and there are 2 foxes running around

Subpath additions and fixes:
* Spies get large update.
| | | |
| --- | --- | --- |
| | | New Geomancer Elder |
Last night, Haein-Sa
Quellious
the elder of the Geomancer sub-path stepped down. Quellious was a great help to the path and gave both knowledge and support to the fellow walkers as an elder. He will continue to do so as a guide.
KenZi
has taken his place and will do fine work. KenZi has been a Geomancer guide previous times along the yuris/hyuls and will keep the path running strong with her experiences.
Good luck and congratulations Elder Kenzi!
XoXo
Kikoura
Hyul 14
7th moon
29th sun
| | | |
| --- | --- | --- |
| | | We Need Upgrades |

Nexus Atlas has rarely asked for donations but that time has come again. A few nice folks have volunteered to donate money to help us out but there are several ways we could use more help.

For $150 we can upgrade our Forums software which will work well with a modification that will let us do away with Coranto! It's not absolutely necessary that we get this upgrade but it will make the Forums more successful and easier to administrate. With the added bonus of getting rid of Coranto it's a no brainer! Additional funds will help us continue to upgrade our Forums on a regular basis.

We'd also like to create a reserve fund to be held jointly by the Nexus Atlas staff to cover any expenses that come up in the future. While it seems that we're not using as many resources as our previous host claimed, we still might need to move to a semi-dedicated server in the future.

We're hoping that you can see your way to donating a few dollars (or even MEGA bucks). It's a small start but we'll gotten $20 in donations already. So if you are able, please click the donate button above and know that your help makes this a better site for all of us.

We will provide online receipts and accounting so everyone can see where the money is spent. The Staff thanks everyone who can help us!

~ AllyGator

In the PURPOSE field, please give us your Nexus Forums account name. If you don't have a Nexus Forums account, please use the name of your main character in the game.

I'll try to make something on the forums for the people who donate. Please do so! - Rachel
| | | |
| --- | --- | --- |
| | | Tea Ceremony |
On Friday, March 7th Mug invited everyone to a Tea Ceremony he held last night. Attended by Gamemaster Cup and the Archons, Mug said that for 10 years there have been many players who have helped the game become what it is today. Many of those players are no longer with us but the positions they developed remain. To honor their memory and to thank the ones who still help, he awarded special staves which are to be passed along to the next one to hold the job.
Each subpath elder, clan primogen, kingdom minister, generals, chancellors, archons, carnage division heads, fox hunt head, and Qantao our historian received this award. Each staff has a name that matches the job title; Qantao's says "Historian". Each staff has the same stats but there are three different colors. Game Master staves are red, Archons staves are orange (doh!) and the others are blue!




Durability: 5000000/5000000
Damage: S 90m90
L 100m100
Mana increase: +1000
Will increase: +12
Any Class Level 70 reg
After the ceremony Mug and Cup danced for our entertainment. They have new armor that comes with a dancing partner! Mug said this won't be coming out in the Item Shop next week but he didn't say that it wouldn't be there soon!


Server Reset & Patch coming

Posted by: Vini

--

4:07 AM EST

The storms in the lands of Nexus last Friday have brought few changes. Mostly these affect only clans and ministries, but other few which cannot see shall affect community in close future.

Here is the official list of updates as posted on Dream Weavers board:

Clan, Army & Ministry additions and fixes:
* Minor fix for Phoenix clan
* Added board in front of status for Nagnang Ministry
* Pegasus gets new merchant Drudge (Minor quest) and new warp to Nagnang arena

Other:
* Update for Honorary tea ceremony
* Small item shop update
* Other large updates for next weeks patch.


Those who have been hunting in Ancient Training grounds shall not worry as they are still available.

The patch mentioned in the post will add to the client, according to Mug, great items, new monsters and more. The patch is said to be implemented this Tuesday, March 11th. Mug also spoke in his blog about the upcoming projects: Sa san seems to be only out by June-July, RP town and New carnage game can come sooner and the other big addition he claims it is far from being finished so refrains from talking about it now.

It is really good to see Mug sharing a bit of his work with the fans on his blog and so people can sort of know by when to expect Sa san. As obvious delays can happen so no one should freak out and scream at him if it doesn't get released by the 10th anniversary date.

Another good thing to make clear about the patch. When adding new items and monsters, it means the client will accept such new graphics, but it doesn't mean nexus will have such available right away. So do not get disappointed if we don't see any big changes with Tuesday's patch, a patch is for the GM to have more options on what to add, doesn't necessary mean new features available. Either way, nothing stops people from having hope.

~Vini Normad'or~
~Hyul 14, Moon 6~


| | | |
| --- | --- | --- |
| | | Nexus Atlas News |

I am fixing the bugs as quick as I can get to them. News is up an operational.
| | | |
| --- | --- | --- |
| | | Nexus Atlas Has Moved |
Thanks to IceSpadez tireless efforts and a few sleepless hours for both of us, we've moved to a new server. We're now sharing space with stataddict.com. I just checked the server CPU which is averaging 1%. Much better than the 20% our previous host claimed.
If you find any problems or bugs please post on the Forum
Bug Report
thread.
~ lifts glass ~ Here's to many more years to come for Nexus Atlas - YOUR site!
AllyGator
| | | |
| --- | --- | --- |
| | | New Alizarin Primogen |
| | | |
| --- | --- | --- |
| | | Extension of the Youtube Contest |
As posted on the Dreamweaver board by Cup :
"You have till the end of Sunday March 2nd to get your entry into us. Good luck from all of us here at KRU!"
An extension of the deadlines should provide some new interesting videos to watch.
You can refer to this thread on Nexus forums to see some of them, or debate about the contest:
http://www.nexusatlas.com/forums/index.php?showtopic=3580
Get creative!
Moraghul,
Hyul 14, 5th Moon, 18th Sun
| | | |
| --- | --- | --- |
| | | Museum Contest for Chung Ryong Exhibit |

Dear Citizens,
After recently returning from a trip to the western steppes, I took a stroll through the Museum after unpacking, just to relax and make certain all was as I had left it. I was admiring our many exhibits when I realized that the Chung Ryong exhibit was missing its informational placard! I immediately sat down to come up with some information, but was so tired from my travels that my mind was a blank. As usual, the Caretaker was no help; he kept muttering that he had to dust and rushed off. Stumped, I walked down to see what the other Totem animal placards said: just to refresh my memory, of course. That's when it struck me--the other Totem exhibits were all written by generous Community members with a literary bent. Swiftly deciding that what had worked so well in the past must certainly prove successful now, I determined to hold a public contest. May the best historian win!
Here's what I'm looking for in a successful entry:
Your entry must provide a clear and concise history of the mighty Chung Ryong: its divinity, its arrival in our lands, and its relationship to the citizens of the Kingdoms and Wilderness.
Your entry must be one post or less in length.
((Your entry must be sent to me, Qantao, by March 12 by 12pm PST.))
And now, for your prize! Whoever pens the winning entry will receive the satisfaction of their work being presented in the Museum in perpetuity. They will also receive 800 Kruna as a blessing from the Gods, in thanks for helping others to learn.
Good luck, and I remain,
Yours in history,
Qantao
Historian
~ AllyGator
~ Hyul 15, 5th Moon
| | | |
| --- | --- | --- |
| | | Time to Help Nexus Atlas Test |
Yes you can ALL be testers if you like!!! Our web host says we've outgrown our site and need to upgrade to a dedicated server and poor AllyGator doesn't have the funds for that. Lots of kind people have offered to help out with money. But first we want to test and see if our site is REALLY causing resources problems. IceSpadez has created a mirror site on stataddict.com and we invite you to HAMMER the mirror site!
HAMMER NA MIRROR
AND
HAMMER NA FORUMS MIRROR
You may notice a few things are missing like images and such. You'll have to log into the forums everytime you visit the mirror, we're trying to fix that.
But go for it! Ramp that traffic up and let's see how busy we can get!
RAWR!
AllyGator
PS - I hope IceSpadez doesn't hurt me for this. LOL!
PS - This one is for Tonberry!
PS -
I don't know is if we have some rogue script that has suddenly decided to go nuts and consume all the server's resources. If that is true then we could splitting the site with 2 accounts but that would mean one account or the other would replicate the problem and then we'd be out the time and money of opening a new account.
By setting a mirror to test we can see if the problem exists and find it. This is a server we have complete access to so the test should prove or disprove the problem. It should also tell us exactly where the problem is so we can fix it. If we find that there isn't a bad script and that we just need a new hosting plan, this test will prove that as well.
| | | |
| --- | --- | --- |
| | | Honorary Tea Ceremony |
As seen on the
Community board
..
The community of NexusTK is a trademark of the game, with its patrons contributing to an innovative and inspiring gaming environment. In that regard, Dreamweaver mug wishes to recognize and publicly thank several key, honorary members that have selflessly devoted their time and effort to improving and teaching good conduct and fair game play within the Nexus realm.
On Friday, March 7th, 7pm PST/10pm EST, please join Dreamweaver mug in an honorary tea ceremony in celebration of these key members of our community. The doors to the dreamweaver platform will open on Du Mountain on this celebratory day.
On behalf of the Immortal family, we hope to see you there!
Forewarning: Don't come if you can't be courteous.
-Musoyen
-Hyul 14, Moon 5