Past News
Did you miss that important news story? Do you want to read what happened while you were on vacation. Here's where to get that info!
Our news software, Coranto, has a bug which makes it purge links to news articles more than two years old. What is left of programmers who volunteer their time to support this software do not know why this bug occurs. We manually index older news pages in our Archived News section.
| | |
| --- | --- |
| Saturday, February 28, 2009 | |
| | | |
| --- | --- | --- |
| | | Festival of Music -- Live concert! |
Close your eyes and let the winds reminisce of the past. When life was simple, and soothing music filled our ears as we did our daily activities!
Earlier tonight AznCloudBoi hosted a Festival of Lights! People from all walks of life showed up to watch the festival and listen to music. Ox, Tiger, Rooster and many more songs were played. People had the choice to request music while sipping on their favorite wine ranging from rice to moon.
Guest appearances by Brittania Spears, Kanye East, Jabbapockyz and more!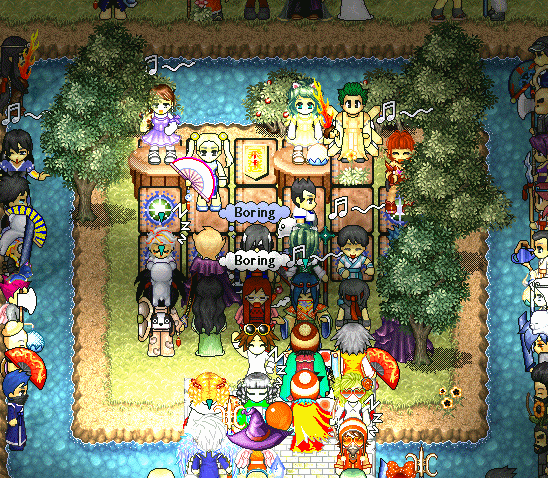 If you would like to be able to hear the old music that once played in Nexus, feel free to ask a Muse guide for a Tanso -- or head on down to Berig's
BodhiSanctum
and listen to the old songs there!
-Musoyen
| | |
| --- | --- |
| Friday, February 27, 2009 | |
| | | |
| --- | --- | --- |
| | | Server reset, Thursday, February 26, 2009 |
As posted on the official
Nexus TK website
...
Server reset, Thursday, February 26, 2009
The Nexus servers were reset with the following changes:
The butterflies have vanished and taken their candy with them.
Clan, Army & Ministry additions and fixes:
* Minor fix for Lost Kingdom
Subpath additions and fixes:
* Minor changes for Chongun
* Geomancers get new merchant Ruranhyo
* Small changes for a Druid quest
* Minor change for Barbarian
Other:
* Cup has begun reviewing the applications for Kinung.
* More work has been added for Kinung.
* Minor update to Green pinned flower (should of been green not pink)
| | |
| --- | --- |
| Tuesday, February 24, 2009 | |
A star in the distance

Posted by: Conro

--

4:15 PM EST

As posted by Mug on Community Board...

here is the new date for wisdom star.


The Wisdom Star will be returning late afternoon on 3/6/09 and will fade away on early morning on 3/9/09 so get your accounts registered.


So... call your jobs, and request off work! It's time to hunt!
| | |
| --- | --- |
| Thursday, February 19, 2009 | |
Chul's up to no good!

Posted by: Conro

--

3:47 PM EST

Seems Chul is working on the side of Mupa quite openly, despite being asked by the HaggardWitch to make a catapult or battering ram to break down the Big gate blocking the entrance to Mupa's Ice Dungeon.

If you wish to learn more (and earn some rewards)...


Go to Chul in Nagnang (West gate 021, 088 )
- Say ' Catapult' twice.
- Say 'Battering Ram' twice.
- Say 'Haggard Witch' twice.
- Say 'Mighty Mupa' twice.
- Say 'Dok' twice.

Go to Dok SMith in Buya
- Say 'Chul' twice
REWARD: 5 Pirate coins

Go to Beard smith in Kugnae
- Say 'Winds' twice
REWARD: 1 Minor quest, Legend mark "Fought off the Violent Winds of Mupa"

As of now, I am not aware of anything else you can do to help the HaggardWitch. If more comes up, we'll keep you posted!
| | | |
| --- | --- | --- |
| | | Server reset, Thursday, February 19, 2009 |
The Nexus servers were reset with the following changes:
Is it true that Chul is helping Mupa?

The butterflies feel the need to stick around a little longer... seems all the love in the air has them happy to remain!
Clan, Army & Ministry additions and fixes:
* SanSin gets new room, Crafter's Abyss and new merchants; Hun-Shik (Alchemy, Scribe), Shu-Cuk foo (Food prep) and other minor updates
* Buyan Army receives updates
* Elendhirin receives new merchang Racaran
* Lost Kingdom receives minor update
*
Subpath additions and fixes:
* Barbarians get new merchant Caine and other large updates.
* Rangers receive major update.
Other:
* Minor update for Archon primogen/primarch's
-Musoyen
| | | |
| --- | --- | --- |
| | | Haengsa's Quest - February 2009 |

As published on the Community Board:

.....................................................going price
Step 1: Grand amber ring.......................25k
Step 2: Luxury amber bracelet.................250k
Step 3: White circlet.........................500k
Step 4: Battle helm..........................5-10k
Step 5: Scribe's book........................5-10k
Step 6: 3 Fragile rose.......................5-10k
Step 7: Lucky coin...........................5-10k
Step 8: Chocolate heart.................free on ground
Step 9: Purified water.......................5-10k

FINISH. Gives 8 pirate coins....................

Editorial Note: This is an extremely expensive quest for a mere 8 pirate coins! There are no items you can purchase with 8 pirate coins that approaches the cost of this quest. Many players have decided not to complete quest because of the costs involved not to mention the rarity of White circlets. The few Jewelers in the game cannot possibly craft enough for the majority of players to finish.

Many players are upset because they enjoy helping Haengsa sort out his many problems and are upset with this particular quest. Along with those players, Nexus Atlas hopes that future quests will be solvable by a majority of players and if such an expensive quest comes again, that the reward is in accordance with the expense.

AllyGator
| | |
| --- | --- |
| Monday, February 16, 2009 | |
RP Town is on the way!

Posted by: Vini

--

11:04 PM EST
Finally the long waited RP Town is on the edge of being opened. Considered to be the long shot opportunity to enhance the roleplay aspects overall Nexus, this new place is the main hope for many old and new roleplayers for a bright future.
The high anxiety about the RP town is here! If you want to help enhance roleplay back to nexus then apply for a new position. Community members may apply to become a
Councilor of Kinung
. Interested? Here's a copy of the application form:
Surround yourself with imagination and contribute your creativity to help role-play increase and prosper into the Kingdom of the Winds! Will the winds whisper the legend of your deeds forever? Do you wish to encourage the discovery of the new role-play town (Kinung), share your knowledge with others, and serve your kingdom? We seek you, who will remain true to the Nexus vision and its reason for existence. Such a position will require devotion, so should you have limited time, please do not apply.
The chosen players will become the Councilors of Kinung. They will regulate rules, politics and everything needed to promote role-playing. They will work with players on the literature, history, philosophy, biography of our heroes, and the lore of Nexus. They will work on painting, music, events, stories and poems, magic, politics, economics and much more! This is your chance to get involved in this new and exciting area of the game, with its own system. Get yourself involved in Kinung by overseeing and helping evolve a new society. Many adventures await you and you will make history. Unravel Kinung's mystery and help share its many unique aspects!
* Due to the large amount of work involved in Kinung the application will be open to all players who currently do not have a position of leadership within our Kingdoms. This gives everyone a chance to be a part of the game. Citizens whom hold the following positions (on any character or any account) will not be allowed to apply: Archon, Head Judge, Subpath Elder, Primogen, General, Minister, Head Tutor, Head Carnage host, Head Fox hunt host. Please note that if you hold one of these positions, it does not mean you cannot be a part of the town, but you may not become a Councilor.
Those whom have received banishment or bear a current (red) jailing (on any character or any account) are not eligible.

Applicants must be registered patrons.

This position is, of course, reserved for role-players. Councilors will provide role-play for Kinung as well as the Nexus in general, therefore we require that all applicants role-play.

Should you have any inquiries, please contact
Sandok or Ruhiryo.

Please copy and paste the following questions and answer them all as best you can.

All answers must be sent in via the Support ticket system.
https://support.kru.com/
Contact us/submit a ticket
Please make sure when sending the ticket you click Nexus Support in the Department area.

** Application **

Question 1: What is your account number/numbers?
Please also include paths, subpaths and clans they belong to. Please name all characters on all accounts you own. (Use the following format: character name-path-subpath-clan)

Question 2: Which character do you play the most and would like to be a part of the town? (Please keep in mind that only ONE character can be used, even if you have multiple accounts)

Question 3: How many hours do you spend playing Nexus per week? Do you feel you will be able to devote enough time to this position to do a good job?

Question 4: If you have had any in-game positions on your characters (ex. Subpath or Clan leader, Minister, Carnage host, Judge, Subpath Guide, Clan Council, Tutor, etc) please list them. In-game positions will not determine the outcome of your possibility of being accepted.

Question 5: What are your feelings regarding Kruna items? How could you better incorporate them into Nexus?

Question 6: What role-playing events have you been involved in before?

Question 7: What are your thoughts on role-play and how we could increase it throughout the entire game?

Question 8: Why do you think you would make a good representative of the RP Town?

Question 9: Please give a brief background of the character you are applying on.

Question 10: The RP Town is a place where role-playing ideas may prosper. Please submit in few lines a briefing for a role-play event. Your idea must include already existing contents (i.e. no new event characters, maps or items).

Good luck to all applicants! Hope we'll see some great RP events coming out the new councilors!
~Vini Normad'or~
~Hyul 22, Moon 1~
New Haengsa Quest

Posted by: Vini

--

10:44 PM EST
Haengsa is back and with his are his quests for pirate coins. He briefly explains those who approach him what happened with him after community helped him get freed from pirates. He actually wore the pirate uniform that people gave him to get out of the ship to deceive them and appear as if he was one of the crew. Unfortunately, as quiet man as he is, he ignores any attempt of asking about what happened when he got captured by pirates. This way he was able to obtain a lot more pirate coins to trade with his helpers.

His first request in exchange for pirate coins is to help something for his wife: "
a new ring for her pretty little hand
".
1-Bring him a Grand amber ring and will make him happy.

Next he says he need something for his old mother-in-law. He wants something pretty for her wrist.


2-A Luxury amber bracelet will please him.

Then Haengsa says:
"The next time is for the old father-in-law he thought it was cool I was a pirate and well he thinks he is a king so i need to find something really cool for him".

Community has tried dozens of options but with no success. Haengsa only responds with the following quote to everyone:
"He thinks he is a king but he really doesn't like that, keep looking".

This post will be upated as soon as community manage to move on into the next part of the quest.

~Vini Normad'or~
~Hyul 22, Moon 1~
Valentine's Kruna Items

Posted by: Vini

--

10:15 PM EST
On last friday, along with the free Kruna given away to all registered accounts there was a large set of new Kruna shop items available for purchase. Dozens are here to celebrate the Valentines day, hearts, chocolate sticks and a cute new pet. Easier seen then said, here's the image of how the new items look like: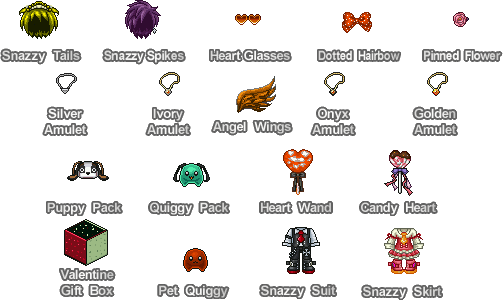 Weapons:
Candy Heart (4 colors) - 150 Kruna

Heart Wand (12 colors) - 150 Kruna

Face accessories:

Heart Glasses (8 colors) - 200 Kruna

Head Accessories:

Dotted hairbow (2 colors) - 100 Kruna

Pinned Flower (16 colors) - 59 Kruna

Snazzy Tails (15 colors) - 150 Kruna

Snazzy Spikes (12 colors) - 150 Kruna

Mantle accesorries:

Angel Wings (13 new colors) - 480 Kruna

Puppy Pack (3 colors) - 120 Kruna

Quiggy Pack (14 colors) - 120 Kruna

Necklaces:

Silver, Ivory, Onyx and Golden Amulets - 100 Kruna each

Coats:

Snazzy Skirt (14 colors) - 500 Kruna

Snazzy Suit (18 colors) - 500 Kruna


Pet Quiggy - 350 Kruna

Valentine Gift Box - 350 Kruna

The Valentine gift box consits in 1 Package (Containing one or more items) and once opened it gives a free bank slot. The Quiggy pet works like most other pets in Nexus and can be dyed with kruna shop special pet dyes.
~Vini Normad'or~
~Hyul 22, Moon 2~
| | |
| --- | --- |
| Sunday, February 15, 2009 | |
Nagnang Army Situation Resolved

Posted by: Vini

--

10:37 PM EST
The Nagnang Army has been on lockdown for two weeks and dozens of community members began to wonder what happened to cause such a drastic move. The moment the lockdown was put in, the General was removed from his position and along with all high office members. As this was the first time a lock down resulted in removal of all council, speculations started to flow with different versions of gossip trying to explain it.
Nexus Atlas looked into the matter and found the official version of what happened: The previous General was removed from position for being an alternate character of a former banned person. The council was only removed from office so the archon could assure the lock down would be respected. During the lock down process, the Nagnang soldiers had to vote on a the new General, the next person to lead them. Formerly a Colonel,
Stimulation
was elected to be the 14th Nagnang General.
We had an exclusive interview with the new leader of Nagnang forces and here's what he has to say about the future of the army:
"I'm working on a complete restructure of the ranks and hoping that I can help abolish the picture of corruption that the past few Generals have burdened our soldiers with. I want to restore faith in the community that we are a force for good and a body of people who defends our land and our Prince, not embarrass them…"
Nexus Atlas congratulates General
Stimulation
in his new position and wishes him good luck with his new duties.
~Vini Normad'or~
~Hyul 22, Moon 1~
| | | |
| --- | --- | --- |
| | | Attack in Sire Pit |
| | |
| --- | --- |
| Friday, February 13, 2009 | |
| | | |
| --- | --- | --- |
| | | Server reset, Friday, February 13, 2009 |
As posted on the official
Nexus TK
website...
Server reset, Friday, February 13, 2009
The Nexus servers were reset with the following changes:
Love is in the air! Beautiful butterflies float around the towns looking for a little love. Do you have what it takes to make them drop their goods?
Tabae has floated away from Lovers' Lake and we are not sure where she has gone. HaggardWitch begins to prepare the Catapult.
What is this???!???? Haengsa is back!!!
Clan, Army & Ministry additions and fixes:
* Pegasus clan receives updates to Vulcan (buys Fine steel dagger, Steel balde, Fine steel blade), Ghan and a new Gem loom in the Opes Cella.
* Alizarin clan receives updates to Valkyie (buys some gowns), and Miru does Mass exchange
* Silla receives updates to Changul (sells Aged wine, Antler, Limestone)
Subpath additions and fixes:
* Shaman receive 2 minor updates
* Druids receive new board Taball Lorg
* Do receive new board Ancestral Archives
Carnage additions and fixes:
* Fox hunt hosts receive a new updated office
* Minor update for Ratty hole and Foxy Hole
* Minor update for Fox hunt
Tutors / Justice additions and fixes:
* Minor update for Novice channel
Other:
Servers are very stable but we have a few other changes we will be making before the Wisdom star comes back. We haven't forgotten about the compensation either that will happen as soon as we are finished working on our updates. We will keep you posted.
Item shop:
Large update will be added later today. New items will be: Valentines gift boxes with special items inside, Outfits, Wigs, Wings, packs, pet, necklaces, hair bows, hair flowers, Candy hearts, Heart wands, Heart glasses
| | |
| --- | --- |
| Tuesday, February 10, 2009 | |
| | | |
| --- | --- | --- |
| | | Free Kruna during February |

As posted in Community Board, free kruna will be given for anyone who is currently registered on Friday, February 13th. Every player registered will be rewarded by Nexus Team with 50 Free Kruna! All players who are on auto renew will receive additional 100 Kruna!

Month to month players - 50 Free Kruna
Auto-renew players - 150 Free Kruna.

~Musoyen
| | | |
| --- | --- | --- |
| | | New Primogen of Tiger |
Today brings another change after his short term as Primogen
Crash
has decided to step down as Primogen of Tiger. Once again given the chance to lead his cubs into the future is Primogen
Baliwind
.
Congratulations the new Tiger Primogen Baliwind on his new position. And thank you to Crash for all your hard work.
Gilmore
Hyul 21, 11th Moon
| | |
| --- | --- |
| Tuesday, February 3, 2009 | |
| | | |
| --- | --- | --- |
| | | Wisdom Star Will Return |

Late this evening GM Mug made a post on the Rambling Thoughts board:

we are taking it down until we have all servers stable.
then we bring back for a day or two.

there is no need to be angry.

Those who haven't been able to participate in this Wisdom Star event will be very happy with this announcement.

On a side note, Nexus Atlas Staff has noticed a new building west of Buya's North Gate. The Imperial Runway has moved to new digs. Pretty impressive. Tour the non-stop models while waiting for these events to return.

Koguryo is on the move

Posted by: Vini

--

9:07 PM EST
Today it was announced that Primogen Ayiana stepped down from Destiny clan head position and her primarch,
HealerofDoom
took the lead. Also today, the primogens of Koguryo were introduced to
Xelara
, the new Archon who will be representing them in clan matters.
As for the list of the new Koguryo defenders, here's the name of the 13 honored ones who
pledged to defend Koguryo
:


Bear : Logorin
Bear : Petarung

Destiny : BigHoss
Destiny : HealerofDoom

Enigma :Koykun
Enigma : ShaoVox

Oceana : Fayebelle

Tiger : Crash
Tiger : MidniteSnow

Sun Moon Sect : Lavahn
Sun Moon Sect: Talos

Koguryo Royal Army : MeuRTRieR
Koguryo Royal Army : Kaelie

Nexus Atlas congratulates Primogen
HealerofDoom
, Pawn
Xelara
and all the new Koguryo Defenders on their achievements. Good luck to you all!
~Vini Normad'or~
~Hyul 21, Moon 10~
KRU Interactive Statement on Latency Issues

Posted by: Conro

--

5:46 PM EST

As posted by Mug on the Community board

We are aware of the technical issues that have been causing severe latency in Nexus, Kingdom of the Winds. We are working to improve our systems and network, but it will take some time. We understand this is a huge inconvenience to all our players; therefore we will eventually give compensation once everything has been resolved. We sincerely apologize for any inconvenience and appreciate your support and patience.


Nexus Support Team!



Servers are to go down around 6:50 PM EST. There is no estimated time when they will go back up.