Past News
Did you miss that important news story? Do you want to read what happened while you were on vacation. Here's where to get that info!
Our news software, Coranto, has a bug which makes it purge links to news articles more than two years old. What is left of programmers who volunteer their time to support this software do not know why this bug occurs. We manually index older news pages in our Archived News section.
| | |
| --- | --- |
| Tuesday, December 31, 2013 | |
Retrospective 2013

Posted by: Vini

--

4:14 PM EST
The year of 2013 was one of the most busy at Kingdom of Winds, which started quite slow, but ended being a year full of events, several storyline twists and ended with the return of Princess Yun, currently known as Yeon. Below is what happened from January to June 2013, read further to remember all the main happenings at Nexus during this period.
January
:
This month was marked mostly by leadership positions in clans, armies and subpaths. A rather calm month compared to the rest of the year.
Here are the highlights of the month:
1. The
Clans and Subpaths
board has been split into two boards:
Clans and Ministries
&
Subpaths
.
2.
Donjuan
has been appointed General and Sage of Nagnang.
3.
Lunarian
became the new Primogen of Elendhirin clan. He currently remains as primogen of the clan.
4.
BeffyCabeza
became the new Primogeness of K'urimja clan.
5.
Kibou
became the new elder of Diviners. He is the first male Diviner elder in years and currently remains at the position.
February
:
The second month of the year also had many leadership changes, but also had some other important happenings, such as a new Valentine's Event and the introduction of the Expandable Group Tab and a serious bug fix.
Here are the highlights of the month:
1. King
MuHyul
of Koguryo announced a "new" General to KRA.
Nykid
returned to his 3rd term.
2. Bear Clan has also changed their leader. The new Primogeness is
Tyrra
, who currently remains at position.
3. Sun Moon Sect continued with the leader changing rhythm. Primogen Dokara was announced and currently continues leading the clan.
4. Another leadership change; 8th in a row. This time it was Forsaken clan who changed leaders as Primogeness BellaDonna regained her previous position.
5. First big change of the year: group tabs became expandable, which was a longtime dream of all healers.
6. A serious experience bug hit nexus. From level 1 to 99 with just 1 kill; a dream for players, a nightmare for GMs. The fix came shortly after and the effects too.
7.
Event:
New Valentine's day event allowed people to send heart weapons to other people. Huge success to spread your love around.
8. Harlem Shake reaches Nexus. If you haven't seen it, click here to view.
March
:
This month was another one with leadership changes, but can mostly be remembered by Lucky's pot of gold event. Easter event and new Diary quest recipes.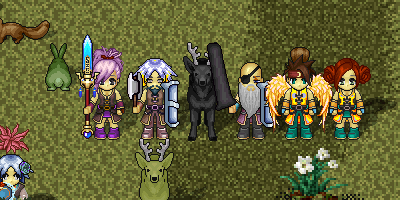 Here are the highlights of the month:
1. Third General change in 3 months and this time was at Buya. Dekato became the 15th General of BIA.
2. New Woodlands Diary Quest items recipes were found. The first lightly stitched shells, focused fire ambers and the polished stones were created.
3. A leadership change in the wilds. Eireen became the Ranger Elder.
4.
Event
: Lucky, the tricky little creature returned and with him, citizens had the possibility of finding the end of the rainbow and good prizes at the pot of gold.
5. Barbarians got a new unique coat and a new deer morph.
6. Judge Kimberlee also became Elder of Monk subpath. She remains with both positions.
7. Easter eggs event began and costumes started being dropped.
April
:
The main event of the month was the Annual help day held by Archons, but also can be remembered for other woodlands item recipes, the ban of Eggio and Dethsgift and the beginning of new Nagnang Palace preparations, which also counted with the return of ChinMae.
Here are the highlights of the month:
1. More Woodlands Diary Quest recipes were found.
Tortured Human soul
and
Heavy Champion Rune
.
2. Eggio and Dethsgift were purged for cheating.
Xiaokia
became the new top Poet of Nexus, a title he still keeps.
3. Two new primogens at Buya
Scag
became leader of Heavens clan and
Dubs
took leadership of Lost Kingdom Clan.
4. A new Primogeness of Oceana was announced:
AellaX
, who remains as the clan's leader.
5. A strange Woodlands robbery was reported. A writer wandering in the Woodlands was robbed by an angry group of thieves. They stole three books, a couple of pens, and the little amber the writer had left.
6. Third annual help Day was held in honor of Archon Primogen
Dalnum
. During one day all archons could help citizens on their mortal quests, hunting and other difficulties.
7.
FalenAngel
took back her position of Primogeness of Enigma clan. She currently remains as the leader.
8. Prince
ChaeRi
announced that he would bring the help of the
Master Builder
to reconstruct the
Nagnang Palace
which has been torn down since his brother, Prince
Kija
, was murdered.
9.
ChinMae
, known as Blight's messenger, visited the ruined palace with much interest in the Master Builder plans. He was briefly confused with the master builder himself, but later was found that he wanted to work against the rebuilding plans.
May
:
This month marked the turn around which Nexus had this year. From this month forward, Nexus began to have monthly events. May started with serious political conflicts between Buya and Nagnang, an attempted murder to King Geumwa by a BIA soldier, the arrival of Master Builder & Architect to reconstruct the Nagnang Palace and the reveal of a nangen rebel group called "The Resistance" which seems to be against Nagnang Royalty.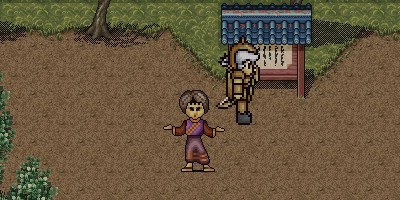 Here are the highlights of the month:
1. The Nagnang Army, known as ARN (Ascendant Regiment of Nagnang), found evidences of Wiyae's recent sorcery being held at Islets. What started as an intelligence mission turned into a series of diplomatic problems between Nagnang and Buya.
2. Due to the recent actions of ARN at Islets, King
Geumwa
of Buya proclaimed a polemic decree disallowing any foreign military operations at Buya lands without explicit authorization from BIA officers and threatened unauthorized military maneuvers to be considered hostile and dealt with.
3. Claiming to have a vision that King Geumwa would bring destruction upon Buya,
Laren tried to assassinate the buyan King
. The situation started a whole situation of insubordination at BIA, led by General Dekato herself. At the end, Queen
Lasahn
ordered the removal of Laren from the army and didn't execute him for his attempts at King's life due to the many years of good service he had to Buya. General Dekato's treason to the King didn't look good to the kingdom either and has thrown Buya into a chaotic state where the Imperial Ministry and Buya Army started a series of months of fights.
4. Prince
ChaeRi
replied to King Geumwa's decree with a serious mocking post in which he regretted not seeing the attempt on Geumwa's life and warned Buya's King to stay out of his way when searching for Wiyae.
5. Amidst the conflicts between Buya and Nagnang, the Merchant Guild has announced a new elder,
Acera
, who remains as their current elder.
6. It became possible to paralyze and doze enemies at
Malevolent Clan houses
. Doing Sa san trials became a lesser burden.
7.
Event
: The Master Builder and his brother, the Architect, have arrived at Nagnang to reconstruct the palace. Yet a group of Rebels called "The Resistance" was revealed to be undermining the attempts to restore the palace for past years and seeing the joint efforts of people to finally reconstruct Nagnang Palace, a Rebel Woman began to collect explosives to try to ravage Nagnang's palace restoration.
8. Citizens had the choice to Aid or to Ravage the palace's reconstruction. Diviners had visions of different futures happening, one with a reconstructed palace and another with the palace completely destroyed.
June
:
This was another busy month for Nexus which started with the new Nagnang Palace finally being released. The community worked together to restore the powers of the Winds, a new Nagnang Defender's ceremony was finally held and the Mighty Sute escaped from his cave which caused much damage to the lands.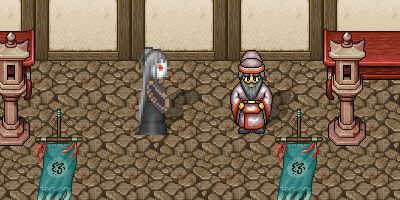 Here are the highlights of the month:
1.
Queen Lasahn
made a public post about her decision to
ban Laren
from Buya Army after his attempt against King Geumwa's life at early May.
2.
Guerrund
returned to the position of Phoenix Primogen for the third term.
3. The Nagnang Palace was finally rebuilt. It turned into a huge and beautiful Palace, with over 20 rooms, including a new headquarters for the ARN, a new throne room, a dining room, a kitchen, bedrooms and a palace prison, in which they jailed the
Rebel Woman
from "The Resistance" who was collecting explosives to destroy the palace.
4. Prince
ChaeRi
held the first Royal trial at the newly built palace court room and exiled
CrewelLye
from Nagnang for several charges, including but not limited to plotting against Nagnang Royal Family.
5. A month after the attempts at King Geumwa's life, BIA has announced a new General. HakuDoushi became the 16th General of Buya Army.
6. Viper Clan also announced Grudo as their new Primogen and he currently remains at the position.
7. Another rebel group at Nagnang, "The Crimson Hand" tried to disgrace Kija's grave and stole a ring from his grave.
8. SanSin announced Primogeness
Fizle
, who currently remains at position.
9.
Event
: The Winds of the Kingdoms of Winds stopped to blow. Community had to work together to restore their strength and earn their favor.
10. After 2 months since last change, Lost Kingdom clan announced a new Primogen,
LynX
.
11. Nexus 15th Anniversary event began with new celebrating items and Wisdom Star approached with Bonus experience once more.
12.
Event
: After years since he was imprisoned by Buya Mage Guild master
Eldritch
, the Mighty Sute has escaped from his cave. Citizens had to work together to try to seal the powerful immortal mage back to his cave.
13. After years without Defender's ceremony, Nagnang finally held their first at the new Josang Hol and honored 24 citizens who pledged to defend the kingdom.
To be Continued...
Important:
Due to our webhost, Hostgator, having a severe server downtime which affected most of their client sites, I was unable to finish the Retrospective 2013 today as I planned. I'll hopefully have the months of july-december 2013 done by tomorrow.
~Vini Normad'or~
~Hyul 61, Moon 1~
| | |
| --- | --- |
| Monday, December 30, 2013 | |
Kruna Item Shop - 10% Bonus!

Posted by: Vini

--

5:53 PM EST

As announced by GM Stein on Dream Weaver board, all Kruna coupons purchased until january 2nd will receive a 10% bonus.

Happy Kruna shopping!

~Vini Normad'or~
~Hyul 60, Moon 12~
| | |
| --- | --- |
| Sunday, December 29, 2013 | |
| | | |
| --- | --- | --- |
| | | New Do elder |
About a week ago the Do subpath has gone under lockdown. Just a few moments ago the new elder of Do path has been announced: Aemon, as elected by all of the Masters (Guides).

Nexus Atlas congratulates Elder Aemon on his newest position!
Brought to you by,
-,-@ Donjuan
| | |
| --- | --- |
| Saturday, December 28, 2013 | |
New KRA Lt. General (2nd in Command)

Posted by: Vini

--

8:32 PM EST
Seems that General xDementiax has appointed a new Lt. General to the Koguryo Royal Army in place of Gippeto, it is our very own
Elarra
.
Congratulations Lt. General Elarra, may you and General xDementiax do great work together to protect Koguryo from future attacks from Sonhi or Mupa's group.
~Vini Normad'or~
~Hyul 60, Moon 12~
| | |
| --- | --- |
| Friday, December 27, 2013 | |
Wisdom Star Is Here!

Posted by: Elarra

--

5:13 PM EST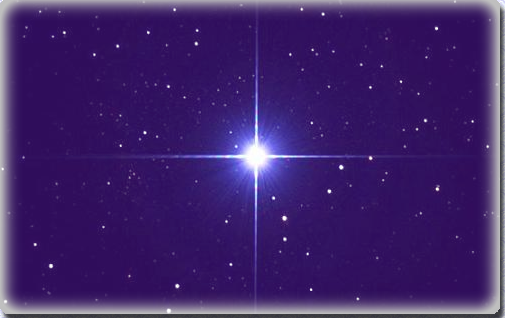 Wisdom star is officially upon us!
It will last from Friday, December 27th to Thursday the 2nd of January.
Also, don't forget about Santa Mhul tomorrow December 28th from
10am PST to 12pm PST (1pm EST-3pm EST)
! It's the only make-up day so make sure you're there!
On another note, it seems that HaggardWitch has disappeared as well as Youngchae!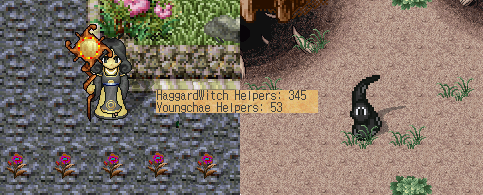 Does this mean that HaggardWitch has what she needs to restore Princess Yun's memory? We'll just have to wait and see!
-*Elarra Satsuma
-*Keeper of Balance
| | |
| --- | --- |
| Thursday, December 26, 2013 | |
HaggardWitch almost has enough items

Posted by: Vini

--

11:24 PM EST

As announced by HaggardWitch's World shout tonight, she has almost enough ingredients to break the curse cast upon Princess Yun by Mupa. Seems over 50 people tried to hinder HaggardWitch's efforts but weren't successful, as majority chose to help Yun recover memory.

Since tomorrow the Wisdom Star begins, it's very likely that today and tomorrow morning will be the last opportunities to choose your side: help Yun or try to hinder her recovery.
~Vini Normad'or~
~Hyul 60, Moon 12~
| | |
| --- | --- |
| Wednesday, December 25, 2013 | |
Season's Greetings!

Posted by: Vini

--

2:10 AM EST
Nexus Atlas Staff wishes a Merry Christmas, Happy Holidays and Season's Greetings to all of our readers!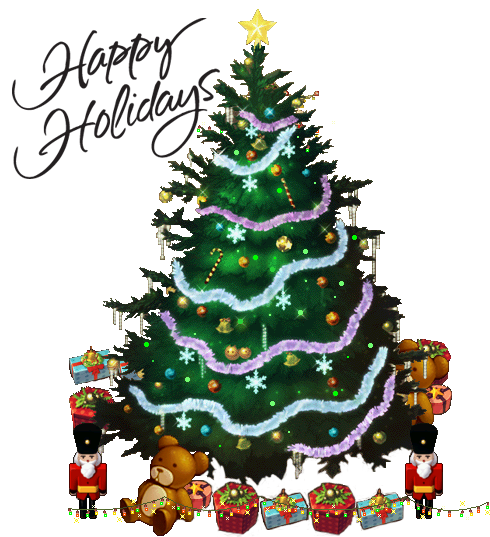 | | |
| --- | --- |
| Tuesday, December 24, 2013 | |
Visit the Holiday Lodge

Posted by: Vini

--

7:10 PM EST
| | |
| --- | --- |
| The Holiday Lodge is once again available this year. To access it go to North Gate Mythic and click the warrior guildmaster at norteast. Once inside you participate in the following activities: | |
Be a Secret Santa
Where to get: walk by the Christmas tree (requires another person to be at room who didn't get a gift yet)
The "Secret Santa" game can be played every hour where you can discretely distribute a gift to another. When walking in front of the tree you receive a gift that belongs to another character ("Lodge Gift for someone") in the room and you have to give it to the player by facing him and using/clicking on the item. You can only give a gift once every hour. A receiver can only receive a gift once, 1 of 3 possible items: Angel wings scepter, Ice fan or candlelight.




Send Holiday grams
Where to get: by the study desk
Holiday grams will be distributed to a person of your choice. When they wake up in the Nexus, they will receive their Holiday telegram. (( If the receiver is already online, they will need to re-log to receive their telegram.)) When the receiver uses Holiday gram it casts a holy light moving around the body for a few minutes.
You can also keep warm by the fireplace or have a nice meal at these beautiful tables.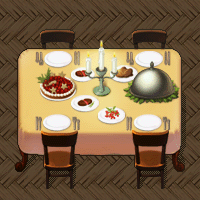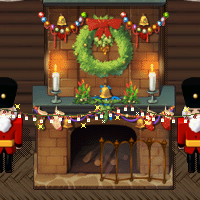 Have a great Christmas Eve everyone!
~Vini Normad'or~
~Hyul 60, Moon 11~
| | |
| --- | --- |
| Monday, December 23, 2013 | |
Wisdom Star Approaches

Posted by: Vini

--

9:59 PM EST
Wisdom Star means Double Exp!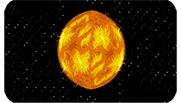 Prepare your fingers and sharpen your hunting gear as it's again the time of the year when Wisdom Star gets closer in the sky and gives everyone a
double experience bonus
. The effects of Wisdom Star will affect the Kingdoms of Winds from
December 27th until January 2nd
, as posted by GM Stein at Dream Weaver board. Here's a copy of the post:
The wisdom star event will take place on Friday, December 27th and will last until Thursday, January 2nd. As usual, the star will likely scare away the vortex bosses throughout its duration.

We will be having a makeup Santa Royals event for all those who were unable to attend. It has been scheduled for next Saturday, December 28th from 10am PST for 2 hours. Happy holidays everyone!
If you missed
Santa Mhul
last weekend, don't miss out the next one, this
upcoming Saturday
.
~Vini Normad'or~
~Hyul 60, Moon 11~
| | |
| --- | --- |
| Sunday, December 22, 2013 | |
New Winter/Holidays Kruna Items

Posted by: Vini

--

9:55 PM EST
As announced at Nexus official site, the Item shop had updates to get updated with the winter holidays' spirit and this might be one of the funniest options ever. There's a coat which allows you to dress as a white snowman and it has some emotions like respect (bow), kiss, dance, triumph, etc. The other new coats and hats are funny too as they allow you do dress up like Rudolph or even a Christmas Tree!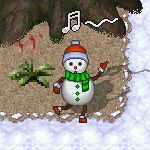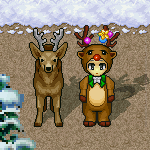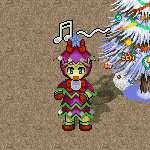 Here's some of the winter packages available, but there are over 100 winter items available at Item Shop which should be worth looking for.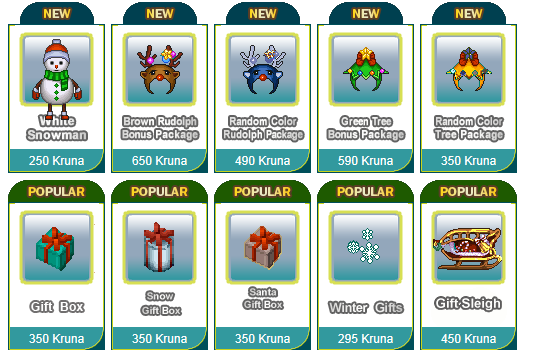 Happy holidays and happy gift trading!
~Vini Normad'or~
~Hyul 60, Moon 11~
| | |
| --- | --- |
| Saturday, December 21, 2013 | |
Last Day For Santa Mhul!

Posted by: Elarra

--

7:14 AM EST
Today marks the last day for Santa Mhul! Come party with your favorite royal and walk away with a gift!
Make sure you get here today from
9am - 1pm PST
or
12pm - 4pm EST
so you can receive your Christmas cheer! Maybe Mhul will have snow ball fight with you, too!!!
| | |
| --- | --- |
| Friday, December 20, 2013 | |
Santa Mhul is happening now!

Posted by: Vini

--

10:05 PM EST

Santa Mhul is happening now! To enter the Holiday workshop's maze you need to go to any gate at Kugnae, Buya, Nagnang, Wilderness or Tangun and click one of the Snowmen to be warped.
Go inside and meet Santa Mhul (middle), Santa Lasahn (left) or Santa ChaeRi (right) to get one your special (random) gifts!
~Vini Normad'or~
~Hyul 60, Moon 10~
| | |
| --- | --- |
| Thursday, December 19, 2013 | |
Holiday's Patch to 7.08!

Posted by: Nalyd

--

8:11 PM EST
At 7:00 PM CST today GM Stein released a client patch fixing a couple bugs and hinting us at the release of
new item shop items in the near future!

* New holiday itemshop items coming shortly!

* Fixed a bug with mentor where the wrong person would receive a status update

* Fixed a bug SaSan Spirit trial that in some cases may not have found your bonded item despite being in your inventory

As a reminder, the remaining Santa Royals schedule is as follows. Thanks for everyone who came out today!:

Friday Dec. 20th: 7 PM - 11 PM PST
Saturday Dec. 21st: 9 AM - 1 PM PST


*** If you are running Windows Vista/7, make sure to run NexusTK as administrator (by right clicking the shortcut and selecting the option) for this patch ***

Now we all wait for the upcoming Kruna and the beloved Wisdom star!
| | |
| --- | --- |
| Wednesday, December 18, 2013 | |
Santa Mhul is starting tomorrow!

Posted by: Vini

--

8:32 PM EST
As announced on community board,
Santa Mhul
begins tomorrow and goes until Saturday.
Check Santa Mhul dates below:
| | | | |
| --- | --- | --- | --- |
| Thursday, | Dec. 19th: | 12pm - 4pm PST | or 3pm - 7pm EST |
| Friday, | Dec. 20th: | 7pm - 11pm PST | or 10pm - 2am EST |
| Saturday, | Dec. 21st: | 9am - 1pm PST | or 12pm - 4pm EST |
~Vini Normad'or~
~Hyul 60, Moon 10~
| | |
| --- | --- |
| Tuesday, December 17, 2013 | |
| | | |
| --- | --- | --- |
| | | General Chinao also visited Youngchae |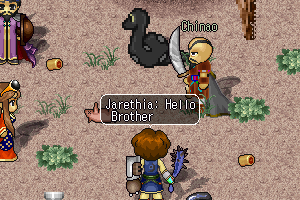 Out of surprise, General
Chinao
of Sonhi appeared at the
Snake Coil
where
Youngchae
resides.
"
So this stupid snake is working for Mupa, heh? I should just cut her head off, but perhaps I should just let her finished what she started
, said the Sonhi General.
Upon hearing that she was giving Black potions as reward, Chinao warned the barbarians there that they should keep the Black potions instead of using or selling since they would become useful sometime soon.
Chinao left by saying he needed to inform
KaKhan
of such discovery. When questioned by Barbarians if KaKhan was alive or dead, he said KaKhan was severely wounded in battle, but was still alive. At a certain point KaKhan did die, but was revived by his brother KaMing. Seems the two Sonhi brothers aren't getting well along again, since General Chinao didn't want Barbarians to let KaMing know of his non-authorized entrance at Koguryo borders.
It is not known if Chinao helped Youngchae hinder Yun's recovery.
Brought to you by,
-,-@ Donjuan
| | |
| --- | --- |
| Monday, December 16, 2013 | |
Another Elder shift, now between Barbarians

Posted by: Vini

--

10:53 PM EST
| | |
| --- | --- |
| Sunday, December 15, 2013 | |
New Muse Elder!

Posted by: Elarra

--

3:58 PM EST
Last night, our friend
Rohnep
stepped down as the Elder for the
Muse Path
in favor of
Vorena
!

Congratulations on the new position! We're sure you'll do your path proud and provide them with the best leadership possible!
-*Elarra Satsuma
-*Keeper of Balance
-*Hyul 60, 9th Moon
| | | |
| --- | --- | --- |
| | | Youngchae's initial walkthrough (Evil side quest) |
It seems that the key words to start
Youngchae
's quest to prevent
Yun
's recovery have been found by
Quoi
. To start the evil side of the quest, go to
Kugnae Snake Cave
3rd room, called
Snake Coil
. There you'll find a black snake which you've never seen before. That's actually
Youngchae
.
1.
Say "
Yun has returned
and it will prompt her to speak with you.
2. In order to stop
HaggardWitch
from recovering Princess Yun's memory, Youngchae requires help to weaken her magical powers.She seems to be doing some sort of voodoo ritual, making dolls against HaggardWitch or Yun.
Here's the list of items she requires to make HaggardWitch's powers impaired:
1 Straw doll (Voodoo doll from Gogoon Imp cave)
5 Bones (Obtained from Black Skeleton cave at Vale or Raheem Desert scorpions)
1 Wicked wool (Obtained from Raheem Desert scorpions)
1 Corrupted cloth (Obtained from Raheem Desert scorpions)
1 Ghostly essence (Obtained from Entombed spirit at Woodlands's dogs Haunted Tunnels)
1 Scorpions stinger (Obtained from Raheem Desert scorpions)
3.
Youngchae now asks for items to hinder Princess Yun's recovery. She actually says that if she grabs enough items she can enhance the curse cast upon Yun and make her memory blank forever after falling in love again.
If you're evil enough to proceed with this nefarious plan, here's what she's asking for you to grab:

1 bottle of Dark Essence (Obtained from Raheem Desert fire scorpions)

1 Magical texts (Obtained from Woodlands Rabbit cave, Golden Defender)

1 Bear brains (Obtained from Woodlands Bear cave, Snow Bear)

1 Boxed ectoplasm (Obtained from Tortured phantom at Woodlands's dogs Haunted Tunnels)

1 Blackened crystal (Obtained via a Gogoon quest in which you need to speak with Ponui, coords 67,140 find Hoanui in Kugnae and give him 5 coconuts, return to Gogoon and give Ponui 20 chestnuts)
4.
After grabbing all the items above, take them to Youngchae and click her. She will take these items from you, and she will give you a
new red legend mark
, a
Black Potion
, and
you'll slightly lose some karma
. Evil deeds give bad karma after all.

If you are wondering what happens if you choose the option "
No, I'm here to kill you, witch!
" this is what she says: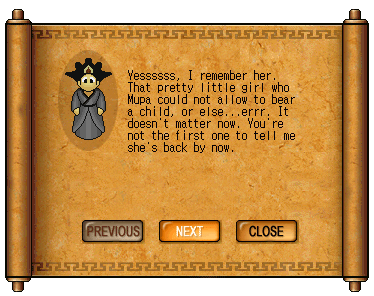 Then after insulting you by calling you a spy for M'hul, she kicks you from the cave and sends you back home, which in my case was straight to Rangers circle.
Brought to you by,
-,-@ Donjuan
| | |
| --- | --- |
| Saturday, December 14, 2013 | |
Yun's Memory Complete Walkthrough (Good side quest)

Posted by: Elarra

--

5:34 PM EST
Hello! I'm the newest reporter of Nexus Atlas and with my first news post I bring you information about two new quests which might decide the fate of Princess Yun. Here's a copy of Whispering Winds post about it:
The Curse cast upon Yun

Upon hearing about the curse set upon Princess Yun, King M'hul called for the aid of an old friend who is known to have enough powers to match Mupa's.

HaggardWitch answered his call and knows the solution to break the curse, but no quest of love was ever easy. HaggardWitch needs your help to recover Yun's memory!

Be quick to help HaggardWitch recover Yun's memory, rumors are that a vile snake plans to hinder her efforts.
The
HaggardWitch
is standing near the garden at
Kugnae Palace Courtyard
. While Youngchae is at
Kugnae Snake cave
, in a room called
Snake coil
. It seems both walkthrough has been completed, but the only walkthrough known so far by people is the HaggardWitch side. Just 1 person helped
Youngchae
so far.


---
Here's HaggardWitch walkthrough:
1. Travel to the Koguryo Palace (111, 122). In the courtyard will be the
HaggardWitch.
2. Say 'Yun'. HaggardWitch will ask for 5 items:

1 Magical Parchment (Obtained in the Woodlands Rabbit Cave)
1 Magical Dust (Dropped by Mythic Pig boss)
1 Tao stone (Dropped by Rooster Sentry in Mythic Rooster)
1 Sacred oil (Dropped by the Sandy skeleton in Raheem desert)
1 Indigo potion (Can be purchased at potion shop)

3. Once you have gathered these items, return to HaggardWitch and say 'Yun' again. She'll take your items and thank you, but the quest is not over yet.
4. Now click on HaggardWitch. She will ask for 5 more items:
1 Brassica (Obtained in Tangun. Brassica does NOT need to and can NOT be cooked.)
1 Rose of Sharon (Pink mugungwha - Obtained in Tangun)
1 Focusing Water (Dropped by the Sandy skeleton in Raheem desert)
1 Gingerroot (Obtained in Gogoon)
1 Young ginseng (Obtained during Chu Rua quest)
(Hint: Many have had to create a new character to get the Young Ginseng. No other way of getting the Young Ginseng is known yet, but we are working on it!)
5. Once gathered, return once more to HaggardWith. She will take these items from you, and she will give you a
new legend mark
, a new item called
Koguryo's Gratitude
, and a
slight rise in karma
.

It is unknown what Koguryo's Gratitude does.

If you're curious, this is what HaggardWitch says if you deny helping her:
It's unknown how long you have to wait after choosing this option, but it's about 10-20 minutes.
Special thanks to TheRighteous for the walkthrough information!
-*Elarra Satsuma
-*Keeper of Balance
-*Hyul 60, 8th Moon
| | |
| --- | --- |
| Friday, December 13, 2013 | |
Goeyu explained the curse cast upon Yun's memory

Posted by: Vini

--

9:18 PM EST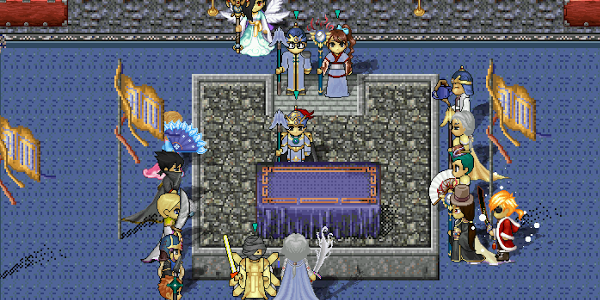 King
M'hul
and Goeyu met to talk further about the happening with Yun/Yeon. According to Goeyu, Yun was cursed by Mupa and loses her memory every time someone falls in love with her. The King asked for the help of HaggardWitch to break such curse.
---
Here's a detailed explanation of what happened during MuHyul's meeting with Goeyu as written by
Elarra
, our newest news reporter:
After the attack from
KaMing
and his soldiers, King
Mhul
and
Goeyu
retreated to the Kugnae palace throne room. It was there that Goeyu revealed that
Yeon
was, indeed,
Yun
. He had been harboring her for years from the eyes of
Mupa
and
Wiyae
. Mupa has casted a terrible curse on Yun, which whenever Yun falls in love, she loses her memory. King Mhul instructed KRA's Colonel Elarra to retrieve Yeon from her chambers as the discussion continued. Upon seeing Goeyu, Yeon did not recognize him. After some out loud thinking between Elarra and Intel Commander Reon of the BIA, Colonel Elarra realized that
Yeon had fallen in love with Goeyu
as he was saving her from Aprok Village murders, which is why she didn't remember him.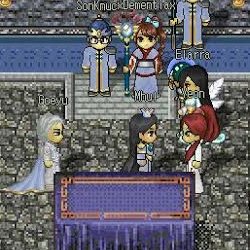 Upon further deliberation between King Mhul and Goeyu, the White Tiger warrior explained he was ordered to take care of Yeon a long time ago by his master
JiYun
. To keep Yun's identity a secret, Goeyu changed her name to Yeon so it would be easier to travel from place to place.
For now, King Mhul is more concerned about retrieving Princess Yun's memory. Princess Yun will remain in her chambers. Goeyu will remain nearby as a personal guard for Yeon as well. King Mhul asked KRA's General xDementiax to send word to the HaggardWitch that her assistance would be needed in curing Yeon's recurring amnesia.
Here's also a copy of the Whispering Winds post explaining the events of last night:

The lost Princess Yun is no longer lost, but her memory is. Goeyu, her faithful long lasting guardian, has reencountered her at Kugnae Palace and finally met with King M'hul. The white tiger warrior, as Goeyu is known, revealed the truth behind Aprok's Village murders. It was the work of two sorcerers and an assassin who mass murdered the entire villager after they found Goeyu was hiding Yun as a commoner in Aprok Village, calling her "Yeon".

The mystery of Yun's lost memory was also revealed, it's a curse set by Mupa upon the princess to make her lose her memory every time she falls in love.

Upon hearing the truth of who killed Aprok villagers, KaMing had no choice but to withdraw his forces from battle. The war with Sonhi might be over, but the conflicts are not.
Special thanks to Elarra, Maya, Mazel and few others for providing information and screenshots.
~Vini Normad'or~
~Hyul 60, Moon 8~
---
The Truth behind Aprok villagers murders

Posted by: Vini

--

9:15 AM EST
It seems the war between
Koguryo
and
Sonhi
is over. During a huge attack by
KaMing
and
Chinao
to Kugnae, the strange man called
Goeyu
has returned and revealed the truth behind the murders at Aprok Village: It was
Wiyae
and
Itsuwari
who burnt the houses and
Hawkmori
who assassinated the chieftain. They did this trying to find and kill Princess
Yun
, at orders of
Mupa
. Upon hearing the truth, KaMing had no choice but retreat and withdraw his army.
---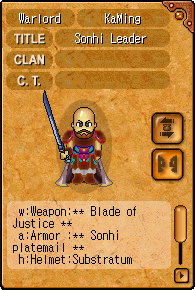 Find out all what happened last night by reading this complied report with help of many citizens who were present during last night's events:
Yesterday evening, the Sonhi troops have raided Kugnae for the last time during the Sonhi vs. Koguryo war. KaMing, the leader of Sonhi world shouted the orders to all Sonhi soldiers to prepare for battle and General Chinao coordinated the troops for invasion of Kugnae. The attacks began slowly, with Sonhi scouts arriving in short numbers from the north gate and south gates. It didn't take long until the Sonhi leaders crossed the Wilderness into north gate Kugnae riding their horses and roamed towards the Palace.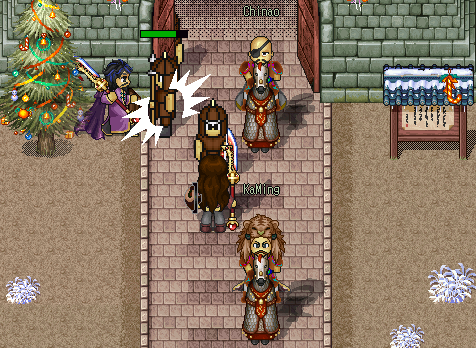 Upon reaching the stairs outside the palace, KaMing and Chinao were confronted by King M'hul and General xDementiax. After exchanging some harsh words, the battles began. KaMing and Chinao summoned hundreds of Sonhi soldiers in a massive attack against Koguryo Royal Palace areas. This so far was the largest strike against a kingdom since the war began, the battle took hours and hours and several deaths from both sides happened.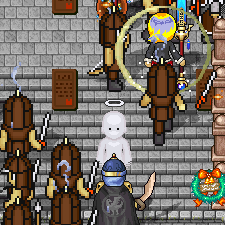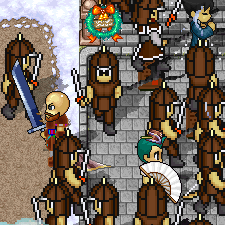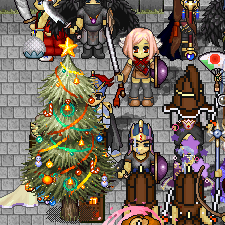 The amount of Sonhi soldiers kept whole community exhausted and at a certain point it looked like Sonhi were winning. While King M'hul was still fighting Sonhi soldiers summoned by General Chinao, KaMing rushed into the palace with some soldiers which kept the guards while he roamed for the throne room. Once there, KaMing tried to claim victory over Koguryo, but shortly after King M'hul arrived. KaMing made fun that Koguryo throne room didn't actually have a throne and mocked their defenses. Furious at the insults voiced by the Sonhi leader, King MuHyul expelled KaMing from his palace by force. Once outside, while the numbers of Sonhi soldiers had dwindled, the tension between KaMing and King M'hul grew stronger. "
Let's solve this like man, one vs one
" threatened the Sonhi leader. "
Bring it on!
" replied M'hul with vigor.
Yet, when community was about to witness one of the most promising battles, Mhul vs KaMing, an old mysterious face returned. It was
Goeyu
, the White Tiger Warrior, who was last seen around Hyul 36-37 ((Nov. 2010 and Jan. 2011)), yet seems to have witnessed the Imperial Coronation at Hyul 51 ((Oct. 2012)). Goeyu asked both sides to stop fighting and listen to him as he knew what truly happened at Aprok Village, as he was there.
Goeyu explained that for years he lived as the guardian of Yun, due to her lost memories, to protect her from being found by Mupa's followers. They had lived in various places such as Jinhan, Shilla, Han and were living at Aprok Village for many years, using her alias "Yeon", instead of "Yun", to avoid attention of unwanted people. According to Goeyu, the murders at Aprok village were the vile work of
Wiyae
,
Itsuwari
and
Hawkmori
, who killed the Chieftain and stuck the KRA spear in his belly. "
So you lived at that Abandoned Cave, heh. That putrid place could only be inhabited by a friend of Koguryo
", said General Chinao.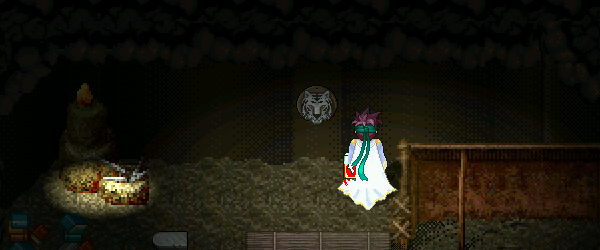 At first Chinao didn't seem to believe Goeyu's story. "
That's a lie. Don't try to fool us to protect Koguryo
", said the Sonhi General. KaMing on other hand was listening carefully and seemed to believe him after hearing a world shout by
Wiyae
. "
We should have killed you when we had the chance
", shouted Wiyae. Upon hearing the truth behind Aprok's Village, King M'hul was blunt in his words to KaMing, calling him an idiot for not listening to the King's allegations of innocence. He then warned that Koguryo and Sonhi seem to have common enemies now. The Sonhi Leader understood then that there was no point in continuing the war. KaMing called his forces back to Encampment and withdrew from Koguryo "
We will hunt this Wiyae's head and place it at a pike
", he said.
Upon leaving Kugnae after KaMing did, General Chinao gave another warning to King M'hul and citizens which were around: "
KaMing might have withdrawn his forces from war, but the conflicts between Sonhi and Koguryo are far from being over
".
Hours after the battle, the possibility of returning to the Forbidden Route became non-available as the Sonhi Sergeant, the Sonhi Lieutenant and the Sonhi Colonel left the encampment, but seems General Chinao still left few soldiers patrolling the Encampment. After the battle ended, King M'hul invited Goeyu into the palace throne room where they could talk more about Yun.
Special thanks to Maya, Elarra, Donjuan, Mazel and few others who didn't want their names disclosed for RP reasons. You know who you are!
~Vini Normad'or~
~Hyul 60, Moon 8~
| | |
| --- | --- |
| Thursday, December 12, 2013 | |
| | | |
| --- | --- | --- |
| | | Princess Yun has returned, but she doesn't remember anything |
Bombastic news echoed from Kugnae Palace tonight as King
M'hul
world shouted an announcement which makes every Koguryo citizen proud and hopeful.
"
as informed at Chronicles of Winds, I'm happy to announce the return of Yun.
".
For those who don't remember Princess Yun, she was betrothed to "Prince M'hul" when they were really young. Her sudden vanish was never explained and sadly won't be explained anytime soon, since according to M'hul she seems to be suffering a serious memory loss.
Citizens of Koguryo,
It's with great joy that I would like to announce the return of Princess Yun to Koguryo. After years of her disappearance and several search missions, she was finally found roaming around Tangun and later at South Buya. Unfortunately it seems that she's suffering a severe memory problem. She had no idea who she was or who I was. She thinks her name is Yeon and doesn't remember anything prior to her arrival at Tangun. According to the soldiers of Buya who rescued her, the only thing she knew was her name because it was engraved "Yeon" at a broken helmet she was wearing.

For now Yun is being kept safe at Kugnae Palace and while we try to make herself comfortable at her true home, I'm also seeking aid of anyone who may help recover her memory.

Signed,
MuHyul
---
Are you curious about how Yeon/Yun has been found?
General Tradita of Buya Army was kind enough to give Nexus Atlas exclusive and detailed information about the whole top secret operations which have been going on during the past week which kept her discovery and arrival safe from community's knowledge and especially from Sonhi, during the war.

Below is a complied report by Buya Army Intelligence, adapted for Nexus Atlas readers:

The first sighting of Yeon was about a week ago at south gate Buya, when diviner Ushallfeerme noticed a strange woman roaming around which was no "commoner". Being a member of IMB, Ushallfeerme, quickly world shouted asking for Imperial soldiers to contact him as soon as possible, and so they did.

Field Major Apheriun and Intel Pvt. Lysa went to Yunsil tavern to meet with Ushallfeerme. Upon noticing Yeon could actually be Yun, Buya soldiers were very surprised, but soon they learned she had no memory of her past.

Here's a copy of the debrief by Buya Army with Ushallfeerme and what he learned from Yeon before BIA soldiers arrived:
1. The only thing she can remember is waking up at a strange place she didn't recall. She was helped by Yanchae, the merchant who lives near alligators at Tangun.
2. Yanchae took care of her for a few days and when Yeon finally recovered she told Yeon to go to Koguryo.
3. After crossing Tangun and wilderness, instead of arriving at Koguryo, she actually arrived at south gate Buya where Ushallfeerme found her. According to him she was soaked and needed to find shelter from the rain.
4. Once BIA arrived at Yunsil she changed her white wet clothes to dry green clothes provided them them.


Yeon was escorted by Apheriun, Provoce and Lysa to Buya Palace, where they met with Minister Sheilala. While chatting with Yeon, Buya soldiers realized she didn't know what Buya is, or what Tangun is, or what Koguryo is. The names of King M'hul and Queen Lasahn didn't ring any bell and at first hearing "King" and "Queen" she assumed they were married. Yeon explained to the soldiers that she only knew her name because she had a broken white helmet that was bonded to her. According to Yeon, the helmet resembled an animal, which was probably Baekho since she wears Baekho circlet at head.

After much talking and attempts to keep her calm and feel safe with BIA's soldiers, the Minister, the Major and others decided that she should remain within the barracks for a while until the decision of how to escort her to Koguryo would proceed.



Yeon slept through the weekend at Buya barracks, but last Tuesday their continued vigilance over the rumored Princess of Koguryo was almost put at risk when she accidentally slipped down a warp leading from BIA Barracks to Sanhae village.

Upon the sudden change of plans by finding Yeon unprotected at Sanhae, BIA soldiers then contacted KRA soldiers and began the escorting negotiations to lead her to Koguryo.
Upon arriving at Kugnae Palace, King M'hul swiftly recognized Yeon as being Yun. The problem was that Yeon didn't recognize Mhul at all. After much talk and much confusion due to her lost memories, the King finally got her to understand she was once a Princess and betrothed to "Prince M'hul". She seemed hesitant, and worried, but people around gave her encouragement and advised the King to treat her gently so she had time to adjust. Yeon was then given access to Palace private rooms, where she remains as a guest.

Brought to you by,
-,-@ Donjuan
*Edited by Vini
| | | |
| --- | --- | --- |
| | | New Forsaken Primogen |
Few moments ago, Primogeness
Belladonna
of Forsaken clan announced she was stepping down from her position and has chosen
Sengsu
to replace her.
Brought to you by,
-,-@ Donjuan
| | |
| --- | --- |
| Wednesday, December 11, 2013 | |
The Sonhi Appear in Kugnae!

Posted by: Nalyd

--

12:41 AM EST
Just moments ago people had begun to realize that the Sonhi are attacking Kugnae once again, and in much larger numbers.
KaMing is coming back into the lands hard this time, swarming Vale yesterday and now Kugnae today.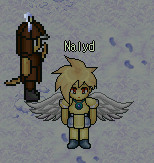 What are his plans and is he going to keep these going?
(Special thanks to Elarra and staff member Rachel for alerting me of the situation.)
| | |
| --- | --- |
| Tuesday, December 10, 2013 | |
Happy Birthday Vini!

Posted by: Nalyd

--

2:18 AM EST
On behalf of the NexusAtlas staff I would like to wish a Happy Birthday to one of the longest serving NexusAtlas members, Vini!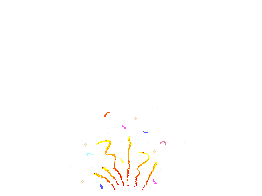 Thank you for your 10+ years of faithful service to the betterment of NexusAtlas and the providing of information to the community, and uncounted years working for NexusNetwork! Your activity in NexusAtlas has been a large part of why NexusAtlas is what it is today!
| | | |
| --- | --- | --- |
| | | Sonhi is trying to take over Vale |
Few moments ago, Sonhi soldiers started marching from KaMing's Encampment through Sonhi Valley and into Vale. Some of them even managed to cross Buya Valley and reached Buya west gate where they began to attack civilians.
Armies of Buya and Koguryo united forces to fight the common enemy, with help of some Nagnang soldiers. On the other hand, Sonhi has the assistance of Barbarians who fight their way in Vale to protect the allied tribe.
The number of Sonhi soldiers attacking is tremendous, so far might be the largest strike against a kingdom since the war began. Some Sonhi archers were even caught trying to reach Buya Palace, but were slain during their attempts.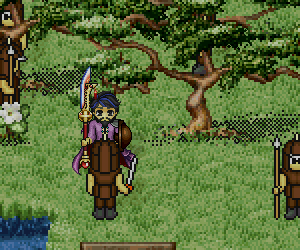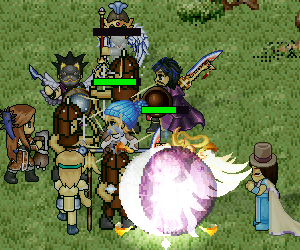 It is esteemed that over 300 Sonhi soldiers attacked and are continuing to attack Vale. The numbers of deaths are uncountable.
Also, it seems a Sonhi camp was found at southwest Vale.
This seem to be the place they're gathering: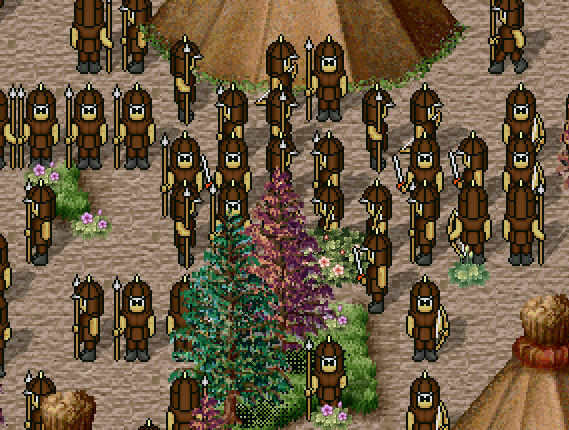 Be careful when fighting these soldiers, they're quite deadly no matter how much vita you have. They also do not seem to die to vita attacks, so coordinated efforts of everyone within community is the only way to stop them.
Brought to you by,
-,-@ Donjuan
| | | |
| --- | --- | --- |
| | | Winter Immortal's Bounty Contest |
As posted by Archon Alilolelotte on community board, there is a new Contest posted at Immortals' Bounty Board which she hopes many of us will enter!
Snow has begun to fall upon the kingdoms, and that means only one thing!

Santa Mhul is almost here!

Write a letter to Santa Mhul!
Tell him about your biggest lesson of this year!

Entries will be judged based on
creativity, poignancy and flair!


Send all entries:
to ImmBount by 15th of December, 7 PM PST


Do not send entries:
to Mhul! He is busy gathering gifts
and will not be able to read them yet.


Rules:
1. Do not include names of players in your entry. If you sign your letter to Santa Mhul, do not use your real name ("Snowball Lover" would be ok but "Maiyu" would not).
2. Do not plagiarize or otherwise submit work that is not entirely your own.


Winners to be announced by 19th of December, just in time for
Santa Mhul!


And now, the fabulous Prizes:

The winners of this contest will be welcome to join one of the Royals in their Royal booth make sure that nobody makes it through without a snowball in the face! That, and a holiday Kruna package of your choice! ((Note that if you throw snowballs, we will make sure that all of your alternate characters receive their Santa Mhul gifts.))
Good luck to everyone who enters the contest!
Brought to you by,
-,-@ Donjuan
| | |
| --- | --- |
| Saturday, December 7, 2013 | |
Headpieces CAN be upgraded

Posted by: Vini

--

11:27 PM EST
After learning about the possibility of upgrading the Combat/Steel headpieces, several members of community began their searches for NPCs who could help with this option. People like BagofChips, Phantaria, BloodOfThor and few others were able to find out the following information:
If you say "Steel headpiece" to Gan he explains: "I think that is not a finished product. You need to exchange it".


If you say "Combat headpiece" to Gan he reveals: "That is a fine headpiece! But I think you can make it better".


If you say "Combat headpiece" to Taik Pae he responds with: "If you have money and jewelry you can upgrade it".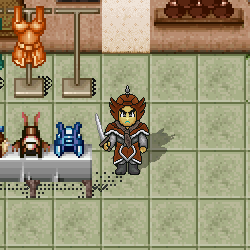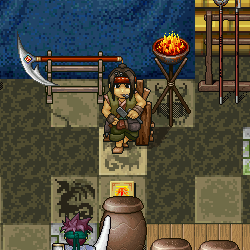 Continue posting your findings or your efforts like Huntyr did. Soon the joint efforts of caring people will be paid off with the upgrade helmet(s).

~Vini Normad'or~
~Hyul 60, Moon 6~
Supreme Headpiece

Posted by: Vini

--

2:04 AM EST
Last night at Koguryo Clan Tribunal, the biweekly meeting between the kingdom leaders (King, Minister, General, Primogens), a lot was discussed about the war with Sonhi, in which should remain to the knowledge of those who participated in it. Yet, a very distincted piece of helmet called the attention of everyone present as King M'hul was wearing his combat coat and an unique helmet called "Supreme Steel Headpiece".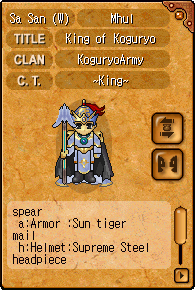 Since our Combat headpieces are now called "Steel Headpiece", people present there had reasons to believe M'huls version was some sort of upgrade to the regular ones we obtained from the quest.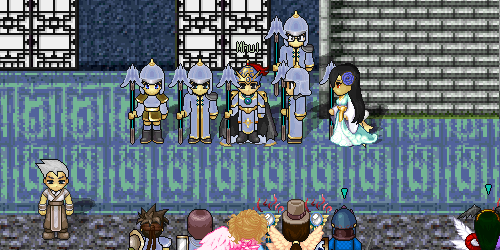 According to King M'hul he obtained such helm directly from the Sonhi supply intercepted by KRA. The King doesn't know if we can upgrade ours or how to obtain something similar like this, but warned us that there weren't just two versions of headpieces at the Sonhi cargo and he chose to wear the best one found.
The mystery of how to forge/obtain a Supreme Steel/Combat Headpiece is now our aim to figure out as soon as possible.
If you have any clues or answers contact a Nexus Atlas Reporter.
~Vini Normad'or~
~Hyul 60, Moon 6~
| | |
| --- | --- |
| Thursday, December 5, 2013 | |
Sonhi War and the Diary Pages

Posted by: Guldar

--

12:13 AM EST
A post by Rekhan at community board reveals that
Sonhi box
can be traded for any Woodlands diary quest tier 1 items, not just the Plate of Metal as we reported before. To do so, take a Sonhi box in your inventory to Sying's Shop at KaMing's Encampment and say "
Sonhi box
". Sying will be surpised you have one and ask if you would give it to him. Choose "
Yes, I will give it to you for a trade
".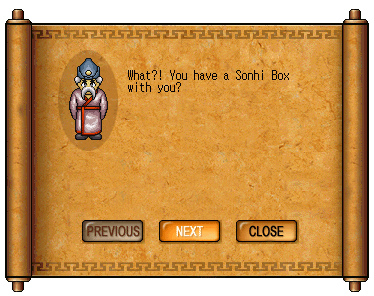 Then he'll take your Sonhi box and randomly reward you with one of these items used as components to Woodlands Diary Quest. Here's a list of the items which can be obtained by trading your Sonhi box.
Focused Fire Amber

Heavy Champion Rune

Lightly stitched shell

Plate of Metal

Snake Skin Mesh
The Polished stone

Tortured Human Soul

Wings of fury



According to Rekhan's post, until today the Sonhi Boxes traded with Sying gave the following items: 2 Plate of metal, 1 Lightly Stitched Shell, 4 Snake skin Mesh, 3 Wings of Fury, 2 Heavy Champion Rune, 3 The Polished Stone, 3 Focused Fire amber and 2 Tortured Human Soul.

Seems like the war against Sonhi just gained another motivation! Grab your group and go kill some Sonhi Commanders.

--Guldar
| | |
| --- | --- |
| Wednesday, December 4, 2013 | |
Winter Snowstorm - Server Reset changes

Posted by: Vini

--

8:49 PM EST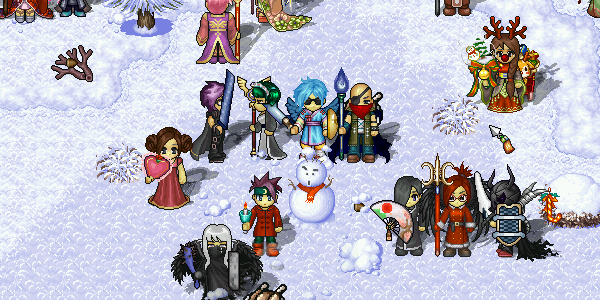 It's winter in Nexus!
After a huge blizzard ((server reset)) which struck all Kingdoms of Winds a while ago, the lands of Koguryo, Buya, Nagnang and Mythic Nexus became covered in white. Some snowmen were created by people playing with the ice.
Along with the snow lands, other changes came to the realm with the latest reset. Here's what else changed according to GM Stein's post at Dream Weavers board:
The event monsters no longer resist immobilization spells

Minor updates for:
- Muse subpath
- Bear clan
- Covenant clan
- Kurimja clan
Seems we'll no longer have close death experiences every time we enter the Sonhi Forbidden Route for event hunting.
Also, seems Lokira has returned to Muses garden and is now considered the 10th Muse Goddess. You can find her at the room called Poetic Justice.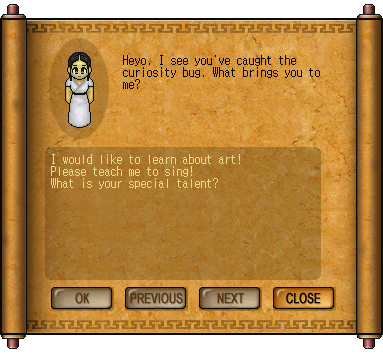 Are you
curious
about what she does with each of these options? Perhaps you should pay her a visit and find it out yourself!
~Vini Normad'or~
~Hyul 60, Moon 6~
---
Sonhi Box has a real purpose!

Posted by: Vini

--

4:00 AM EST
While Navy Admiral Phantaria was leading an expedition at KaMing's Encampment to obtain more information about the purpose of the
Sonhi box
, it seems Tonberry, of Koguryo Royal Army, helped figure out a real usage for such rare event boss drop.
If you go to Sying's Shop, the messenger at KaMing's Encampment, and say "
Sonhi box
", he'll ask "
Sonhi box? What about it?
"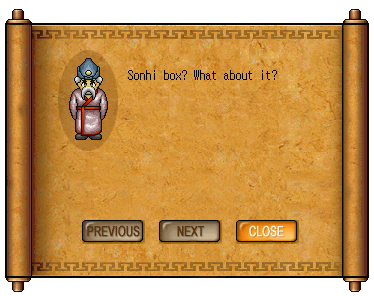 I'm still trying to get ahold of a Sonhi box to obtain more information and screenshots of it, but according to Tonberry, she was able to trade the Sonhi box for a
Plate of Metal
, which is one of the ingredients of woodlands diary quest.

Seems that the "useless" Sonhi box wasn't just a "collectors" item after all and some people already knew about this option for a few days and decided to keep for themselves so Sonhi box prices wouldn't be high.
~Vini Normad'or~
~Hyul 60, Moon 6~
| | |
| --- | --- |
| Tuesday, December 3, 2013 | |
The Broken Hourglass

Posted by: Vini

--

9:58 PM EST
Aprok Village and the vicinities of the Forbidden route area seems to be full of mysteries. The spear stuck at chieftain's body being the most important of them, since it seems to be the key element that caused the Sonhi to declare war against Koguryo.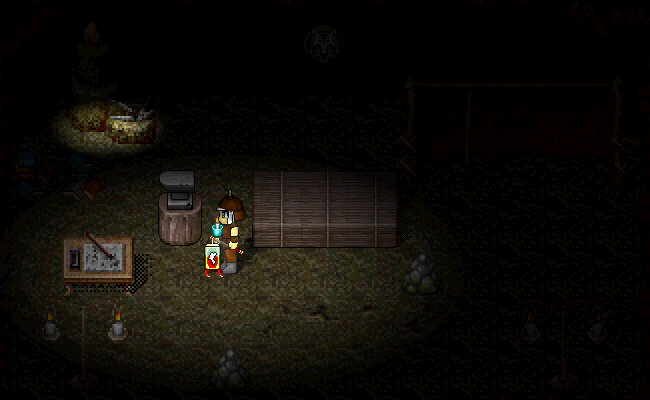 Another curious finding can be at the
Abandoned Cave
which is accessible from the Forgotten Road. If you approach the table (005,007) you can find an expensive
hourglass broken
on the floor.

It's not known what the purpose of such old hourglass was, but seems that the person who lived there, had narrow time and left in a rush. Perhaps this could be one of the first clues we can find about the truth behind
Aprok's village
murders. We of Nexus Atlas will keep investigating this matter, answers are out there.
~Vini Normad'or~
~Hyul 60, Moon 5~
What's West Aprok about?

Posted by: Vini

--

9:13 PM EST

If you visit West Aprok, which as the name says, is west of Aprok village, there's a barrier closing the road and a Guard blocking the way back to "Sonhi".
If you try talking to him he says he has orders from KaMing to not allow anyone to return to Sonhi. He doesn't care if you're wearing sonhi uniform or not, he treats everyone the same. He'll even warn you about what happens to deserters. Seems like General Chinao is keeping their soldiers on a short leash.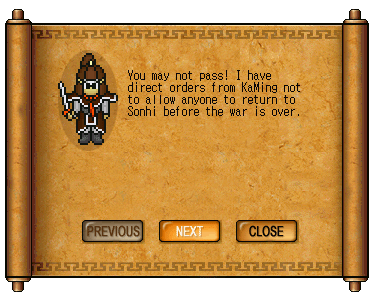 I tried using uniform to convince him of anything, asked him about Sonhi box, but couldn't find anything special. Did anyone try using Sonhi pass to him? After all, Sonhi pass gives unrestricted access to all Sonhi areas by KaMing's order.
~Vini Normad'or~
~Hyul 60, Moon 5~
| | | |
| --- | --- | --- |
| | | Sonhi rare drops - Honor sword, Sonhi box and others |
While fighting against Sonhi soldiers at the Forbidden route battlefield, some rare drops can be obtained, being the most valuable ones so far, the Honor sword and Spring heavy plate and the most intriguing drop, the
Sonhi box
.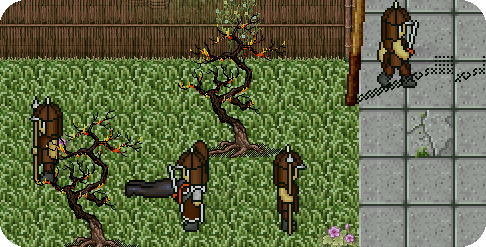 Sonhi patrol's rare drops
:
Might spear

Military fork



Sonhi infantryman's rare drop:

Honor sword



Sonhi Commander's rare drops:

Spring heavy plate

Sonhi box



So far, there has been no use found for this rare boss drop, but some people are paying well for them. According to Merchant Sephiroth, it's just a collector item and according to Rehkan, who posted at community board, the Sonhi box was originally dropped during the Yuri 50 Sonhi Invasions which is non-wieldable and unusable.

Rumors are that Sonhi box and other rares don't drop at cave 1, as none has been obtained from there yet.

Brought to you by,
-,-@ Donjuan
| | | |
| --- | --- | --- |
| | | Who killed the Aprok's Chieftain? |
The call for war came based upon the premise that the Koguryo Royal Army would have slaughtered dozens of Aprok villagers. While, at first King M'hul denied any participation at the Sonhi mass murder and even tried to incline Aprok Village didn't even exist, as the war began it was proven that the crimes against the Sonhi villagers did happen, but the question of who is behind it continues.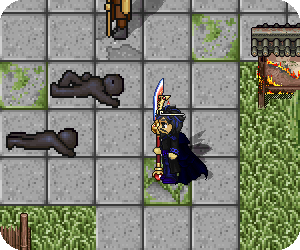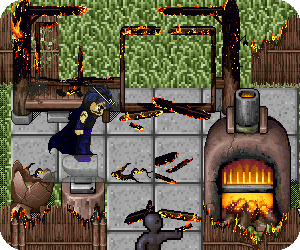 Majority of community seems to believe at the innocence of KRA, as most are allying with Koguryo to defend it against Sonhi attack. So far, the promised evidences that KaMing and Chinao had which could prove it was KRA's doing were never presented. So far, the only substantial sign linking Koguryo army to the murders at Aprok is the chieftain's corpse which can be found inside Aprok Chief House. Those who get close to him can notice a kogurian army spear stuck at the chieftain's belly.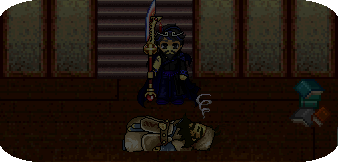 So far no KRA officer was found to comment such findings.
Brought to you by,
-,-@ Donjuan