Past News
Did you miss that important news story? Do you want to read what happened while you were on vacation. Here's where to get that info!
Our news software, Coranto, has a bug which makes it purge links to news articles more than two years old. What is left of programmers who volunteer their time to support this software do not know why this bug occurs. We manually index older news pages in our Archived News section.
| | |
| --- | --- |
| Monday, December 31, 2012 | |
Retrospective 2012

Posted by: Vini

--

2:03 PM EST

Under Construction!
| | |
| --- | --- |
| Sunday, December 30, 2012 | |
Elder Change!

Posted by: Nalyd

--

11:10 PM EST
Just recently Muse Elder Soleil has stepped down and handed her position to Rohnep!
Congratulations to the new Elder and good luck!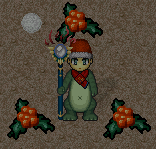 - Nalyd :D
| | |
| --- | --- |
| Friday, December 28, 2012 | |
Wisdom Star and an update!

Posted by: Nalyd

--

9:16 PM EST
As posted on the Dream Weaver by Stein:
"Wisdom star will start on Friday,
December 28th and will last until
Wednesday, January 2nd. The star
seems to have scared away the vortex
bosses, but they should be back when
the star fades."
Also, instead of posting updates through Coranto onto the Main Page, updates will be posted on the
Changelog
. That link is also accessible right above the news.
- Nalyd :)
BONUS Santa Mhul and Incoming Wisdom Star!

Posted by: LilB

--

5:17 AM EST
Hey everyone!
Thanks to the lovely Immortals and the Royals, they are going to host a BONUS Santa Mhul for those who couldn't make the first few days!
It will be tomorrow, Saturday December 29th at 10 AM PST (1 PM EST) and it will last for 2 hours.
Be sure to send some thanks to the Immortals for getting this done for us!
Additionally, there has not been a time set for the Wisdom Star yet this year but we can assume that there will be one thanks to a few sages from Maiyu this evening!

When there's the official dates of the incoming Wisdom Star, we'll let you know.
-B
| | |
| --- | --- |
| Thursday, December 27, 2012 | |
Nexus Atlas Updates

Posted by: Akiudo

--

6:54 PM EST

Hey everyone,

Hope you are all having a fantastic winter holiday. Just wanted to let everyone know that we are looking to improve certain areas of Nexus Atlas and we will need your help so that we can address as many fixes as possible.

Please contact myself or Nalyd by N-mail if you have anything which you think could be of use. Remember everyone needs accurate information when completing quests or acquiring specific information in-game so lets get cracking!

- Akiudo
Nexus Downtime and NA Updates!

Posted by: Nalyd

--

5:30 PM EST
KRU has just replied to me about the downtime that happened earlier this week and it turns out that there was actually an internet outage for not only Nexus but many other servers in the area.
Also Akiudo and I worked together this evening to fix the Taik Pae Quest page. The location has been updated to prevent confusion and another small change has been made.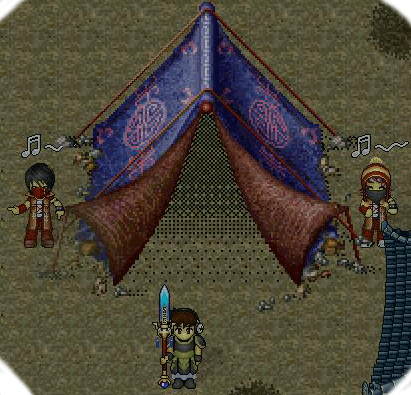 - Nalyd :)
| | |
| --- | --- |
| Tuesday, December 25, 2012 | |
Merry Christmas!

Posted by: Nalyd

--

3:01 AM EST

I won't have any time to post tomorrow so I made sure to post Merry Christmas on December 25th of every time zone in the US, so Merry Christmas!
| | |
| --- | --- |
| Sunday, December 23, 2012 | |
Happy Holidays!

Posted by: Vini

--

8:35 AM EST
| | |
| --- | --- |
| Saturday, December 22, 2012 | |
Requests

Posted by: Nalyd

--

4:25 PM EST
Hello!
Up until January 6 I will not be filling any requests for content editing. Feel free to submit them, but you won't receive a reply or notice a difference until after that date.
I'm still reporting news though! Feel free to report that.
Contact me at
NalydTK@Gmail.com
On an other note..

Happy Holidays!

Secret Santa

Posted by: Loxie

--

6:11 AM EST
There's a new Secret Santa in town! By going to the Kugnae Palace and clicking on the little warrior dude on the steps you will be transported to a magical room of fun and wonder!! Every hour you'll be able to randomly give a gift by walking up to the massive tree just sitting in the lodge. You get to receive one too.
What you receive is random, but there's a chance of getting a candle, an ice fan, or angel wings scepter. Enjoy, and happy giving!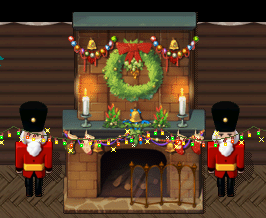 | | |
| --- | --- |
| Friday, December 21, 2012 | |
| | | |
| --- | --- | --- |
| | | Giant Christmas Cats! |
Well, there was a server reset tonight, which brought all of those things we have grown accustom to:
Snow balls, candy canes, Santa suits and dresses, and all of the accessories.
Along with all of those things, however, a new mysterious side effect seems to have taken place!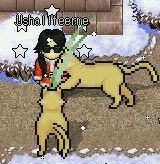 Giant cats! What have these gigantic felines been eating!? Never before, have I seen such enormous
cats walking around town. One must wonder,is there more to this story than meets the eye?
| | |
| --- | --- |
| Thursday, December 20, 2012 | |
THE RACE IS ON!

Posted by: Loxie

--

3:23 PM EST

On your marks..
Get set..
GO GET YOUR GIFTS! Santa Mhul is starting today, and will be open until 4pm PST! Get me something rare! ;)

Lox-n-sox~
Client Patch - 12/20/2012

Posted by: Loxie

--

3:09 PM EST
Client Patch - December 20, 2012
* Santa suits, Snowballs, and Candy Canes are back! You can also wrap gifts for the holidays
* New itemshop items later today
Minor updates for:
- Muse subpath
- Tiger clan
- Alizarin clan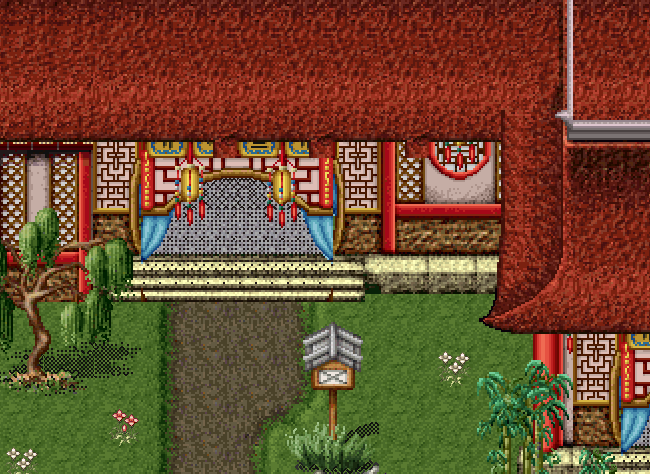 Alizarin Hall changed into Alizarin Haven, an outdoor area which leads to all other rooms of the clan.
| | |
| --- | --- |
| Tuesday, December 18, 2012 | |
New Sansin Primogen

Posted by: Loxie

--

10:03 PM EST

MythicKnight has stepped down as Primogen, making Achileo his successor. Congratulations Achileo, and good luck in your new position. Thank you to MythicKnight for your dedication to your clan.
| | |
| --- | --- |
| Monday, December 17, 2012 | |
| | | |
| --- | --- | --- |
| | | Santa Mhul is this week! |

Get ready to meet with your favorite royal and get a very special gift. King Muhyul, Queen Lasahn and Prince ChaeRi will be back this year with many more fun gifts and give you a special change to win some rares and fun items!

Santa Mhul event happens this week:
+ Dec. 20th: 12 - 4 PM PST
+ Dec. 21st: 7 - 11 PM PST
+ Dec. 22nd: 10AM - 2PM PST

-,-@ Donjuan
| | |
| --- | --- |
| Friday, December 14, 2012 | |
Holidays Riddles

Posted by: Vini

--

9:17 PM EST
It's winter in nexus and it's time for holidays celebrations as well. Recently at Immortal's Bounty board, the Immortal team has announced the arrival of a new event called "
Twelve Days of Christmas
".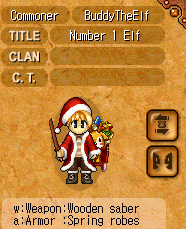 Starting today until December 26th (twelve days) citizens are being presented with riddle clues posted at Immortal's bounty which lead to the secret location of where the elves have been hiding. To each people who finds the elf and brings her a cup of
Tea
, a "Santa's token" is granted.

But there's a catch! The Elven portal is only open for about 25 minutes, twice a day, check the board daily to find which hours they shall open.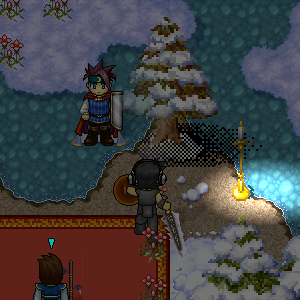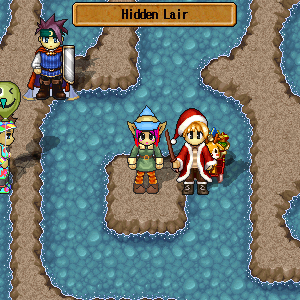 To each elf you find, you collect a "Santa's Token" which you have to exchange or parcel to BuddyTheElf. The more tokens you collect, more chances you have at winning the grand prize. Twelve Prizes will be sent out on the 25th to the top 12 winners.
~Vini Normad'or~
~Hyul 52, Moon 9~
| | |
| --- | --- |
| Monday, December 10, 2012 | |
| | | |
| --- | --- | --- |
| | | Restoring Nagnang Palace |
As of recently, Primarch Severyn of Covenant clan began a campaign to restore and rebuild the Nagnang Palace to its former glory. Motivated by Severyn's initiative, several citizens of Nagnang began working on cleaning the ruins of Nagnang Palace, supported by the Ascendant Regiment of Nagnang Army (ARN) and Covenant Clan.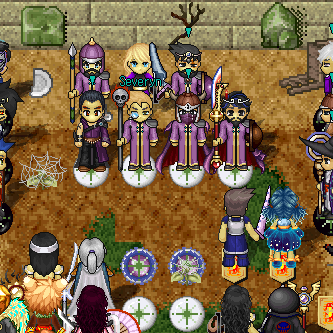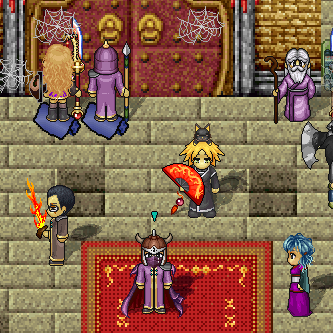 Questioned about his motives to being such campaign, Severyn answered that he felt that it was an important move to restore the pride of a nation still staggering after the death of the Prince. "
itís depressing to come to Nagnang clan tribunals and see how everything is now. Shows that the kingdom still hasnít recovered from what happened
" - said the councilor.
The citizensí work at the palace is far from over, but it's a good boost of morale to see Nagnang trying to move on from one of its saddest moments of history.
-,-@ Donjuan
Buyan Imperial Ministry

Posted by: Nalyd

--

10:57 PM EST

The Imperial Ministry of Buya is seeking new members!
- Must be a citizen of Buya for atleast ((1 IRL Month))
- Must have a clean criminal record (No red jail brands)
- Must be aware of Buya's history
- Must be able to attend Ministry meetings and events
- (( Must roleplay. This is a ROLEPLAY position. ))

Current Open Positions:

Council of Advisors: Administrative Advisors
Economic Advisors
Political Advisors
Council of Defense: Tacticians
Strategists
Council of Society: Culturists

SEND ALL APPLICATIONS TO SoulGuard

[ CUT HERE ]
o--------------------------------------------------------o

Name:
Path:
Clan:
Insight:
Birthdate:

Which position(s) of the Imperial Ministry are you
interested in, and why? Options can be found above.


Please explain a bit about yourself, and your
aspirations as a Ministry member.


Why are you interested in the Imperial Ministry?

*SANTA MHUL!* and Server Reset - December 7, 2012

Posted by: Guldar

--

9:49 PM EST

* Santa Mhul dates and times! Santa Mhul will be back this year for everyone to enjoy on:
+ Dec. 20th: 12 - 4 PM PST
+ Dec. 21st: 7 - 11 PM PST
+ Dec. 22nd: 10AM - 2PM PST

* Snow has returned and dusted the kingdoms

Minor updates for:
- Barbarian subpath
- Ranger subpath
- Druid subpath
- Merchant subpath
- Spy subpath
- Muse subpath

--Guldar
--The Ursine Ronin
| | |
| --- | --- |
| Thursday, December 6, 2012 | |
New Reporter!

Posted by: Nalyd

--

11:03 PM EST
Hello! I will also be acting as a reporter from this point on. My news will be more related to Buya as that's where I'm usually at but I will try my best to catch a bit of news from every Kingdom. If you have anything to report just whisper, email, or nmail me. Also I am still looking for misinformation in the pages, if you find any please nmail or
email
me.
:D
- Nalyd
Nexus free to play?!

Posted by: Loxie

--

2:28 PM EST
Unfortunately, no, it's not happening, but there was been a raging spam on how to save NexusTk, and it turned into a (haha) petition and argument on the Dreams Board. This amuses and interests me, so I'm curious - Would going free to play solve the Nexus crisis, or would it make absolutely no difference?
In my opinion, Scruffy had the best point on the subject: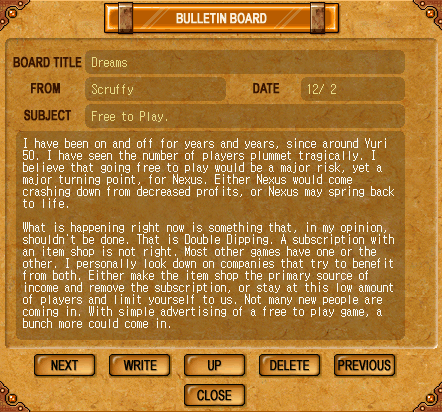 Personally, I'm not sure if going free to play would really affect the community much. There will always be people who register, and as long as the money is coming in I have no doubt Kru will keep kicking the horse.
What matters most, of course, is putting in the effort and passion to make the game something worth playing.
| | |
| --- | --- |
| Tuesday, December 4, 2012 | |
New Primogen of Enigma

Posted by: Loxie

--

12:41 AM EST

Congratulations to Ecnor on Primogen of Enigma. His predecessor, FalenAngel, stepped down today.

(Note: Corrected misspelling of Ecnor's name, courtesy of unofficial NA post police Foxfire!)
Small changes

Posted by: Nalyd

--

7:41 PM EST
Small little changelog for y'all. Thank you for submitting information. :D
December 3
- Fate's Blade no longer listed as BOD

- Sa San Seyn Spell is re-learnable for 500,000 coins
- Nalyd :D
All I want for Christmas.. IS MORE.. Foxtraps!

Posted by: Loxie

--

8:48 PM EST

(I have been informed that there is no bloodshed in foxhunts.. So the title of this post has been changed..)

The Carnage of Champions, Fox Hunt of Champions, and Elixir War of Champions tournaments are coming back for Christmas and New Years!

------

Fox Hunt of Champions

December 9th, 8 pm et

Come compete for the Fox Hunt Champion title!

* (6) Players per team (you make your own team!)

Teams will compete in a single elimination ladder style competition and in a round robin format if necessary.

Each member of the winning team will receive the new Fox Hunt Champion branding!

All matches will be played best 2/3

All regular Fox Hunt rules apply.