Past News
Did you miss that important news story? Do you want to read what happened while you were on vacation. Here's where to get that info!
Our news software, Coranto, has a bug which makes it purge links to news articles more than two years old. What is left of programmers who volunteer their time to support this software do not know why this bug occurs. We manually index older news pages in our Archived News section.
| | |
| --- | --- |
| Saturday, November 30, 2013 | |
Sonhi Pass is better than Chinao Pass

Posted by: Vini

--

9:08 PM EST
TygraStarr found out that there's no "KaMing pass", but instead people can use the
Sonhi pass
, item which you obtain during The Wind armor quest. "Pick up Armor", remember? While Chinao pass is a 1 time use item, Sonhi pass gives you unlimited entry to the Forbidden route area. If you use the item you'll be able to read the message each gives: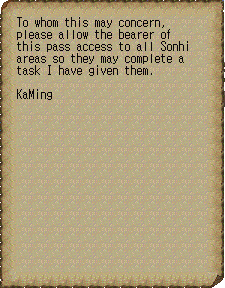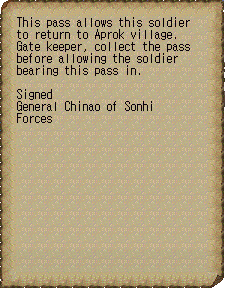 When using the Sonhi pass for the quest instead of Chinao pass, even the Sonhi Lieutenant gets surprised you have such a pass writen by KaMing.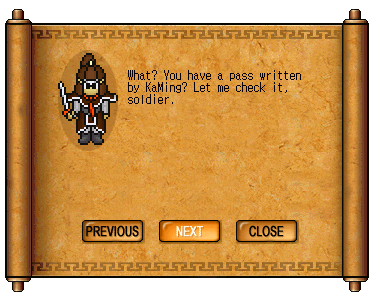 Sounds like some people won't need to collect several Chinao passes to hunt at the event area.
~Vini Normad'or~
~Hyul 60, Moon 5~
| | |
| --- | --- |
| Friday, November 29, 2013 | |
Sonhi Event Walkthrough - Completed!

Posted by: Vini

--

12:14 AM EST
Side with Koguryo or Side with Sonhi?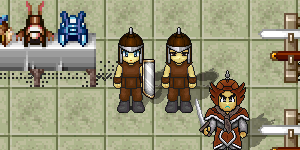 After creating the Sonhi armor(dress) and sonhi helm(et), purchase a Long spear from Gan and go talk to the Sonhi Sergeant at southern part of KaMing's Encampment.
When Sergeant asks why you need to choose that route, trick him and claim General Chinao asked to fetch food supplies.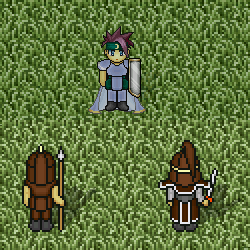 After then, talk to the Sonhi Lieutenant, who explains he cannot let you through unless you have explicit permission from General Chinao or KaMing himself. Wait? Did he say KaMing?
For now people figured out that they can obtain
Chinao Pass
which are dropped by the sonhi soldiers at the Encampment and when they attack Kugnae, but none has found any "KaMing Pass" yet.

Once you grab Chinao Pass, the Sonhi Lieutenant will let you cross to the Forbidden Route, which a leveled area (1-10). Once there you'll get the first legend mark for the event:

---
The Sonhi Route has 8 new rooms: Forbidden Route, Forgotten Road, Abandoned Cave, Sonhi Gorge, Aprok Village, West Aprok, Aprok's Tavern and Aprok's Chief House.
By walking around Aprok village you can obtain Small ripped map

By walking at Aprok's Tavern you can obtain Small ripped page

By walking around Aprok's Chief House you can obtain Small ripped sketch



At the event area four types of creatures, all leveled, can be found: Sonhi Scout, Sonhi Patrol, Sonhi Infantryman and Sonhi Commander (boss).







Scout drops large ripped page

or middle strategy chart


Patrol drops large ripped map

or left strategy chart


Infantryman drops large ripped sketch
or right strategy chart


Commander drops Spring heavy plate.

Choose your side:
You can either choose to help defend Koguryo against Sonhi, or can help Sonhi attack Koguryo.
To help Koguryo you'll need a Sonhi assault map and to assist Sonhi you'll need Koguryo Strategy Chart.
To help Koguryo, use creation system (shift+i) and add the following items:
Small ripped page, Small ripped map, Small ripper sketch, Large ripped page, Large ripped map, Large ripped sketch and a Paper glue.
Sonhi Assault Map

To help Sonhi, use creation system (shift+i) and add the following items:
Left strategy part, Middle strategy part, Right strategy part and Paper glue.
Koguryo Strategy Chart


To obtain Paper glue you should buy one for 10k at Sying's Shop at KaMing's Encampment.



To finish quest siding with Koguryo:
Take your Sonhi Assault map to Kugnae Palace and speak to the Koguryo Commander there. Be sure to not be wearing Sonhi uniform (Helm + armor + spear) or else he won't speak with you.

When he asks if he count with your help choose Yes, I will aid the best way I can.

He'll tell you they were able to intercept some of Sonhi supply armory and gives you a "Combat Headpiece".

You also get a new legend mark:





To finish quest siding with Sonhi:
Take your Koguryo Strategy Chart to KaMing's Encampment and search for a room called "Kaming" west of the entrance which wasn't available before. Once inside you'll find the Sonhi Colonel.
Be sure to be wearing the Sonhi uniform (Helm + armor + spear) or else he won't speak with you.
Just like Gan and Sya, the Sonhi Colonel doesn't seem to like General Chinao much, but upon receiving the complete chart he'll reward you with a "Combat Headpiece".

You also get a new legend mark: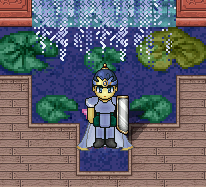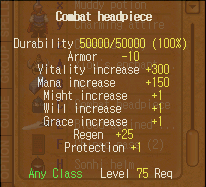 It is not known if there's more to the event yet, keep checking Nexus Atlas daily or twice a day!

~Vini Normad'or~
~Hyul 60, Moon 4~
| | |
| --- | --- |
| Thursday, November 28, 2013 | |
Happy Thanksgiving!

Posted by: Nalyd

--

3:25 PM EST
On behalf of the Nexus Atlas staff I'd like to wish all of you a Happy Thanksgiving! Enjoy the one day of the year you stuff yourselves with all sorts of foods while enjoying the day with your family!
Also enjoy the new Pilgrim coats from Kruna Item Shop: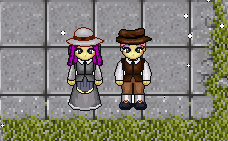 How to create bottle of Sonhi dye

Posted by: Vini

--

1:34 AM EST
Tonkz has found out that to produce the 'sonhi dye' you must go see Tower at
Kugnae Arena
and say "
Sonhi dye
".
Tower asks asks for 5 rose petals, a brown potion, and a piece of Deadly earth. You can make as many as you want, but cannot drop or exchange the Sonhi dye. You'll need two Sonhi dye, so bring 10 rose petals, 2 brown potions and buy two deadly earth at the arena shop.

Beware the "Sonhi dye" is an ingredient to create Sonhi armor and Sonhi helm. It cannot be used like a wooden potion to obtain Barbarian's dye.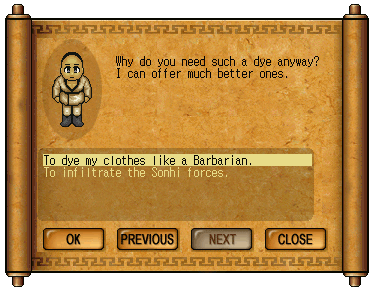 ~Vini Normad'or~
~Hyul 60, Moon 4~
---
Sonhi Event Walkthrough - First steps

Posted by: Vini

--

1:03 AM EST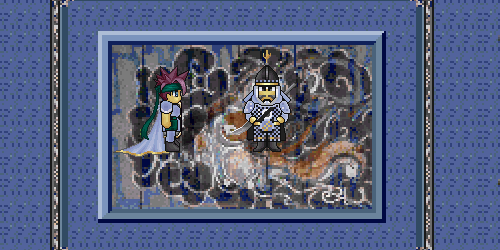 To start, go to Kugnae Palace and speak with Koguryo Commander. Choose to help him and he'll speak about infiltrating the Sonhi area disguised as one of their soldiers to retrieve a copy of one of their attack plans.
So our first mission is to find a way to disguise as Sonhi soldiers.
After hours of searching, first steps were found.
1. Go to Sya's Shop at west of KaMing's Encampment and say "
Sonhi armor
". She'll tell you that she had a lot of requests to make Sonhi armor lately and ask why you would want it.
Do not say the truth to her. If you choose "To prove Koguryo's innocence", like I did, she'll ignore you for a good while.
Choose to trick her and claim General Chinao ordered you. She's afraid of Chinao (seems like he's mean even to Sonhi people) and will say the items she needs to make a Sonhi armor.
She'll ask for Earth armor, dozen fox fur, pair of boots and a "Sonhi dye".

Old boots can be obtained as a junk item from mining at Gogoon Island northwest part of the shore.
2. Go to Gan's shop at southeast of KaMing's Encampment and say "
Sonhi helm
".
Gan is making a lot of them lately and is made that Chinao is treating him like a puppet. He then asks for an earth helm, couple metal pieces, a dozen chestnuts and a bottle of Sonhi dye.
This is all that was found so far.
Keep connected to Nexus Atlas and find out soon the next steps of the walkthrough. Special thanks to Taliesen and Adelina for finding the key words.
~Vini Normad'or~
~Hyul 60, Moon 4~
| | |
| --- | --- |
| Wednesday, November 27, 2013 | |
Sonhi in Buya!

Posted by: Nalyd

--

10:25 PM EST
Just moments ago, a few Sonhi soldiers were found wandering Buya!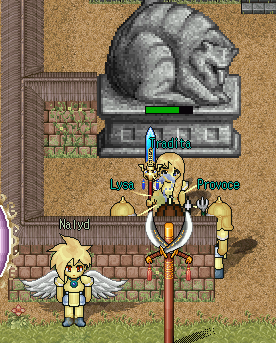 One spotted outside of the Rogue trainer in Buya
It seems as though KaMing has an issue with the Queen, her husband, or just the citizens of Buya! Many sense that KaMing is going to suck Buya into the war as well!
Declaration of War and a Reset!

Posted by: Nalyd

--

7:59 PM EST
M'hul your cynicism will not protect your kingdom from us. This means war!
With those words KaMing declared war against Koguryo and posted his official declaration of war at Chronicles of the Winds, as seen below:
MuHyul,
Your cynicism will not protect you and your kingdom from our assault. You failed to comply with my terms and refuses to deliver the criminals who you let wear the uniform of your army. You leave me no other choice.

This means war!

KaMing
King M'hul replied to KaMing with another world shout, warning that they would regret attacking Koguryo and that truth would eventually be proved.
Shortly after, storms reached the kingdoms. Here's what changed with the server reset as posted by Dreamweaver Stein.

* KaMing has declared war on Koguryo and King MuHyul maintains the innocence of his soldiers -- which side will you choose?

* New Thanksgiving items available in the itemshop!

Finally our prayers have been answered with more kruna items!inally our prayers have been answered with more kruna items!
As posted on Whispering Winds by GM Stein;

KaMing has declared war on Koguryo! General Chinao claims that he has received evidence of the Kogurian army?s involvement with the mass murder of Aprok villagers. The general warns that the Sonhi raids on Kugnae are only the beginning of their plans to avenge their fallen brothers. The Sonhi are known for their barbaric attacks, with little to no mercy. Unless King MuHyul delivers each and every man involved in the atrocious, murderous acts, the Sonhi will do everything in their power to bring justice by their hand.

Agents have intercepted messages that reveal KaMing?s plans of a simultaneous attack on several Kogurian allie locations. King MuHyul maintains the innocence of his soldiers and prepares his Kingdom's defenses for an eventual retaliation against the Sonhi forces.

The morbid call of the war horn sounds. Who will you fight for?
An man by the name of Koguryo Commander has been spotted at 15, 21 in the Kugnae Courtyard, seeking our help to learn of the Sonhi's plans. He explains the situation, telling us of how false accusations were made against Koguryo. The Sonhi has been attacking Koguryo ever since, and the situation has only gotten worse since they've stolen Koguryo's Defense Strategy Charts and are planning a big assault at Koguryo. He's asking of us to infiltrate Sonhi disguised as one of them to retrieve a copy of their assault plans. The Sonhi have ripped their maps up to prevent us from reading it, but by gathering the pieces and gluing them together, they may be able to be amended.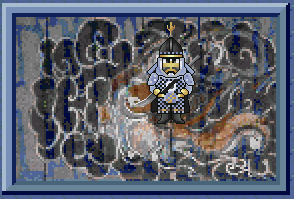 King M'hul

Citizens of Koguryo and neighbor kingdoms,
The leader of Sonhi has declared war upon our kingdom based on false accusations against our army. We will not accept these outrageous allegations and have prepared our troops to strike back.

It is important that you understand that KaMing is motivated by a blind sense of revenge and will attempt several attacks at Kugnae and other kogurian lands. Our soldiers will be patrolling the lands often to ensure the safety of our citizens, but make no mistake, General Chinao is a bloodthirsty warlord and his men will not spare the lives of any civilian. Therefore is important that you avoid resting, meditating, or sleeping at public open areas, where surprise attacks may take you while unprepared.

Those of you who believe in the innocence of our soldiers and wish to help, please contact the Commander I deployed to the Palace Courtyard to recruit civilian and foreign aid.

Onward, Azure Koguryo!
MuHyul
King of Koguryo
Nalyd
Hyul 60, Moon 4, 17th sun
---
| | | |
| --- | --- | --- |
| | | Mhul's Response To KaMing; Another Attack! |
King Mhul responds at the Chronicles of the Wind board to KaMing's accusations:
KaMing,
Your accusations against me and my army are unfounded and absurd. Koguryo soldiers would never invade a Sonhi village and murder innocent people. I've never heard of any place called "Aprok" and I can guarantee that no military operations were deployed to Sonhi lands by me or my army's General.

You have my compassion for the families of those innocent murdered people you had at such village, but don't dare blaming those deaths on kogurians. If you need help to seek the real people behind such monstrous acts, I'm willing talk, but do not send your General and his troops to attack Kugnae again in some sort irrational revenge, because any further attacks will not be tolerated.

Signed,
King MuHyul of Koguryo
Soon after Prince ChaeRi, King Mhul, Colonel Elarra and myself (ARN General) had met to discuss aid against the Sonhi, KaMing's soldiers launched another attack upon the northern gate of Kugnae.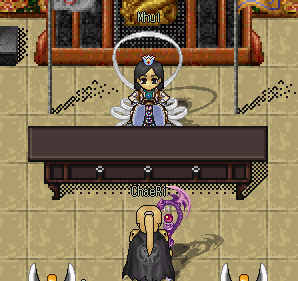 Citizens, armies, King Mhul, and Prince ChaeRi alike worked hand in hand to defend innocents and property against the invasion. Soon after obtaining a Chinao Pass and conquering the soldiers in Kugnae, King Mhul ordered an offensive on KaMing's Encampment. KRA soldiers and many citizens of the Tri-Kingdoms cooperated in the attack, while ARN soldiers remained on guard in Kugnae and Nagnang.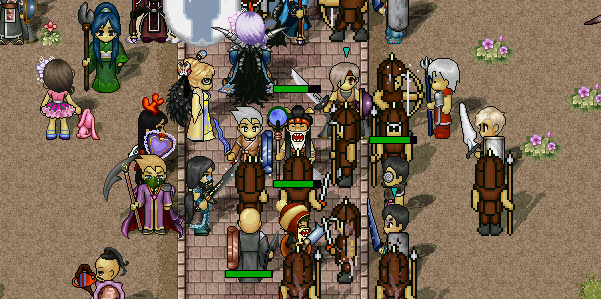 Citizens and soldiers defend the northern gate of Kugnae.
When asked why Prince ChaeRi supported a defensive stance, he agreed to a statement: "For a moment, I saw a reflection of Nangen citizens in the Sonhi soldiers as their encampment was attacked." While the ARN has agreed to aid Kugnae, the Nangen soldiers remain cautious, observant of the fact that there may be more to the story than we know. There may be, after all, more than KaMing, Kugnae, and Nagnang involved.
After the kogurian strike at Encampment, KaMing posted
his last warning
at Chronicles of the Winds:
King "MuHyul" of Koguryo,

How coward of you to claim innocence of your men, while my General has collected enough evidences to prove that it was your soldiers who were responsible for the mass murder at Aprok.

I've already deployed a huge portion of my troops to my southern encampment where they prepare to wage war against Koguryo and now I hear of your attacks there too. Do not think of me as a fool.

I'll soon be presenting the evidences to King Geumwa of Buya and Prince ChaeRi of Nagnang. Without the support of your "friendly" neighbors, your decaying army will be no match for the Sonhi forces.

Unless you deliver each soldier involved in the assassination and carbonization of the villagers to face Sonhi justice, we will be forced to attack Kugnae with full strength and make justice with our hands. Think well about your decision as failure to comply with my demands will be understood as a declaration of war.

In fury,
KaMing
Hours later,
King M'hul also posted his last warning
to KaMing to back down from attacking Kugnae. Here's a copy of his post at Chronicles of the Winds:
KaMing,

You falsely accuse my soldiers of mass murder and threaten to use fake evidences to put Buya and Nagnang against us? Why instead of showing them, won't you show such evidences to me so I can prove them wrong?

I cannot deliver any person involved in such claimed assassinations, because it was not my soldiers who did such crimes. I already told that at my previous statement, but you didn't seem to pay attention. To me it seems like you're just trying to find someone to blame or some excuse to attack Koguryo. If that's what you're wishing for, then be a man and proclaim your declaration of war without having to resort to lies and pointing fingers at innocent people.

This is my last warning, cease the attacks now or face the consequences of your choices.

Signed,
King MuHyul of Koguryo
Could this have been a set up?
We are aware of the goal of raising Sagu.
Wiyae, Hawkmori, and Itsuwari are on the loose.
Royal blood has been brutally obtained.
KaMing possesses a piece of the Darkstaff.
A strange woman has been sighted in Kunsan with dangerous eyes--in search of something or someone.
ChinMae seems to have some influence on Blight.
Chaos approaches on all fronts!
~ Severyn ~
| | |
| --- | --- |
| Tuesday, November 26, 2013 | |
| | | |
| --- | --- | --- |
| | | New KSG Premier |
Since yesterday, the
Koguryo Spy Guild
has a
new Premier (Elder)
. After 10 Hyuls of service, Elder
Known
has stepped down and chose Emissary
Dravex
as his successor.
Congratulations Elder
Dravex
and also a special thanks to former elder
Known
for his services to KSG and Nexus.
Brought to you by,
-,-@ Donjuan
| | | |
| --- | --- | --- |
| | | New Primogen of Covenant clan |
Last Sunday there was a leadership shift at Covenant Clan. Primogen Marulek has stepped down and chose his Primarch, Zeromus to replace him.
The newly appointed Primogen Zeromus chose Haterix to be the new Primarch of the clan.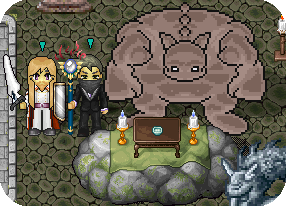 Primarch Haterix on the left and Primogen Zeromus at right
Congratulations to both Zeromus and Haterix on their new positions and a special thanks to Marulek for all the dedication he gave to the clan and nexus overall.
Brought to you by,
-,-@ Donjuan
Monday, Bloody Monday - Sonhi Attacks Kugnae

Posted by: Vini

--

2:03 AM EST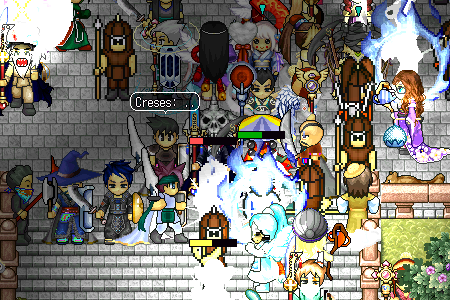 It was a bloody Monday in Koguryo, when shortly after
KaMing
posted his angry threats against M'hul and KRA. General
Chinao
of Sonhi marched with his men to
Kugnae
and caused much havoc and death to both sides.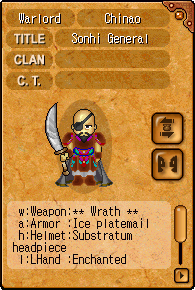 It started with a world shout of KaMing ordering General Chinao to prepare their troops to head towards Kugnae. Chinao replied KaMing claiming he and the Sonhi troops were on their way, and promised to make them pay for what happened to the "
Aprok village
".
King
M'hul
didn't respond to any threats neither did General
xDementiax
. Some kogurian soldiers explained that the General was accompanying the
King in a diplomatic visit to Shilla
. Since Lt. General Gippeto is missing, it was up to Colonel
Elarra
of Koguryo Army to call KRA soldiers back to barracks and organize the defenses of the city upon hearing the threats of the Sonhi.
Since King MuHyul wasn't around, it was the Head of Buya State who showed up."
Buya demands proof of wrong doing. We will not tolerate an attack on our ally
", warned Queen Lasahn. KaMing replied with a harsh tone of subtlety: "
stay out of this Lasahn. This is between us and Koguryo. Mind Buya's business
, replied the leader of Sonhi tribes. Lasahn continued to stand firm in defense of Kugnae and concluded "
When you took my capital, Koguryo gave me sanctuary. This is my business
".
The verbal quarrel between KaMing and Lasahn over world shouts ended when Chinao announced he was ready to strike Kugnae. "
Then strike
", ordered KaMing.
General Chinao arrived from north gate, but since many of us were guarding the entrance, he conducted his horse all around Kugnae until he reached West gate, less protected. It didn't take long for the cries of help started to spread from Kugnae palace steps. Chinao had quickly the palace and fought the defending soldiers and citizens there.
Spearmen, swordsmen and archers; Chinao summoned several of them while demanding M'hul to deliver the men responsible for Aprok's mass murder. Chinao kept shouting for M'hul to show up, it took a while for him to understand that the King wasn't present.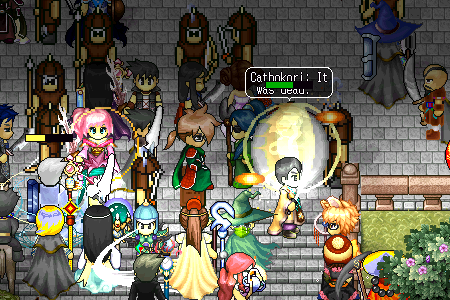 After much bloodshed, many deaths and threats of Buya being captured again, Queen Lasahn decided to withdraw back to her kingdom and double her defenses. Koguryo soldiers and friendly allies remained at Kugnae palace vicinities and joined forces to defend their walls and protect their citizens.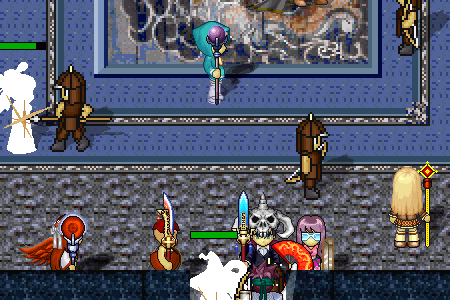 After hours of battle, the endless efforts of Lt. Colonel Maduin, Amaroq, Ushallfeerme, Veigar and many others who fought Chinao and his men bravely, was finally paid off. Severely wounded in battle, Chinao withdrew from Kugnae battlefield and returned to KaMing's Encampment. He wasn't seen after that.
Shortly after Chinao's flee, the remaining Sonhi soldiers were defeated and peace was brought back to Kugnae.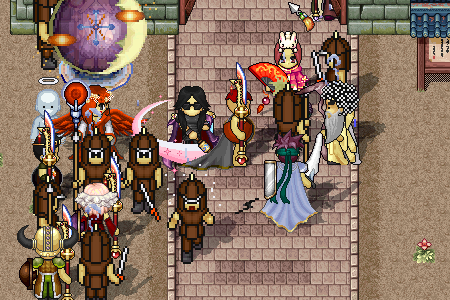 This isn't over kogurians. You won today's battle, but our attacks will not stop
, screamed General Chinao. Seems like everyone should be ready for more action soon.
While preparing for the defenses against next strikes, people try to figure out the purpose of the mysterious drop which can be obtained by defeating sonhi soldiers. It's called "Chinao pass" and when used they give some strange coded messages.
Perhaps someone can find a way to translate them.
~Vini Normad'or~
~Hyul 60, Moon 4~
| | |
| --- | --- |
| Monday, November 25, 2013 | |
KaMing accuses KRA of killing innocent people

Posted by: Nalyd

--

8:18 PM EST
Just after the reset today, KaMing reappeared in the kingdoms through a post on the Chronicles of the Winds, containing insults and a threat towards King M'hul.

King M'hul of Koguryo,

It has been many years since our men clashed swords and now, out of the blue, your soldiers ransacked an entire Sonhi village and slay old men, women and child. How could you M'hul? How could your men do this? What exactly was your men looking for at Aprok Village?

From an old enemy who I grew to admire, you turned into a huge disgusting oppressor. Nothing you say or do can justify the atrocious crimes your army has done to innocent and defenseless people.

The mass murder of Aprok villagers will not go without response. Justice will be made with steel and blood will be paid with blood.

In anger,
KaMing
Queen Lasahn is requesting that anyone with knowledge of the attack on Aprok village to come forward and report it to the proper officials in the Imperial Army. She is also worried that KaMing still possesses a piece of the Darkstaff, as that could pose a huge threat. It's not known if KaMing is making threats with false information, or if the attack truly did happen.
Also if it were not Mhul and his men, who DID attack Aprok Village?
I will be covering this as it progresses.
- Nalyd Agaun'ei
Reset - November 25

Posted by: Nalyd

--

7:15 PM EST
Taik Pae is at peace once again!
As posted on the Whispering Winds by GM Stein;

La~! Thank you muchly for finding my smelt, everyone! Every single last piece has been restored and I cannot be more happy (or hungry)!

I hope that evil man will never be seen again, but if he appears? I know who to call!

Thank yee kindly, la!
Taik Pae
Smith


This means that the Haunted House event is done with, BUT Asmodi is still open!
Who knows what's planned next by Kru for the lands?
| | |
| --- | --- |
| Sunday, November 24, 2013 | |
More Augury Visions!

Posted by: Nalyd

--

6:39 PM EST
Two more Augury Visions have been revealed to the public! Seems as though the winds are active lately!
These are both copied from the Chronicles of the Winds:





Perusing the letters I r eceived earlier that day, I
notice the radiant moons reflection gazing at me from the
tea cup. I glance around the Tao Te Ching and notice
Sheng bustling about, tending to the stalls where
Diviners once stood earlier that day. I slowly rise,
grabbing my staff and proceed down to the still pond.

Staring into the moons reflection, a single droplet of
water falls on the back of my head. As I lift my head to
the sky I notice the clouds rolling in. Squinting to look
closer at the now billowing cloud, my eyes burst open..

=========================================================
<> <> <> <> <> <> <> <> <> <*> <> <> <> <> <> <> <> <> <>
=========================================================

A vast valley appears, clatter and clamoring noises can
be heard from it in the distant. Red liquid oozes,
seeping over the strange meadow before me. Coating what
was once luscious grass now appears as a sea of red. A
sound of boots upon the cobble stone behind me jerks my
attention. Falling before me to the ground, a severely
wounded man. Kneeling to see whom this is; the blood,
dirt and scars covering his face hides his identity.

A single eye opens, and pierces into my soul. I know him,
but from where? The smell of decay quickly envelopes my
nostrils as my gaze wanders back to the field. What has
happened here, what is the cause of all of this? Cries of
a child screaming for their father ring into the night.

=========================================================
<> <> <> <> <> <> <> <> <> <*> <> <> <> <> <> <> <> <> <>
=========================================================

...Sheng wanders to my side, prodding me with her broom.
She inquires if I am alright, for I had been staring at
the sky for quite some time now. Deciding to not bother
her with my thoughts, I shook it off reassuring her all
was well. However this vision reeks of despair.

What shall come of this prophecy..

---------------------------------------------------------
'*,. / /)iviner of the Grey Hyun-jae faction.





Dark shadows rise upon horizon, as the world submerge into the bloodest hues of red.
Death enters the world of the living, heralded by Misfortune and Tragedy. A silhouette of a solitary man
is seen against the angst of the roaring skies; a man of a familiar statue, yet his identity cannot be defined.


==============================================================

Iruma
Grey Gwa-gu Oracle

What do they know that we don't?
- Nalyd
| | |
| --- | --- |
| Saturday, November 23, 2013 | |
| | | |
| --- | --- | --- |
| | | Rumors of a cemetery at Nagnang |
Ever since the discovery of the catacombs at Buya's Islets and Graveyard at Wilderness, the rumors of the existance of a cemetery sorts at Nagnang is becoming more and more solid. Koguryo has had their crypts for as long as we can remember, and now each other nation has their places to bury their loved ones, except Nagnang, the land of the Dead.
The search for such area has began few days ago, but gets stronger now with the confirmation by SilentStep that the ghost
Kyushin
spoke to him about going to nangen burial grounds.
After a long period of search through Nagnang and Woodlands, I was not able to find anything related, but found some strange new areas which could lead to the burial grounds in the future.
First one is at northwest Nagnang, near the gate to southern Koguryo.
second one is southwest, near Rogue's guild.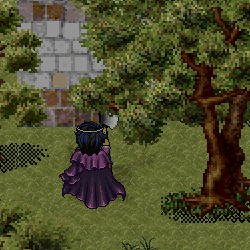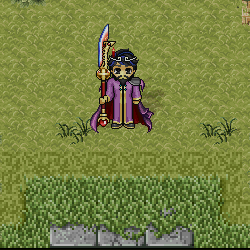 Other possible but less likely places are at Woodlands, two vacant tents there.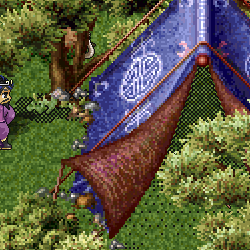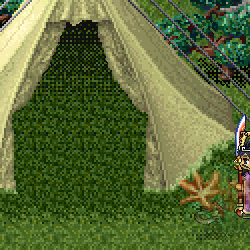 Keep connected to Nexus Atlas and find out whenever this rumored burial ground is found or confirmed.
Brought to you by,
-,-@ Donjuan
Another Augury Vision has come to pass! Once again, the Winds have spoken, and I have listened.
The vision was recorded in writing immediately after it occurred, and posted on the popular
Chronicles of the Winds board; post number 1461.
This is a copy of the post on the board, as it was written:
Hyul 60
Third Moon
Eighteenth Sun

As I went about my morning routine on this day, I was interupted by a strong gust of wind.
This swift wind swept right through me, bringing with it a vision. I could feel the great
importance of this vision, and decided to record it immediately for deciphering.

It began in darkness...

I was in a gorge. The horrific sounds of despair, could be heard through-out the land.

Blood flowing freely over a grassy field, which I do not believe I have ever layed eyes
on...Where was this strange place?

A man came running out of no where, on to a stone flooring...he's wounded. Perhaps
seriously wounded. He seems very familiar to me, but I can not put a name to him! That
scar...That scar over his eye, I am certain I have seen it before!

A putrid smell filled the air. Death. Death was in the air.
Then, I even heard a voice. It said something about the tragedy of a family, could never
be undone.

I am uncertain, as of yet, the true meaning of the things I have seen and heard this morning.
I end this message with only this: Do not make actions in haste...for some things, can never
be undone...

Grey Mi-rae
Imperial Ministry of Buya, Head of Advisors
The Fire Starter
Primogen of Solace
Ushallfeerme
What may be on the way to the Kingdoms of the Winds? Only time will tell...
Claw's Mantles upgrades

Posted by: Vini

--

1:15 PM EST

It seems that Claw mantle can also be upgraded just like Dashing cloak.
By getting Essence of Starshine one can create the Starshine-infused mantle;

by getting Shard of Phoenix Claw one can create the Phoenix-infused mantle;

by getting both one can create shining mantle of Phoenix.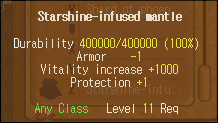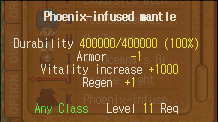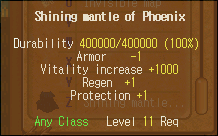 The stats are similar than of the cloak version, but aren't identical. The difference is that mantle gives +1000 vita while cloak gives +500 mana.

To infuse the items at "Claw's mantle" just visit Kinung's Little Shop (southeast of Kinung) and ask click Dashae's option to "Cloak Embellishments".

If you need to revisit any parts of the walkthrough, click one of the links below:
Event Walkthrough Part I
Event Walkthrough Part II and III
Event Walkthrough Part IV and V


---

This seems to be old news for most people, but since we didn't cover this at the walkthrough it's worth putting this here in hopes to help some citizens who didn't know about this.

~Vini Normad'or~
~Hyul 60, Moon 3~
| | |
| --- | --- |
| Friday, November 22, 2013 | |
| | | |
| --- | --- | --- |
| | | Patch to Version 7.07 |

Moments ago the servers were reset to patch version 7.07. Here's what changed according to GM Stein:

* BONUS KRUNA: All Kruna coupons purchased for the next month will receive an additional 10% bonus!

* Adding graphics for an itemshop release right around the corner

* Fixed some broken portals in the Nagnang Warrior Trial quest that may have accidentally bumped people up a cave level

Minor updates for:
- Do subpath

*** If you are running Windows Vista/7, make sure to run NexusTK as administrator (by right clicking the shortcut and selecting the option) for this patch ***

Brought to you by,
-,-@ Donjuan
| | |
| --- | --- |
| Thursday, November 21, 2013 | |
| | | |
| --- | --- | --- |
| | | 23rd Ranger Elder |
About an hour ago,
Eireen
, the Elder of Rangers, has stepped down from her position and chose Adventurer
Marlon
to be the new leader of the path. Marlon is a nangen Ranger, member of K'urimja clan who is also an elixir war host.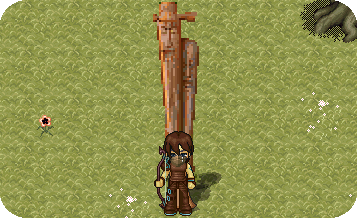 Born in Yuri 75, he became a Ranger when he was already mature, during Hyul 7. After many years of hard work during which he served as the Scout Master for scouting trips, Marlon finally became a Ranger Guide in Hyul 55. Five hyuls later, he ascends to lead the Rangers to through a new quest to regress to the path's roots.
"We are now returning to an era where all the wilderness is in the eyes of the ever watchful", said Elder Marlon, with his heart full of hopes for great days ahead of the Rangers.
We of Nexus Atlas congratulate Elder Marlon on his new position and shall not forget to thank former Elder Eireen for her services to the path and community.
Brought to you by,
-,-@ Donjuan
Wilderness Graveyard

Posted by: Vini

--

12:53 AM EST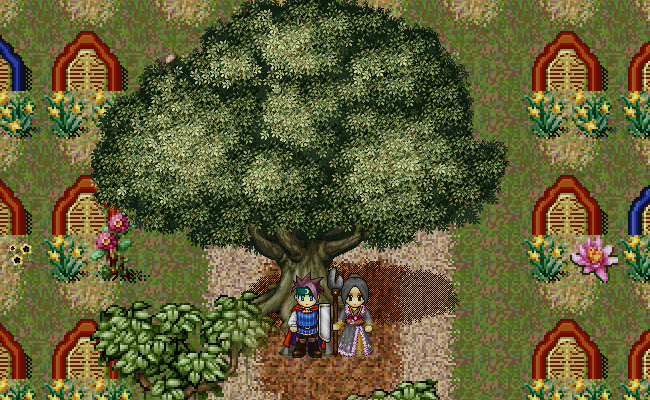 Shortly after reading about the Buya Catacombs here at Nexus Atlas, BeffyCabeza contacted us to inform about the existence/discovery of another burying place in Nexus: the
Graveyard
. Located at wilderness southwest (coords 003,153), where the old Barbarian cave used to be, this huge resting area for the dead has a big tree at the center and 132 gravestones around it, in which 27 of them are blue and 105 are red.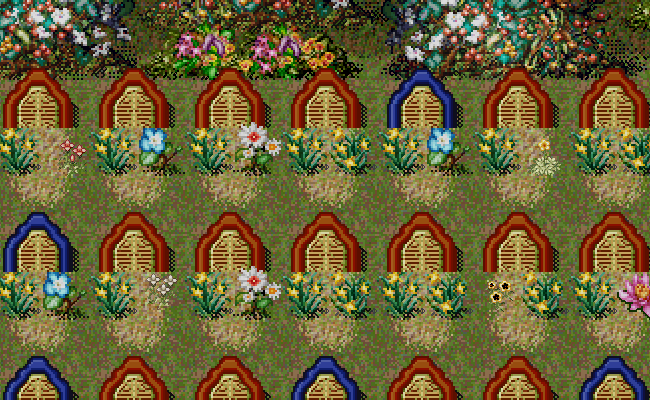 It's not known what the different meaning for them is, but there surely must be one.
~Vini Normad'or~
~Hyul 60, Moon 2~
| | |
| --- | --- |
| Wednesday, November 20, 2013 | |
Buya Catacombs

Posted by: Vini

--

9:50 PM EST
It seems that Buya Imperial Army has discovered the entrance to the buyan catacombs, an ancient place which seems to have been unblocked for unknown reasons as of yet.
The catacombs can be accessible at Islets, found under the Valley of Mudang. There are 3 entrances, to 3 different catacombs, all interconnected. From left to right:
Nobles' Catacomb
,
Soldiers' Catacomb
and
Commons' Catacomb
.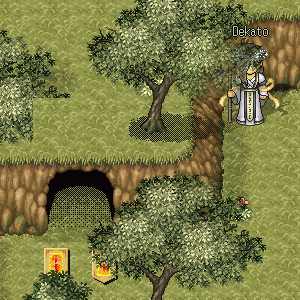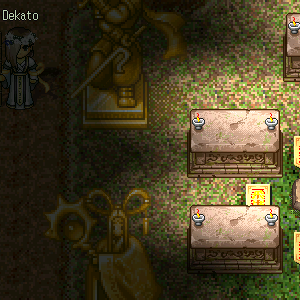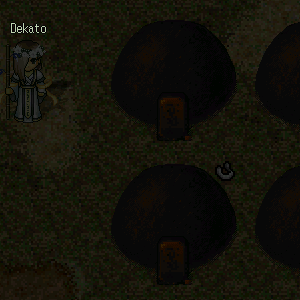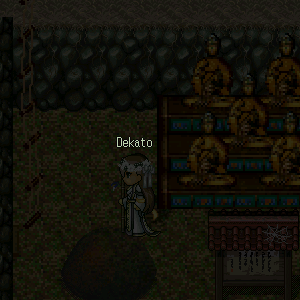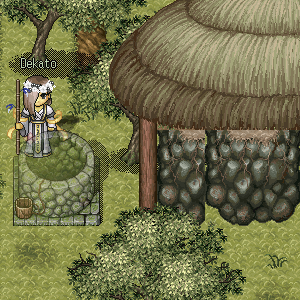 Present for the discovery expedition were: Queen
Lasahn
, General Tradita, Apheriun, Silentstep, Altar, Thameus and Dekato, who was kind enough to share this information with Nexus Atlas and help with plenty of screenshots.
Dekato was also able to share the transcript of their conversation and revealed some of the information given by Queen Lasahn. Here's part of the conclusions they came to during the expedition:
According to the Queen, some of the people buried there have been there for generations, probably longer than her father's time. She wonders why these caves which were blocked off for years were mysteriously unblocked.
During that conversation, SilentStep, who's a nangen merchant, revealed that the deaf spirit,
Kyushin
, has recently spoken to shamans inside the catacombs, which means they knew about this "new" area for a while now. According to SilentStep, Kyushin reappeared seeking the assistance of the Shaman, claiming that if the gates to the ethereal passage were not closed, dangerous creatures would rise into the living world, the "
witch
" would cross the passage and our loved ones would perish.
SilentStep also mentioned that the witch would try to bring back the shattered soul.
The obvious conclusion that SilentStep, Queen Lasahn and the others had was that the "witch" which Kyushin was referring was in fact
Mupa
, or perhaps
LinSkrae
, except that Lasahn did not think anyone would call him a "witch". The shattered soul he mentioned would be
Sagu
, which as we know, is in their plans to bring Sagu back to life and was why Hawkmori killed Prince
Kija
, in hopes to obtain his royal blood.
Queen Lasahn also remembered that long ago, Mupa used to live at Buya and even worn their national golden dye before she became known as one of the worst villains Nexus has ever seen. Therefore, Lasahn wonders if there might be a personal connection between the tombs in the catacomb and Mupa.
In addition to that conversation during the expedition, it seems that shaman BeffyCabeza, has made a long post at
Chronicles of the Winds
warning people to "
Heed the Words of Kyushin
". Here's a copy of her post:
Tonight, after we held a Mudang Sori, the throngs of people began to trickle out. I blinked as I saw something out of the corner of my eye. Was this a trick of one of my brethren? Did they summon a lesser ghost to chase out the stragglers?

If was not a trick...

The spirit known as Kyushin began to wail out,

Help! Help! The dead...the barriers of the ethereal are in danger!

And unlike so many times before...and unlike any Spirit I've encountered, he could not hear the words of the Shaman. We could not communicate with him.

He spoke to the soldiers' spirits within the newly discovered catacombs, seeking to march upon a "Witch" that had crossed the passage.

We must go to the Ethereal Realm and wage war against this witch. But what witch? Which portal are we searching for? Is it the realm that the Asmodi's are guarding, the secrets of the Buyan Haunted House...?

And apparently we're on a short time table.

Kyushin continued to speak,

"If she succeeds in binding the shattered soul,
she'll put the living realm in danger and all
who you love will die."

He spoke of the spirits of each nation and the wilds. He would seek their aid.

We have a gate to seal.

[A special thank you to SilentStep for providing some missing words by Kyushin]
As BeffyCabeza mentioned in her post, it's hard to find out exactly which bridges to the ethereal realm must be closed. Would it be the realm between where the
Iron Hands
invaded and imprisoned the
Asmodi
, or would it be the
secret hole under the buyan Haunted House
leading to the
underworld
?
Too many questions, too few answers. What's certain is that the lines between the living realm and the spirits realm are twisted and unbalanced as of late. The sudden appearance of Kyushin, surely isn't in vain. Last times he was spotted were during the crisis of the
Immortal Beasts
(2010), in which
Mug
sacrificed himself to save us from
Abu
, and The
Dark Hunter's camp
(2011) which before it was found, he also warned about the possibility of a breach of the veil between the Spiritual Realm and the Mortal Realms.
The dangers spoken by Kyushin are usually very serious and the sudden appearance of two connections to non-living realms, one after the other, should not be ignored or considered coincidence. Who knows how to Kyushin could be reach again. Perhaps talking to his sister,
Mihi
, who is still alive, might be a start.
~Vini Normad'or~
~Hyul 60, Moon 2~
New BIA General!

Posted by: Nalyd

--

2:41 PM EST
BUYA – As of last night, November 19th, the buyan army has a new General.
HakuDoushi
has stepped down from his position and chose
Tradita
to become the 17th General of Buya Imperial Army.
"
I am proud of my successors accomplishments, I am assured she will lead BIA towards a shining future
", said HakuDoushi, who now has the rank/position of Colonel of the army.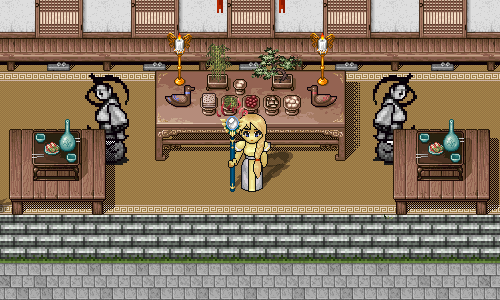 On behalf of the Nexus Atlas staff I'd like to congratulate General Tradita on her new position.
*Edited by Vini. Special thanks to Apheriun for reporting this change to us.
| | |
| --- | --- |
| Thursday, November 14, 2013 | |
| | | |
| --- | --- | --- |
| | | The Lost Kingdom Primogen and Minister |
About a week ago, Primogen Lynx has stepped down from his position in favor a well known figure at Lost Kingdom clan: Warik.
Primogen Warik took over at his 4th "reign" and became the second person to achieve such a recognition, being PesmergaXV, from Elendhirin clan, the first one who had 4 terms.
Another victory for Lost Kingdom was achieved yesterday. For the first time since Buya Ministry creation, the Minister of Buya is a member of Lost Kingdom clan. As announced by Queen Lasahn, Minister
Sheilala
will be the new head of Imperial Ministry of Buya (IMB) and shall replace Minister SoulGuard who mysterious vanished from the kingdom.
Brought to you by,
-,-@ Donjuan
| | |
| --- | --- |
| Wednesday, November 13, 2013 | |
Nov. 13th Servers reset

Posted by: Vini

--

11:45 PM EST

About an hour ago the nexus servers were reset to add some Minor updates for:


Alizarin clan

Dharma clan

Oceana clan

Phoenix clan

Tiger clan

SunMoon clan


Merchant subpath

The secret of Buya Haunted House (Underworld event) is still accessible.

~Vini Normad'or~
~Hyul 59, Moon 12~
| | |
| --- | --- |
| Monday, November 11, 2013 | |
Underworld event Part IV and Part V

Posted by: Vini

--

9:56 PM EST
To start Part IV you must have finished part II in which you give
Tul Pae
the three-course meal, which included Woodberry pie, grilled beef and roast chicken. Tul Pae claimed to have a treasure for you, but complained about the cold meat and didn't give you anything.
Since he mentioned he was related to Taik Pae, perhaps you should go ask Taik Pae about the old guy living underworld.
Part IV
1. Head to Kinung's
Little Shop
and say "
Tul Pae
" to Taik Pae, but the troublemaker smith at Kilns claims he never heard of "Tul Pae" during his life.
2. If Taik Pae never heard of Tul Pae, perhaps Taik's brother, the Beard blacksmith did. Go to
Kugnae Smith
and say "
Tul Pae
". Beard answers with a question: "THAT man is an imposter! What did he do?!".
3. Tell Beard that Tul Pae was promising a treasure in trade for a "
Hot Meal
and Beard will explain that Tul Pae is not related to him and Taik Pae. He's a distant relative to Taimyr, the Arctic butcher.
4. Before going to Arctic Village, pay a visit to KaMing Encampment's butcher and purchase 10 Tiger meat.
5. Only after buying the 10 tiger meat to Arctic Village Butcher and say "
Beard sent me
" to Taimyr.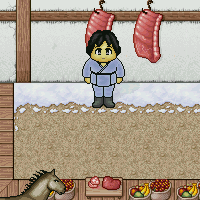 6. Taimyr says that although he's a butcher he'll bake you a special pie and asks for the following ingredients:
Alt lost soul (1)

Spare skin (6)

Grizzly claw (2)

Tiger's heart (10)
*A pie made of zombie skin, tiger heart and bear claws? Jezzz... must not taste very good. That's why Taimyr is a butcher, not a baker.

7. Taimyr will prepare you a "Soul food" which may be used once to self-ressurection to full vita and mana. It's not confirmed if it works, at Carnage server, but probably not.

---


Part V of event can be done last or even first, since it mostly involves being at the hunting area of the event and hunting for the bosses, this was put as last part due to being more difficult. If you do not have a hunting group and is doing this part purely for the quest items, the recommendation is to hunt at cave level 1 with a lower level character.

Part V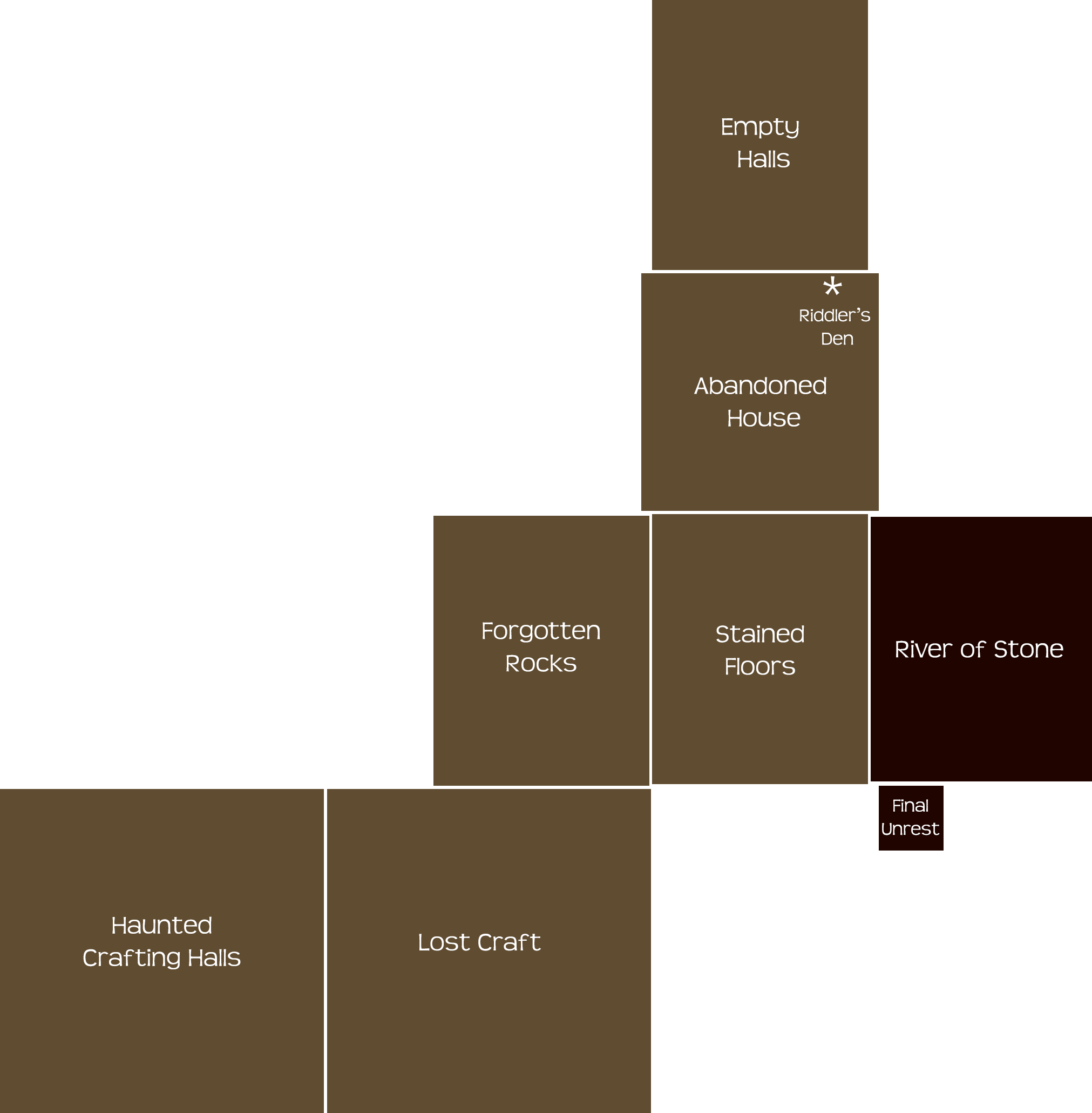 1. Go to hunting rooms such as Lost Craft and Haunted Crafting Halls and search for the Demented Crafter creature which is one of the bosses and the main one you seek now.

Unlike other bosses you've fought against this has six forms, being the multi headed snake the last one. If you're like it will drop a Broken Modulator which is what you need for the quest.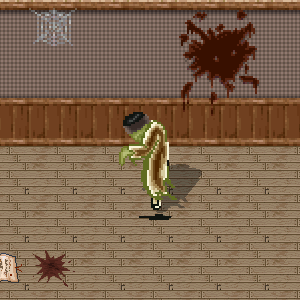 2. Once you collect 3 Broken modulators, grab 3 rock crystals and 6 weathered tree branches and head to Beard Smith at Kugnae again.

3. Ask Beard how to fix the "Broken modulator". He'll ask you for the following items, that if you have been following this walkthrough step by step, you already brought:
Broken modulator (3)
Rock Crystal (3)
Weathered tree branch (6)

4. Upon giving the required items you'll receive a Skill Modulator. As the popup says when you try to use it, using this item will increase your crafting abilities for the next week. Choose well when you'll use it, as each Skill Modulator can only be used once.

---

After finishing this step, you'll have finished all the known mini-quests for this event, but do not think this is over. There's still the hunt for the thief who started this whole thing, the "strange and creepy fella" who stole the smelt of Taik Pae in first place.

Claw can be found at same rooms as Demented Crafter and also has six forms which oddly enough end with the chicken form.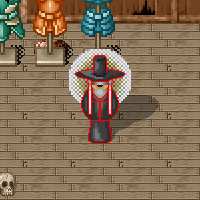 If Lucky, after killing Claw it will drop "Claw Mantle" which is the second option of mantle with stats, but different from the other one, this doesn't require to do a whole quest to obtain, just to hunt the boss down.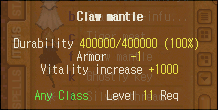 Since this event is huge it is possible that we might have missed a different route (example: part VI). If you find anything we did not, please contact any of the Nexus Atlas reporters to add the new finding's report here.

~Vini Normad'or~
~Hyul 59, Moon 12~
| | |
| --- | --- |
| Sunday, November 10, 2013 | |
Underworld Event Part II and Part III

Posted by: Vini

--

7:40 PM EST
If you haven't finished the part I of the event, perhaps you should give a look at the previous post, although you can finish these parts before or together with Part I.
---
Part II
:
First things before doing part II is to check your legend mark. If you cheered the Bored Rock back in Hyul 42, you'll soon get a Magica Dust. If you did not cheer the Bored Rock back in Hyul 42 or was born after it, you'll need to bring a Magical Dust item.
You'll also need a Grilled Beef, a Roast Chicken and a Flash Dust for part III.
1. Go back to
Gathering
and click the Bored Rock. He'll tell you that his wife is making woodberry pies, but is always out of ingredients. His wife needs ingredients for a Woodberry Pie. Here is what she needs:
Magic(al) dust* (1)

Fresh mold (5)

Woodberry (6)
*People who cheered the Bored Rock can get multiple Magic dust, so these can be obtained for free.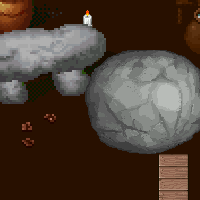 2. Woodberry can be obtained by slaying the Woodberry trees and the fresh mold by hunting down the Mold spores.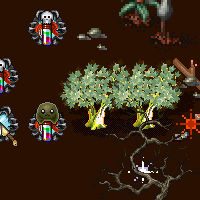 3. Once you get all the items, go back to the
Gathering
and say "
Woodberry pie
". Then click "
Yes
" to confirm you have all what's needed. After giving the items you need to wait 30 minutes to get your Woodberry pie ready.
Now seems like a good time to hunt for the items required for Part III
.
4. Once your
Woodberry Pie
is ready, you may go to
Waterfall Glen
(check the map at previous post).
5. Once at Waterfall Glen you'll find
Tul Pae
, a relative to Taek Pae. Say "
Hello
to him.
He's hungry and asking for a three course meal in exchange for a "Treasure".
He requires:
Woodberry pie (1)
Grilled beef (1)
Roast chicken (1)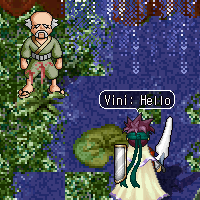 6. He takes the pie and doesn't share his treasure because the food got cold, saying "
You can go climb the mountains for all I care!
"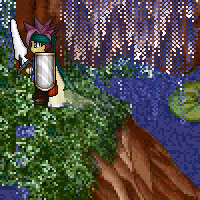 7. Then go right and then up through the waterfalls to the room called
Hope
. Once there say "
Hope
" to get the Mortality and Immortality old folks to talk.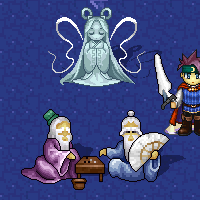 8. Say "
Starshine
" to talk to the Starshine spirit receive your
Drop of starshine
from her.
Next step is to head to Old Hermit, but we recommend to only go there after doing Part III.
9. Now it's time to visit the Old Hermit. Go back through the Ethereal Passage and make sure to take your
Silver Thread
with you. This is good opportunity to finish part III if you haven't yet.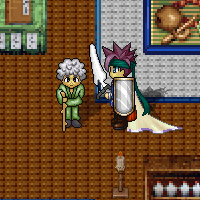 10.Once you reach the Old Hermit say "
Lucretius Laframbois
" which Noxhil told you about, then choose "
Yes
" when he asks if you have something you're not sure about. He'll turn your
Drop of starshine
into a
Essence of Starshine
.
11. Time to return to Dashae at Kinung's
Little Shop
and click "
Cloak Embellishments
" and put your
Dashing cloak
at slot "a".
12. If you haven't finished Part III yet, she'll turn your Dashing cloak into a
Starshine-infused cloak
which adds +1 Protection to the cloak and changes it to white & blue.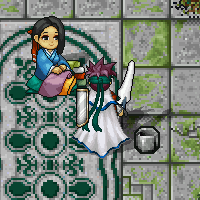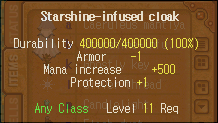 ---
Part III
:
This the part where you'll need to use "Flash dust" so keep it with you.
1. Go back to the
The Gathering
and say "
Noxhil
" to get him to talk. He'll tell you about "Lucretius Laframbois" and about the pirate girl, called Ophelia.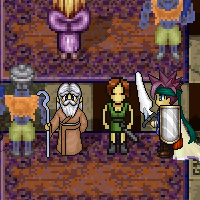 2. Ask "
Why are you here
" to talk to the little pirate girl. She'll reveal that she's looking for her Dad whose ship was destroyed at the sea.
She'll also ask you to bring the
flash dust
, which hopefully you did.
She then enchants you.
3. Prepare your hunting gear and head south, you're headed to the dangerous hunting part of the event across the
Riddler's Den
gap. The Riddler Spider has riddles which the answers are all nexus related. If you are stuck at one riddle you can find the answers at the bottom of this post, but try figuring them out yourself!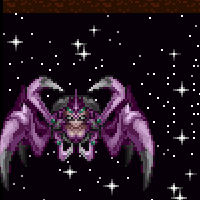 4. Check the hunting cave maps below to find your way to
Final Unrest
. You'll need to cross the
Abandoned House
and
River of Stone
to reach it.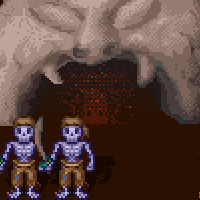 5. Once at
Final Unrest
hut, if you say "
Ophelia
", the Undead Captain says outloud "I know her... How do I know her". His death seems to have made him lose his life's memories. So you need to say something familiar to him.
6. Repeat to him the lyrics Ophelia, his daughter, was chanting: "
Through the dark and stormy night, I will be your anchor, I will be your light
". Then choose "
Yes
" when he asks for help. If you didn't get the chanting/flash dust part this next part won't work.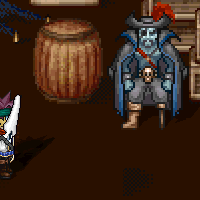 7, The Undead Captain requires the following:
10 Bone dust (Green Skeletons, have to kill twice)
10 Spare skin (Zombies)
5 Weathered tree branches (LoTR trees)
1 Scroll of mortality (Hollow ghost)
8: Return to the
Gathering
and talk to Ophelia by asking again "Why are you here?". She'll be happy you visited her father will give you Shiny object.
9. Ok. Now it's time to visit the Old Hermit. Go back through the Ethereal Passage and make sure to take your
Silver Thread
with you. This is good opportunity to finish part II if you haven't yet.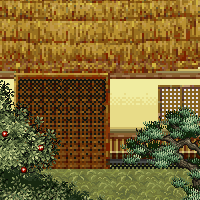 10.Once you reach the Old Hermit say "
Lucretius Laframbois
" which Noxhil told you about. He'll turn your
Shiny object
into a
Shard of Phoenix Claw
.
11. Time to return to Dashae at Kinung's
Little Shop
and click "
Cloak Embellishments
" and put your
Dashing cloak
at slot "a".
12. If you haven't finished Part II yet, she'll turn your Dashing cloak into a
Phoenix-infused cloak
which adds +1 Regen to the cloak and changes it to red.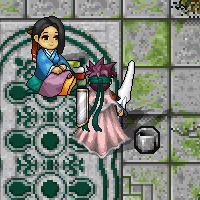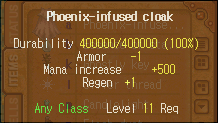 ---
Once you finish Part II and Part III you get the
Shining Cloak of Phoenix
which is the best wearable reward you can get from this event and pretty much adds the 2 bonuses of the other cloaks, +1 Protection +1 regen.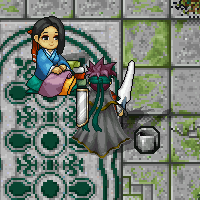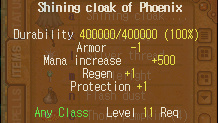 ForgetMeNot Riddles's Answers:
"A potion made out of water, only it isn't" = Aqua potion

"A potion made out of several secret ingredients and a pinch of dirt" = Muddy potion

"Bloodless, yet red. Lifeless, yet moving" = Skeleton Ju

"Green with envy to the bone; moves in pack, never alone" = Skeleton Je

"He wont't tip the hat, he won't lower the blade. He's got hoards minions. You should be afraid" = Deathwish

"In the darkest of nights, it will show you the way" = Lantern

"I have no wings, yet I float, no eyes yet I know where you are, and my intentions are not pure" = Wicked ghost

"It'll make you lose direction, it'll tun your world to black, from simple peck your eyes turn blank, you think you might have died" = Raven

"Roam under the blazing sun, yet pale" = Pale zombie
~Vini Normad'or~
~Hyul 59, Moon 12~
Underworld event walkthrough - Part I

Posted by: Vini

--

7:36 PM EST
The saga of the smelt stolen from Taek Pae's shop turned out be a huge chain of events, with at least three known parts. If you haven't started already, here's the walkthrough step by step:
First steps
1. Kinung's Little Shop (082,070) and head to the back room called Kilns.
- Click Taik Pae and choose "Taik Pae Plea".
- Back to little shop click Dashae and choose "Dashae Plea"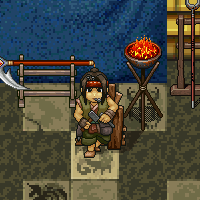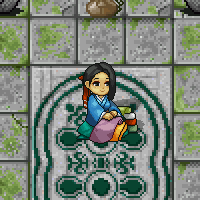 2. During night time head to Buya Haunted House and fight your way through the following rooms: Old Shanty -> Wicked Yard -> Sorrow Yard -> Broken floor. Be sure to slay one of the zombies and get an Invisible Map, you'll need it to enter the
Hole in the Floor
.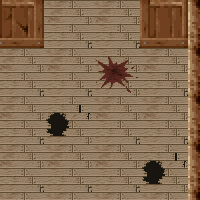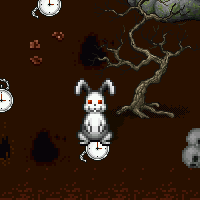 After entering the hole you get a new legend mark:

---
You're now under the earth and below Buya Haunted House. At this huge area mapped below you can do 5 mini-quests which you can finish in no particular order (except the last one), but at this walkthrough you'll find the one that seems to be more logical:
PART I - Getting the Dashing cloak
Part II - Essence of Starshine
Part III - Shard of Phoenix Claw
Part IV - Soul Food
Part V - Skill Modulator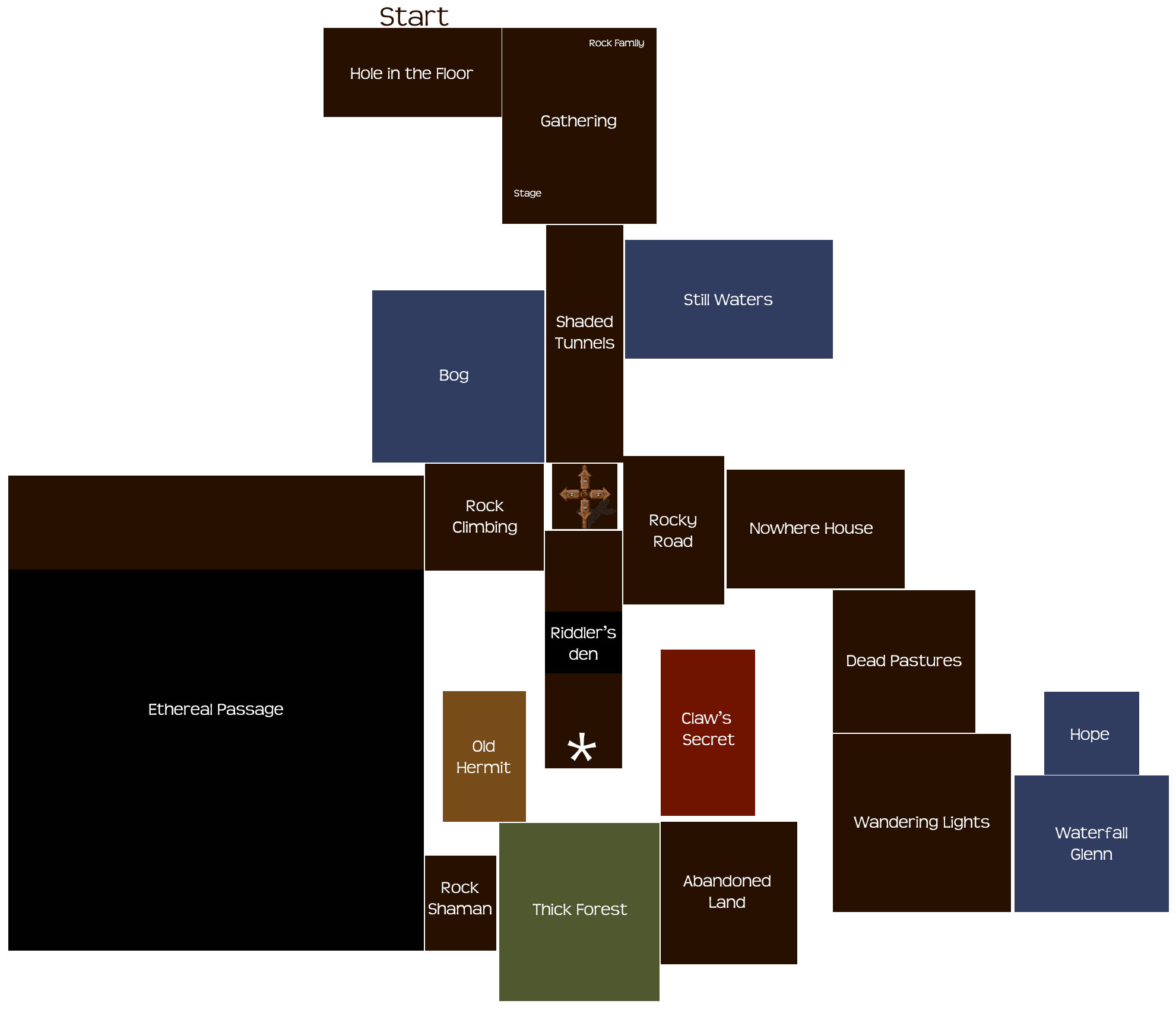 ---
Getting the Dashing cloak
1. When you reach the
Gathering
, go southwest to the stage. First click the black skeleton, Ladeeah, when it's not doing their presentation.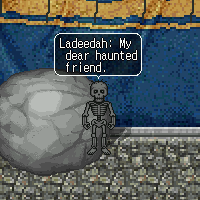 2. Say "
Larry
" to talk to the Rock.
3. Say "
Tiger eye
" and the Rock will promise to give you the "
Silver Thread
".
4. Hunt the Undead Grizzly to grab 20
Tiger eye
.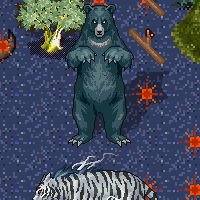 5. Return and say "
tiger eye
" again to get your
Silver thread
.
6. Say "
Danger
" to get Barry to talk.
7. Get a rock crystal and head back to the Little Shop.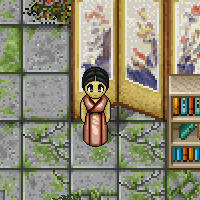 8. Say "
Key that gets you places
", next say "
Rock Crystal
" and click "yes" twice to get
Ghostly key
.
9. Go back to The Gathering and say "
Beautiful
" to get Carrie (rock) to talk.
10. Head to the
Ethreal Passage
and click Chuck. He'll explain he's the reaper, will kill you and send you to clouds area.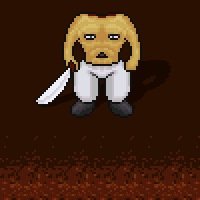 11. Once dead and on the clouds, find your way through this invisible maze, going southeast until you find a hut.
12. When you enter the hut, click
Rock Shaman
, it will ressurrect you due to having the
Silver Thread
. Head to next room.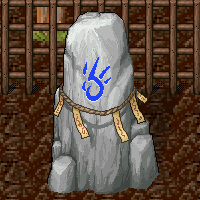 13. Walk northeast at
Thick Forest
until you find
Abandoned land
.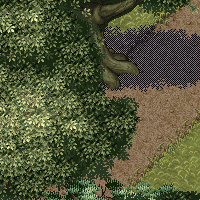 14. Head between the dry trees at 015,007 and you'll use your "Ghostly key for a Ghostly door. Who would have thought?"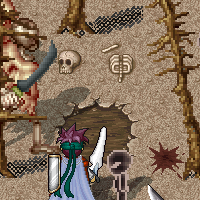 15. You then reach
Claw's Secret
. Approach the red box to recover the
Stolen smelt
.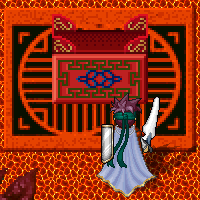 16. You may now head back to Little Shop.
17. Click Dashae and choose "Dashae's reward". She'll take the Stolen smelt and grant you a Dashing cloak.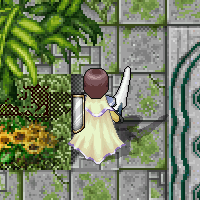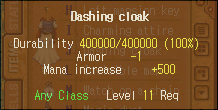 Congratulations you finished the first part of this event!
~Vini Normad'or~
~Hyul 59, Moon 11~