Past News
Did you miss that important news story? Do you want to read what happened while you were on vacation. Here's where to get that info!
Our news software, Coranto, has a bug which makes it purge links to news articles more than two years old. What is left of programmers who volunteer their time to support this software do not know why this bug occurs. We manually index older news pages in our Archived News section.
Client Patch!

Posted by: Guldar

--

5:38 PM EST


Posted moments ago by GM Stein on Dreamweaver. Get ready for the Murder Mystery!

* New and old itemshop items for Halloween

* The Murder Mystery event will be happening on Wednesday only in the Kugnae courtyard with rewards of Killer's knife and Investigator's monocle

Minor updates for:
- Muse subpath
- Druid subpath

*** If you are running Windows Vista/7, make sure to run NexusTK as administrator (by right clicking the shortcut and selecting the option) for this patch ***

--Guldar
--The Ursine Ronin
| | |
| --- | --- |
| Thursday, October 25, 2012 | |
A New Primogen!

Posted by: LilB

--

4:44 PM EST
NAGNANG--
There was a change in The Forsaken a few days ago. Belladonna passed the torch to DanDaly.
DanDaly joins an exclusive list in a clan that has been around for ages and was the first Nagnang clan.
DanDaly has an official statement that he would like to share:
"First of all, I would like to thank Belladonna for her experience and direction the Forsaken is at currently. I will continue to monitor Nagnang and ensure that The Forsaken remains her true defenders. Also, I plan on furthering the role that the Forsaken has as Defenders from the scourge that is the North.
DanDaly"
Congratulations to DanDaly and thank you to Belladonna for your time.

New Primogens, New General

Posted by: Guldar

--

1:17 PM EST


In recent days the Nexus has seen shifts in leadership of several organizations. Marulek has assumed leadership of The Covenant, permitting Earthling to take a much deserved retirement. Senti has taken up the mantle in the K'urimja clan in the place of Shyandera. Last but not least, General TinaDragon has been chosen to lead the Buyan Imperial Army upon the retirement of General Aurons.

You three poor souls have my sincerest condolances, and I wish you good luck on your terms as Primogen and General.

--Guldar
--The Ursine Ronin

| | |
| --- | --- |
| Tuesday, October 23, 2012 | |
Server Reset - Tuesday October 23rd, 2012

Posted by: LilB

--

8:10 PM EST

There was a reset around 7:00 PM EST tonight! It brought some exciting news, so here are the notes:

* Return of the Dark Hunters event
* Added Dark Hunters mission, "Jae the Slicer"
* Costumes and Trick or Treat are back

To 'Trick or Treat', go to a kingdom inn such as the one at South Buya and say Trick or Treat! You must have a full costume to trick or treat.

Costumes can be found around the kingdoms everywhere.

Additionally, the Dark Hunters event has returned and you can access the hunter's camp by going to (045, 105) in Buya and clicking the NPC 'Daesang'. You will need to pay 1,000 to enter the camp!

-B
A New Merchant in Charge

Posted by: LilB

--

11:52 PM EST
KUGNAE --
Tonight, a bald headed man with an eyepatch walked into the Kugnae Gathering, a fresh scar on his forehead that reads 'Subpath Elder'.
After the Archons removed Aenia as Elder of the Merchant Guild, the path was placed into a lockdown. After an investigation, they found trouble in Aenia's style of leading a path and found her unfit to run the Merchants. This caused Aenia to be removed from the role and a lockdown to be initiated. However, Aenia was allowed to rerun for Elder in the lockdown process.
It seems like the Merchants did want some change, with a new elder in the man known as Blubber elected as Elder of the Merchant Guild. At the end of things, he emerged on top of Aenia and other candidates and is now the elder of the path.

Congratulations to the new man in charge, Blubber.
-B
| | |
| --- | --- |
| Tuesday, October 16, 2012 | |
Server Reset - Whodunit?!

Posted by: Guldar

--

7:07 PM EST

Tonight the Nexus Servers were reset, and the following was posted by GM Stein on Dreamweaver:

Murder Mystery Event (Beta)

-For 10/16 and 10/17 we will be testing the Murder Mystery Event in the Kugnae courtyard.
-A murderer will be randomly chosen and will have a limited time to murder a guard.
-Once a guard is murdered, the first person to the scene will become the investigator.
-The investigator will have a limited time to make an accusation.
-There is a minimum player number requirement for the event to initiate.
-If you are chosen as the murderer you cannot log off or leave the courtyard, or you will be disqualified.
-No legend or reward will be given at this time.
-Please provide any feedback through the ticket system.

* New Halloween items will be available soon

Minor updates for:
- Viper clan
- Tiger clan
- Destiny clan

The new event sounds Spooktacular! Grab your detective caps and your pipes and get your Sherlock on!

I believe it was Vini, in the Throne Room, with the Bouquet!

--Guldar
--The Ursine Ronin


| | |
| --- | --- |
| Thursday, October 11, 2012 | |
The Coronation of King Geumwa and Queen Lasahn of Buya

Posted by: Vini

--

7:22 AM EST
Last Saturday, at Buya Throne Room, the Imperial Ministry of Buya held the coronation ceremony which recognized the sovereignty of King Geumwa and Queen Lasahn before a watchful and curious crowd. The ceremony was held as consequence to Lasahn & Geumwa's wedding, her being the blood heir to Aino Senhi's throne. The ceremony revealed some sort of strong tension between newly crowned King Geumwa and King M'hul of Koguryo, who went as guest of Lasahn. General HanXin also arrived at the end of the formality and had a private meeting with the buyan royal couple, TinaDragon and SoulGuard.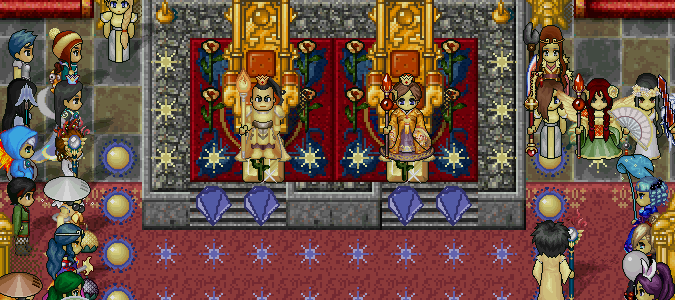 The ceremonial day began quite early, with a play held by the Muses inside Buya Theater. The end of the spectacle was marked by a fireworks show inside the theater. Shortly after, citizens were invited to head to Buya Throne room, where Shaman Maevalia, member of IMB, held a shamanic ritual in honor of the royals of Buya. After Maevalia, it was Jolie's turn to make a solid speech. "
Of course, I am known for my theatrics at times like these but I'll spare you all, just this once
", said the Princess's Lady-in-Waiting, Jolie.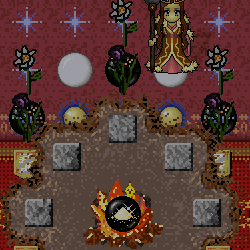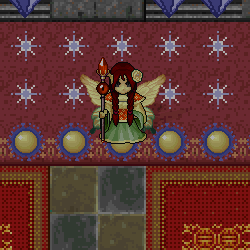 Next was TinaDragon's turn, who spoke in name of Buya Imperial Army. She congratulated both on their new crowns and expressed her wishes to continue serving Buya many more years under the new owners of the buyan throne. To make the new titles of Lasahn and Geumwa official, Minister SoulGuard conducted a royal oath to which both had to concur before being crowned.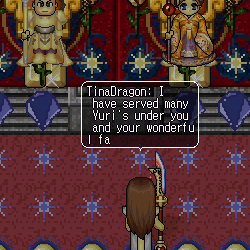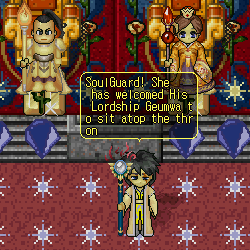 "
Do you solemnly promise to uphold and maintain the justice, culture and well-being that Buya has enjoyed since your family first arrived here? Do you agree to continue the enormous burden of authority and leadership of Buya you have maintained throughout your reign as our sovereign?
", asked the minister. "
Yes, with my whole heart
", confirmed Lasahn.
"
I'll preserve and maintain the land of Buya and all the land She resides
", vowed Geumwa.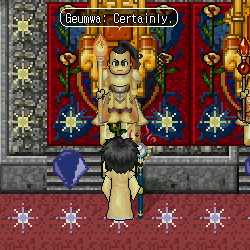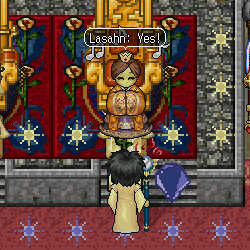 After finishing their oaths, Minister SoulGuard announced the new King and Queen of Buya and called the members of Imperial Ministry to greet them. Afterwards, all citizens were allowed to approach the royals and congratulate them. There was a very awkward situation when people noticed that majority mainly just congratulated Lasahn and sort of ignored Buya. The new King didn't express how unpleasant that seemed to him until King M'hul did the same and went to greet Queen Lasahn first. Seeing King M'hul facing now the Queen of Buya for the first time, the crowd surrounded both and one of the citizens even asked the kogurian king an autograph. King Geumwa wasn't happy about it and began questioning MuHyul's good manners by talking to Lasahn first and taking too long to congratulate him. The mocking comments professed by Geumwa earned some equally disdainful reply from the king of Koguryo. The two exchanged some uncommon "courtesies" and provoked much tension within the room, as soldiers of KRA and BIA looked at each other without much direction of what to do.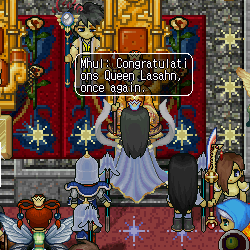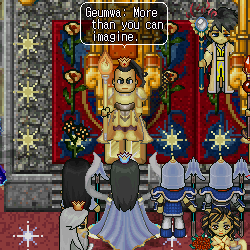 The heavy air in the room was only cleared when General HanXin arrived and dispersed the attention from the two kings. The General of Han had arrived not only to witness and confirm the newly crowned, as requested by Han Emperor, but also to meet with them about a certain unspecified private subject of great importance to buyan government. The King, the Queen, the Minister and BIA Colonel headed to the room at northwest of throne room and had a meeting there which the subject was not made public even after days. The ceremony was closed, but the day wasn't finished yet. Those who stood a little longer at throne room were able to witness Minister SoulGuard kicking Salguod from Geumwa's throne, which was quite funny.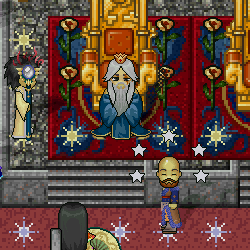 Nexus Atlas congratulates King Geumwa and Queen Lasahn on their new titles and wishes a prosperous future to Buya.
~Vini Normad'or~
~Hyul 51, Moon 3~
| | |
| --- | --- |
| Wednesday, October 10, 2012 | |
BIA General steps down to join BlackTide

Posted by: Vini

--

10:33 PM EST

More changes at Buya! Few days ago, General Aurons Majora has abdicated his leadership role at Buya Imperial Army to lead yet another group: the BlackTide crew. Former General Lindy also left the army to join the buyan controversial ring.

To succeed him, TinaDragon was appointed General of BIA. Tina has a great historical of leadership positions, as she had previously been Primogeness of Phoenix clan, Elderess of Rangers subpath and also guide of Merchants Guild.

~Vini Normad'or~~
~Hyul 51, Moon 3~
Server Reset - October 10, 2012

Posted by: Guldar

--

9:18 PM EST

As posted by GM Stein tonight on Dreamweaver:

* Fixed bug that prevented crystal items to ignore items in A-Z slots

* Updated Taik Pae

Minor updates for:
- Viper clan
- Oceana clan

--Guldar
--The Ursine Ronin

| | |
| --- | --- |
| Saturday, October 6, 2012 | |
Coronation celebration has began

Posted by: Vini

--

7:55 PM EST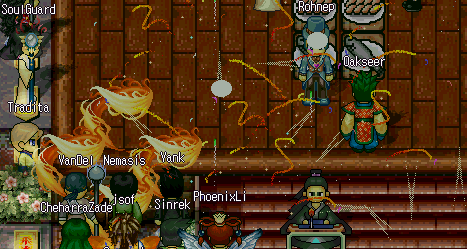 The Coronation ceremonies have already began at Buya. An impressive play with special light effects and indoor fireworks was held at Buya Theater. Upcoming next is the shaman ritual held by Maevalia.
Come join this special day at Buya history.
~Vini Normad'or~
~Hyul 51, Moon 2~
Buya Coronation - Tomorrow!

Posted by: Vini

--

6:18 PM EST
After newly married, Princess Lasahn will finally be crowned along with her husband, Lord Geuwma. This is the moment Buyans have been waiting for since the troubled times of Aino Senshi's death.
Here's the official public invitation posted by the Imperial Ministry to the coronation which shall be held tomorrow evening:
Princess Lasahn, the Sovereign of Buya, is
a true leader. As the Princess of Buya and
the Head of State, she has proven time and
time again that she is strong, graceful, and
on point with her people.

Lord Geumwa has taken the hand of Princess
Lasahn as well as the hand of the people.
He is accomplished, tactical, and is a hero
of Han.

With the union of these two figures and the
unfortunate passing of Emperor Aino Senshi,
a coronation will take place to rightfully
grant Princess Lasahn and her beloved the
appropriate titles.

Minister SoulGuard will preside over the
ceremony in the Buyan Throne Room.
The schedule of coronation is as followed:
(10-06-12)
6pm: Opening Ceremony at the Buya Theatre

6:15pm: Imperial show, hosted by Rohnep

8pm: Shaman Ritual, hosted by Maevalia

8:45pm: Army drill, hosted by TinaDragon

9:30pm: Coronation begins in the Buyan Throne Room

Other mini-events will be held throughout the day to celebrate the coronation! Check Community Events board for details.