Supply Line
Supply crates rarely have substratum plates. You can take the plates and visit Lost in Nogh's Hut to create some very special items.


Clickable Map - Click an Area to Learn More
North
- Nothing |
South
- Nothing |
East
- Nothing |
West
- Nothing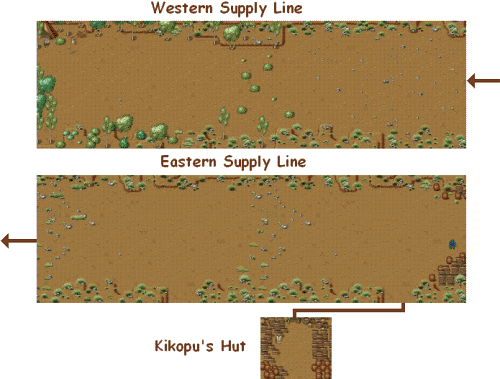 Nearest Kingdom(s) - kugnae
Existence - January 2007
Number of Shops -
Number of Caves - 1

Interesting Facts about Supply Line :


Sangin will take ambers as trade for supply crates. Any type of amber can be traded for 1 crate.

Taskmaster Kumae constantly wants supply crates but he doesn't give you anything for them. Makes you wonder why the ogres are stockpiling so many supplies.
Monsters in Area :
| | | |
| --- | --- | --- |
| Creature | Experience | Item Drop |
Eastward bound

1,000,000

Amber
Dark amber
Crate of supply

Eastward bound

1,000,000

Amber
Dark amber
Crate of supply

Eastward bound

1,000,000

Amber
Dark amber
Crate of supply

Eastward bound

1,000,000

Amber
Dark amber
Crate of supply

Eastward bound

1,000,000

Amber
Dark amber
Crate of supply

Eastward bound

1,000,000

Amber
Dark amber
Crate of supply

Supply Line Guard

3,000,000

Amber
Dark amber
Crate of supply