This year's Valentines Day Quest has been released and introduces a
new mantle
and a
new legend mark
as rewards.
The quest involves Subing & Bingsu's fabulous love, which has withstood the test of time, and they're now looking to Tie the Knot!
BOARD TITLE: Whispering Winds
FROM: NexusTK DATE: 2/7
SUBJECT: Timeless true love
Dear Community,

Thank you for reuniting me with my love SuBing, without your help we would have never found each other again.

We've been apart for many, many years, but the love in our hearts is as youthful as the first day of Spring, so we decided to get married! Now, we need your help with finalizing a couple of very important details for our wedding!

Find us at the Lover's lake if you wish to help.

Warm Regards,
BingSu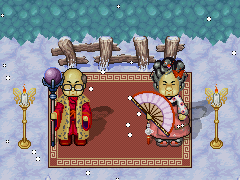 BingSu and SuBing in Lovers Lake - Arctic Land
---
In order to start the quest, head over to Lovers Lake in Arctic Land (003,048) and speak to Bingsu (the husband), he'll ask you for multiple things: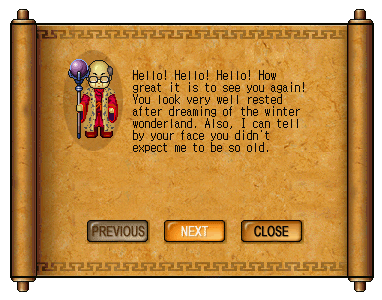 a) Some chocolates for Subing (specifically Chocolate cakes and Chocolate hearts)
In order to attain the chocolates, you must run around the kingdom and say "I love you red/white/pink butterfly" (depending on the color of the butterfly, of course). The butterfly will tell you they love you as well, perish and in its place will be a goody!
Collect 5 Chocolate Cakes & 5 Chocolate Hearts.
b) He also asks you for a fancy box to put them in!
This is where you run to Buya to speak with Blossom the seamstress (019,119). You can purchase the Fancy box by purchasing it from her under "Other Items" for 5000 gold coins.
Bring these back to Bingsu to receive a mantle of your color choosing: Magenta, Sky, Twilight, Emerald, Scarlet, Night, Pink, Royal, Golden, Aqua.
---
Next, Subing's turn! Subing is just so excited by the prospect of marrying her true love, that she wants the entire affair to be just right!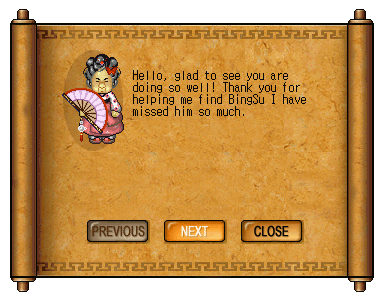 She asks you for the following:
a) Callalily Bouquet
This is made by bringing : 5 regular cloth, 2 fine cloth, a ribbon and 5 callalilies to the decorating table found at the Crystalline Chapel in Arctic Land. (069,053)
Note: Callalilies are found at the Great Tree in Wilderness (104,006).
b)
She also asks you to book the Master Entertainer for her wedding!
Note: Bring a moon wine with you for this part, obtained from Baegil Shop in Kugnae (196,200) for 100 gold coins.
Visit the Kamchatka Ballroom in Arctic Land (036,027) and save the Master Entertainers Sheet Music from the "Love Doves".
Collect 3 of the sheet music and turn both those and the moon wine into the Master Entertainer to receive an Entertainer Token.
Once you've collected both items, bring them to Subing and receive a mark, "
Helped star-crossed lovers tie the knot
".

---
All items needed for quest:
5 Chocolate Cakes

5 Chocolate Hearts

1 Fancy Box

5 Callalilies

5 Cloth

2 Fine Cloth

1 Ribbon

1 Moon wine

3 Sheet Music

Interesting Fact: Love Doves also drop Valentine Dye!


---

Don't forget you can also send the folks nearest and dearest to your heart a Valentine! Here's how:
Visit the Old man/Shaman in Buya (014,133) and receive a "Valentine Ribbon".
Take this "Valentine Ribbon" to Dashae in Kinungs (082,072) and she will turn it into a Pink Valentine.

Note: If you wish to have any color besides Pink, you may skip the above steps and simply purchase a song or poem from the Baek shop in Koguryo (017,012) and bring it to the Muse in Buya Islets (051,005) and she'll simply trade your song/poem for a Valentine of your choice.

c) Take your beautiful "Valentine" to the messenger in Buya, Paryu (096,130) and use the option "Valentine Delivery", it costs 5,000 gold coins to send.

Note: If you send using regular delivery, the Valentine will NOT show whom it was from!

Valentine Color Chart (credit goes to Namie~)

Crimson : Red
Blackest : Black
Snow : Pale (seems like lighter version of Royal)
Forest : Emerald-ish (looks a bit similar to Sky)
Royal : Lilac purple
Golden : Gold, yellow-ish
Sky : Sky blue
Sun : Orange-ish gold (looks a bit similar to Golden)
Moon : Navy blue
Pink(Default in Kinung) : pink

Don't forget about the yummy goodies from butterfly drops!

Here's what each does:



Valentines Flower - For holding



Chocolate heart - Share a kiss with your partner!



Red Candy Box - Dance with your partner!



Chocolate Cake - Gives you 100% vita fill



Valentine Chocolate - Gives you 100% mana fill