| | |
| --- | --- |
| Monday, December 11, 2017 | |
| | | |
| --- | --- | --- |
| | | Winter Kruna Release! |
Early this morning Covergirl surprised us with this winter's fabulous collection!! Literally dozens of various colors, outfits, hair pieces and more to create your perfect Holiday Outfit!
Don't forget your boots if you purchase a Winter Skirt/Suit and check out CoverGirl's post below as well!
BOARD TITLE: Item Shop Announcements
FROM: CoverGirl DATE: 12/11
SUBJECT: Winter Update


Hello Kingdoms~

It is cold! I hope you didn't get a cold, even though I caught one... cough cough

I know you've been waiting for our winter collection and now the Item Shop is updated. Please find your warm cozy outfits for this winter so you won't catch a cold in the caves out there while you are hunting and adventuring.

Also we need nice outfits for the upcoming Christmas parties, right? I put Gongju gowns and Waangja garbs, which were very popular last year, and I added some new colors this year. I know some of you like darker colors instead pink :) so I tried to find dark but still nice stylish colors. I hope you like these new colors.

On your request list, our beautiful long Gathered locks is on top. Here we go~ I put all the Gathered locks with some new colors so please find your favorite colors, and don't send me same request over and over again haha :)

Thank you for those who always love and support the Item Shop, and I will do my best to keep up with your love!

**CoverGirl



Usable Items
: (pass the cursor over the image to see Item Details)
In-complete list of what the Winter Gifts Package Offers:
*Chuba Packages
*Winter Outfits
*Starry Gowns/Robes
*Star Wings
*Frosty Buddy
In-complete list of what the Gift Sleigh Package Offers:
*Winter Fox Mounts
*Cloud Mounts
*Rudolph Sleigh Mount
*Bobcat Mounts
*Festive Dragon Mount
*Parkas
*Holiday Earmuff Cap
Weapons
: (pass the cursor over the image to see Item Details)
Mounts
: (pass the cursor over the image to see Item Details)
Face
: (pass the cursor over the image to see Item Details)
Head
: (pass the cursor over the image to see Item Details)
Coats
: (pass the cursor over the image to see Item Details)
Shoes
: (pass the cursor over the image to see Item Details)
We thank CoverGirl for her efforts this season especially in light of her cold! We hope she feels better in time to meet Santa.
*;'IcePixy';*
Hyul 92, 8th Moon, 8th Sun
Santa Mhul is this week!

Posted by: Loxie

--

12:31 PM EST

It seems like in the hustle and bustle of events the schedule for Santa Mhul was overlooked. Here it is:

12/15 - 6:00pm pst - 10:00pm pst (9:00pm est - 1:00am est) - Friday

12/16 - 3:00pm pst - 7:00pm pst (6:00pm est - 10:00pm est) - Saturday

12/17 - 4:00pm pst - 8:00pm pst (7:00pm est - 11:00pm est) - Sunday

May the odds be ever in your favor!
| | |
| --- | --- |
| Sunday, December 10, 2017 | |
Legend of Samjok-o

Posted by: Vini

--

11:56 PM EST
There seems to be a new legend on the libraries Legend scroll. Today Arkanis found some of the scrolls laying around on Kugnae West gate and when he opened it, noticed a new legend available with the title "Samjok-o". The legend was posted by a person called Yondung, who signed it as "Spirit Guide". To buy a Legend go to any kingdom library and purchase them for 2,000.
Check out the copy of the legend post available at the scroll:
BOARD TITLE: Legend
FROM: Yondung DATE: 8/9
SUBJECT: Samjok-o
Scholars and historians have unfolded some old legends of a celestial black bird known as Samjok-o. The Samjok-o or "Sam-Jok-Oh" is a three-legged crow with golden wings. It is believed to be the only creature in all existence that can enter and reside in the Sun because of its black feathers, while a turtle lived in the moon. Due to its unique powers, Samjok-o was revered by ancient tribes as the one divine being that connects the heavens and the earth. The power of Samjok-o is believed to superior to both Dragons and phoenixes.

Those legends intertwine with the stories of the foundation of Koguryo, as some believed that Jumong's mother was impregnated by sunlight and gave birth to an egg. Some people believed back then that Jumong had been born with the power of Samjok-o or the protection of it. While the legends show little evidence of its existence, the writings of multiple sources and symbols of the three-legged bird found at Jumong's Tomb can prove otherwise.

- Yondung
- Spirit Guide
Very little is known about the three legged bird and very little could be found about it. So far, we could find the image of the 3 legged bird in Kugnae Tower arena battle rooms. Same symbol can also be found on Bringer Arena from Carnage of Riches.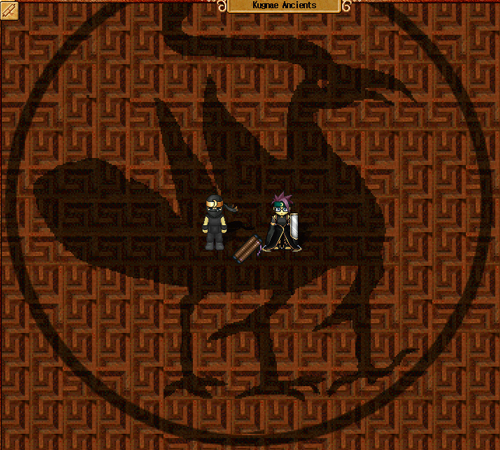 As the legend suggest, the legend of the Samjok-o connects with the story of how Jumong was born. For those who don't know about Jumong, he was the father of King Yuri and probably father of Sagu too. He was King M'hul grandfather. So far it is not known where Jumong's tomb is located, but if anyone knows, it is probably MuHyul.
There isn't much known about Yondung. That's the only mention we could find of him/her. It's the third time the Kingdoms of the Winds hears from a Spirit Guide since the early days. First one was Eldridge who appeared just before the Shattering and disappeared around Yuri 70. Then second one was Abu, who appeared around Hyul 30 and turned out to be a villainous one, who Mug sacrificed to save us from. Now after 60 Hyuls another Spirit Guide seems to be sharing legends of the kingdoms again. Would that be a good thing or a bad thing? Only time will tell.
~Vini Normad'or~
~Hyul 92, Moon 8~
| | |
| --- | --- |
| Saturday, December 9, 2017 | |
New NA staff and Thanksgiving event "Easter Eggs"

Posted by: Frenya

--

11:14 PM EST
Hiya,
I am very happy to announce that I have joined the Nexus Atlas news team as
reporter
and resident
cartographer
. These lands are always changing and new areas are always being discovered, I will do my very best to get these places mapped out accurately for ya. Maps are the core of Nexus Atlas after all.
In addition to that exciting news here are some fun "Easter Eggs" that were hidden in the recent/current Thanksgiving event with the
privateers
.

Quartermaster Blanchet says "we're going to need a bigger boat" a subtle reference to the movie Jaws, by chief Brody.



First Mate Gousqueton says "the mooncake is a lie" a twist on the popular phrase "the cake is a lie" from the game 'Portal'.



The Sailing Master Primaud has quite a few depending on how you answer him when he asks where he is. He will say either "I had a feeling we were not in Shilla anymore" or "Our home is the sea and there's no place like home" both Wizard of Oz references.


The Sailing Master also says "This is your fault. I'm going to kill you. All the mooncake is gone" as well as "You don't even care, do you?" some fun Portal 2 (video game) references.



Boatswain Mazin says "I hope they die of dysentery" hmm this one feels like a vague reference to the game Oregon Trail "You have died of dysentery"or perhaps I am way off in looking for Easter Eggs.

Also, for those of you who noticed the name of the privateers is bolded and underlined? Well, that's because their names also hide easter eggs too. Blanchet, Gousqueton, Primaud and Mazin are names inspired by Planchet, Mousqueton, Grimaud and Bazin (shifting the first letter of each name) who were servants of the Musketeers in the novel by Alexandre Dumas. Mursketeers -> privateers, get the reference?

Were you able to find more? Let us know!

Till next time,

<--Frenya--<<<
Server Reset - Halloween Event Ends

Posted by: Vini

--

8:41 AM EST
Earlier this morning the Nexus servers were reset and removed both versions of Halloween event:
the trick or treat + costume collection quest

Kangsee from cemeteries + Changmu Town + Turtle Shell Cave

This means that people can no longer enter Nagnang Haunted House nor visit the Road to Shilla anymore. However, the outside area of Nagnang Haunted House remained, as well as the Nagnang Gorge and Pae River. Hopefully they might end up becoming permanent additions.

Also, it seems that Thanksgiving message now sends a thankful note instead of the token. Which has same spirit of thanking a person, but without the exp part.


BOARD TITLE: Dream Weaver
FROM: NexusTK DATE: 12/1
SUBJECT: Quick Reset - Dec. 1st, 2017

- Trick or Treat and Halloween event closed. (Some event item will be removed later on)

- Thankful token has been replaced with Thankful note. Thankful note does not give out Exp. (Please see Wony's Rambling Thoughts post #178


The Thanksgiving quests continue available so people who are aiming to become legendary turkey hunters 500+ can still work on their caged turkeys for a while longer.

~Vini Normad'or~
~Hyul 92, Moon 5~
| | |
| --- | --- |
| Wednesday, November 29, 2017 | |
Nagnang by the sea

Posted by: Vini

--

1:11 PM EST
With the Shipwrecked crew event (Thanksgiving 2017)the community was able to explore more of the littoral by the Yellow Sea at southern limits of Nagnang. While the Nagnang Farms, Haunted House and main Shore were discovered during Halloween event, now three new areas can now be explored: the Nagnang Coastline, a longer part of Nagnang shore and Nagnang Secluded Beach. Check out the updated map scheme: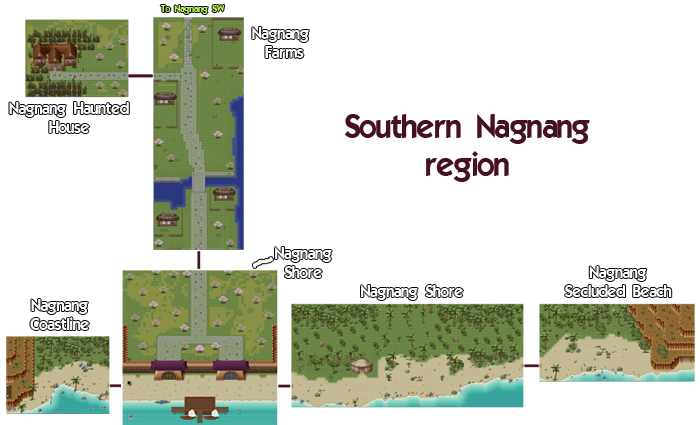 --
Want to help keep the Atlas updated? Contact me. We're looking for new Cartographers to aid with updating our maps database, which is in the core of Nexus Atlas.
~Vini Normad'or~
~Hyul 92, Moon 4~
| | |
| --- | --- |
| Tuesday, November 28, 2017 | |
Wild Wild Wilderness

Posted by: Vini

--

4:00 PM EST
Last Thursday the Wilderness between Koguryo and Buya has been revamped to a more modern and updated look and resembles much more what one would expect of a "Wilderness". Rumor is that this renovation was a combined effect of Druids' lunar festivals and Geomancers' tao mirrors, showing the true colors of the wilderness. Here's how the new wilderness (7.x) looks like: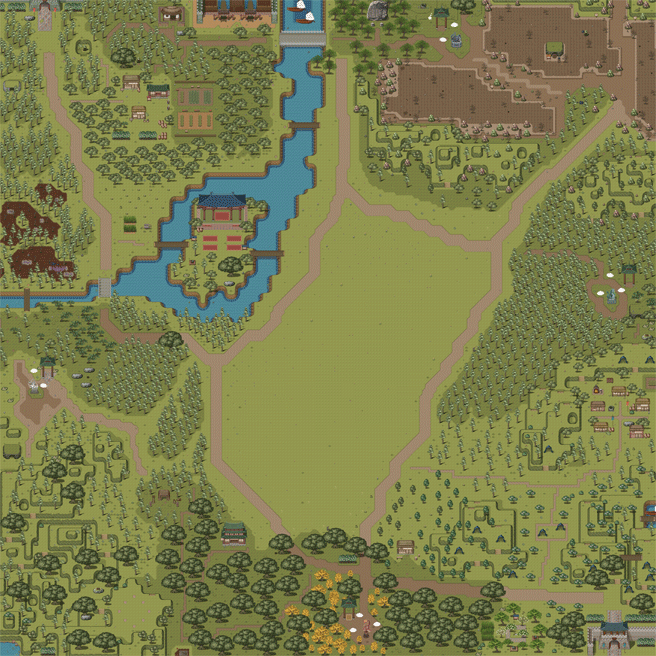 For reference here is how
Wilderness (6.x)
looked like until last week.
Also, for reference here is how
Wilderness (4.x)
looked like originally. The new version seems like an updated version of the original one from Nexus 4.x era. Doesn't it?
Just for reference, most places continue in their own coords. Gelapod moved to 107,017.
~Vini Normad'or~
~Hyul 92, Moon 4~
Powered by Coranto
Information copyright © Nexus Atlas 2002-2017. Content copyright © Kru Inc. (www.kru.com) and © Nexon Inc. (www.nexon.net). The news presented on this main page not only contains factual information on the game Nexus: The Kingdom of the Winds by Kru Inc., but also the opinions of the person who is writing the news. Information from this website should only be used as reference and should not be the final word on any matter. Information on this website should not be used without the permission of Nexus Atlas administration.