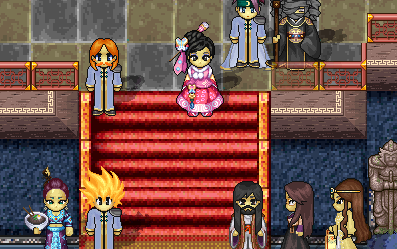 KUGNAE -- Throughout the recent communications between Queen
Yun
and her new "friend"
Taiisrhaa
, a tea tipsing was scheduled to be held last evening at Koguryo Royal Palace vicinities. The King was not present nor invited to the informal meeting, but was made aware of its occurance by his soldiers who were set to protect the Queen during her stroll outside the palace.
Taiisrhaa arrived at Kugnae Palace Courtyard accompanied by
Avathian
, the Nagnang Ambassador and also by Shaman Elder
Ellanor
, her husband and Shaman
ZenRu
, the same one who found traces of poison in
Geumwa
's corpse. Queen Yun was accompanied by the new Koguryo Prime Minister
Loxie
, by Shaman
theSavior
, the same one who performed her wedding ceremony with King
M'hul
and was escorted by four KRA soldiers: Amatus, Saiyanwar, Vini and KyoKun.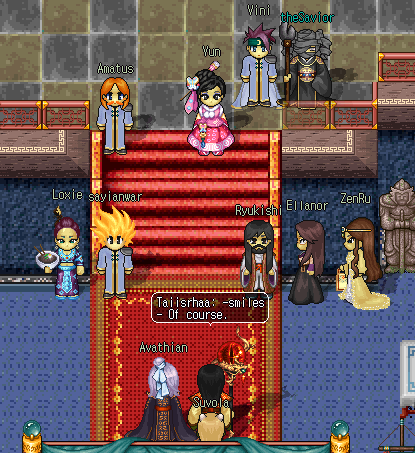 The tea sipping got delayed a bit due to an unsual sighting behind Taiisrhaa. A strange figure with pointed ears was following him everywhere. Kogurian soldiers couldn't really understand if such "person" was human or not, but questioned about her hands being bind by shackles and chains. Taiisrhaa claims she wasn't his slave, was only but a companion, although all evidences pointed against that. This female creature calls him "Master" and her name was revealed to be
Suvola
.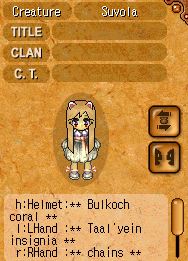 After the initial inquire about Suvola, the Queen requested to move out for a stroll. The convoy ended going to Yuri's Garden just east of the Royal Palace where the Queen admired the beautiful flowers. While chat was flowing naturally and tea was being served with help
Pupedi
, another KRA soldier who arrived afterwards.
After much walking at the garden, the Queen who was still wearing a flower bracelet in her hand, given by Taiisrhaa, has done some reckless move. She took a healing salve by Taiisrhaa and used it against the recommendation of the soldiers guarding her. In the end, she seemed to be fine, but Taiisrhaa refused to give any sample of the salve to others to test the legitimacy of it, although offered by both shamans and kogurian officials to test it.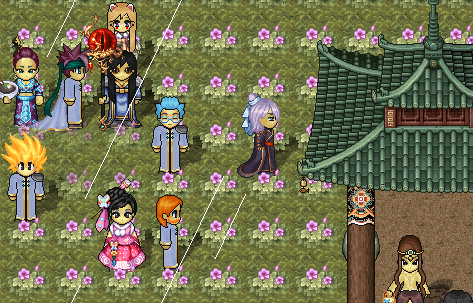 Other than the "minor" incident with the untested salve, the whole tea sipsing went well. The Queen went back to the palace to rest not long after, as her belly quite heavy by now with the pregnancy and her legs can't stand much walking.
Yet, During the whole friendly gathering at the Flower Garden, the behavior of Suvola was very strange. She would ran around the garden to catch food or other objects just like if she was a pet, while she would only feel comfortable around Taiisrhaa and at the end around Avathian too. The simple act of standing next to Suvola, stare of talk to her would cause her to flee. At one of the many attempts to communicate with her, while she was fleeing, I actually was able to see she had
9 tails hidden under her dress
. Could that be a costume? Could Suvola be nine-tailed fox morphed into a woman or could she be a were-ninetail fox? Not much is known but obviously her relation with Taiisrhaa isn't normal. Suvola seems too much afraid of people, despite not a single violent move being perfomed. She acts like a pet too afraid of being beaten again.
The mysteries surrounding Taiishraa grow bigger with the discovery of a slave human-like creature. An insignia was noticed on her left hand inscribed **Taal'yein insignia**, what could that mean? Perhaps finding what Taal'yein is, is the first clue to figuring out through the mystery behind such strange characters.
~Vini Normad'or~
~Hyul 73, Moon 8~