Welcome to Nexus Atlas!
The Internet's #1 Source for all Things Nexus!

Headlines
New Wisdom Clothes - 19th version -- Vini -- 3:11 AM, July 1
Anniversary Reset July 1st -- Loxie -- 2:16 AM, July 1
Tangun and Anniversary Play FAQ -- Loxie -- 2:10 AM, July 1
Anniversary Festival -- Loxie -- 2:38 AM, June 30
Anniversary News -- Loxie -- 1:17 AM, June 30
Nagnang Defender Ceremony -- Ferro -- 11:41 PM, June 29
More Bans today -- Vini -- 10:46 PM, June 25
TK Roleplay Initiative -- Loxie -- 10:27 PM, June 25
Thank you for your service Tyrra, New Bear clan Primogen. -- LinuxKiddy -- 7:17 PM, June 25

New Wisdom Clothes - 19th version

Posted by: Vini

--

3:11 AM EST
The 19th set of wisdom clothes are here and are called
YeolYeodeolBeunZe Robe
and
YeolYeodeolBeunZe Gown
.
As usual, SilentS has volunteered to be model to show how the male wisdom clothes looks in all four directions and some different dyes.

We're still looking for a lady to be model with her new gown. If you have obtained the new gown, please contact any Nexus Atlas reporter or submit a bitmap (shift+scroll lock) screenshot to my email.
~Vini Normad'or~
~Hyul 81, Moon 1~
Anniversary Reset July 1st

Posted by: Loxie

--

2:16 AM EST

The reset has happened! Everyone get your hunt on. Who needs a fresh Sa san poet?

Wisdom Star
Wisdom Clothes
Anniversary Sword
Fireworks
4X Exp for Pre-L99
Opening of Tangun (Experimental)*
Anniversary Play (Experimental)*
* Please refer to other Dreamweaver posts.
Tangun and Anniversary Play FAQ

Posted by: Loxie

--

2:10 AM EST

mir posted an explanation about how the Tangun and Anniversary play will work. Be careful, it seems as if your items will be dropped after the end of the trial.

Q. How can a newbie character leave Tangun?
A. Choose a path (be L5), and click Yachae in the inn.

Q. What is Anniversary Play?
A. It is 5 day free Nexus play with no restrictions.

Q. Who is qualified for Anniversary Play?
A. Pre-L50 unregistered characteres.

Q. How can I get Anniversary Play?
A. Be Lev 20 or higher. Find and click the NPC, Halbae, near the bridge in Tangun, and agree to what he says.

Q. Can I have Anniversary Play more than once?
A. Sorry, No. Only once.

Q. What happens if the anniversary ends before Anniversary Play expires?
A. Your Anniversary Play is still valid after the anniversary. But the NPC that enables the Anniversary Play will be gone, with the anniversary.

Q. What happens when the Anniversary expires?
A. You will get a brief notice, then you will drop most of your inventory items, and won't be able to withdraw deposited items. If your current level is higher than L49, you won't be able to log back in, just as if your registration expired. So, if you want to log back in as a non-reg character, do not advance beyond 49.
Anniversary Festival

Posted by: Loxie

--

2:38 AM EST

The news regarding the anniversary was so exciting it needed a festival! All clans, paths, and assorted organizations are invited to participate. It goes from:
Friday, July 1st to Tuesday, July 5th with hourly events starting at 6pm to 11pm EST. If you wish your organization wishes to participate in hosting contact Meditrina or Loxie with following info:
Day - Hour [Event Name] [Organization] - Prizes

The full schedule will be available at Community events.


---
Anniversary News

Posted by: Loxie

--

1:17 AM EST
The Gods have heard our prayers. There is a special treat for the anniversary, as posted by mir. If you have friends wanting to try Nexus soonish is the time!
BOARD TITLE: Dream Weaver
FROM: mir DATE: 6/29
SUBJECT: anniversary

For this year's anniversary, we have the usual Wisdom Star, Wisdom Clothes, Anniversary Swords, and Fireworks.

Asmodi & Iron Hands Part. 2 will start right after the anniversary.

What's different this year is:
- Level 98 and below will receive double exp. on top of the WS. (4X).
- Opening of Tangun: At level 5, the inn NPC can send you out. (Tangun might stay open after the anniversary, or will close and reopen after the possible glitches are ironed out)
- Anniversary play: During the anniversary, a special NPC will be available in Tangun that will let unregistered characters play Nexus without any restrictions for free, for 5 days.

All of us are quite nervous about letting unregistered players roam Nexus freely with no restrictions. We are doing it since this will greatly help us plan for the future. Please do not exploit or abuse the possible bugs and glitches, but report them.
Nagnang Defender Ceremony

Posted by: Ferro

--

11:41 PM EST
The Nagnang Defender Ceremony was held recently, on June 29th at 9:00 PM EST. Most of the usual people for major Nagnang events showed up, as seen here: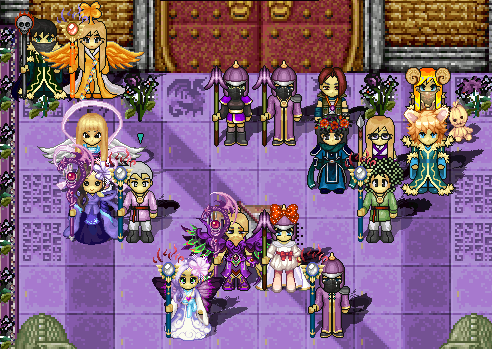 It was a fairly typical Defender Ceremony for Nagnang, and as a result we have a lot more Defenders among us now. The following people were honored as Defenders:
Anrak
Arkanis
Davie
Door
Ferro
HeRan
Living
Neji
PumkinKing
ReiKai
ShiKago
ShiZuko
Sieo
Snack
Tibun
Vheissu
Washington
-- Ferro
More Bans today

Posted by: Vini

--

10:46 PM EST
It seems as a third round of bans occurred today. This ban was on trending topics of Nexus' grey pigeons messages.

Such was mostly because the player who was banned today gained fame through a lot of controversy over the past years.

Eggio had already been
banned and purged on April 2013
, but somehow managed to find his way back being unbanned a year ago and even changed his name to Egg. Since the return "Egg" has helped multiple people to do the Hamgyong Nam-Do quests needed for Sa san therefore became even more "popular". Yet, behind such good deeds, seems Egg was exploiting the system on various violations. Today the confirmation of his ban and people who dared to try to hide his traces confirms what most players have been hoping for: justice may have been late, but has been served.
Here is the copy of Head GM Wony's post on Scum board:
BOARD TITLE: Scum
FROM: Wony DATE: 6/25
SUBJECT: Egg + All Chars

Banned, for multiple violations. All the alts, including Ham, Rogueeggy, Syrup, Waffle and several more.
More bans are coming, the GMs are doing their part, but if you know and have evidences of any other cheaters, submit a ticket and let them handle it. Help keep the Kingdom of the Winds clean!
~Vini Normad'or~
~Hyul 80, Moon 11~
---
TK Roleplay Initiative

Posted by: Loxie

--

10:27 PM EST
A group of players decided to get involved in the community in an effort to ease boredom, increase spontaneous roleplay, and encourage interacting one-on-one with other players. Here is their statement.
TK Roleplay Initiative


Our goal is to increase community involvement by creating spontaneous, interactive, and fun roleplay events.

We encourage all members of the community, regardless of path or prior role play experience, to join in this exciting new endeavor! With your help we will have the tools to make all of our game play experiences substantially more enjoyable AND inspire new players to become contributing members of our community.

All we ask from you is a little time and creativity!

Along with these impromptu interactions, we will begin hosting weekly RP events following our next meeting. We would love for you to be part of the planning process but you are also welcome to jump in at any point and participate.

For the time being our roleplay activities will take place within Tangun so that all players have access. But, being founded on ideas of flourishing growth, we are looking forward to expanding and watching a web of intertwined stories build across the kingdoms.

Please join us as we dive into this adventure!


Study Spot, Tangun
Saturday July 9th at 6:00 PM EST
---
| | | |
| --- | --- | --- |
| | | Thank you for your service Tyrra, New Bear clan Primogen. |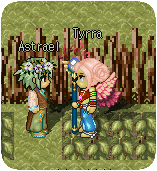 Today, Hyul 80, 11th moon. Primogen Tyrra has handed her long held staff
over to Do Astrael. We thought tyrra would always stay Bear's Primogen
but She has decided it was time. With the passing of the staff, Aastrael
has some words to say "Our reverent thanks go to Tyrra, whose unrelenting hard work
and earnest compassion have brought the Bear Clan together as a family stronger
than ever. Our humble cave is a wonderful place to be able to call home in these
Kingdoms, and I intend and aspire to oversee our family with the care and
wisdom they deserve - with honor, loyalty, and strength in unity!"

We hope good fortunes for Bear Clan in their path forward.
Powered by Coranto
All portions of this website is copyright ŠNexus Atlas 2002-2016. Nexus Atlas, Nexus Network original content, layouts and logo are copyright Ben Moody 2002-2010. The current website layout was programmed by Nagnag. A large majority of this website's information is copyright Kru Inc. (www.kru.com) and ŠNexon Inc. (www.nexon.net). | The news presented on this main page not only contains factual information on the game Nexus: The Kingdom of the Winds by Kru Inc., but also the opinions of the person who is writing the news. Information from this website should only be used as reference and should not be the final word on any matter. Information on this website should not be used without the permission of Nexus Atlas administration.