Server & Client Patch - May 27th, 2016

- Spell Macro can now accomodate 20 slots in total, using the CTRL key. And the slots will accepts the items as well as spells!!

- Machurians are angry. Expect the battles will be more challenging. Be careful. Deaths may sting you harder. However, someone might give you the chances to experience the spells that you always dreamed of.
(The name 'Manchuria' might change to something more historically compliant next time)
(Also this is temporary and experimental)

- Portrait file will be properly saved

- Now you can target monsters only, excluding the players, using Shift + Arrow keys.

- Gauntlet hours adjusted, 30 minutes before the carnages.
- Fixed some deposit issues.

- Minor updates for:
Sun moon clan, Alizarin clan, SanSin clan, Oceana clan, Destiny clan
Viper clan, Pheonix clan, Pegasus clan, Covenant clan, Tiger clan

Subpath Muse


Easter eggs have been removed from the kingdoms,
Mysterious bunnies are still around in Kugnae.
Pixel quest in Rooster mythic cave is still around as well.
I will do my best to find what has changed in the Manchuria's area.
New npc is located near the entrance of each Manchuria area named Wandering spirit

The spirit will sell you Orbs that give you SA based spells that lasts 24 hours.
You may trade Manchuria insignia to this npc
to receive one orb/spell to use up to 24 hours.
You may also purchase Big Manchu
in the kruna shop for 100 Kruna.
"Big Manchu will reduce the required number of Manchurian Insignia to the one tenth, which may vary according to your level. Enjoy trying out your dream spells."
Orbs:
All orbs has the same aethers, regulations as SA spells and you can only learn 1 that lasts for only 24 hours.
cure- no cool down SA heal can heal a 8Mil warrior in 2 seconds with using tab heal.
Fear- Sa warrior
Destruction- Rogue
Flame- Sa mage
Serenade- Sa Restore
Revival-unknown yet
-Deaths in Manchuria is now Regular, if another player kills you it's like being murdered or
being killed by a monster. you will lose Experience and Break on Death items.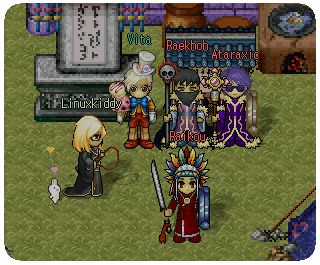 If you're group'd with the same player you cannot hurt them.
Ungroup'd non-clan players display a red name now, the red will disappear
when you group.
Manchuria mobs vita has doubled And give the same experience
Trees have been added to all areas of Manchuria to slow down progression to other areas.