LinuxKiddy is now Nexus Forums Administrator

Posted by: Vini

--

6:25 PM EST
I'm proud to announce that LinuxKiddy has now officially taken the role of Nexus Forums Administrator, something that he has been helping with over the past two years, but without all the powers he would require. Now as Head of Nexus Forums he'll have all tools available to him to handle it with the care the forums requires.

Over the next days and weeks LinuxKiddy will be revising everything in the forums: the structure, the rules, the validating process and also will be recruiting new moderators to help keep the forums as a civilized place for Nexus community.
Special thanks to Rachel who has handled that work over 10 years, but for the past couple ones she hasn't be around and it was time for the Forums to move on with new and dedicated care. Congratulations Linux, I'm sure you'll do great for NF community!
~Vini Normad'or~
Very Important Reminder

Posted by: Vini

--

12:45 PM EST
From time to time it is important to remind people about the dangers of using 3rd party programs given to you by questionable sources with intent of 'helping you advance' in Nexus, and claiming to be untraceable. First of all, nothing is untraceable. If you're using programs to cheat Nexus the GMs can find patterns on the system and will eventually catch you. But before that happens you may be suited to even worse fate: being hacked.
The Majority of hacking cases in Nexus has two origins. Either the person was hacked/cheated by someone they know in real life (a friend, a roommate, a family member) or the person has at some point in their life decided to download and use illegal cheating software, which may seem harmless to you at first, but at anytime they can hack you, usually on a silent way so you won't blame them. They may hack into your account or character and take things without you even noticing it. In worse cases they can even hack beyond Nexus. So it really isn't worth the risk.
This isn't the first time we post warnings about how dangerous these programs can be to you, but due to the recent posting of the Head GM himself, it's always good to have a reminder like this. Here's a copy of Wony's recent post on the matter:
BOARD TITLE: Scum
FROM: GM Wony DATE: 3/17
SUBJECT: Dangers of Bot Programs

If you have ever used one of the questionable cheat programs for Nexus, you are in a great danger. This is not just about Nexus but rather about your entire online security and privacy.

These programs most likely will contain Trojan spy codes, sometimes called keyloggers, that secretly hide in your computer, and will send out your keystrokes, snapshots of your screen and your files to the hackers while you are not aware of any of such activities. This means pretty much all your p*a*s*s*w*o*r*d*s, confidential data and images can, and may already have been exposed and used by someone else.

Looking at the past and current cases, we are positive that several people's characters, accounts, email addresses and credit card information are in the wrong hands. The hackers are not only stealing your Nexus accounts and characters, but they are making fraudulent charges and impersonating you on social media, and could be handing out your confidential information to the world. If you are a member of Nexus related social media, you may find such cases if you look carefully enough.

If you have used such programs and are still playing Nexus, I will do a better job of finding you to protect Nexus. But, in the meantime, do what's necessary to protect yourself IRL.

For others, I can't overemphasize this enough. Please don't use cheat programs, for Nexus and for yourself.
As obvious at it may sound, if anyone offers you such programs report them through ticket support, even if the source came from outside Nexus, it can still help them find the culprits.
~Vini Normad'or~
~Hyul 86, Moon 9~
| | | |
| --- | --- | --- |
| | | Close but no cigar. |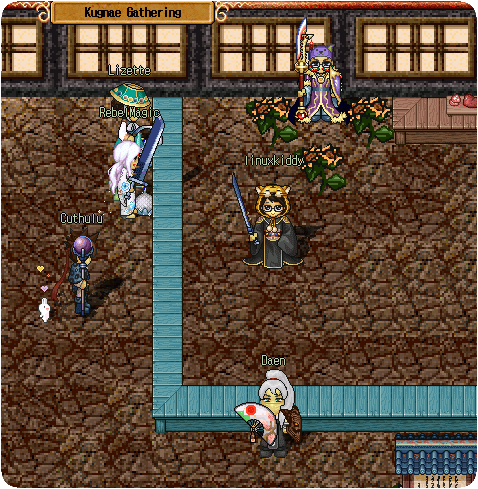 Some gather around the Merchant booth in Kugnae gathering to see
the Huntyr memorial npc named... Huntyr Dan
Not knowing how long they actually spent on working on this NPC there
is a few changes that need to be fixed.
An now for your patch notes:
BOARD TITLE: Dream Weaver
FROM: NexusTK DATE: 3/17
SUBJECT: Quick Reset - Mar. 17th, 2017

- NPC 'Pawny' replaced with an NPC in memory of Huntyr. Additional functions may be added later on.

- ATG minor tweak. Will continue.

| | | |
| --- | --- | --- |
| | | Huntyr/Dan's Memorial service. |
Sunday night was Huntyrs Memorial, as you can see in the picture above it was a huge turnout.
Huntyr was loved by the community and now missed by the community.
I'd like to thank everyone that attended and helped with the ceremony, Spoke at the ceremony,
and the Archons that lead a hand getting speakers to the stage.
Below is a recording of the entire Memorial if you havn't been able to make it,
you may watch it in the embeded view or watch it on youtube to see it in full screen.
Huntyr/Dan's Full Memorial video.
Server Reset adds fixes to Exp. distribution

Posted by: Vini

--

7:36 PM EST
Another server reset was done this morning to implement more changes to the hunt's experience points distribution revisions that are being done.

Not enough information was collected to understand yet how these changes are affecting the exp points collected in hunts, but initial attempts to understand what may have changed point out to some possible incentives for people to hunt with groups formed by multi-paths, including all 4 of them: warrior, rogue, mage and poet. It is possible that this is one of the measures done to include each of the main paths within hunts.

Here's a copy of the Dream Weaver informing about the reset's purpose:
BOARD TITLE: Dream Weaver
FROM: NexusTK DATE: 3/10
SUBJECT: Quick Reset - Mar. 10th, 2017

Ongoing group exp. tuning to help balance the classes, removing some inconsistencies, and bugs.
More information will be brought to news as details of this change are uncovered.
~Vini Normad'or~
~Hyul 86, Moon 7~
Powered by Coranto
All portions of this website is copyright ŠNexus Atlas 2002-2016. Nexus Atlas, Nexus Network original content, layouts and logo are copyright Ben Moody 2002-2010. The current website layout was programmed by Nagnag. A large majority of this website's information is copyright Kru Inc. (www.kru.com) and ŠNexon Inc. (www.nexon.net). | The news presented on this main page not only contains factual information on the game Nexus: The Kingdom of the Winds by Kru Inc., but also the opinions of the person who is writing the news. Information from this website should only be used as reference and should not be the final word on any matter. Information on this website should not be used without the permission of Nexus Atlas administration.