| | |
| --- | --- |
| Monday, November 10, 2014 | |
| | | |
| --- | --- | --- |
| | | Snow on NexusAtlas |

Removed the snow that was falling on the NexusAtlas front page. You're welcome.

--LordAchoo
Ultimate Gauntlet

Posted by: Loxie

--

7:26 AM EST
The Ultimate Gauntlet has been out since before mug died. The interest in it died down over the years, but is quickly returning. With this comes the realization many people forgot how to play and many more have never played it. So here you go, the guide for Ultimate Gauntlet. I put a lot of reportly effort in snatching it from the community board. It was written by Ranei.
Warning: If you try to use a mount to enter or participate in the gauntlet you get booted. Also, don't walk back out the door to play. The first room is the waiting room.
The images are reused from the original gauntlet post.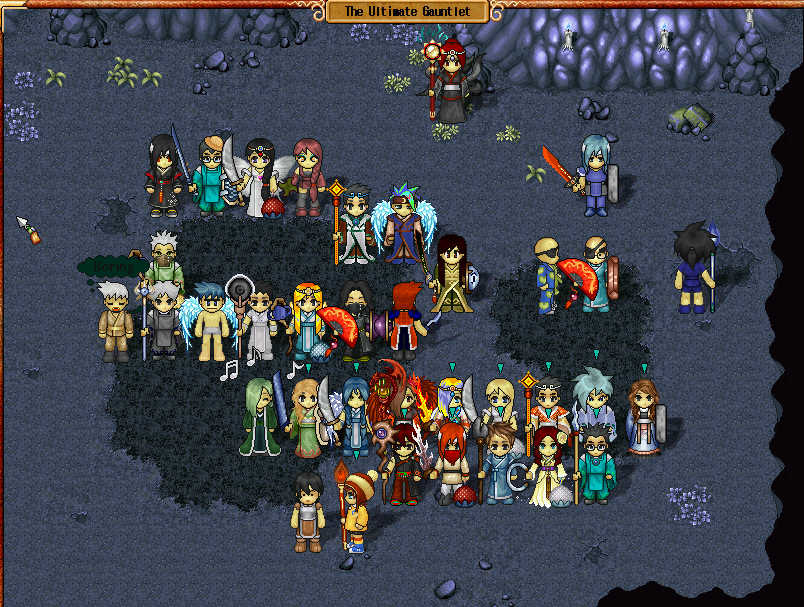 * Most recent game started at ~ 6:50am EST.
---------ABOUT THE GAME---------------------------------
To play Ultimate Gauntlet, make your way to one of the glowing portals in the big cities.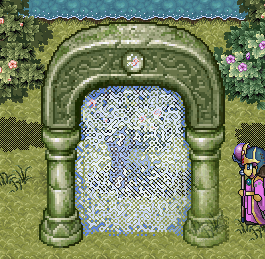 Locations:
Buya - 32, 121 (above Jadespear's)
Kugnae - 84, 204 (South gate, left)
Nagnang - 12, 103 (West gate, right)

UG runs once every 2 hours, and requires 8 players to start.
---------HOW TO PLAY------------------------------------
UG is a RACE, and the goal is to make it to the other side of the room. The title of the room (which you can see at the top of your Nexus window) will be the wall that you are trying to reach. If you start off on the West wall, you will be heading East. If you start off on the North wall, you will be heading south. And so on and so forth...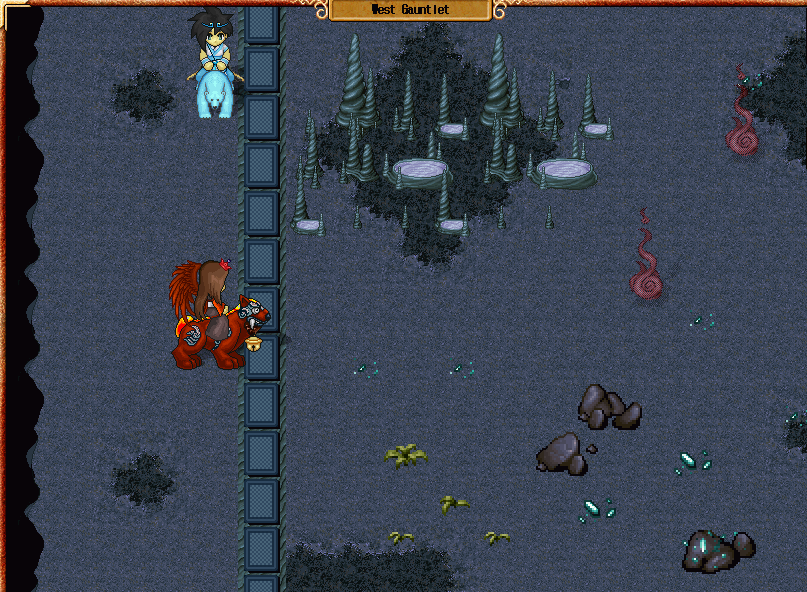 Periodically, there will be messages in your chat box that say 'bzzzzzzzt'. These are warnings! A couple seconds later, there will be a 'surge of energy', which you will see in your STATUS box (right hand side). The surges of energy can send you back to the start line :( To avoid it, make sure you are touching a dark-red swirly thing when it passes.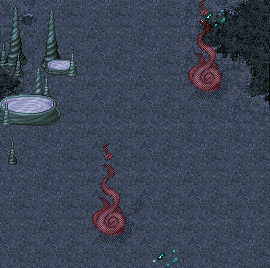 Once you reach the other wall, you will see an entrance path thing. Walk into it to enter a Generator Room, where you will see a crystal in the middle. Make your way to the crystal (and you may have to click on it!).

FIRST ONE WHO DOES THIS IS A WINNER!


------------PRIZE---------------------------------------

Legend mark saying 'Won Ultimate Gauntlet _ times' (or something like that x_x)
Something something, largest gamble in Nexus History

Posted by: Loxie

--

6:55 AM EST

A zealous gambler felt that the largest gamble in the history of Nexus should be on Nexus Atlas - so here it is!

According to Rouse, on Friday at 5pm EST a gamble happened. Rouse offered up his Sevenleaf sword, estimated at 220m-240m (really?) versus Slyness's sun armor, diadem, solid ghaleb sword, solid ceremonial sword, radiant diamonds, and antique claws - at an estimated value of 300m (Again, really? Where do these people come up with this kind of money?) The game was everyone's favorite Rhetoric-style gamble: Ante Up. The first to win ten games of Ante Up with 0 as wilds and no kickers would take home the jackpot.

Rouse, terrified to roll himself, had Sunda perform the honors. This was probably a stroke of genius, as Sunda won the game. Slyness choked behind at four games to Sunda's ten.

As a result, Slyness declared he quit Nexus and began giving away his bonded items. As of yesterday he was back to his high stakes gambling. Really? He was able to recover quickly. Gambling addictions aside... Where can I find vast riches of my own?

All I have to say to is... Rouse... Will you marry me?
Powered by Coranto
All portions of this website is copyright ŠNexus Atlas 2002-2010. Nexus Atlas, Nexus Network original content, layouts, logo and other creative works are copyright Ben Moody 2002-2010. The current website layout was programmed by Nagnag. A large majority of this website's information is copyright ŠNexon Inc. (www.nexon.net) and Kru Inc. (www.kru.com). The news presented on this main page not only contains factual information on the game Nexus: The Kingdom of the Winds by Nexon Inc, but also the opinions of the person who is writing the news. Information from this website should only be used as reference and should not be the final word on any matter. Information on this website should not be used without the permission of Nexus Atlas.