Koguryian Defender Ceremony

Posted by: Loxie

--

4:35 PM EST

Koguryo is having their Defender Ceremony July 31st. All of the Royal Ministry's regular Sunday events will be held in the Coliseum, followed by a play from the playwriting contest winner Silerphix. It was based on the topic The Great Adventures of King Mhul.

Schedule
7:45pm EST: Lottery Drawing
8:00pm EST: Royal Debate
9:00pm EST: The Great Adventures of King Mhul
10:00pm EST: Ceremony Begins

We hope to see you all there.
New Silla Clan leader

Posted by: Vini

--

11:50 PM EST
Just few moments ago Living announced through world shout that he had stepped down and Door is now the new primogen of the Silla Clan of Nagnang.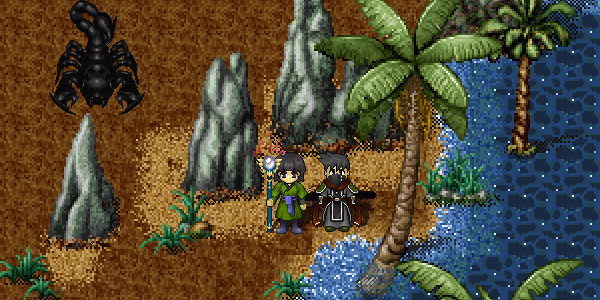 "
I've been in the clan for about 10 years now. Back then I never imagined I'd become primogen one day. I'll do my best to live up to the commitments this position requires
", said the new primogen.
Nexus Atlas congratulates Primogen Door on his new position and wishes good luck with his new duties. Also a special thanks for Living and good luck on his new endeavors.
~Vini Normad'or~
~Hyul 81, Moon 7~
Mini-map Update and Fragile Orbs

Posted by: Loxie

--

10:13 AM EST
The reset today brought two big changes. With the V726.0 patch the minimap has been updated to show portal information. When you pull up the map and hover over a purple dot it shows you what map each portal leads to and what NPCs are present in the map. This was requested by multiple people on the Rambling Thoughts and Dream boards. Thanks for listening, KRU!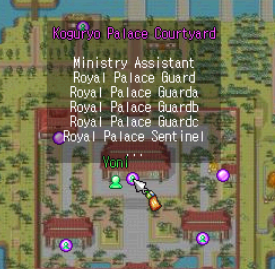 Two new orbs called the Fragile Orb of Inspire and Fragile Orb of Suppress were added. The Fragile Orb of Inspire is for poets level 60 and higher. For 1,000 gold and 6 ambers mana is preserved. This spell has 10 second aethers.
The Fragile Orb of Suppress is for mages level 70 and higher. It costs 1,000 gold and 7 ambers.
Also released was a quest for Do, Ranger, Shaman, and NPCs.
Remember the NPCs muttering about Wony not paying them enough? You can find Mogum outside Walsuk's Tavern and donate to feed them.
There is no mark for donating and it is unknown whether or not there is any purpose to do so other than a world shout and your name as being the top donator.
Update: Wony has said the top three donators will receive a mark.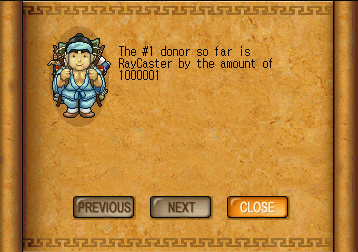 Here is a copy of the reset notes on DreamWeaver's board:
BOARD TITLE: Dream Weaver
FROM: mir DATE: 7/22
SUBJECT: Server & Client Patch - July 22th, 2016

- Portal information added to the Mini Map
- Experimental Fragile Orbs
Fragile Orb of Inspire (Poet L60+ Mana preserved with 10 sec aether, for 1000 gold & 6 ambers)
Fragile Orb of Suppress (Mage L70+ for 1000 gold & 7 ambers)
- Minor quests for Ranger, Do, Shaman and NPCs
---
Yudu Festival - Today!

Posted by: Loxie

--

8:35 AM EST

Today the Royal Ministry of Koguryo is hosting the Yudu festival. It is a smaller ministry festival, with only a handful of clans participating. The festival was planned by Mirfors, to be held in the palace's Victory Square. The schedule is tentative, as some other clans may be joining the festival. If so, this post will be updated.

Here is what he had to say about the festival:

The Yudu festival is a traditional celebration focusing on handwashing and the purging of demon spirits. If you find your luck has been waning as of late, the festival is just what you need! Come out; join us and celebrate!

All events will take place on July 22, 2016.


8 PM EST - "KRA Joust Tourney"
Koguryo Royal Army

9 PM EST - "Fish Toss"
Oceana

10 PM EST - "Final Hour Feast"
Bear and Muse


---
New bannings set Viper clan on lockdown

Posted by: Vini

--

7:33 AM EST
It seems another round of banning was done this friday morning and has indirectly caused the Viper clan to have a lockdown. This is because one of the three people listed by Head GM Wony as banned as today was the Viper Primogen, Luminary Lexus, one of Nexus top poets.
The other two banned were Emissary Obduracy, former Primogen of The Forsaken clan and former Top Rogue, and Guardian Voss who was also very high on Top Poets list, around 30th.
Check below the copy of Wony's post on Scum board:
BOARD TITLE: Scum
FROM: Wony DATE: 7/22
SUBJECT: Lexus, Obduracy, Voss

and all their alts permanently banned for cheating AND/OR character sharing.
It seems that from the Top 250 Poets of 6 months ago, the Top 3 have been banned and Top Rogue have been banned so far. From the beginning of the year Top Power list overall path, excluding Taiisrhaa who is event character, Nexus has seen the banning of #1, #4, #6, #7 and #12 in power back then. Keep in mind that there is a good number of people, amount the top who are legit hunters. Their positions will slowly be adjusted to the fair ones as the rounds of banning continue on higher levels of players down to the lower ones too.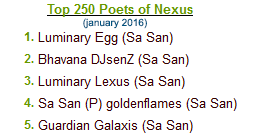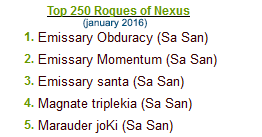 Also it's important to give attention to another ban which occurred couple weeks ago and went unreported by news amidst the anniversary news, mostly because Wony wrote a short but important message to all regarding such bans in that post. Here's a copy of it:
BOARD TITLE: Scum
FROM: Wony DATE: 7/3
SUBJECT: Aritzu

Banned, for char share/sold.

This is too obvious, but I have to state again. Please do not buy, or take over the chars that do not belong to you. It could jeopardize all your characters, and accounts. And of course, don't let anyone use your character.

I hate to be the mean guy, but I need to be extra harsh toward botting, duping, other hackings and char selling and sharing, in order to keep the community and the economy healthy, clean, and growing. We've all witnessed how damaging a few cheaters can be to the community we love all so much. That will not happen again.
Keep in mind that when reporting people through ticket support it's important to have the subject clear and the content with as most detailed information as you can possibly give, including screenshot(s) as evidence to your claims too. This helps KRU team find proof of what you're reporting.
Two important things to keep in mind regarding this are:
It's not because you suspect someone is cheating that they really are.

It's not because someone you reported weeks/months ago isn't banned that they're not watching, sometimes they might be just observing further to collect more evidences as proof of cheat.
KRU won't protect anyone if they find proof. Sometimes all is needed is time to see things moving in these matters.

~Vini Normad'or~
~Hyul 81, Moon 6~
Powered by Coranto
All portions of this website is copyright ŠNexus Atlas 2002-2016. Nexus Atlas, Nexus Network original content, layouts and logo are copyright Ben Moody 2002-2010. The current website layout was programmed by Nagnag. A large majority of this website's information is copyright Kru Inc. (www.kru.com) and ŠNexon Inc. (www.nexon.net). | The news presented on this main page not only contains factual information on the game Nexus: The Kingdom of the Winds by Kru Inc., but also the opinions of the person who is writing the news. Information from this website should only be used as reference and should not be the final word on any matter. Information on this website should not be used without the permission of Nexus Atlas administration.