| | | |
| --- | --- | --- |
| | | A kittie as the new Ranger elder! |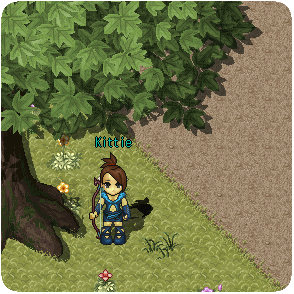 MarlenDotter has passed down eldership to Adventurer Kittie earlier last week and has prepared a small speach
"I am so thankful for MarlenDotter's leadership and friendship over the years. I am exciting to become the
next Elder and continue to lead the great Rangers! We look forward to continuing to grow and expanding our
services and teachings to the community.
Kittie
Ranger Elder "
MarlenDotter held elder for a short period but lets all welcome Kittie to carry on the ranger path.
',Linuxkiddy
-Hyul 82,2nd moon.
| | | |
| --- | --- | --- |
| | | Brand New Clothes?! |
Looks Like some Coats in a huge array of dyes have just been released ~ Coats that have never been seen before!
Just in time for the cooler coming weather as well, enjoy the assortment!
BOARD TITLE: Item Shop Announcements
FROM: CoverGirl DATE: 8/20
SUBJECT: Brand New Clothes
Brand new clothes have been made and added to the Item Shop. Now you can try to put them on in your own fitting room.

Thank you for those who helped me choose the design and color, and also those who helped with sewing all night long. And special thanks to all of you who have been waiting patiently.

I hope you enjoy. And now I desperately need some more sleep :)

** CoverGirl

Coats
: (pass the cursor over the image to check color names)
P.S. Don't Forget to Try these out in the new Fitting Room! ~ Shift + F9 to use ~ *girly squeal* can't wait to see what else is in store for us!
Also, don't forget to check out the tons of items still on SALE currently available in the kruna shop!!
Server Reset and Client Patch to Nexus V.7.31

Posted by: Vini

--

9:50 AM EST
Couple hours ago the servers of Nexus TK were reset to introduce some remarkable changes to the game.
The main one is like a dream come true to any Kruna Items fans. The introduction of Fitting Room (shift+F9) which allows you to try some of the current options being at ItemShop before purchasing it. Now it's just a matter of finding the right size you want.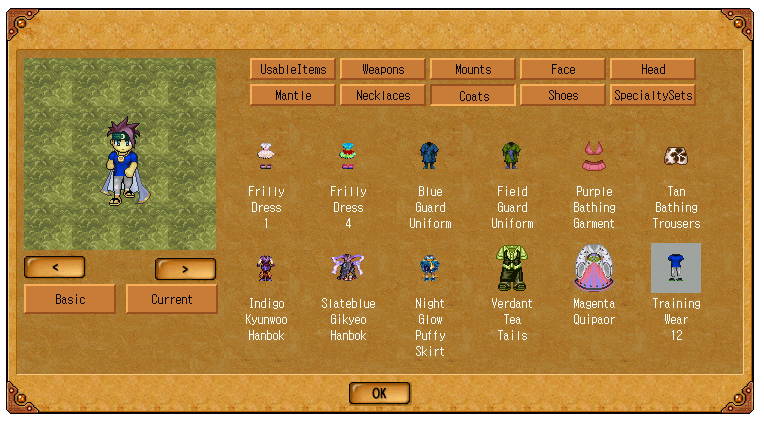 The second main change occurred in the incubator. The two laborers there now are working being a counter to not be blocked off by people with mounts or fancy equipment. Daily Coins guy seems to have lost some weight after giving out so many coins in such a short few time. He seems to be getting more tired now as he's only offering Daily Coins every 8 hours instead of 6 hours.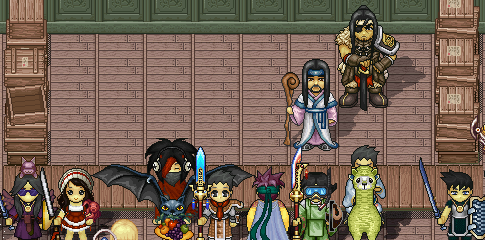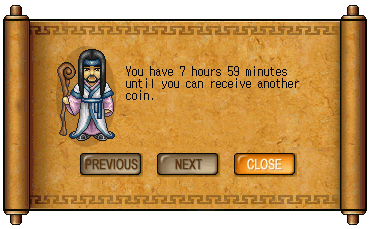 On terms of events, Chu Layn sea creature is gone after being spoiled and feed for many days. However, hunters are gonna hunt again since the portal to Iron Dungeon is available once more. To access it just go back to southwest corner of Buya and enter the center of the "Key" eye. Beware that the lava area and Patio are gone, so once you warp into the key you'll get directly into the Dungeon. Therefore, no need to worry about bringing your frozen footlings anymore.

Here is the complete information about the changes that came with the reset and patch as indicated by GM Mir on DreamWeavers board:



BOARD TITLE: Dream Weaver
FROM: mir DATE: 8/19
SUBJECT: Server & Client Patch - August 19th, 2016
Server & Client Patch - August 19th, 2016

- Fitting Room feature: Shift + F9 (Not all kruna items are reflected. Will be updated)
- Daily coins adjusted, 3 times a day and a coin given with an MQ.
- Iron Dungeons from Iron Hands Pt.2 open for hunting
- Malgal shamans cast spells less frequently
- Chu Layn left
- Minor updates for subpaths and clans



People have also noticed they're no longer able to do unlimited minor quests per day (with only 1 of them gaining the experience reward). The system seems to have been reverted to how it was originally, but since this was never mentioned in the post by GM Mir, seems this isn't planned change and might be fixed soon.

~Vini Normad'or~
~Hyul 82, Moon 2~
| | | |
| --- | --- | --- |
| | | New primogen of Destiny clan |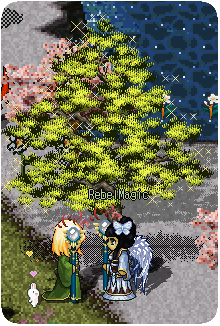 (Rebelmagics favorite spot in honor of HealerOfDoom)
During Koguryos Tribunal, Gelica suprised many as she stepped down as primogen giving the position to
RebelMagic
.
After reaching out to RebelMagic, she had some inspiring words to say.
"
It's my honor to help Destiny and the community to under the rebirth of Nexus with our kingdoms.
I look forward to working with the clans of our Kingdom and the other clans of The Kingdom of the winds.
"
With many strong Mentors that guided her along her way such as HealerOfDoom, Maya and Gelica she surely can bring strength to Destiny clan.
',Linuxkiddy
Hyul 82, 1st moon.
Powered by Coranto
All portions of this website is copyright ŠNexus Atlas 2002-2016. Nexus Atlas, Nexus Network original content, layouts and logo are copyright Ben Moody 2002-2010. The current website layout was programmed by Nagnag. A large majority of this website's information is copyright Kru Inc. (www.kru.com) and ŠNexon Inc. (www.nexon.net). | The news presented on this main page not only contains factual information on the game Nexus: The Kingdom of the Winds by Kru Inc., but also the opinions of the person who is writing the news. Information from this website should only be used as reference and should not be the final word on any matter. Information on this website should not be used without the permission of Nexus Atlas administration.