Welcome to Nexus Atlas!
The Internet's #1 Source for all Things Nexus!

Headlines
Rise of the Kruna Database! -- Aeris -- 5:07 AM, March 27
New Primogen of Tiger Clan -- Vini -- 2:16 AM, March 26
Small server reset -- Vini -- 9:31 PM, March 25
Taiisrhaa's First Visit With the Shaman -- Bocanegra -- 5:35 PM, March 24
Taiisrhaa Leaves His Mark at Kugnae Palace -- Bocanegra -- 1:12 AM, March 24
6th Primogen of SunMoon -- Hatiki -- 2:55 AM, March 23
Taiisrhaa Spotted in Mythic! -- Bocanegra -- 12:53 AM, March 23
The death of the buyan king -- Vini -- 3:00 AM, March 22
Weekly Photo's Returning to NexusAtlas! -- LinuxKiddy -- 12:59 AM, March 22
More Taiisrhaa? -- Loxie -- 8:44 PM, March 21

Rise of the Kruna Database!

Posted by: Aeris

--

5:07 AM EST
Greetings Aislings!
I will be assisting NexusAtlas to create a comprehensive Kruna database! Once this is complete it will hopefully make everyone's life a bit easier if you want to sell/view the Kruna out there!
Here is a quick example:

If you have any input or suggestions on anything you think should be added or modified feel free to nmail me in game, or send me an email at aeristk@gmail.com!
New Primogen of Tiger Clan

Posted by: Vini

--

2:16 AM EST
Leader of the Tiger clan for the past 6 moons, Primogen
Pyroflames
decided to step down from his position today and appointed his Primarch to be his successor.
The new primogen was one of the original kindred when the clan became official back in Yuri 68, and is our very own
LinuxKiddy
.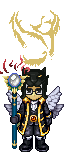 "
I'll do my best to keep tiger strong and we're always welcoming new an old faces
", said Primogen LinuxKiddy.
Nexus Atlas congratulates LinuxKiddy on becoming the newest primogen of Tiger, has faith that his term will be long and prosperous, as well as hopes that this new position won't steal him from the great help he's providing to Nexus Atlas content and database.
~Vini Normad'or~
~Hyul 70, Moon 11~
| | |
| --- | --- |
| Wednesday, March 25, 2015 | |
Small server reset

Posted by: Vini

--

9:31 PM EST
A small reset happened just now to fix the the legend mark given for attending the Forget-Me-Not Ball by removing the duplicate word.

~Vini Normad'or~
~Hyul 70, Moon 11~
| | | |
| --- | --- | --- |
| | | Taiisrhaa's First Visit With the Shaman |
Days ago,
Taiisrhaa
was seen in the Valley of the Mudang, home of the Shaman path.
ZeRu
began conversation with the mysterious man, learning about him and his origins while consuming tea together.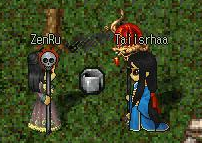 When asked about his purpose in visiting the kingdoms, he responded that he is following the request of
MiHi
: to visit
Queen Yun
and
King Mhul
and congratulate them on their matrimony, new offspring, and rebuilding of the palace.
Over the course of the next two days, he had appeared in the Valley on more occasions. In discussion with various Shaman, he learned about the various facets of their culture and history, including their affinity towards snakes and spirits. In fact,
Taiisrhaa
was even able to take the guise of a slithery reptile, using illusion magic according to him. It was even confirmed that he could hear the spirits too.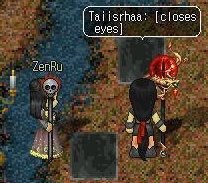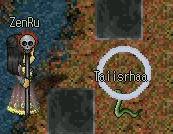 It seems that the conjurer has made a temporary home for himself at an undisclosed area in the Valley. Given a Chieko (Shaman scroll) to read, this location offers him a quiet but spirit-filled place to study the Chieko thoroughly.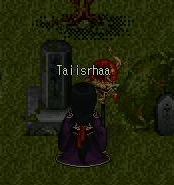 Several things were uncovered about the mysterious
Taiisrhaa
during his visit with the Shaman:
We know his previous home was Kinung, but little is known about his location prior to that. It appears he originates from a swampy or marshy place prior to his time in Kinung. Might be why he has a fascination and interest in our plants and herbs. He arrived at the island on a tide when his original home was flooded. When asked about his parents, he said he knew very little about them, and suspiciously darted his eyes away.
He has the ability to converse with snakes and also has a serpent friend of his own. Also, he possesses the ability to take the illusion of a snake, as mentioned and seen above. This adds to the arsenal of powers that he is endowed with; we know about his powerful attacks and healing, but we now see his other abilities as well. Who knows what else he can do?
His knowledge of the Shaman founder (
JaydePhoenix
) was apparent as well. According to
Taiisrhaa
, his mother talked about the former Shaman and even talked about the fact that she had a Spirit Shard from when she sacrificed her Sevenleaf sword.
Though these events transpired several days ago, there is still much we do not know about this man and his true intentions here.
A special thanks to
ZenRu
and the entire Shaman path!
(
Screenshots taken by ZenRu
)
-----
-Bocanegra-
| | | |
| --- | --- | --- |
| | | Taiisrhaa Leaves His Mark at Kugnae Palace |
Amatus
of the Koguryo Royal Army (KRA) whispered me with information that there were Mango florets placed throughout the Kugnae palace.
Outside the palace: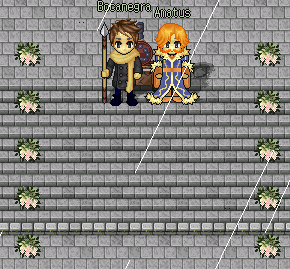 Within the palace: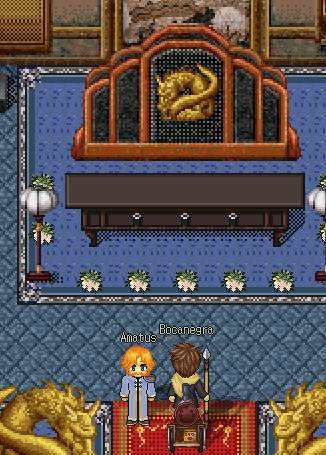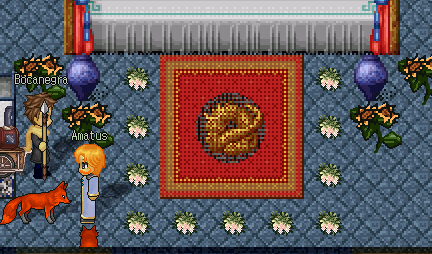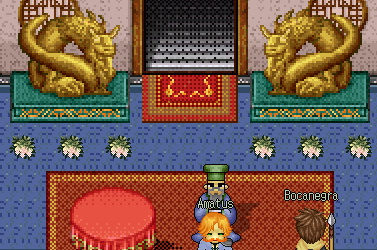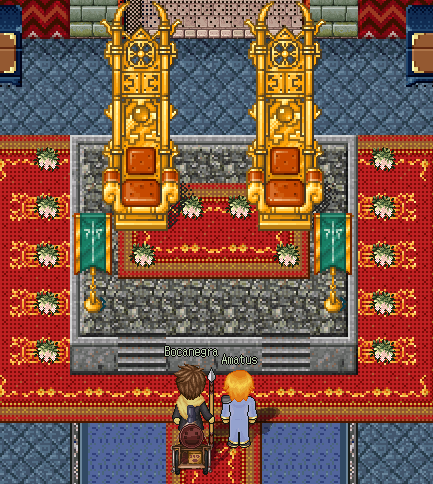 Based on previous observations and information,
Amatus
and I came to the conclusion that the person responsible for dropping the Mango florets must be the strange-eyed Conjurer,
Taiisrhaa
. At first, this was just speculation. In a world shout, I asked the community
"Anybody drop any Mango florets in Kugnae earlier today?"
It was my initial belief that a member of the community may have placed the Mango Florets either to decorate or perhaps even deceive/cause a hoax. The speculation was put to bed though as
Taiisrhaa
himself responded in a world shout stating that he "placed" the Mango florets in the palace. I proceeded to whisper him and ask him a few questions, as you can see in the below transcript: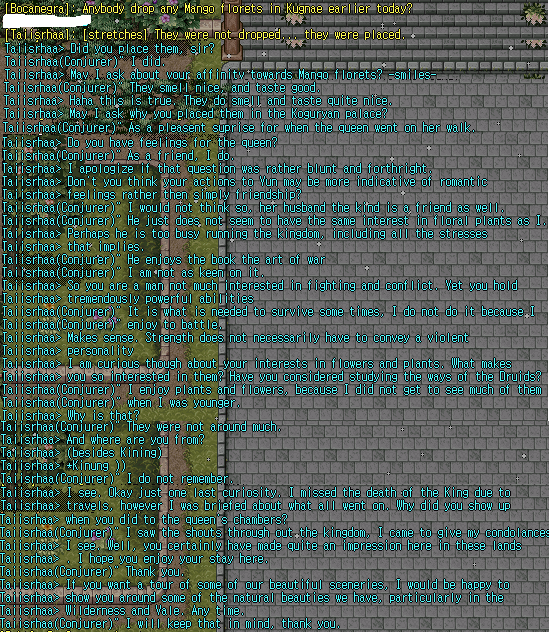 So it seems that his interest in
Queen Yun
is that of friendship rather than anything else; according to him, anyways.
As for his presence in
Queen Lasahn's
chambers, he claimed to have gone to pay his condolences to the deceased
King Guemwa
. However, we still do not know whether or not he had a part to play in the King's poisoning and eventual death!
Meanwhile,
Taiisrhaa
continues to show interest in our lands and the beautiful plants and flowers it produces. He is by far the strangest stranger to visit the Kingdom of the Winds in recent history and has become the main topic of conversation in the community. While some may welcome the conjurer, others have insisted on caution and care while dealing with him.
We still do not know much about his origins and intentions. More information and confrontations are needed!
----------
-Bocanegra-
6th Primogen of SunMoon

Posted by: Hatiki

--

2:55 AM EST
It appears a change in leadership has gone unnoticed with the SunMoon Sect.
Primogen OhBear
stepped down from the position of Primogen and has passed leadership to
Gummi
.
Thank you
OhBear
, for the work you have contributed to your clan and congratulations to
Gummi
. May your time as Primogen be of much success.
-Hatiki Sudeki
-Hyul 70, 10th Moon
| | | |
| --- | --- | --- |
| | | Taiisrhaa Spotted in Mythic! |
The strange man new to the Kingdoms was seen wandering Mythic Nexus today. Intrigued by a Mango floret on the floor, a conversation was sparked between Conjurer
Taiisrhaa
and a few citizens,
Acemander
,
Mukica
, and
Cecella
. He kindly requested the two Druids to bloom some more of the Mango florets, which they happily did.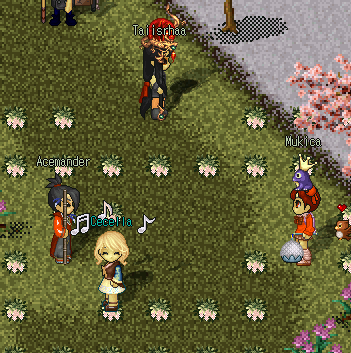 When asked what he was doing in Mythic,
Taiisrhaa
responded with, "I am merely here to learn about the kindoms and enjoy time with my friends in the palace."
Next, Taiisrhaa proceeded to enter into Rooster 3. Joined by a few citizens, he took on a small group of roosters in the first room. Out of apparently nowhere, he unleashed a powerfully deadly attack only associated with the strongest of Rogues! As if that wasn't shocking enough, his healing abilities were quite powerful as well;
Taiisrhaa
was seen casting a Kwi-Sin Sa san Poet healing spell (not in photos)!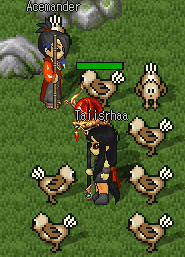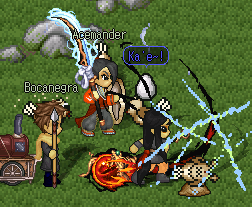 After the Rooster 3 fun, the Conjurer was asked about where exactly he was from. He said his origins were Kinung, but did not remember where before that. His temporary home, according to him, is the home of the Shaman path in Nagnang's eastern region, claiming to have felt a "connection to [their] home."
The most peculiar thing though was his interest in
Queen Yun
of Koguryo. His remark "I do enjoy spending time with queen
Yun
. She is turning out to be quite the kind friend to me," seems to raise a suspicious question about potential feelings he may have towards the Queen. He pulled out a book about birds and mentioned that the Queen herself suggested him to read it. "I felt that if she enjoys [birds], I would like to know more." Perhaps that is a strong indication that he may have a romantic interest in the Queen of Koguryo?
The next part of the Conjurer's visit to Mythic took him to the Barbarian Cave where he spectated the Last Man Alive (LMA) event.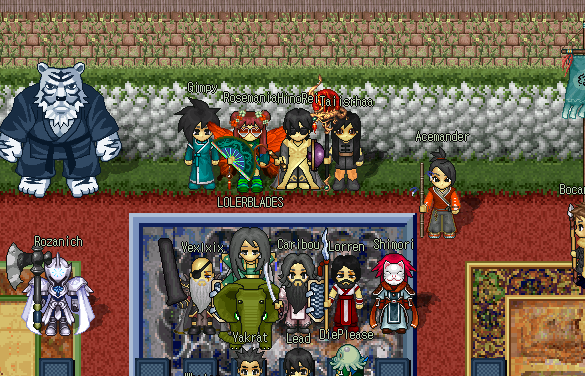 Barbarian elder
Skogul
offered the man a Barbarian Brew and Bottle of Rage. Admitting the brew was too strong, he promised he would save the Rage for consumption at another time.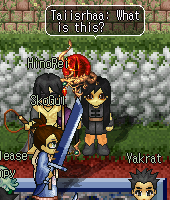 A tour of the cave quickly followed.
Skogul
kindly agreed to show
Taiisrhaa
around her home. He seemed quite interested about various aspects of the cave, ranging from several objects and structures to the moss growing in Barbarian Legacy!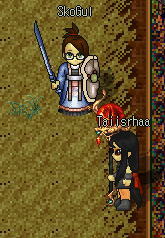 Taiisrhaa's
visit to the Mythic Nexus further shrouds the man in mystery. Who is he? What is the purpose of his visit to our lands? Why are his eyes so bizzare? We know of his tremendous powers, thanks to our experiences in Rooster 3. We allegedly know about his cunning nature as well, if it is proven to be true that he murdered the now late
King Guemwa
by poison. His apparently deep love towards
Queen Yun
is out there for all to see. Could his presence spell danger and destruction to the normality of our lives? Or is he simply an everyday person to come and go from the Kingdom of the Winds? One thing is certain though.
Taiisrhaa
appears to be deeply interested in the traditions, customs, and histories of our subpaths and lands. But is his interest out of curiosity and innocence? Or is there something dark and sinister being plotted?
------------------------
-Bocanegra-
The death of the buyan king

Posted by: Vini

--

3:00 AM EST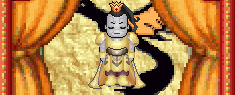 BUYA – King
Geuwma
is dead, assassinated. The citizens of Buya are in shock. Some simply don't know if they worry about the poisoning of a royal on their own soil or if they celebrate the end of Geumwa's tyranny.
"
Guards, Guards
!" shouted the Buya Queen in agony. Took a while for Imperial Guards and soldiers of Buya to find out where she was. When they finally figured that her majesty was at her chambers, the guards and soldiers found Queen
Lasahn
anguished about Geumwa's state. "It appears that my husband is feverish and unresponsive", was the first words she could say.
As they believed the king had fallen ill, the guards rushed to call for help of a shaman who was reading the Chronicles at the Winds board. It was Shaman
ZenRu
, the same one who had seen Kyushin few days ago. Upon examining the king's body, ZenRu knelt beside the King, placing her fingers upon his cold neck to check for a pulse. She then was forced to give the grave news to the Queen: her royal husband is dead.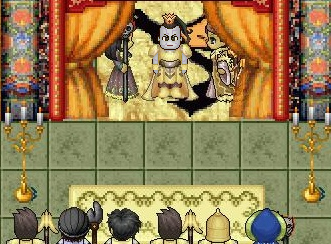 Shaman ZenRu examines the body of Geumwa on the floor
In shock, Queen Lasahn asked shaman ZenRu if she could determine what the cause of his death was. The shaman examined how the dead king's veins were also darkened and more visible and found poison inside his mouth, poison that causes the mouth and lips to blacken and chokes the victim to death. The shaman could not determine how the poison was made, only knew that it was foreign toxic substances. ZenRu tried to do a spirit commune with the dead king, but did not work. "
Rest in Peace King Geuwma
" was the last thing she said after leaving the side of the king's corpse.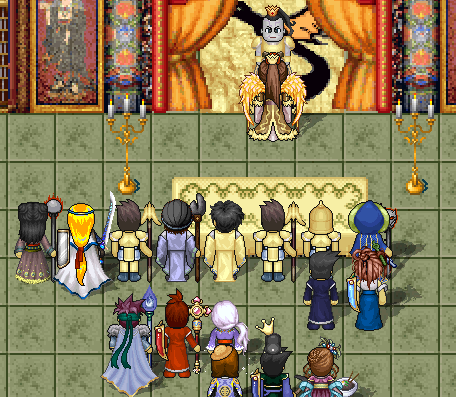 After confirmation of her husband's death, Queen Lasahn approached his body to close his eyes so he can rest in peace.
The news of King Geumwa's death echoed through the kingdoms. Some citizens ventured to Lasahn's chamber to witness that with their very own eyes. The Buya Army and Imperial Guards offered their condolences for her lost and helped clear the room of curious people.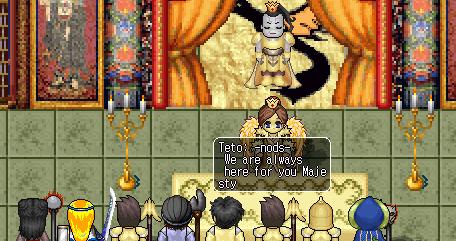 BIA Colonel comforts the widow Queen in her sorrow.
Upon exiting the chamber, people stumbled upon the man with creepy eyes,
Taiisrhaa
. The rumored conjurer claimed he was there to offer condolences to the Queen as she had been very kind to him yesterday. The General of BIA questioned Taiisrhaa and said that many assumed that it was his tea that killed the king. Taiisrhaa responded saying it was only but a simple
Insam cha
, tea made with ginseng, pine nuts, and honey.
HakuDoushi, Intel Commander of BIA then questioned Taiisrhaa saying he had just received intel that the mysterious man had proficiency in alchemy and was in possession of an alchemist kit. Taiisrhaa confirmed he had it. The commander asked if he could inspect the kit and was granted permission. The results of the inspection were inconclusive for the moment; however the suspicions over Taiisrhaa's have not waned.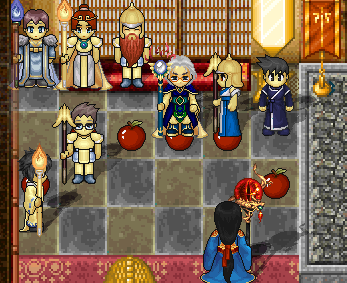 While being accused of murder, Taiisrhaa still didn't lose his politeness. Very cold blooded, it seems.
Liked or not, the death of King Geumwa represents a loss for Buya. Respect the fellow citizens who mourn the passing of a royal. If you wish to read Shaman
ZenRu
's report of her findings, read her post on Chronicles of the Winds
here
.
~Vini Normad'or~
~Hyul 70, Moon 10~
---
| | | |
| --- | --- | --- |
| | | Weekly Photo's Returning to NexusAtlas! |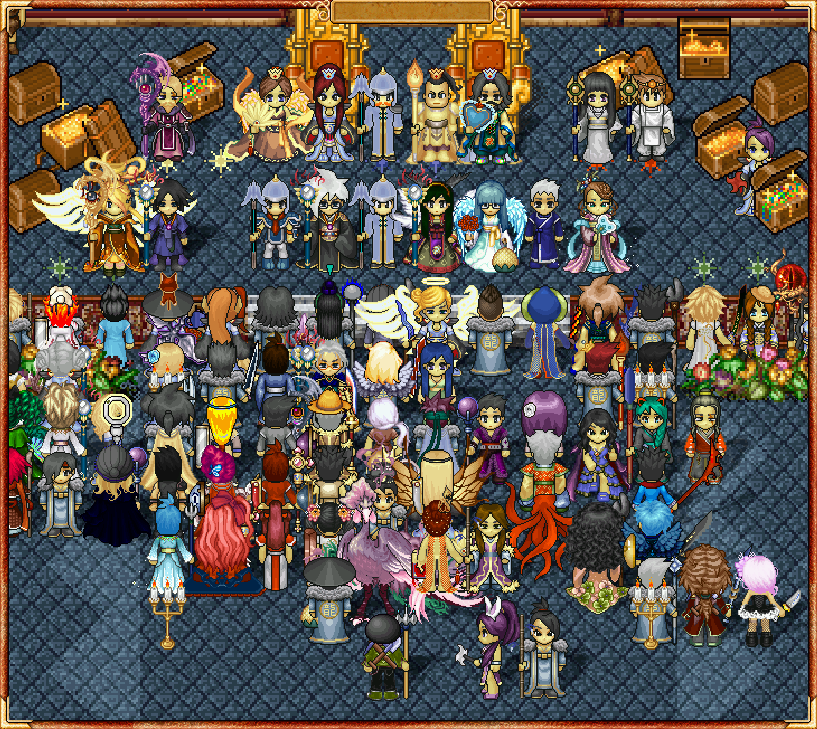 In the past NexusAtlas has tried doing Daily photo's, They where great! but the community got tired of taking so many photo's to send in. I looked through all the great photo's an decided we should try a Weekly photo contest!
Starting Monday the 23rd!
you may start sending in your photo's to weeklypics@nexusatlas.com, On sunday We'll Determine the best Photo out of all the photo's submitted And Will post it!
Winner of the Weekly Photo Will have their Photo posted and receive a check for 50,000 Coins
=) How nice!
===============Rules/Guidelines:===================
-Please Read GUIDE board #500 on how to take screenshots properly, Please use the BMP Option since it'll save the screenshot in the best Quality.
- No screenshots showing any sign of Nexus Law violation will be
accepted (that includes profanity or harassment in other
people's dialogue/sage).
- No screenshots while been jailed will be accepted! So as not
to promote wrong doings.
- Do not use Image editing software(s) (ex.photoshop) to edit
the picture that you want to submit. We will trim the
character information on the right side and the chat log on
the bottom for you.
- If similar screenshots are received we will pick out the best one
More Taiisrhaa?

Posted by: Loxie

--

8:44 PM EST
He's been making appearances all over the place, and now helping the Druids host a Tales Around the Fire. What is he up to and why are his eyes so creepy?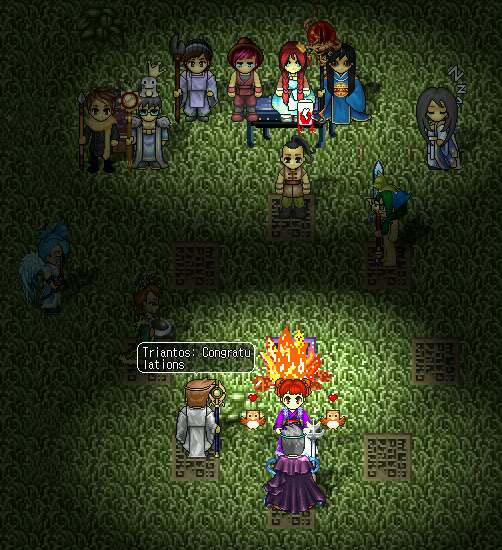 He's expressed an interest in seeing more of the kingdoms, so keep an eye out. It seems like he might be making more visits to different organizations.
---
Taiisrhaa appears again

Posted by: Loxie

--

7:20 PM EST
It seems like Yun is going to run off with Taiisrhaa! Today he took a stroll with my Mhuly and his wife, presenting her with a gift - a midnight bouquet.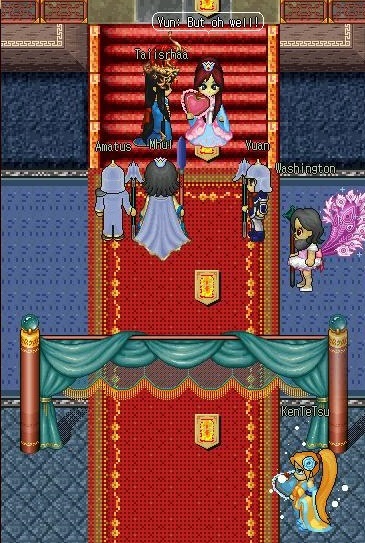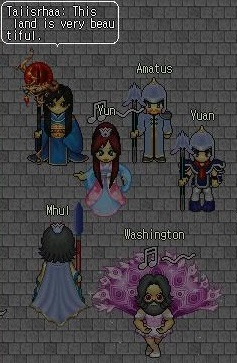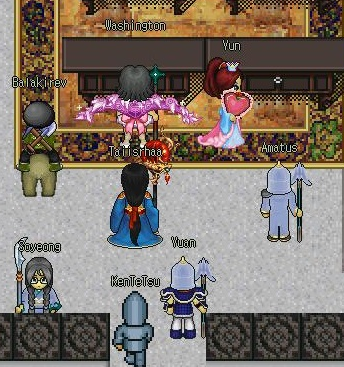 He said the flowers were shipped through Kinung. First drinks and now flowers? What is this guy up to?

---
Forget-Me-Not Ball comes to an end!

Posted by: Loxie

--

2:42 AM EST
And it's going to be UNFORGETTABLE. Because I said so.
We started off with a speech from the main man himself, King Mhul, welcome everyone to his
fantastic
ball. Then Queen Yun followed with a surprise announcement...
Koguryo is going to have an heir!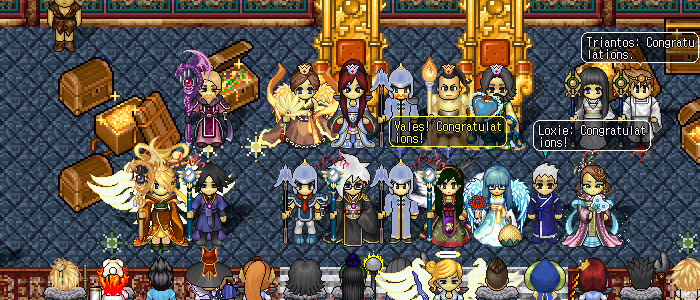 Figures, she'd secure the throne before she had an accident. -Pout.- It's all fair game until a baby is born. During this time King Gummy of Buya began bragging about how well he trained his wife, and that she knows a woman's place is in the kitchen.
BOO HISS.
To which I valiantly retorted with a face like his, his place is in the closet.
Following the announcement we began a dance contest. Unfortunately a mysterious stranger appeared to interrupt the contest. He apologized for MiHi's absence and said he came in her place, then began hydrating the Royals. You know what they say, always take drinks from strangers. While they were playing brew roulette, Candy won first place in the contest. Washington came in for a close second.
Clever, clever Vini! He outwitted this
Taiisrhaa
person and asked if Mayor MiHi was sick. Taiisrhaa continued to address MiHi as Mayor, which is funny because she's not.
Taiisrhaa proceeded to flirt with Queen Yun (ooh la la! Maybe Mhuly will be single soon?) and escorted her to our next event...
The Dinner Theater hosted by Muse! Several of us performed A Fantastic Reality, written by Nairwyn. It was a fantastic show, and I'm sure there wasn't a dry eye in the audience.
The Bachelor(ette) auction followed, and I was the first one up for sale. ChaeRi's bid of 1.5m absolutely blew me away! Then again, he always has wanted a part of Koguryo, so why not bid on a member of the ministry? Here is the break down of the auction's proceeds:
Loxie (ministry) 1.5 ChaeRi
Vales (koguryo ministry) 3 mil Biondeu
Uoiea (kug ministry) 5 mil biondeu
Tyrra (bear) 3 million Mhul
Gracey (muse) 2 mil guile
GEUWMA (buya ministry) 2.1 mil Kawakami
Biondeu (buya ministry) 2.5 mil Lasahn
Jolie (Sansin") 3 mil candy
---
total money! 22,100,000
-----------
Ministry will receive 9.5 in outright auction funds
+ fees from other auctions at 10% =
300,000 fee from Tyrra
200,000 fee from Gracey
210,000 fee from Geuwma
250,000 fee from Biondeu
300,000 fee from Jolie
1,260,000 fees total
TOTAL KOGURYO MINISTRY = 10,760,000

Bear will receive 2,700,000 coins
Muse will receive 1,800,000 coins
Buya Ministry will receive 4,140,000 coins
SanSin will receive 2,700,000 coins

We're rich! Woohoo! This means the Kugnae Ministry can increase my pay, right? So then we were moving onto the fashion show, when Gummy got sick and dragged his wife back to Buya. He was apparently seen stealing Queen Lasahn's drinks. I can't verify this, as I was busy paying attention to other things...
Like the winners of the fashion show! Hobart won first place, with his colorful description of his Nagnang outfit. Who would have known they're so trendy?
Powered by Coranto
All portions of this website is copyright ©Nexus Atlas 2002-2015. Nexus Atlas, Nexus Network original content, layouts and logo are copyright Ben Moody 2002-2010. The current website layout was programmed by Nagnag. A large majority of this website's information is copyright Kru Inc. (www.kru.com) and ©Nexon Inc. (www.nexon.net). | The news presented on this main page not only contains factual information on the game Nexus: The Kingdom of the Winds by Kru Inc., but also the opinions of the person who is writing the news. Information from this website should only be used as reference and should not be the final word on any matter. Information on this website should not be used without the permission of Nexus Atlas administration.