| | |
| --- | --- |
| Wednesday, December 11, 2013 | |
The Sonhi Appear in Kugnae!

Posted by: Nalyd

--

12:41 AM EST
Just moments ago people had begun to realize that the Sonhi are attacking Kugnae once again, and in much larger numbers.
KaMing is coming back into the lands hard this time, swarming Vale yesterday and now Kugnae today.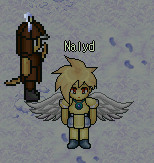 What are his plans and is he going to keep these going?
(Special thanks to Elarra and staff member Rachel for alerting me of the situation.)
| | |
| --- | --- |
| Tuesday, December 10, 2013 | |
Happy Birthday Vini!

Posted by: Nalyd

--

2:18 AM EST
On behalf of the NexusAtlas staff I would like to wish a Happy Birthday to one of the longest serving NexusAtlas members, Vini!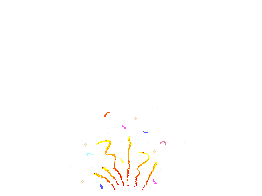 Thank you for your 10+ years of faithful service to the betterment of NexusAtlas and the providing of information to the community, and uncounted years working for NexusNetwork! Your activity in NexusAtlas has been a large part of why NexusAtlas is what it is today!
| | | |
| --- | --- | --- |
| | | Sonhi is trying to take over Vale |
Few moments ago, Sonhi soldiers started marching from KaMing's Encampment through Sonhi Valley and into Vale. Some of them even managed to cross Buya Valley and reached Buya west gate where they began to attack civilians.
Armies of Buya and Koguryo united forces to fight the common enemy, with help of some Nagnang soldiers. On the other hand, Sonhi has the assistance of Barbarians who fight their way in Vale to protect the allied tribe.
The number of Sonhi soldiers attacking is tremendous, so far might be the largest strike against a kingdom since the war began. Some Sonhi archers were even caught trying to reach Buya Palace, but were slain during their attempts.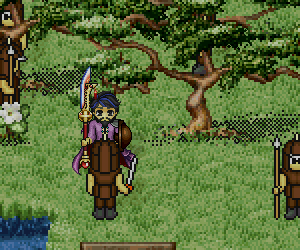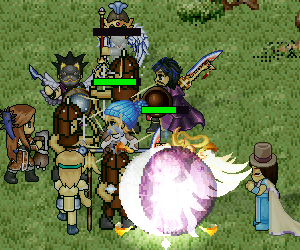 It is esteemed that over 300 Sonhi soldiers attacked and are continuing to attack Vale. The numbers of deaths are uncountable.
Also, it seems a Sonhi camp was found at southwest Vale.
This seem to be the place they're gathering: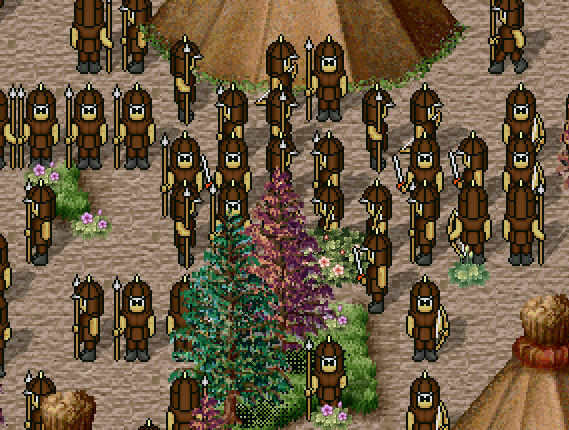 Be careful when fighting these soldiers, they're quite deadly no matter how much vita you have. They also do not seem to die to vita attacks, so coordinated efforts of everyone within community is the only way to stop them.
Brought to you by,
-,-@ Donjuan
| | | |
| --- | --- | --- |
| | | Winter Immortal's Bounty Contest |
As posted by Archon Alilolelotte on community board, there is a new Contest posted at Immortals' Bounty Board which she hopes many of us will enter!
Snow has begun to fall upon the kingdoms, and that means only one thing!

Santa Mhul is almost here!

Write a letter to Santa Mhul!
Tell him about your biggest lesson of this year!

Entries will be judged based on
creativity, poignancy and flair!


Send all entries:
to ImmBount by 15th of December, 7 PM PST


Do not send entries:
to Mhul! He is busy gathering gifts
and will not be able to read them yet.


Rules:
1. Do not include names of players in your entry. If you sign your letter to Santa Mhul, do not use your real name ("Snowball Lover" would be ok but "Maiyu" would not).
2. Do not plagiarize or otherwise submit work that is not entirely your own.


Winners to be announced by 19th of December, just in time for
Santa Mhul!


And now, the fabulous Prizes:

The winners of this contest will be welcome to join one of the Royals in their Royal booth make sure that nobody makes it through without a snowball in the face! That, and a holiday Kruna package of your choice! ((Note that if you throw snowballs, we will make sure that all of your alternate characters receive their Santa Mhul gifts.))
Good luck to everyone who enters the contest!
Brought to you by,
-,-@ Donjuan
| | |
| --- | --- |
| Saturday, December 7, 2013 | |
Headpieces CAN be upgraded

Posted by: Vini

--

11:27 PM EST
After learning about the possibility of upgrading the Combat/Steel headpieces, several members of community began their searches for NPCs who could help with this option. People like BagofChips, Phantaria, BloodOfThor and few others were able to find out the following information:
If you say "Steel headpiece" to Gan he explains: "I think that is not a finished product. You need to exchange it".


If you say "Combat headpiece" to Gan he reveals: "That is a fine headpiece! But I think you can make it better".


If you say "Combat headpiece" to Taik Pae he responds with: "If you have money and jewelry you can upgrade it".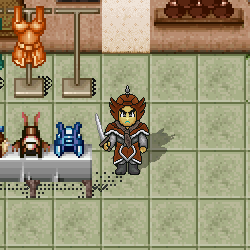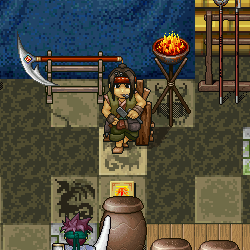 Continue posting your findings or your efforts like Huntyr did. Soon the joint efforts of caring people will be paid off with the upgrade helmet(s).

~Vini Normad'or~
~Hyul 60, Moon 6~
Supreme Headpiece

Posted by: Vini

--

2:04 AM EST
Last night at Koguryo Clan Tribunal, the biweekly meeting between the kingdom leaders (King, Minister, General, Primogens), a lot was discussed about the war with Sonhi, in which should remain to the knowledge of those who participated in it. Yet, a very distincted piece of helmet called the attention of everyone present as King M'hul was wearing his combat coat and an unique helmet called "Supreme Steel Headpiece".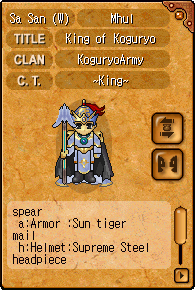 Since our Combat headpieces are now called "Steel Headpiece", people present there had reasons to believe M'huls version was some sort of upgrade to the regular ones we obtained from the quest.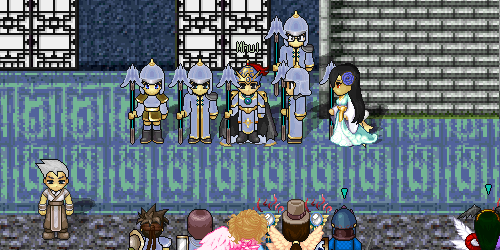 According to King M'hul he obtained such helm directly from the Sonhi supply intercepted by KRA. The King doesn't know if we can upgrade ours or how to obtain something similar like this, but warned us that there weren't just two versions of headpieces at the Sonhi cargo and he chose to wear the best one found.
The mystery of how to forge/obtain a Supreme Steel/Combat Headpiece is now our aim to figure out as soon as possible.
If you have any clues or answers contact a Nexus Atlas Reporter.
~Vini Normad'or~
~Hyul 60, Moon 6~
| | |
| --- | --- |
| Thursday, December 5, 2013 | |
Sonhi War and the Diary Pages

Posted by: Guldar

--

12:13 AM EST
A post by Rekhan at community board reveals that
Sonhi box
can be traded for any Woodlands diary quest tier 1 items, not just the Plate of Metal as we reported before. To do so, take a Sonhi box in your inventory to Sying's Shop at KaMing's Encampment and say "
Sonhi box
". Sying will be surpised you have one and ask if you would give it to him. Choose "
Yes, I will give it to you for a trade
".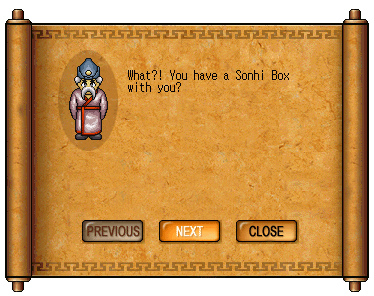 Then he'll take your Sonhi box and randomly reward you with one of these items used as components to Woodlands Diary Quest. Here's a list of the items which can be obtained by trading your Sonhi box.
Focused Fire Amber

Heavy Champion Rune

Lightly stitched shell

Plate of Metal

Snake Skin Mesh
The Polished stone

Tortured Human Soul

Wings of fury



According to Rekhan's post, until today the Sonhi Boxes traded with Sying gave the following items: 2 Plate of metal, 1 Lightly Stitched Shell, 4 Snake skin Mesh, 3 Wings of Fury, 2 Heavy Champion Rune, 3 The Polished Stone, 3 Focused Fire amber and 2 Tortured Human Soul.

Seems like the war against Sonhi just gained another motivation! Grab your group and go kill some Sonhi Commanders.

--Guldar
Powered by Coranto
All portions of this website is copyright ŠNexus Atlas 2002-2010. Nexus Atlas, Nexus Network original content, layouts, logo and other creative works are copyright Ben Moody 2002-2010. The current website layout was programmed by Nagnag. A large majority of this website's information is copyright ŠNexon Inc. (www.nexon.net) and Kru Inc. (www.kru.com). The news presented on this main page not only contains factual information on the game Nexus: The Kingdom of the Winds by Nexon Inc, but also the opinions of the person who is writing the news. Information from this website should only be used as reference and should not be the final word on any matter. Information on this website should not be used without the permission of Nexus Atlas.